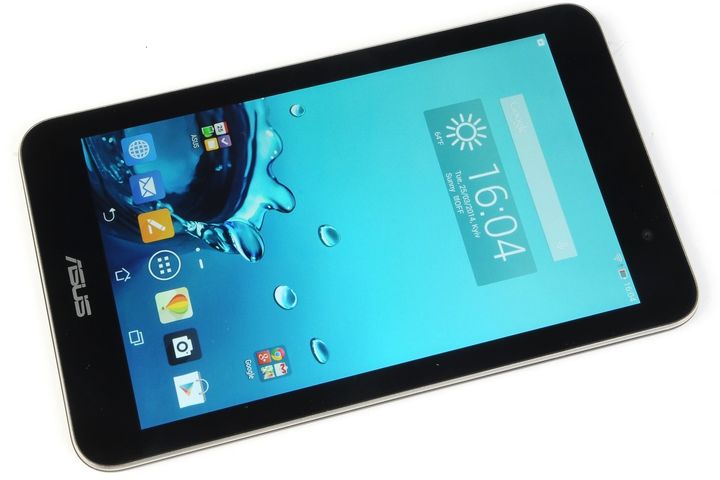 Despite the fact that ASUS and so produces the most popular budget 7-inch tablet (it is of course talking about Google Nexus July 2013 model year), it never ceases to find new recipes for success in this segment. Today we tell you about the new low-cost model ASUS MeMO Pad 7 (ME176C), which boasts IPS-screen, quad-core processor fresh Intel Atom Z3745 (Bay Trail-T), a long battery life of 15 Wh and preinstalled operating system Android 4.4 KitKat with recycled envelope.
Modifications grade ASUS MeMO Pad 7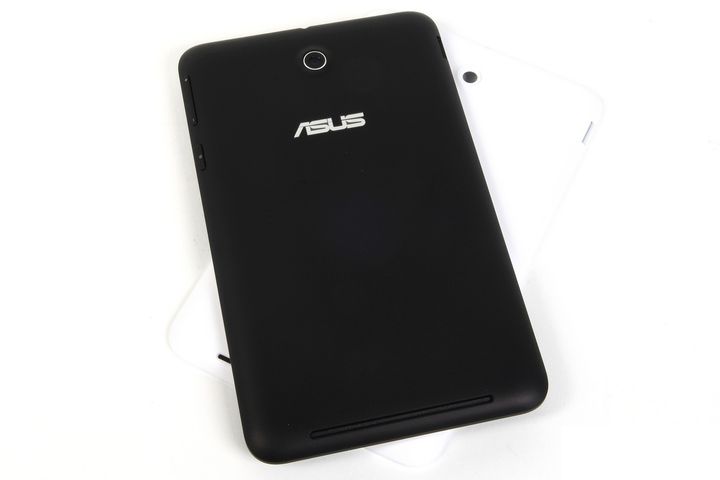 Model ASUS MeMO Pad 7 (ME176C) will be offered only two hardware configurations, differing data storage capacity – 8 or 16 GB. All other features, including the type of processor, amount of RAM, and a set of wireless modules (unfortunately, no 3G, even optional) are completely identical. But in terms of color processing options considerably more than visited on black test, you can choose white, red, blue or yellow ASUS MeMO Pad 7.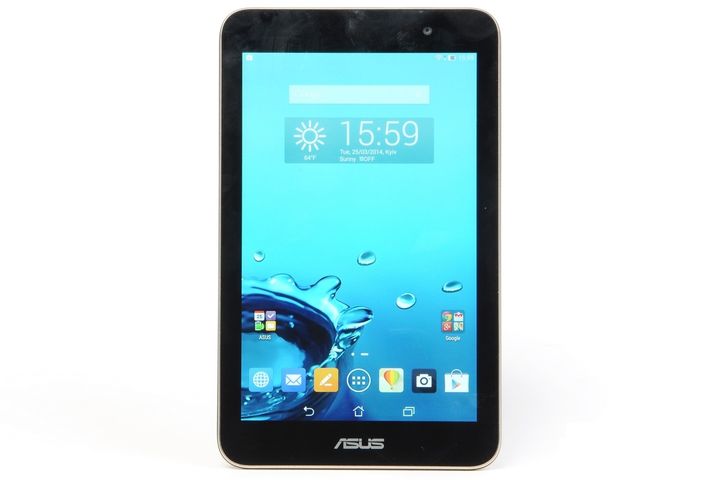 Traditionally supplied minimalistic and only includes a compact charger, cable USB / micro-USB and the accompanying documentation. For fans of the additional protection of the tablet will be available for various types of branded covers – VersaSleeve 7, MagSmart Cover etc.
Design, connectors ASUS MeMO Pad 7 
The plate is made in the popular 7-inch format, its overall dimensions are 189,3 x 113,7 x 9,6 mm and weighs only 5 grams does not hold up to 300 grams. Both precursors of family MeMO Pad (just 7 Pad and Pad HD 7 ) were significantly larger and heavier, vote, for example, dimensions Pad HD 7 – 196,8 x 120,6 x 10,8 mm, weight 302 grams.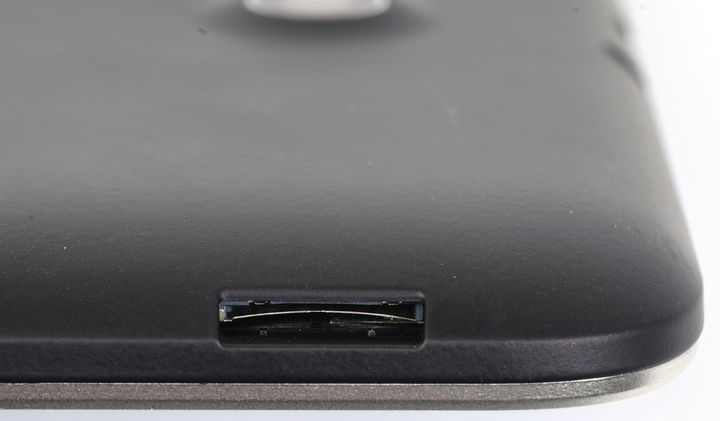 At equality diagonal screen can make the body more compact solely by reducing the width of the matrix border. In the case of ASUS MeMO Pad 7 (ME176C) developers have successfully worked not only on the sides, but also on the upper and lower parts of the front panel. Here you can find the manufacturer's logo and accordingly shifted to the right lens 2 megapixel webcam. Around the perimeter of the body passes a silvery metal frame, while I want to believe that this is not just a decorative element and frame stiffness.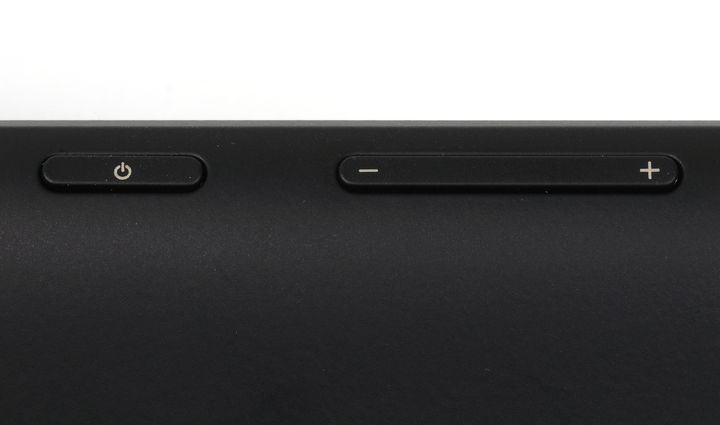 Making the rear panel design is almost identical to its predecessor ASUS MeMO Pad HD 7 (ME173) – round peephole main 5 megapixel camera in the center, a large logo of the manufacturer and a long slit on the bottom of the speaker. Differences lie only in the details: the lens is not a deliberately convex and silver logo made, but not in body color.
Bottom of the case is absolutely free, on top submitted connector micro-USB, audio ports and a microphone. It is interesting that over the microphone hole is made in the form of a thin slot that will not allow a particularly active users mistakenly use it for the purpose of emergency reset.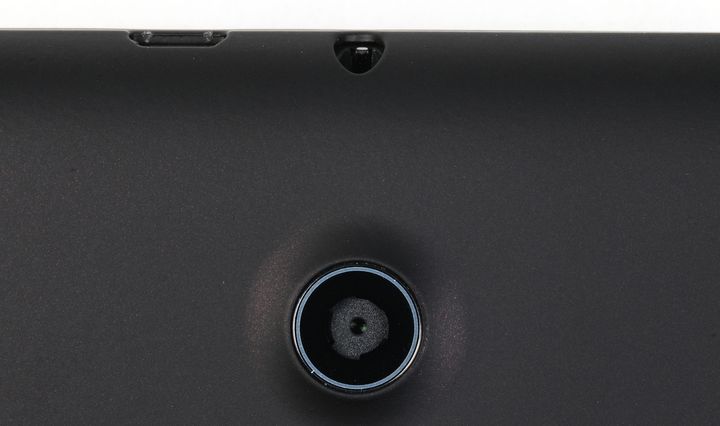 On the left side ASUS MeMO Pad 7 (ME176C) can find a slot for memory cards MicroSD, on the right – volume rocker and the power button. Buttons placed in this order, long rocker button above the power button beneath it, which is not quite familiar.
Functionality ASUS MeMO Pad 7 
Model ASUS MeMO Pad 7 (ME176C) equipped with a 7-inch IPS-matrix with not too high by today's standards, 1280 by 800 pixels. The backlight brightness is adjustable from 10 to 265 cd/m2, and to do so will only manually, as the light sensor in the tablet is not. Capacitive touch layer supports up to 10 simultaneous touches. Traditionally tablet ASUS user can customize to your taste hue, saturation, and color temperature of the picture. As a result, in the aggregate characteristics of the screen quality can be assessed as "average."
Previous generations of tablets ASUS MeMO Pad 7 were based on processors from VIA and MediaTek, but this time the developers decided to use the latest system on a chip from Intel. In particular, it is a quad-core Intel Atom Z3745 (Bay Trail-T) with an operating frequency of 1.33 GHz, which if necessary may increase up to 1.86 GHz. Responsible for the graphics solution integrated Intel HD Graphics, total energy level of standard processor is about 2 watts (22nm process technology).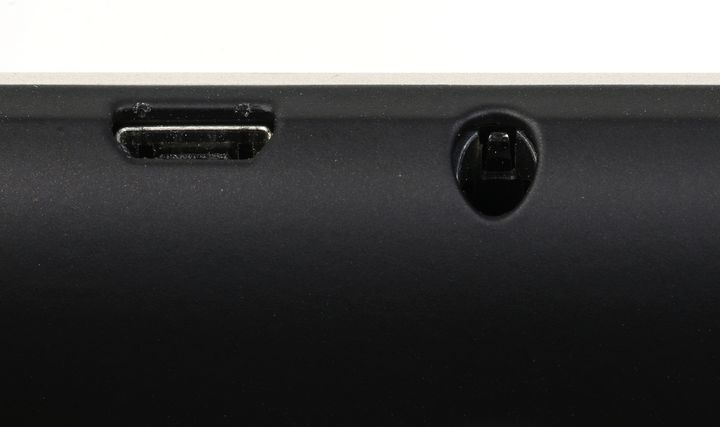 RAM is 1 GB data storage capacity – 8 or 16 GB (16 GB version available to the user just 10.3 GB), depending on the configuration. The tablet is equipped with wireless modules Wi-Fi 802.11bgn, Bluetooth 4.0 and GPS / Glonass. From full charge to 15 Wh (3910 mAh, 3.8 V) ASUS MeMO Pad 7 (ME176C) is able to work up to 10 hours of HD video playback mode with the screen brightness of 100 cd/m2.
Interface ASUS MeMO Pad 7 
ASUS MeMO Pad tablet 7 running Android 4.4 operating system with proprietary software shell. The interface looks very interesting, substantially reworked lock screen settings panel and window applications. Composition indicators / switches in the service panel can be changed to suit your own preferences.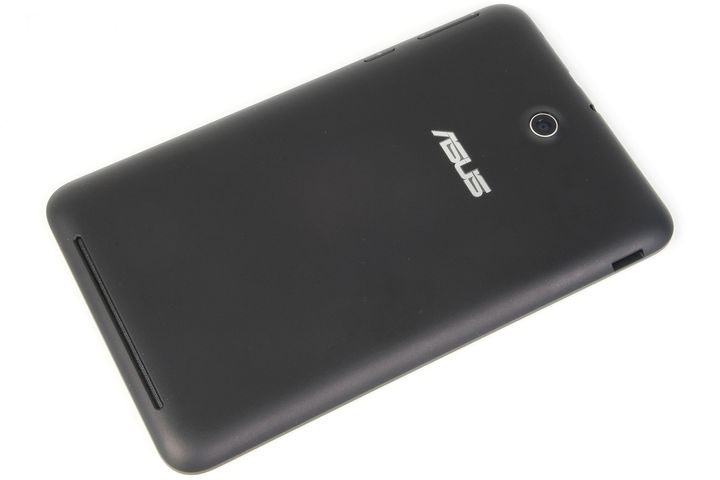 Wrappers allow you to combine items and notifications system settings in one window, no need to aim at the left or right edge of the screen. All installed applications are collected in the appropriate section, and you can see all the software once you have installed the program only or most often triggered by software. Traditionally tablet ASUS provides a set of predefined branded applications, including utilities picture and sound settings, the system power optimization, file manager, and others.
Results ASUS MeMO Pad 7 
As a result, an updated 7-inch tablet ASUS MeMO Pad 7 (ME176C) will be a good choice for the role of a pocket-sized mobile companion. We note in particular the minimum size and weight, calm classic design, a perfect combination of performance / autonomy (thanks to fresh hardware platform Intel Bay Trail-T) and pre-Android 4.4.
Read another very interesting article about alternative energy of the Sun, water and air.