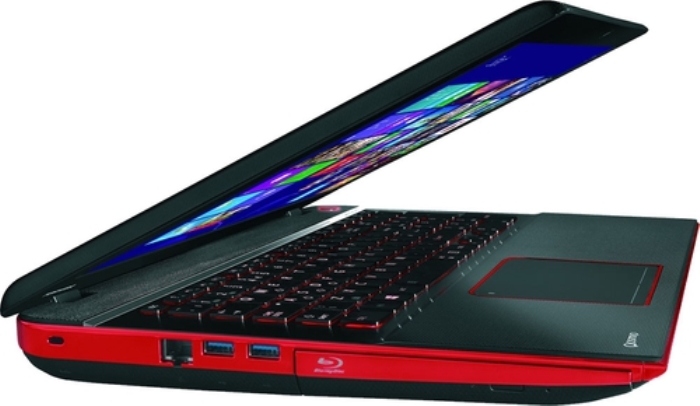 Stylish, powerful and modern – that can be described as a fleeting novelty in the world of mobile PCs Toshiba QOSMIO X70-A-K2S. Indeed, this 17-inch model is equipped by modern standards, a superb iron – top-end Intel-based fourth generation, respectively, decent integrated graphics, different discrete graphics, two terabytes of disk space, and in addition 16 gigabytes of memory standard, DDR3-1600 with a maximum extension of up to 32 GB. A perfect set for those who paid tribute to fashion and the omnipotence of high technology, and also loves exciting game.
Design
Laptop Toshiba QOSMIO X70 is the proud owner of a status geymerskogo device. It is sufficient dimensions, no different elegance and sophistication, but at the same time, the power of the "baby" clearly slipping in a rigid rectangular, wedge-shaped tapering to the front end, and a winning combination of dark gray, red and black colors.
Laptop lid is made of smooth metal, marked series QOSMIO bright red in the lower left-hand corner. Already tested, such a surface barely keeps unsightly fingerprints, therefore, subject to careful handling, Toshiba QOSMIO X70 for a long time will be able to demonstrate a neat appearance.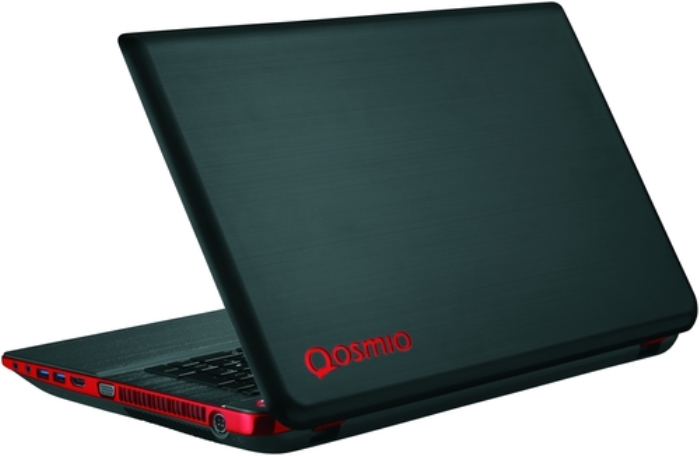 By the way, the design of X70 – is the last word from the company Toshiba. Assessing the appearance of a laptop in the closed position, the impression of layered device, this gadget. See for yourself – the dark lid and bottom, among which stand out the bright red spot ends. Of course, something like Toshiba has already released, for example, X500, but there is such a solution looks a bit different.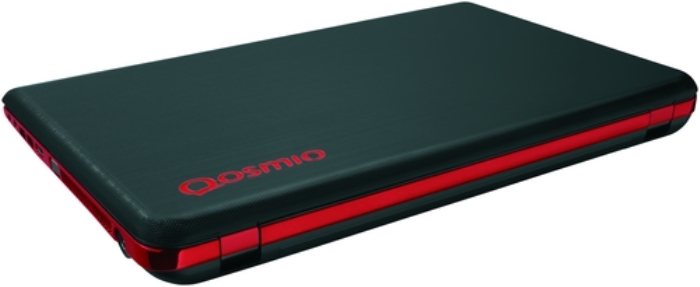 The bottom QOSMIO X70 looks empty – except for the rubber "legs" and the two sliders to remove the battery, there's nothing there. I will assume that to upgrade the laptop will completely remove the entire cover of the bottom.
Regarding size, then they are X70 418.6×272.5×29.6 – 44 mm, weight apparatus at 3.6 kg.
Display, audio, webcam
Laptop Toshiba QOSMIO X70 has a 17.3-inch display with a resolution of 1920×1080 pixels (Full HD) and aspect ratio to 16:9 aspect ratio. Screen matrix is ​​TFT technology, backlight LED, of course, is present. Well, with this set of media bias can expect a decent quality of images displayed on the screen. However, the angles can not be considered too perfect, but comfortably use your notebook with this fact is even possible. As a result, the picture turns out clean, with good color and contrast, so nice watching a movie and a great demonstration of the gameplay you provided. The only glossy display, so during the day, in a brightly shining sun, it will be a little reflection-free, to the same image will be darkish.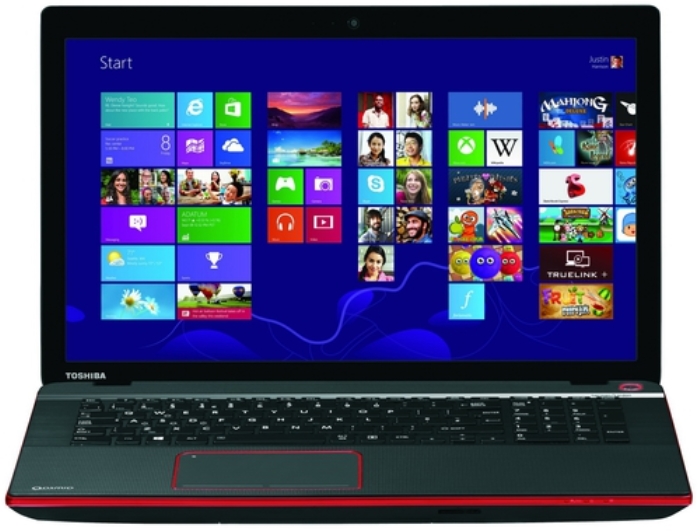 Play music from Toshiba QOSMIO X70 is a pleasure, because it is responsible for the four built-in 6-watt speaker Harman Kardon, high quality work which is good. In conclusion to this, the sound output is overclocked technology company DTS Studio Sound, so that music lovers and connoisseurs of good music should remain happy.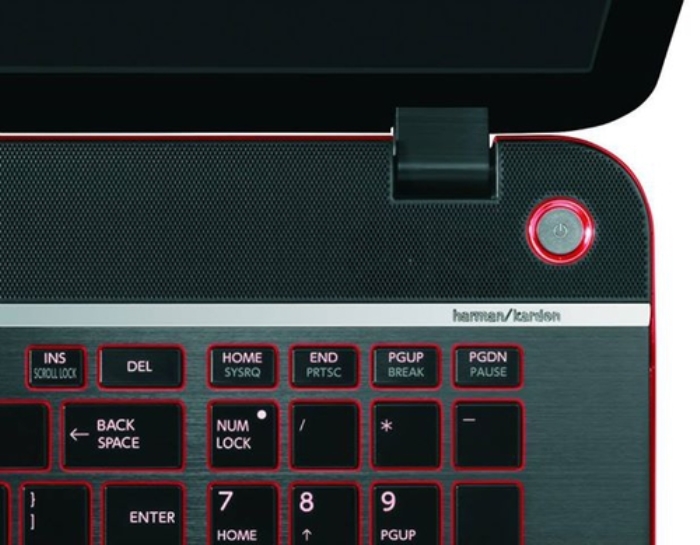 Built-in 2-megapixel webcam with microphone allows you to improve the quality of the live image to the level of Full HD, that is, up to 1920×1080 pixels. This means that to see a person on the screen during a video conference will be very comfortable.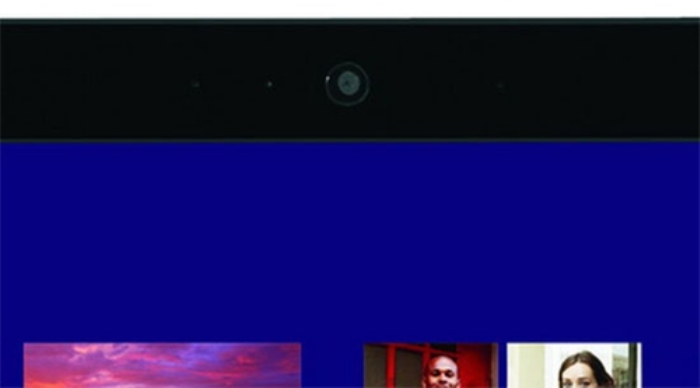 Keyboard and Touchpad
Frameless chiclet keyboard Toshiba QOSMIO X70 consists of 87 keys, including buttons Windows. If desired, it can be highlighted in red, as well as a power button located in the upper right corner of the keyboard unit. All the keys are matte black, positioned in relation to each other at a distance, so that typing or playing an active probability of erroneous press neighboring keys to a minimum. Optional digital unit, and the arrow keys uzhatye zone completes a full picture of the keyboard X70.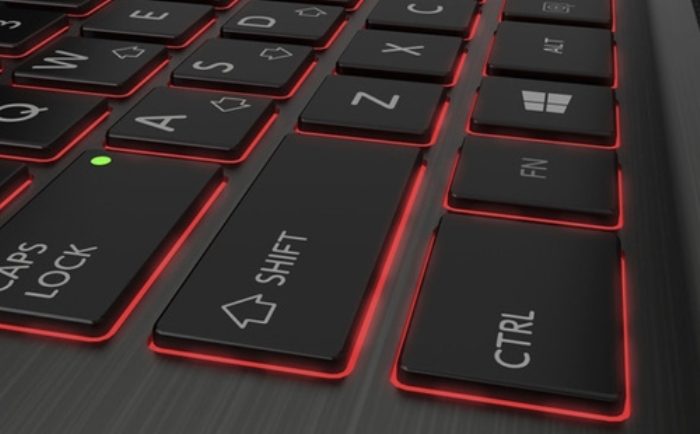 QOSMIO X70 laptop touchpad is large, on the surface it podladonnoy slightly offset to the left for your convenience. Dedicated physical buttons there, but with support for multi-touch zooming and scrolling is working properly.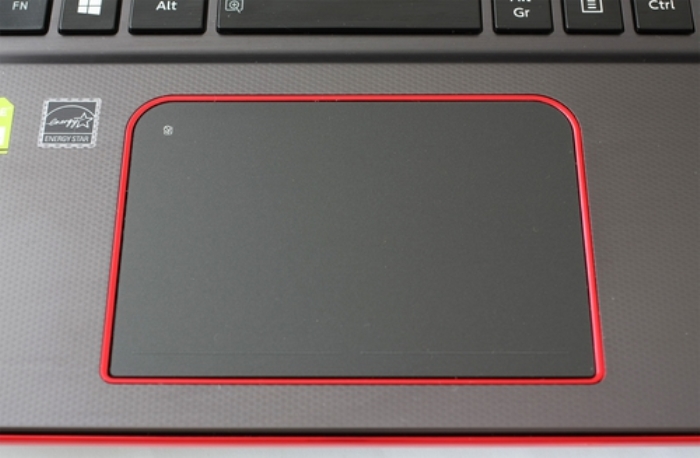 Performance
The brain of the gaming laptop Toshiba QOSMIO X70-A-K2S is a 64-bit operating system Windows 8. This OS has a lot to offer to the user, since the user-friendly interface in the style of Metro and ending support for DirectX 11.1 and the latest version of the NET.Framework – 4.5.
Problems on the processor part in the X70 CPU solves the newest fourth-generation Intel Core i7-4700MQ, the frequency of which with Turbo Boost Technology rises to the level of 3.4 GHz, with a nominal of 2.4 GHz. 4700MQ is a powerful quad-core solution with a high enough level of power consumption of 47 watts and an improved multi-threaded performance.
CPU Intel latest generation is based on a new architecture Haswell, built on norms of 22-nanometer manufacturing process (like Ivy Bridge) and offering a three-level cache, the amount of which in the last level is 6144 KB.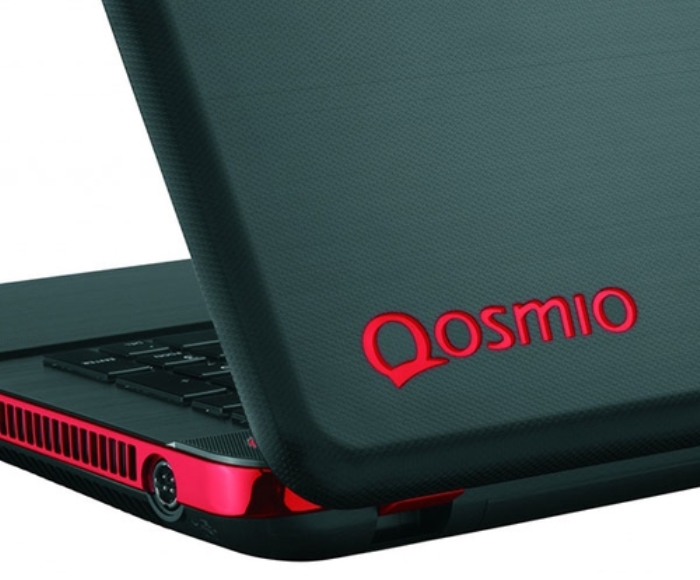 As already mentioned, Toshiba QOSMIO X70-A-K2S – this is a laptop designed primarily for multimedia tasks and the nature of the games. And if the first item we have understood, noting Challenger display with high resolution and high-quality sound system, then this game is definitely not enough. As graphics X70-A-K2S stands a very impressive set – integrated graphics Intel HD Graphics 4600 and discrete NVIDIA GeForce GTX 770M.
As is well known, Graphics 4600 equipped with some models Haswell, depending on what and changing the limits of its nominal frequency and dynamic (This card supports Turbo Boost). In the specific case of the Intel Core i7-4700MQ 4600 schedule runs at 400-1150 MHz and has 20 credit actuators. With these figures, it shows the performance is 30% higher than the Ivy Bridge Intel HD 4000.
Discrete graphics card NVIDIA GeForce GTX 770M – a high-level graphics solution with huge working resources. Thanks to it GTX 770M, notebook Toshiba QOSMIO X70-A-K2S can cope with any modern 3D-games on the back of high settings and a screen resolution of Full HD.
System Memory DDR3 offers a capacity of 16 GB with a maximum extension of up to 32 GB, while its operating frequency is 1600 MHz.
Hard drive – here's another item for which the owner of the Toshiba QOSMIO X70-A-K2S can be proud of their laptop. Disk space is formed by the two hybrid drives, each one terabyte (optional SSD and 8 GB of NAND as flash memory). The speed of the HDD – 5400 rev / min.
Ports and Communications
X70 laptop has enough interfaces to provide a comfortable user process. The left side is placed the Kensington Lock, LAN port, RJ-45, two consecutive USB 3.0 drive and Blu-ray.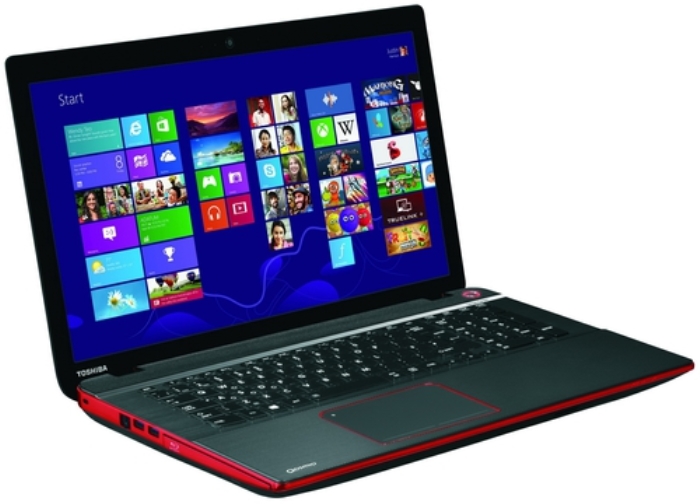 The front face is almost completely empty, except for a card reader that is compatible with many formats of memory cards (eg, SD, miniSD / microSD, SDHC, SDXC and MultiMedia Card).

The right side contains a few more slots – separate headphone and microphone jacks, two USB 3.0, HDMI, VGA, jack for the power cable and the ventilation grille. Notably, such a powerful laptop has only one zone for the circulation of air in the cooling system.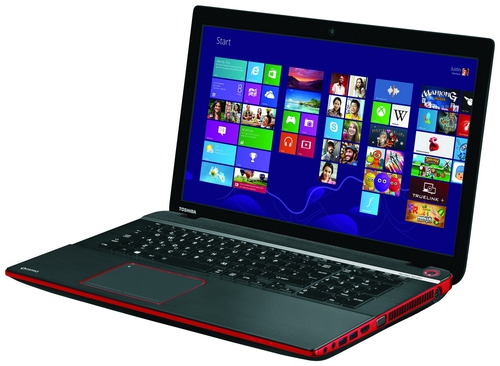 The rear face is empty.
From wireless technology Toshiba QOSMIO X70 can offer a standard set – Wi-Fi network support 802.11b/g/n and Bluetooth 4.0 + LE, which, actually, is quite enough for a laptop.
Battery
Laptop Toshiba QOSMIO X70 is equipped with a lithium-ion battery capacity of 3000 mAh. According to official data of the manufacturer, its operating capacity is enough for 3.3 hours of continuous operation.
Charging the battery by using the AC adapter to the system AutoSense and the output voltage at 19 V.
Verdict
Toshiba has more than once or twice pleased gamers the release of good gaming laptop models for a relatively affordable price, QOSMIO X70-A-K2S – another confirmation. This newest model QOSMIO game series demonstrates a perfect blend of style, completing the latest computer world and the quality of performance in general.
The large 17.3-inch display with a resolution of Full HD will make the games realistic and colorful, comfortable keyboard with numeric keypad provide additional comfort and precise control, and the abundance of connectors allowing you to connect a large number of peripheral devices.
Inside the laptop QOSMIO X70-A-K2S no less attractive than the outside – the latest processor Intel Core i7-4700MQ with integrated graphics Intel HD Graphics 4600 and the range 2400-3400 MHz clock frequency, high-level discrete graphics NVIDIA GeForce GTX 770M, two hybrid hard drive for every 1 TB of RAM and DDR3-1600 16GB, expandable up to 32 GB. This combination of components capable of solving a very demanding task, so that the use of such a device will take a lot of pleasure.
Read another very interesting article about alternative energy of the Sun, water and air.