Hidden Dragon. Xiaomi raises many competing companies is such an association. Smartphones that Asian companies go one better than the other! Let's see, will not break if Redmi Note 4G this tradition.
About Xiaomi many domestic users are known only by the news, boldly asserted that the Chinese company will soon overtake Apple and Samsung. And yet the pictures from press releases and more new exciting phones. Phones that are virtually not present in Russia or Europe. Because at the moment the company's efforts are focused on Asian markets.
However, everything changes. Soon we can see the official Xiaomi products and on the shelves of Russian stores. So, we should start to get acquainted with its new products as soon as possible. Let's start with the 5.5-inch Redmi Note 4G.
Design and workmanship
Relatively robust housing about 1 cm thick made of plastic with a combination of silver-white and black colors. Wheel system buttons ('back', 'home' and 'options') touch and work highlighted in red; three physical keys (volume control and on / off button), they are located on the right side edge of Note 4G.
The back cover and the battery is removable. There you can find slots for memory cards micro-SD and SIM-card. The cap is relatively easy, and yet she loves fingerprints and blots. Their rear side of the device is usually much larger than the screen.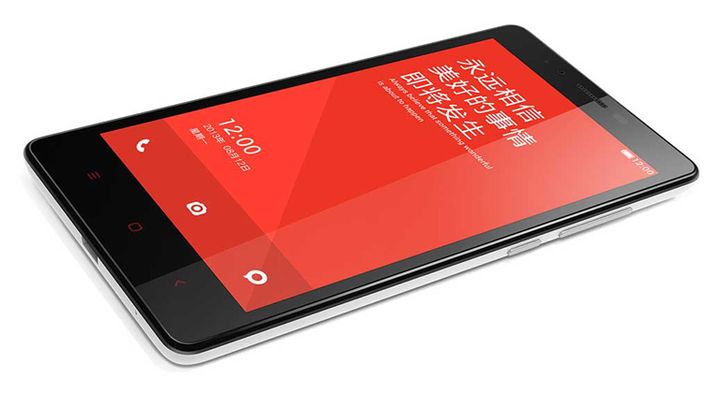 The build quality is generally good. However, bulletproof reliability can be expected. With moderate pressure on either side of the screen appear colored spots that pass through fractions of a second.
The weight (200 grams) is acceptable in view of the 5.5-inch diagonal.
Software
Immediately after turning on the phone welcomes the user pleasing to the eye GUI MIUI 5. It goes well with the already slightly outdated operating system Google Android 4.2 Jelly Bean. A small set of applications from the most Xiaomi partly useful (for example, a good player), partly useless. It is worth to notice the obvious focus of some services the original firmware on the Chinese audience. Because from time to time before the eyes of the user necessarily floats character or two. However, this is not a particular problem. The official app store Google Play works without problems, and everything you need for yourself, the user can find it – on any specific language.
Communication
The smartphone runs in the second mobile networks (GSM), third (3G) and fourth generation (LTE). Voice quality is consistent with modern standards, although our interlocutor said a couple of times quiet crackling noises or from our side. In a large city level indicator shows a stable reception 4 or 5 strips of maximum 5.
Communication at shorter distances realized through Bluetooth 4.0 and WiFi a / b / g / n / ac. NFC and similar protocols do not, the manufacturer did not consider them necessary for an inexpensive device.
Navigation through satellite system works quickly and accurately in open space. The room will have to be patient.
Camera
The front camera provides images at resolutions up to 5 megapixels and boasts a fairly wide viewing angles.
Rear (13 megapixels) has a flash and autofocus fast enough.
The quality of images in both cases worthy, although clarity compared to phones from other manufacturers are often not as good.
Interactive comparison of photo samples
Select the scene to compare devices made by different pictures. You can change the scale of the picture is displayed, as well as open a full size picture file by clicking (new window).
Management
Sufficiently large touch screen is the main unit of interaction between the user and the phone. The accuracy and speed of response to a touch does not cause problems. Permanent virtual keyboard is more or less comfortable, even though they occupy more than half of the screen when working in landscape orientation. If this is annoying, you can download alternative keyboard with Google Play; they are now, there are many, both free and paid.
Virtual buttons below the screen, as usual, it is not like wet fingers, but otherwise operate reliably. Light touch is enough to register the fact of pressing.
Display
Very bright screen (400 cd / m2 when installing lighting 100%) is made by technology, IPS. Its resolution – 1280×720 pixels. This provides a clear picture enough, although more expensive phone screens with a resolution of 1920×1080 or 2560×1440 pixels feel better in the discipline of comparison.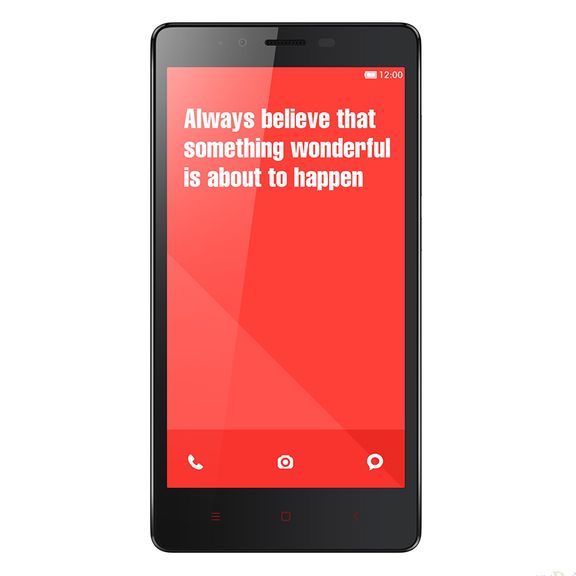 The image on the screen remains natural and readable when viewed from any angle. Factory calibration gives a measure of realistic, vibrant colors. View the video or photographic delivers positive emotions.
Colorimeter also showed a predominance of cold (blue) colors. In normal use, it is not critical.
Thus, the established manufacturer of matrix is very good considering the relatively low price Redmi Note 4G, but loses some indicators AMOLED screen and Retina.
Performance Xiaomi Redmi Note 4G
During the operation of the system and applications meet quad-core processor Qualcomm Snapdragon 400 MSM8928 (nominal frequency of 1.6 GHz).
Graphics Accelerator – Qualcomm Adreno 305. The volume of RAM is 2048 MB.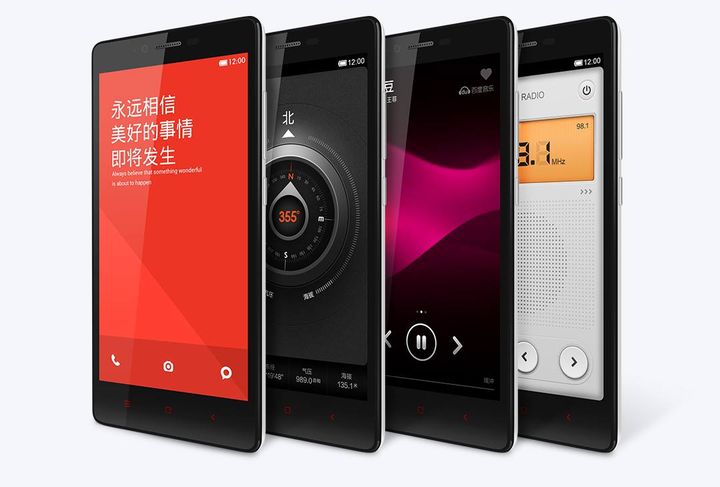 Such platform has been popular since the beginning of last year in a middle initial and upper price ranges (10-20 thousand rubles). It is good enough for modern games, video playback in Full HD resolution and lower communication and similar tasks. Launched test for Asphalt 8: Airborne behaves well with high quality settings.
In general, Redmi Note 4G is fast and responsive. However, the performance headroom for the future is virtually absent.
Noise and temperature characteristics
In operation, the smartphone slightly heated; Specific numbers depend on what a user is currently busy. In idle mode the cabinet temperature is comparable to the room, but a few hours playing games or watching TV shows heat it up to about 35 degrees (it noticeably warm). This is completely normal.
Modest speaker posted via the rear side of the smartphone does not sound too loud, but pleasant enough. Intelligibility in movies good. However, you should choose a takeout melody louder, otherwise there is a chance to miss a call in a noisy street. Also, if you put the phone face up to almost any surface, speaker overlaps and sounds very quiet.
3.5mm audio output in the use of non-different sound distortion or background noise.
work Offline
A modest power consumption combined with good battery (3100 mAh) provide neat results. In our test the battery life on the Internet via WiFi smartphone lasted 11 hours, what can not all. However, the increase in brightness of the screen results in a significant increase in energy consumption (the test was carried out with a brightness level of 1/3 of the maximum comfort to the eye in the medium lit room).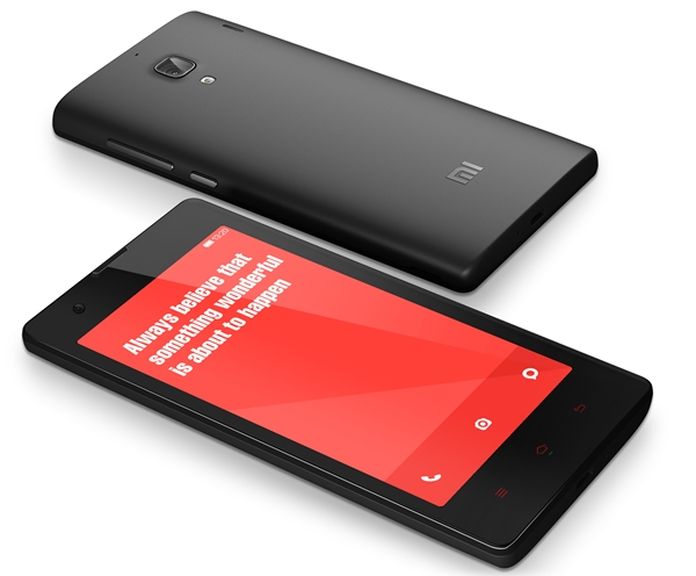 If you do not abuse the brightness of the screen and include the transfer of data over the mobile network, as well as GPS and WiFi only as needed, the smartphone Xiaomi easily on a single charge will last two or three days. Active use every day, in turn, implies the need to charge every night.
Verdict
For the money the smartphone provides very good performance. He also supports multiple spectra LTE, is equipped with a good camera and a good screen. During the use of the model, we found no significant deficiencies, except, perhaps, not the most recent operating system (Android 4.2 instead of the current version 5.0 now). But it's a very specific reason for criticism, which will be important not all users.
Read another very interesting article about alternative energy of the Sun, water and air.