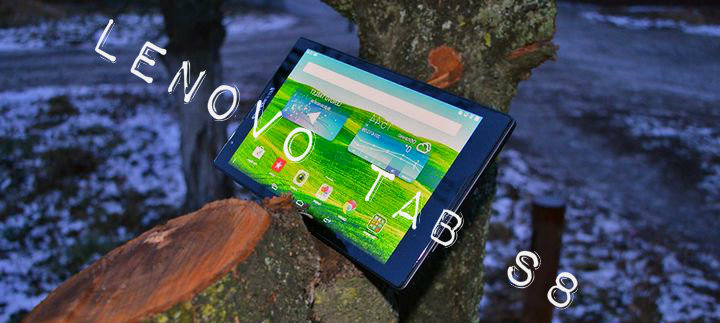 Tablet market today is very diverse. Everyone can easily find yourself is a device that will fully meet their needs. The company Lenovo, for example, produces a good plates in the middle price segment, which is represented by our today's hero – Lenovo TAB S8.
Packaging equipment
Lenovo TAB S8 has an incredibly modest packaging, as supplied is the pen tablet, sync cable, power adapter and documentation.
Design and Ergonomics
The front side is protected by glass, which, unfortunately, does not have oleophobic coating. Located on top of a loud speaker, under it – the inscription «Lenovo», and to the right is the front camera with a resolution of 1.6 megapixel for video calls. At the bottom is another loud speaker.
The back of the tablet has a matte surface, so the device does not slip out of your hands. Top left at TAB S8 located peephole 8 megapixel camera and flash underneath. And slightly below the center of the logo emblazoned «Lenovo».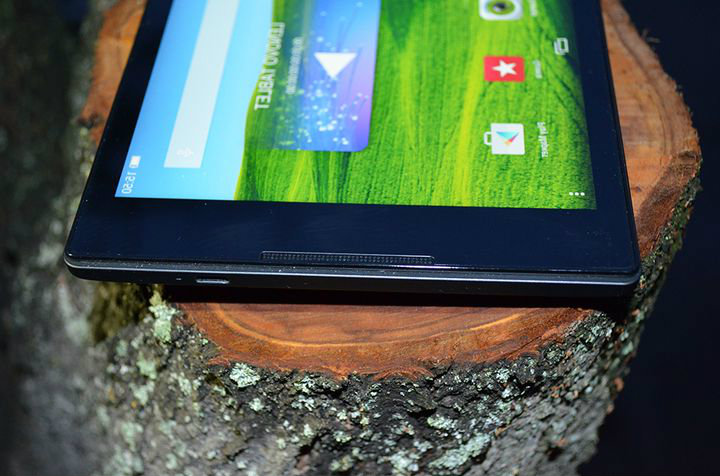 At the top of the right side is the power button below the volume rocker. Metal buttons and are easy to move.
The left side has a cap, under which is a connector for memory cards microSD. In versions of the tablet and S8-50L S8-50LC has a plug and socket has a card microSIM. But to our office to test arrived Lenovo TAB S8-50F, which does not have this connector.
The top was just a standard 3.5 mm audio jack and nothing more.
At the bottom there is a microUSB slot and a microphone.
With the build quality Lenovo TAB S8 everything is fine. The device is easy and pleasant to hold, as it has a very successful dimensions – 123.8 × 7.9 × 209.8 mm. Weight of only 299 g
Display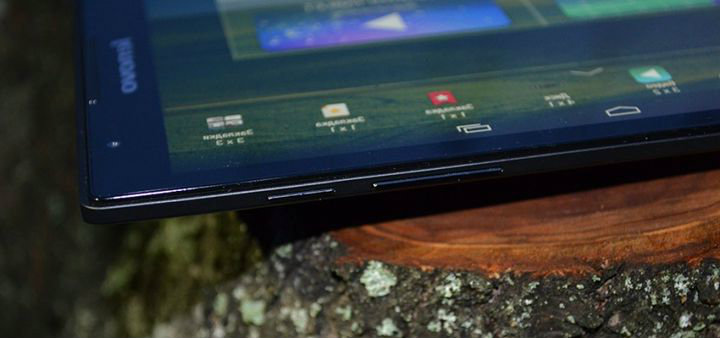 Diagonal screen tablet Lenovo TAB S8 is 8 ". Resolution – 1920 × 1200 pixels. IPS-matrix has a maximum viewing angles without color distortion under all possible angles, good color rendering and sensitivity. Slide your finger across the screen fine. On the screen comfortably read, surf the Internet and watch movies. Margin of brightness in the tablet is very good, although there is no automatic adjustment of the sensor that can stretch a drawback. Display collects fingerprints, but if you do not look closely, it is not very noticeable. In general, the screen from Lenovo TAB S8 comfort and quality.
Camera
Lenovo TAB S8 is equipped with a pair of cameras. Frontal though takes pictures in 1.6 megapixel resolution, but it turns out they are decent quality.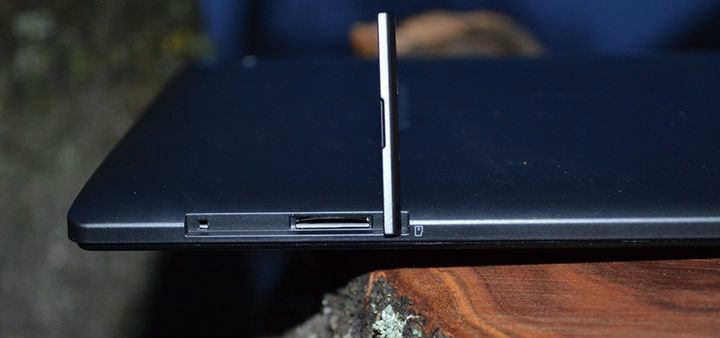 A main camera has already as much as 8 megapixel and flash. Photo quality is quite good, but there is a problem with the stabilization and focus. Not always the first time can get the footage of that quality to which you would like to count. But with its task module does well in the dark – the flash helps.
With shooting videos here, too, there is no problem. Video is not very good quality, but for something to capture the moment in an emergency, come down.
Hardware Platform
TAB S8-50 is based on a chip Intel Atom Z3745 (22-nm process technology, the type of kernel Bay Trail-T) with a frequency of 1.3 GHz, which can be increased up to 1.86 GHz. RAM 2 GB – enough for stable operation of any applications and games. Data storage capacity – 16 GB, plus there is the possibility of expanding memory cards microSD.
With games, things are good, as everything goes very fast and smoothly.
Applications on the tablet also work quickly and without lags. Multitasking enough, switching between processes quickly. Videos of any resolution, including 1080p, played without any problems.
Software Platform
Tablet running Android 4.4.2 with firm shell from Lenovo.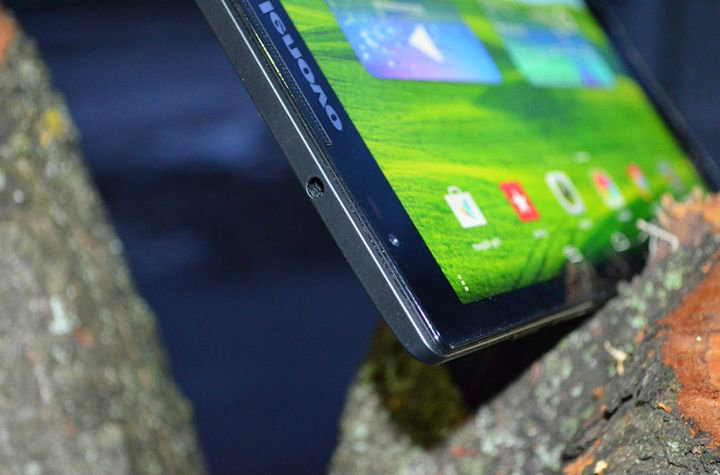 Immediately when you first turn without thinking twice, I got into the settings to see if an update is available "on air". Seeing that still available, I decided that it was to upgrade to a newer version, but no – just to correct the mistakes and bugs the previous version.
In terms of software from TAB S8 all good, since there is no unnecessary applications, all in their own need. Pre-installed applications are the same as the other tablets from Lenovo.
Sound
Since the tablet has two speakers is not the front panel, the sound quality and no problems, because at this location their sound more naturally directed towards the listener, which greatly improves the quality of his perception. And with the quality of sound from the front speakers Lenovo TAB S8 everything is fine. Stock volume enough to work in a small room.
In addition, there exists the software upgrade, which can be used to adjust the sound of a certain content – music and games to set some settings, and for movies – other. The program also has a demo video showing how the sound with the included improvement, and without it.
Autonomy
With autonomy, unfortunately, Lenovo TAB S8 things are not quite right. Removable lithium-polymer (Li-Pol) battery has a capacity of 4290 mAh. Energy efficiency in standby mode is not bad, but in the active tablet runs out quickly and is able to work around 3-3.5 hours screen while surfing the Internet, watching YouTube-video, reading sotsialok, checking mail and a few games.
Findings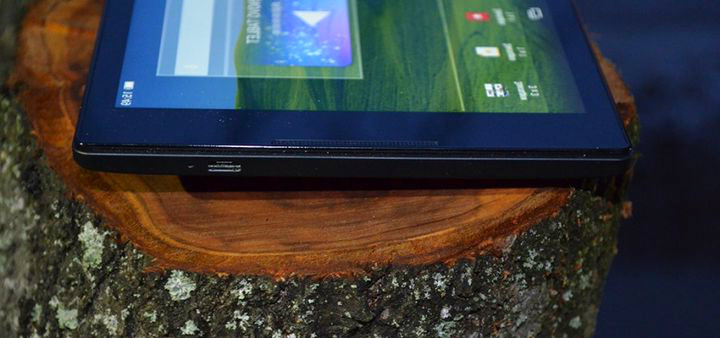 If taken as a whole, the tablet is a solid, well-constructed, has a good 8 "IPS-display with a resolution of 1920 × 1200 pixels, two good camera has a powerful processor that can easily turn their any games and programs and, of course, two different dynamics quality which are arranged on the front side.
In cons is attributed autonomy, lack of smoothness of the main screen, complete set, so we would like to see here except cable USB, power supply and instructions something else, and price.
Read another very interesting article about alternative energy of the Sun, water and air.