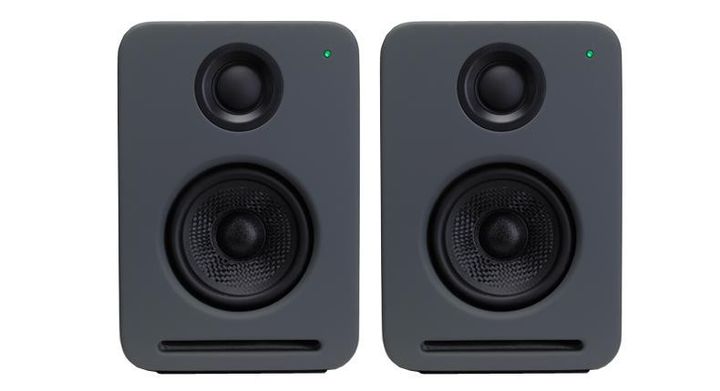 The company has earned a solid reputation Nocs as a manufacturer of headphones, and a year ago decided to enter the promising market of active speakers. The first swallow was reading NS2 Airplay, receive streaming signal only with devices Apple; Swedish firm now has a wider audience for their speakers: NS2 v2 is compatible with Apple and Android. In addition Airplay and 3.5 mm inputs NS2 v2 equipped with Bluetooth and support Spotify Connect, which is useful for subscribers Spotify Premium.
V2 version added to the list of finishes NS2 (white, yellow, orange, black, red and gray) green. And if our pet and owner of awards, Ruark MR1, miniature seemed to us then Nocs look just tiny; they are ideal for working or kitchen table.
Unlike traditional appearance Ruark, design NS2 v2 definitely belongs to a new era: matte rubberised body from MDF – a soft, clean, very nice rounded edges. 7-cm Kevlar midrange / woofers and a 20 mm silk dome tweeters actuated Amplifiers Class D. effectively and rounding around the speakers, and black woven Kevlar cone.
Durable and stylish housing is provided with a layer of foam on the bottom, which is convenient for installation on the table. Due to lack of faceplates no holes. Slotted front reflex port provides flexibility in placement.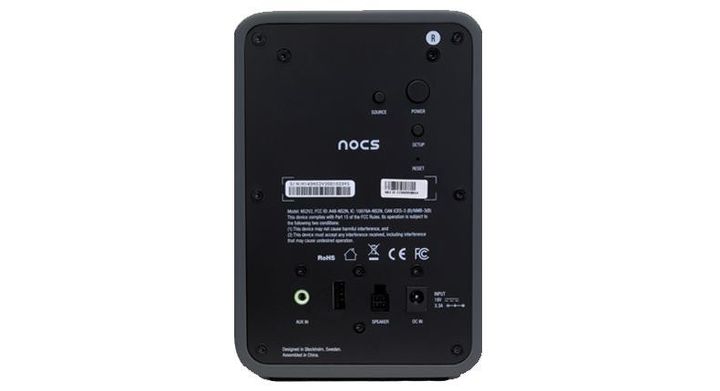 The right speaker is the "master"; it connects to the network and is equipped with the power button, source selection, and configuration. Cable length of 1.25 or 3 meters (both included) sends a signal to the left column.
Configuration is quite straightforward; Pressing «set-up» on the right speaker initiates a connection via Bluetooth to the desired device. For the integration into a home network, download the free app Nocs NS2 for iOS or Android, and follow all the steps required. Apple devices can also be configured via the USB-port of Technology.
At first glance, it seems that the sound Nocs be as modest as their dimensions. Surprisingly, this is not so; it is a large-scale, detailed and very effective.
Song (You Will) Set the World on Fire – one of the most energetic in the album The Next Day, David Bowie, but Nocs enough rhythmic talents and shot in the locker, to pay tribute to her.
Signal transmission via Bluetooth and Airplay sound is clean enough (although the cable it even better). These speakers direct and decisive character. They work great and open space, and standing against a wall. Lovers MP3 format lucky: Nocs clean and meticulously reproduce the even dense and unbridled song arrangement Punching In A Dream group The Naked and Famous at low-resolution recording. A more relaxed composition Within duo Daft Punk admires smoothness and variability of the piano. Plates clean and gently ringing in the background; bass is much deeper than you'd expect from tiny speakers. Perhaps, NS2 v2 somewhat lacking finesse and balance; average range slightly harsh, but sometimes the smallest details are obscured.
Sometimes in a small body hides heroic spirit – and that can be said about the AU Nocs NS2 v2. Perhaps the clarity and expressiveness of the dynamics they are inferior to the leaders of the class, but they have very nice sound, they are able to connect to almost any device and be located almost anywhere.
If you need a desktop speakers with Nocs should get to know.
Price: $ 350
Rating: 4
PROS: Nice and punchy sound; good dynamics; deep bass for these dimensions; practical; construction and design
CONS: The rigidity of MF; lack of refinement
VERDICT: The tiny versatile speaker with a very pleasant sound noteworthy
Source: Nocs NS2 v2 
Read another very interesting article about alternative energy of the Sun, water and air.