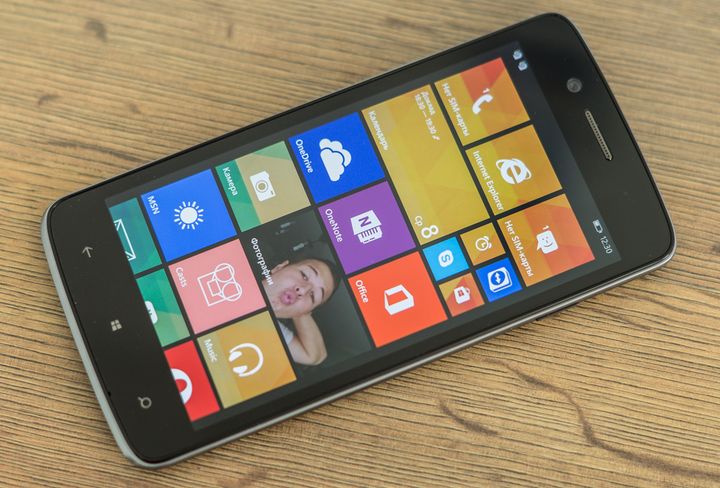 What do you think of when you hear the word New Windows Phone? I would argue that first come to mind smartphones Lumia. Prestigio company decided to try to break the pattern and occupy a niche "tile" smartphones, releasing a couple of their models. Today we look at Prestigio MultiPhone 8500 DUO, which, as stated in a recent presentation, designed to compete with Lumia 630. Prestigio Will it have to break the pattern? Let's see what we will offer the smartphone for $ 160.
Packaging and equipment New Windows Phone Prestigio MultiPhone 8500 DUO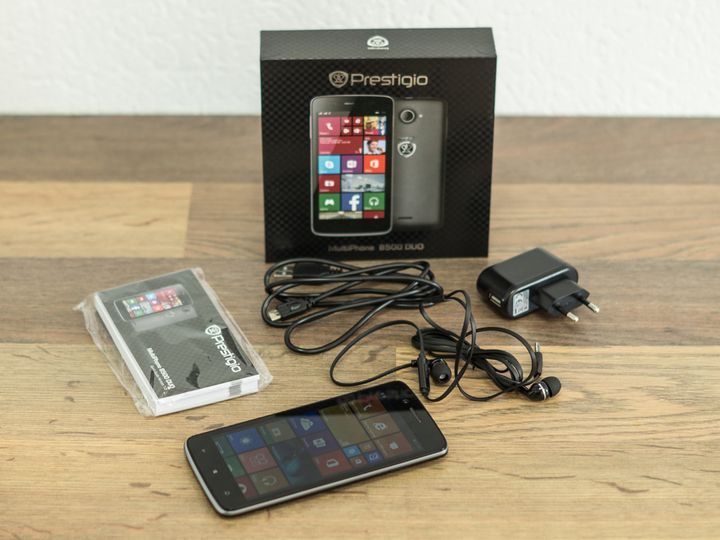 The smartphone comes in the familiar company of corrugated carton of black cardboard. Grade as follows:
cable and power supply
wired headset with microphone
thick wad of instructions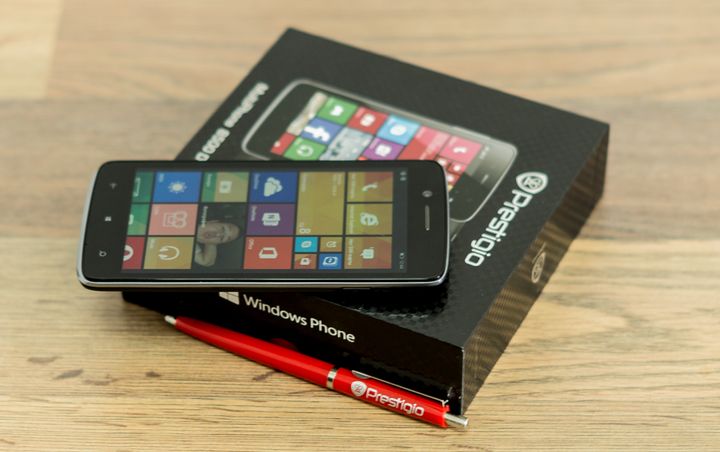 Unlike the Lumia 630, then there are USB-cable and headset, but there is no bright removable panel. In general, a complete set Prestigio MultiPhone 8500 DUO can be described as a standard.
Design and Ergonomics Prestigio MultiPhone 8500 DUO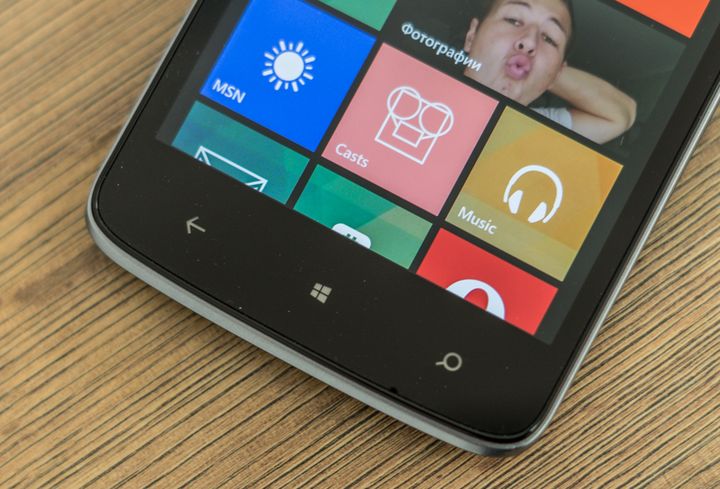 Externally, the five-inch smartphone Nexus 4 is a bit like a little impersonal, but with perfectly rounded corners. Under the screen there are the usual controls in the form of three touch buttons.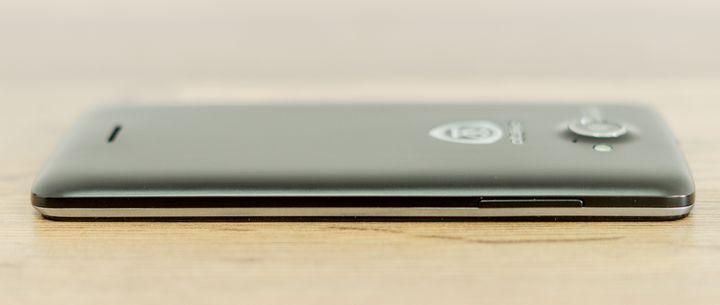 The left side provides space for the volume buttons. On the right – the power button / lock. Control unit for the camera is missing.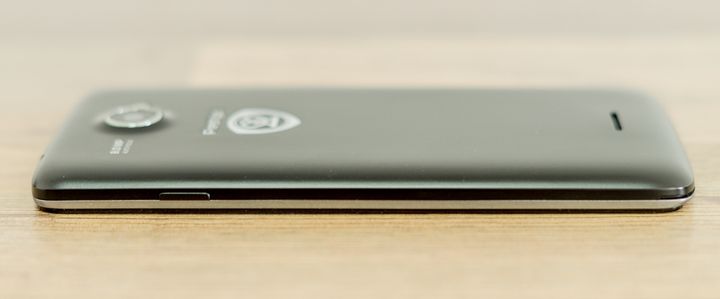 The top of the connectors microUSB and 3.5 mm jack.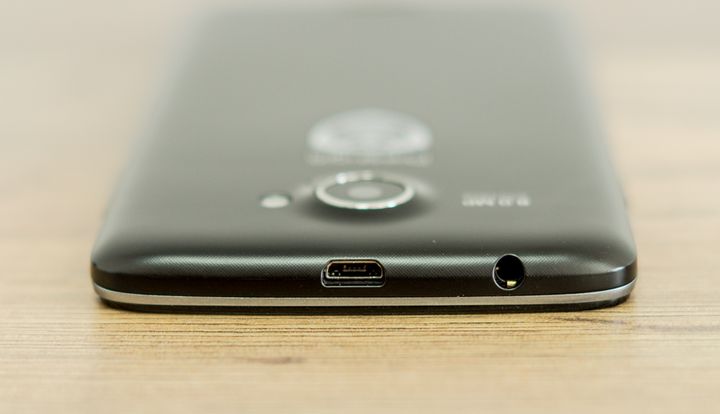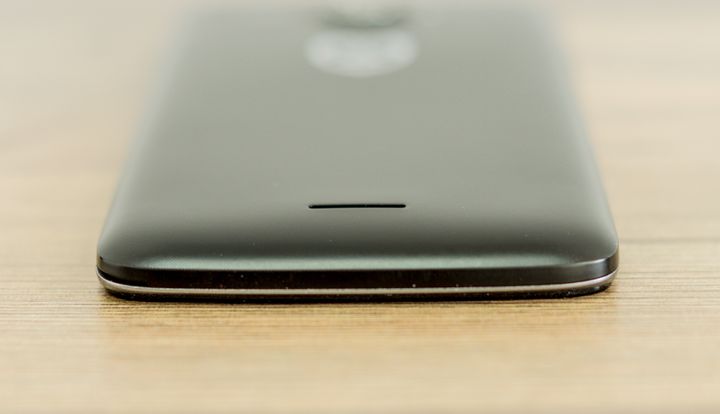 Thin New Windows Phone – a thickness of 8.3 mm, and the device feels nice in the hand. Weight – 140 grams. Dimensions allow you to use the device with one hand after some adaptation of the grip.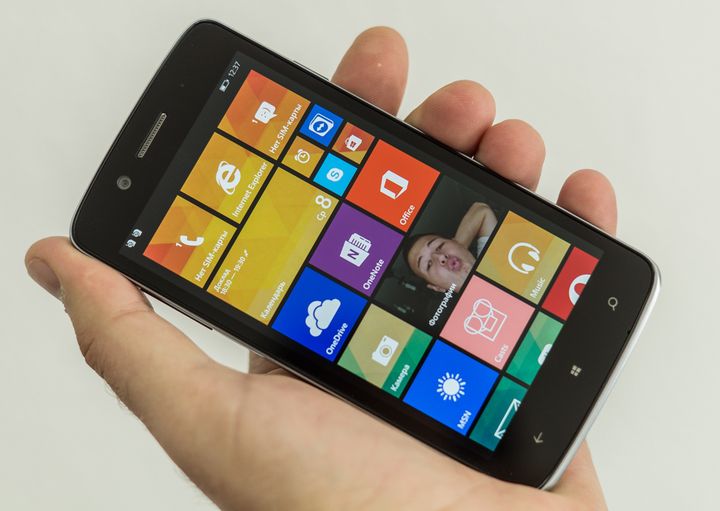 Removable cover new Windows Phone Prestigio MultiPhone 8500 DUO decorated the manufacturer's logo, has a minimum thickness and is made of brushed matte plastic. It is located under the removable battery, which is an exceptional rarity for modern devices and may be useful in some situations. After removing the battery, you can get access to a pair of slots for full SIM-cards and one slot for microSD. Assembled smartphone bad – no squeaks and can not be deformed and that's noticeable backlash button.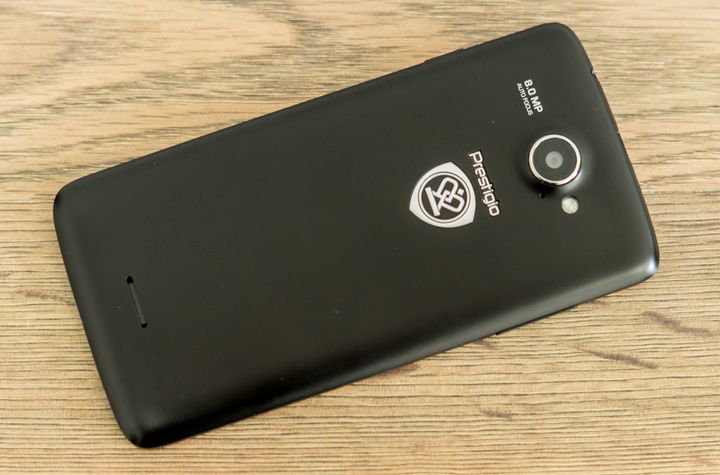 Comparing design new Windows Phone Prestigio MultiPhone 8500 DUO and Lumia 630, we can say that there is a certain parity. If Lumia covers the sector of youth, extraordinary and brilliant solutions, the Prestigio more marks on the role of the corporate smartphone with strict design. It is unlikely that you will be able to bring them to the attention of others, as was the case with the orange Lumia 630, but first answer a simple question: "Do you need it?".
Screen Prestigio MultiPhone 8500 DUO
Five-inch IPS-screen Prestigio MultiPhone 8500 DUO, new Windows Phone has a resolution of 1280 × 720 and a density of 294 pixels per inch. I will not talk about that for a five-inch smartphone resolution is low, the untrained eye it is imperceptible. But if you compare the quality of pictures lying near by Impression ImSmart 2.50, the difference becomes more pronounced. But if you remember the cost of Prestigio MultiPhone 8500 DUO – all complaints disappear. Designed to ensure the protection of the display glass Corning Gorilla Glass 2.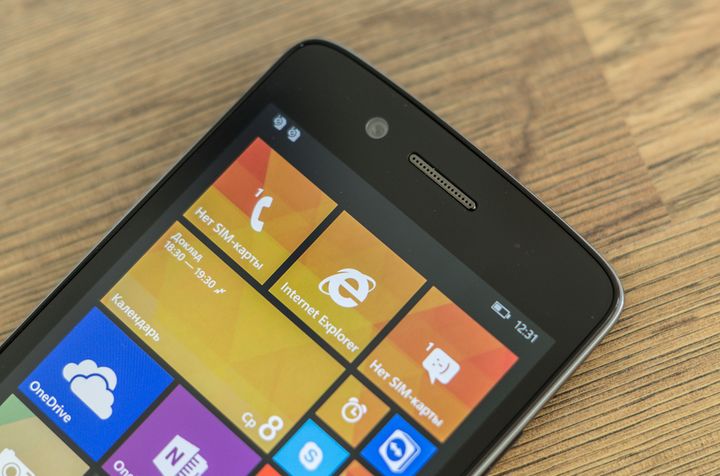 Through technology, in which formed the screen angles of the matrix are good. Levels of brightness for optimal daylight, but not suitable for use smartphone in a dark room for a long time. Brightness profiles yet, maybe they will appear in a future update. Alas, this is more a problem of the OS, not Prestigio.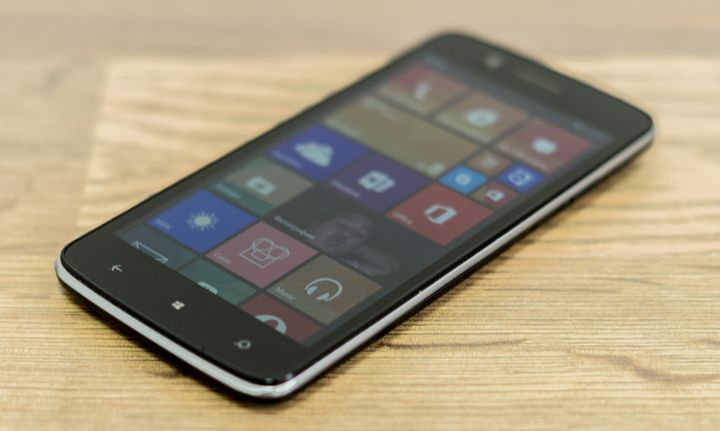 Quality oleophobic screen coating mean, it's quite cheerfully collects fingerprints and environmental dirt.
New Windows Phone – Camera and Sound
New Windows Phone  – Prestigio MultiPhone 8500 DUO is equipped with a main camera with a resolution of 8 megapixels with autofocus and flash, as well as the front with a resolution of 2 megapixels. Higher resolution, the presence of the flash and the front camera – a qualitative leap compared to the Lumia 630. standard camera app for smartphones running Windows Phone, describing it not see the point.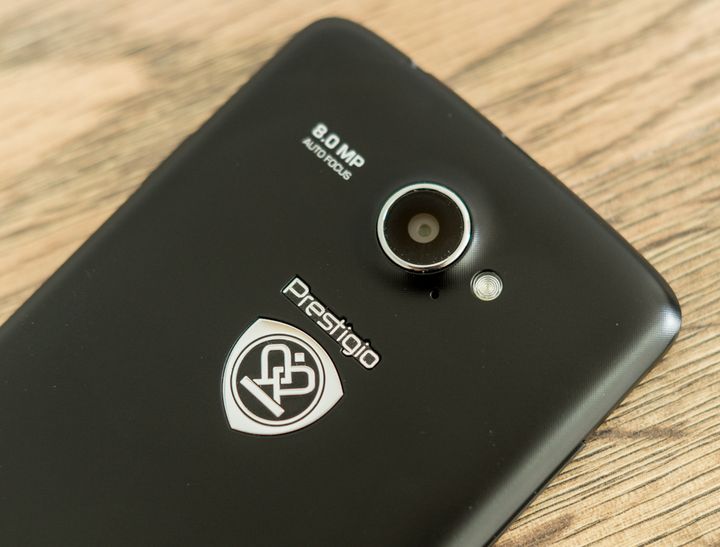 The main camera on new Windows Phone module can be described as average quality – the auto focus relatively leisurely and takes about one and a half seconds. Among other characteristics of the camera, I note a fourfold digital zoom. Minimum focusing distance is 10 cm. Camera takes good in daylight, but in a non-ideal, begins a little noise and lose detail. For examples of images Prestigio MultiPhone 8500 DUO you can read below:
Speaker smartphone on new Windows Phone, located under the back cover, loud enough, it can be heard even in a noisy environment. Sound in the headphones outstanding call will not work – it's a little inferior to what I have heard from Lumia 630, but the volume is very enviable margin helps when listening to music in public transport.
The Hardware
New Windows Phone – Prestigio MultiPhone 8500 DUO is based on the Qualcomm Snapdragon platform 200 (MSM8212) quad-core Cortex-A7, running at 1.2 GHz, and graphics Adreno 302. RAM 1 GB built-in – 8 GB. However, the actual available memory on your smartphone just over 5 GB, so I advise you to immediately get a memory card. Iron plays notorious lyumii, which used a chip Qualcomm Snapdragon Adreno 400 and graphics 305.
As correctly noted colleagues, steel filling Prestigio MultiPhone 8500 DUO works "to the limit", which is why there may be a delay in the operation. This manifests itself in heavy toys and while working with the system interface with a short-term subsidence fps. Sufficiently weak graphics chip has to pull himself on HD-display, and leave provisions for demanding applications. On the other hand, our hero has access to more apps by doubling the amount of RAM.
New Windows Phone has support for two SIM-cards. Switching between them is provided with the slider in the application "phone."
Program shell
The smartphone runs on Windows Phone 8.1. The operating system is clean, third-party applications, as in the case of Lumia, not provided. The smartphone is also involved in the test program Preview for developers, which will undoubtedly please fans of experiments.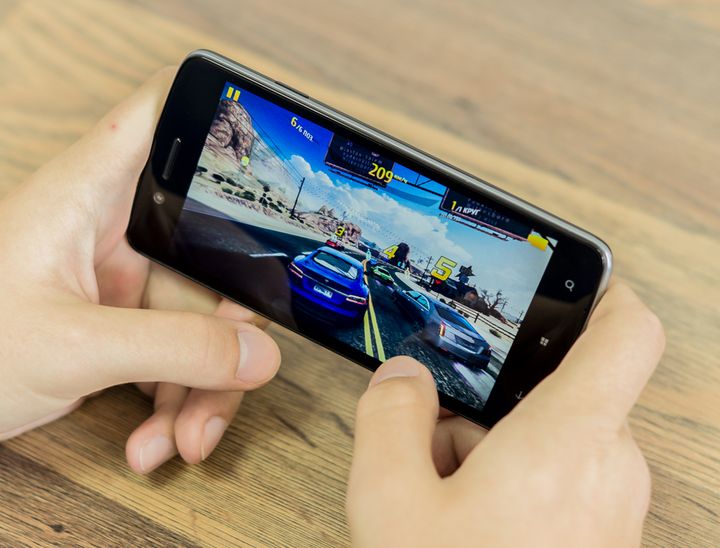 About the general smoothness new Windows Phone – Prestigio MultiPhone 8500 DUO impressions formed controversial. Initially, I noticed that definitely scared – Windows Phone notably retarding. After installing the update, things went better, but blind notifications anyway dropped out with a small wrench. The frame rate still occasionally sags in some severe applications.
Remembering applications for Lumia, it should be noted that most of them can be downloaded from the Marketplace. Navigation map pack HERE for MultiPhone 8500 DUO is available for download in its entirety, but the Nokia Camera remains exclusive to the smartphone Lumia.
Autonomy Prestigio MultiPhone 8500 DUO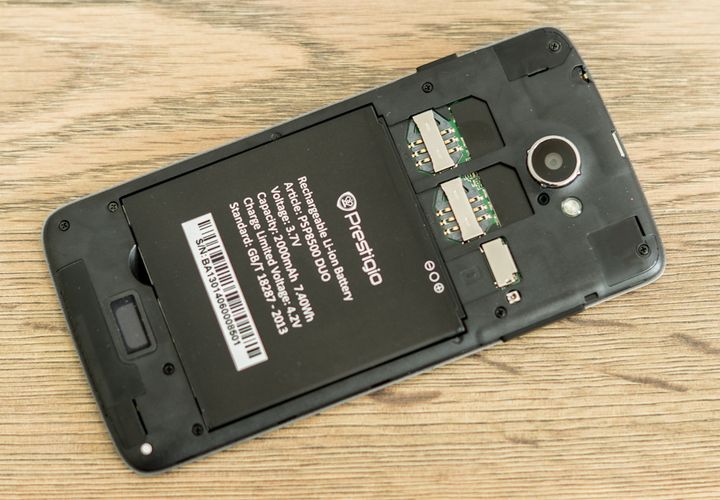 New Windows Phone – MultiPhone 8500 DUO is equipped with a removable battery capacity of 2000 mAh. At first glance, this may not be enough, but, as experience has shown, the stock autonomy smartphone lasts for two days with an average load. If you do not release the device from the hands – life until the evening it is provided. Similar performance was achieved through use of a relatively budget, but energy-efficient iron fillings.
Conclusions – New Windows Phone
New Windows Phone – Prestigio MultiPhone 8500 DUO left quite ambiguous device with certain compromises. In simple, attractive package of practical material, but backlash button. IPS-matrix high by the standards of budget resolution pleasing image quality, but quickly covered with fingerprints and dirt. The Hardware released a gigabyte of RAM, but suffers from a lack of performance of the graphics core. I would like to believe that the latter is offset by future updates.
Drawing parallels with the Lumia 630, I can not say that the smartphone Prestigio went better or worse. If you look at the dry performance, the new Windows Phone – Prestigio MultiPhone 8500 DUO really has a better camera with flash and the display with a higher resolution, and the same "1GB of RAM." Lumia may respond better sound quality, more compact and more nimble work in any problems. Also the device in common cost of an average of $ 160-165.
In practice new Windows Phone MultiPhone 8500 DUO and Lumia 630 – the competitors, but the original. These are two different units in the same price segment. Lumia get a younger audience prefers compact solutions famous brands, bright design and proprietary applications. Prestigio in turn offers a budget, but a balanced device for corporate users who prefer services Microsoft, and older audiences, which need strict design, the advantages of the long diagonal of the display, as well as the camera for video communication.
What Prestigio MultiPhone 8500 DUO attracts attention:
practical housing and removable battery
IPS-screen, high (low cost standards) Released
the presence of the front camera
the latest version of Windows Phone
What will have to accept future buyer:
easily soiled screen, it would be nice to get a film
backlash controls and the lack of a camera button
slowness of the graphics chip
Read another very interesting article about alternative energy of the Sun, water and air.