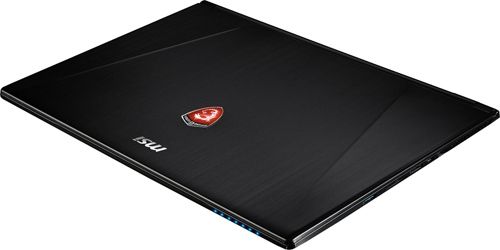 Not so long ago the world saw one of the gaming laptops MSI GS60 2PC Ghost, who had already obtained a number of awards, both for performance and for innovation. Many it will not leave indifferent, it's a monster when it comes to entertainment. This is facilitated by powerful stuffing, excellent display and very comfortable keyboard with excellent lighting. To date, most likely, this monster and professional in their field will be quite popular even among experienced gamers, as unlikely in today's games and other complex tasks, he will be defeated.
Technical characteristics MSI GS60 2PC ghost
Processor: Intel Core i7-4700MQ 2400 MHz
Memory: 8 GB DDR3 1600 MHz
Storage: 1000 GB HDD 7200 rpm, 128 GB SSD
Display: 15.6 "1920×1080 Full HD LED, matt
Video: Intel HD Graphics 4600, NVIDIA GeForce GTX 860M 2GB GDDR5
Wireless: Wi-Fi 802.11b/g/n, Bluetooth 4.0
Audio: Dynaudio, 4 speakers
Interfaces: 3xUSB 3.0, HDMI, Mini DisplayPort, RJ-45, card reader SD / SDHC / SDXC, headphone output, microphone input
Extras: 2 MP webcam
Battery: 6-cell Li-Polymer 4640 mAh
Dimensions, weight: 390h266h20 mm, 1.96 kg
Operating system: Windows 8.1 64-bit
Options: MSI GS60 2PC-023 Ghost
Design MSI GS60 2PC ghost
Surprisingly, the body with dimensions 390x266x20 mm and weighing 1.96 kg belongs to gaming laptop with powerful modern filling. Is not only pleasant to realize, but also visible because geymerskie machines, usually not only a marker, but also heavy.
By the way, the exterior looks like a typical gaming devices. This and the use of black and red colors, and angular elements on the cover. Laptop qualitatively collected, gaps between the parts are missing. At the same time on the surface of MSI GS60 2PC Ghost often fingerprints that are not too easy to wash, and body rigidity is not ideal, because the lid a bit of flex.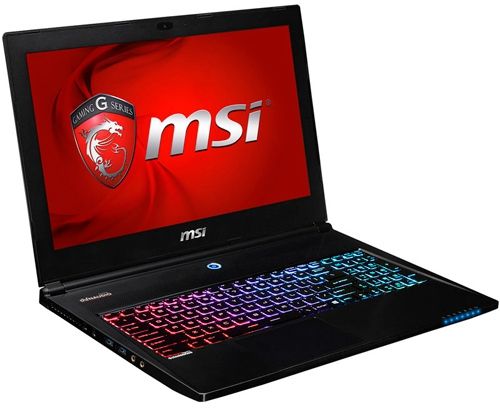 To the surface of the laptop is not too heated, provides good cooling system. In particular, at the bottom are provided with ventilation grilles through which air enters into the device.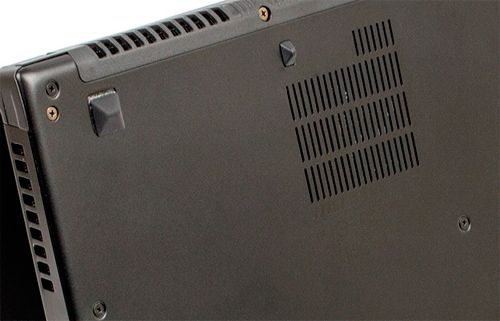 In MSI GS60 2PC along with the plastic used metal precisely polished aluminum. It made the cover, work area, as well as the side of the hull. From decorative items available emblem «Gaming Series», as well as company logo MSI. It can be seen that there is nothing superfluous design, which, however, does not repels laptop. In general, the laptop looks stylish, expensive, a bit ambitious, but not aggressively.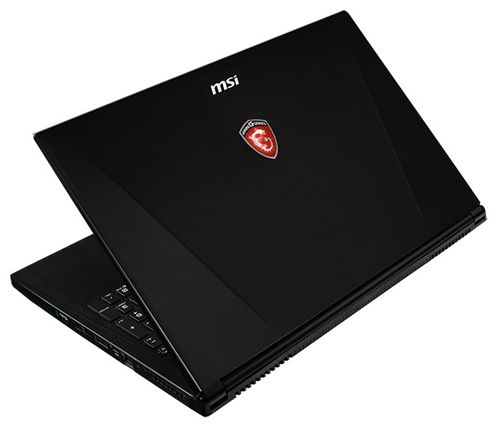 Display, audio, webcam MSI GS60 2PC ghost
This gaming notebook is set 15.6-inch display with a resolution of 1920×1080 pixels. Full HD except it boasts a matte finish that minimizes glare. Use such a display is quite comfortable, inscriptions and program icons are not small, they do not need to look closely. By the way, the screen brightness is low, the contrast is more than enough, and just an amazing rendition.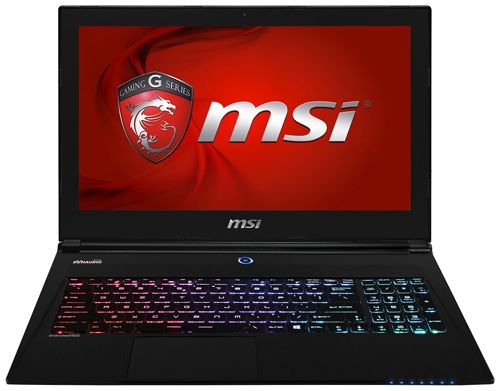 Quite often, manufacturers have stereo speakers above the keyboard area. And there is no exception. The only thing that is not only a pair of speakers in this place, but also on the bevel towards the front. Despite their availability and sufficient audio Dynaudio, the laptop is not able to please a great sounding, obviously expected of fairly well-known brand. When playing music will be heard particularly high frequencies, partially overlapping low and little volume. Of course, too loud MSI GS60 2PC Ghost call does not work, yet the location of the second pair of speakers from the bottom part lost. Nevertheless, the volume level is sufficient, even if the headphones are not connected.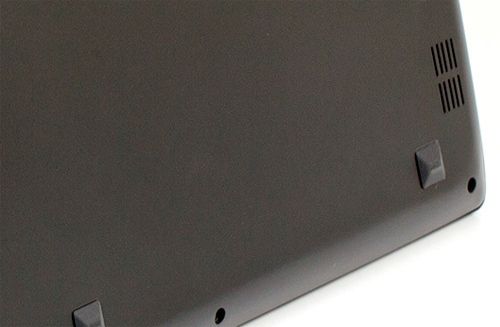 Front webcam in the laptop has a resolution of Full HD, to communicate in Skype, photo and video it fit perfectly.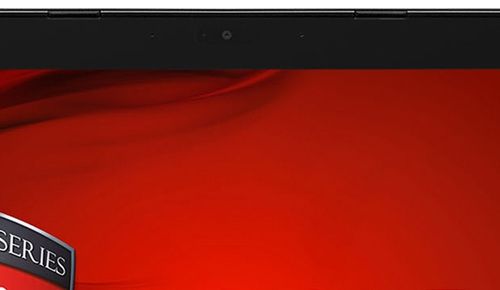 Keyboard and Touchpad MSI GS60 2PC ghost
In MSI GS60 2PC Ghost provides a full-size island keyboard from SteelSeries, which includes a separate numeric keypad. During printing, all the buttons are working with a short course, besides they are pressed more tightly, but with a great impact and not particularly noisy, that can not be overlooked. By the way, when typing, you'll notice that the keyboard flexes slightly. Also have to get used to the characters too big Latin and Cyrillic small enough. However, those who are accustomed to touch-type, will not feel any discomfort.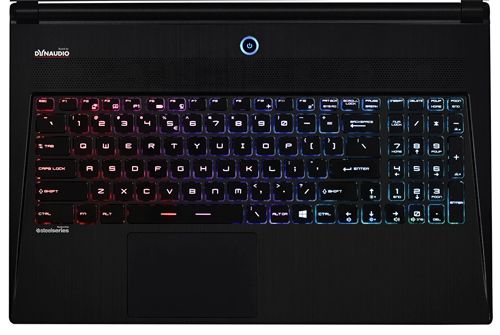 We should also mention the backlight keys. During the game you will be much more convenient to use the keyboard as highlighted three areas in different colors and five different scenarios. So, for games you can adjust the backlight differently than, say for normal mode. By the way, in combination with [Fn] can adjust the saturation of the backlight by pressing [+] and [-] or even turn it off.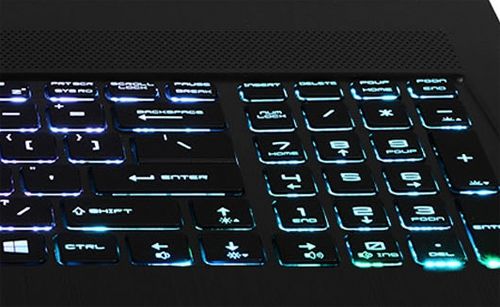 No less curious glow realized the power button, it depends on what kind of video card you are currently using. For example, if the active discrete graphics NVIDIA GeForce GTX 860M, then the circle and symbol [Power] will be orange when using the integrated graphics card – light blue.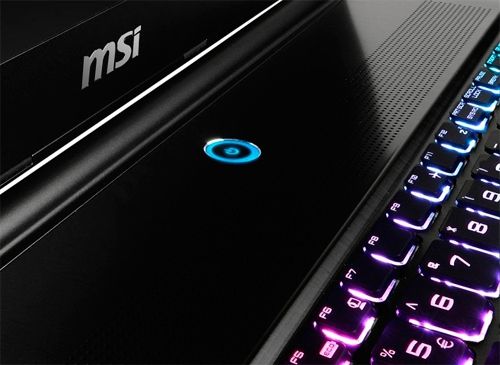 It is noteworthy that almost all buttons keyboard, except for [F1] – [F12] and [Fn], you can set your preferences for other functions other than those for which they are programmed. For example, you can run the application by simply pressing a certain key, rather than using a click on the icon. Gamers the opportunity seems very comfortable and is unlikely to remain unnoticed.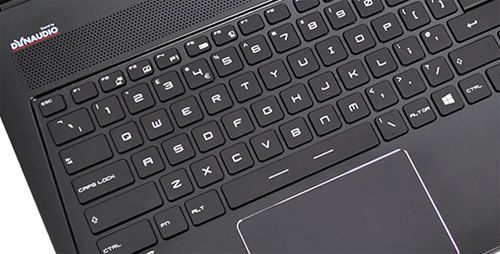 The touchpad on a laptop made besknopochnym, from an area a little more. Clicking on the right and lower left corners, you can use functions similar to the mouse buttons. Despite the fact that the player is unlikely to be used often touchpad, you should know that the touch area is pretty sensitive, supports a variety of gestures, including those that can be performed exactly in Windows 8.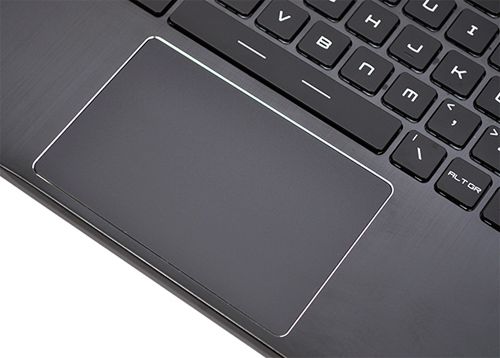 Performance MSI GS60 2PC ghost
Notebook MSI GS60 works with the operating system Windows 8.1. Among the existing software is necessary to mention the program SteelSeries Engine. As already mentioned, you can use it to program the buttons on the keyboard to perform certain functions, for example, to quickly launch applications or create text macros for comfortable communicating players. In particular, SteelSeries Engine can store a large number of profiles, and depending on what game you play, run the appropriate settings for it.
Also, the application provides XSplit Gamecaster, which allows broadcast your gameplay online, in addition, you can insert your own real-time snapshot of the webcam.
In picking MSI GS60 2PC-023 Ghost with a powerful quad-core processor fourth-generation Intel Core i7-4700MQ 2.4 GHz and cache in the third level in the amount of 6 MB. Haswell chip built on norms 22-nm process technology, its power consumption is 47 watts. It also supports a number of necessary technologies. For example, Turbo Boost, thanks to which the processor can overclock to 3.4 GHz, or Hyper-Threading, to process up to eight data streams. With the Core i7-4700MQ will easily run modern intensive tasks.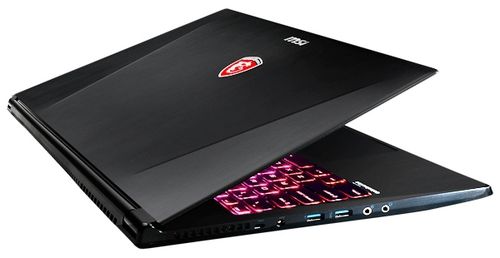 Operations related to the processing of graphics, there are two video cards. Can switch between them automatically using technology NVIDIA Optimus.
Both are good for many applications, including games. However, no matter how productive was not built in Intel HD Graphics 4600 , it is significantly inferior to the discrete NVIDIA GeForce GTX 860M with 2GB of internal memory standard GDDR5. In particular, it supports the latest DirectX 11, has 640 shader units. It is worth noting that video accelerators GTX 800M series have a distinct advantage over many graphics. They give a real pleasure to experience the gameplay, because a high level of graphics, in particular secured GTX 860M, as well as excellent image detail will be satisfied even the most experienced gamers. So, Watch Dogs (2014) goes on high settings with the native resolution and refresh rate 27 fps. But with toys The Elder Scrolls Online, Titanfall or Wolfenstein: The New Order video card to handle even at maximum settings at 35-40 fps. What to speak of the less demanding games that with GTX 860M will just fly.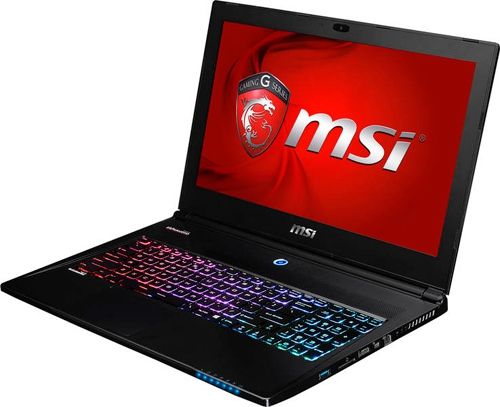 As for RAM, there are 8 GB standard DDR3-1600 MHz. This volume is enough for various applications, even with a reserve for the future provides expandable to 16 GB.
Interesting case with laptop storage. Not only that, there is provided a hard disk of 1000 GB and 7200 rev / min, so it complements the more SSD capacity of 128 GB. In general, space to store movies, games and other content enough. Incidentally, as an option another option – Super RAID with two SSDs in RAID 0, which delivers over 900MB / s.
Ports and Communications MSI GS60 2PC ghost
Laptop equipped with various ports and connectors. On the right side is the USB 3.0, card reader, reading formats SD, SDHC, SDXC, digital interface HDMI, and Mini DisplayPort. In addition, there is a hole on the right and Reset Gigabit Ethernet RJ-45 connector (Ethernet-controller Qualcomm Killer E2200). It is no secret that with the last network traffic is handled much faster, so that the action in the game podvisnet the most inopportune moment. By the way, in addition to the ports on this side is the vent.

On the opposite edge of the notebook are two connectors for microphone and headphone jacks, and two USB 3.0, socket for recharging and a Kensington lock. Importantly, the gold-plated audio jack, which reduces the amount of sound transmission interference, and thus improves the quality of work when headphones are connected. Similarly, the right side is also provided ventilation.

With regard to the front end, then there can be seen a group of LEDs, offset to the right from the center. Each indicator has its own marking, which is applied to podladonnuyu site. So here are: Num Lock, Caps Lock, LED drive operation, wireless modules. Also an indication showing the battery status and mode of operation of laptop in sleep mode.

Rear interfaces are also absent, almost all the space given over to the vents through which air is escaping.

Wireless communications this notebook is Wi-Fi 802.11b/g/n and Bluetooth 4.0.
Battery MSI GS60 2PC ghost
In MSI GS60 2PC Ghost installed 6-cell lithium-polymer battery having a capacity of 4640 mAh (52 Wh). This notebook is discharged quickly enough due to powerful stuffing. For example, surfing the web with the backlight keyboard and display brightness, reduced to 50%, would last only about two hours. In a longer time will be able to see the movie 720p – almost 4 hours. However, provided that the luminance remains at the same level, and the wireless modules will be disabled. Battery charging power supply capacity of 150 watts.
Conclusion MSI GS60 2PC ghost
Pleased that ultrabuchny body made of metal, engineers were able to accommodate powerful enough stuffing with two graphics card performance, quad-core processor and a fourth-generation 8 GB of RAM, so MSI GS60 2PC Ghost confidently cope with many challenges, modern games, photo and video editing. Of course, this laptop is enough for watching movies and, of course, for work, for gamers though he will be the most suitable candidate.
Well, dreams become reality, and if you want to become the owner of a good gaming device, then this laptop is no worse, and in some ways even better than others. Indeed, in addition to the above, it has several other advantages. Among them: a great keyboard with five scenarios highlighting and the ability to support multiple keys pressed simultaneously, light weight, not exceeding 2 kg, matte display, as well as compact size.
It is possible that there are people who calculate the price at around $ 2000 to be justified, and hence MSI GS60 2PC will, as they say, faithfully gamers who do not see themselves without the daily battles in the games.
Read another very interesting article about alternative energy of the Sun, water and air.