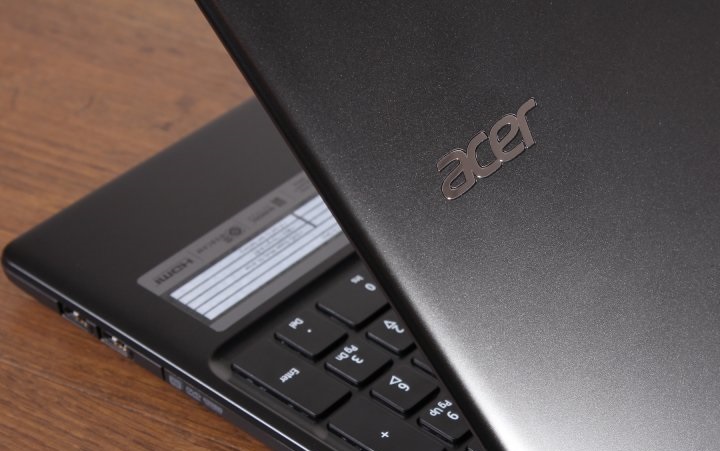 Usually, when it comes to choosing an inexpensive but high quality laptop more frequently than others mentioned the name of the company Acer. One of the main specialties of the manufacturer – solutions for large and not always rich masses. And if a couple of years ago, the quality of Acer products sometimes left much to be desired, then over time this parameter is pulled . And the price remained the same , reachable level.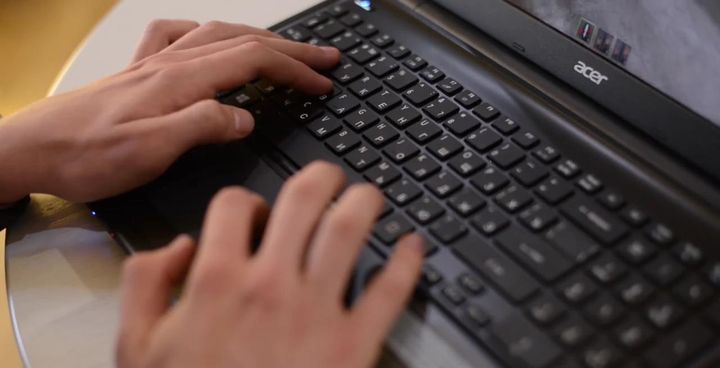 In his notebooks, the company often uses processors AMD, and today we'll talk about the model Aspire E1- 522, based on the latest AMD Kabini platform with proven integrated graphics architecture GCN.
Appearance
The design of this model reflects all its essence and purpose. The exterior is dominated by the simplicity and practicality. The case is devoid of any design frills – it is made from a simple black plastic with a smooth matte finish, which provides some protection from fingerprints . However, over the surfaces still need to take care of and clean them regularly.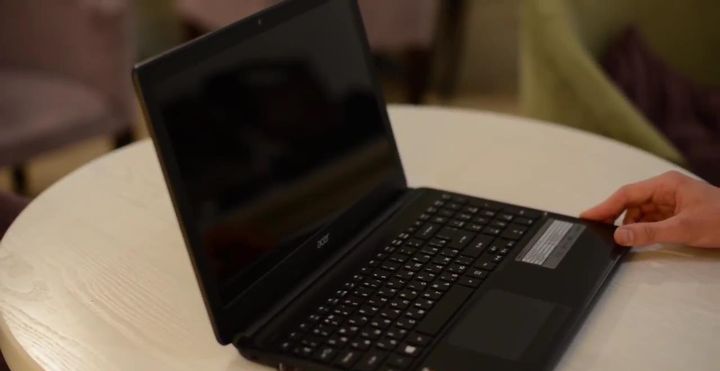 Despite the low cost of the laptop , there is no feeling of cheapness – the body is made of thick high quality plastic . Rigidity was at a good level – working surface is pressed , even lining the keyboard is like a glove , and that's just fine . The display unit is attached to the base by plastic hinges which are not well regulated and permit swinging and allow to open the laptop with one hand.
Physical Specifications E1- 522 is also very good – 33 mm at its thickest point and 2.4 kg weight. It looks quite compact as for the budget , " tag ", but carry with them every day on the job would not want to . To build quality complaints.
Communications
A set of interface connectors standard. It includes one USB 3.0, the pair of USB 2.0, HDMI video output and VGA, LAN- connector , combo audio jack and a multi- card reader.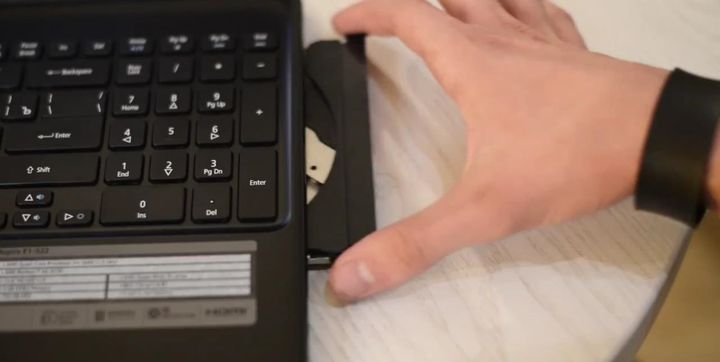 In addition, the equipment is quite unusual DVD-ROM drive that is labeled M-Disc ready drive. To enable wireless communications on board there are modules Wi-Fi 802.11 b / g / n and Bluetooth 4.0.
Keyboard and Touchpad

This model is equipped with a good keyboard key layout with an island and a dedicated number pad . As already mentioned, it is well anchored substrate , providing a comfortable work with the text. Progress buttons small and distinct.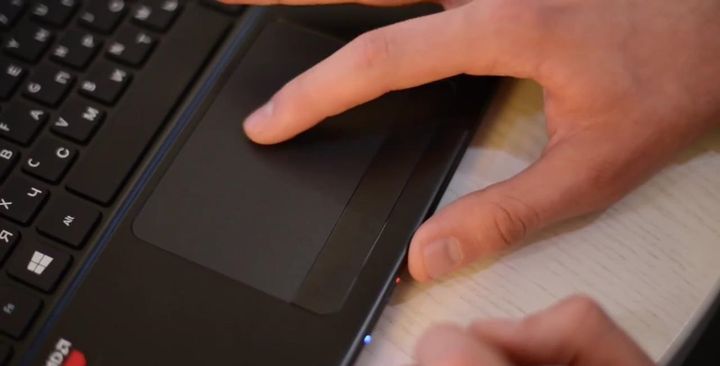 The touchpad is quite large and is at the usual place . The surface of the touchpad has a pleasant and slightly rough finish and stands out against the black housing in gray. The module supports a standard set of multi-touch gestures , and gestures to control the operating system Windows 8.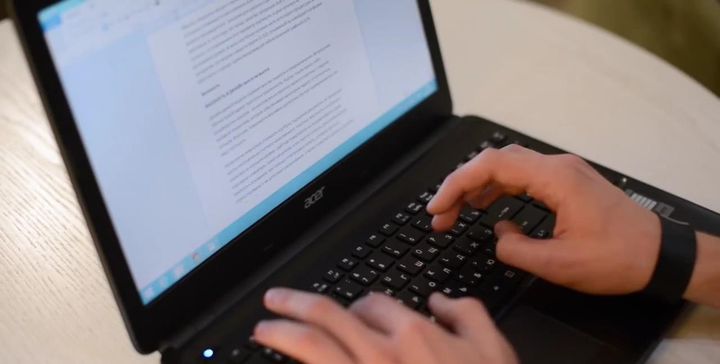 There are a couple of mechanical buttons , combined into one . They work quite soft, but press is accompanied by " plastic " click, which slightly spoils the appearance.
Display and Sound
Aspire E1- 522 is equipped with a glossy TN- matrix diagonal of 15.6 inches with a standard resolution of 1366×768 pixels. Taking into account the low cost of the laptop , the use of a matrix of this type is quite natural. Due to budgetary display the picture quality is poor , the image looks a bit cold , the viewing angles are small. The maximum brightness is 163 cd/m2 and contrast panel – 83:1 . To work on this laptop in bright light or outdoors will be problematic because of the low maximum brightness and glare screen coating – it will go blind in direct sunlight and glare and reflections can severely impair the visibility of the image . On the other hand, in the home and office interiors it does not play a big role.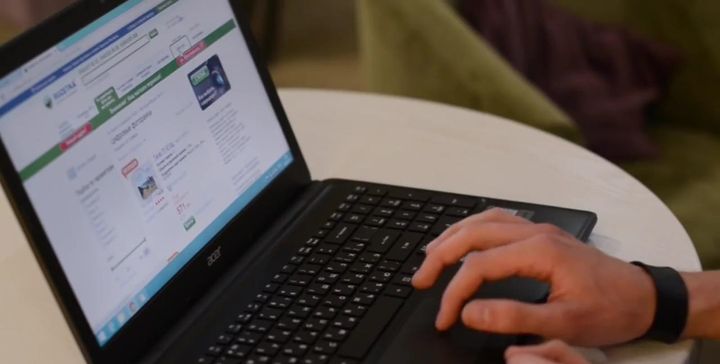 Acoustic system consists of a pair of speakers located at the bottom of the housing. Installing a laptop on a soft surface can drown them . The sound does not particularly stand out.
Equipment
This model is based on the new platform AMD Kabini, designed specifically for low-cost notebooks. For Aspire E1- 522 provides two processor – AMD E1- 2500 and A4- 5000 with two and four cores respectively Jaguar . Interesting fact – on the same platform to build a gaming console, the latest generation of Xbox One and PlayStation 4. Although it uses eight-core SoC with integrated graphics , which has a much larger number of computational units than in the above APU. However , the very fact shows that this platform is well -proven.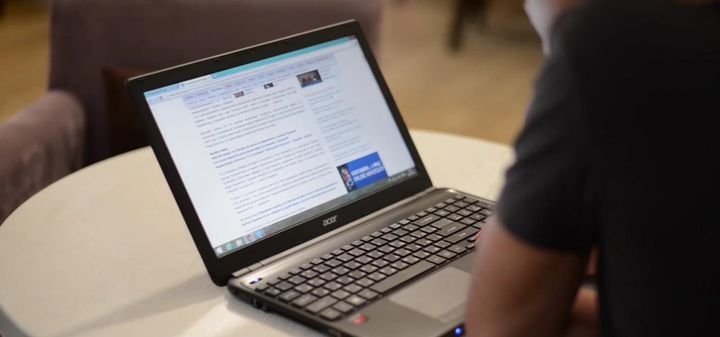 Like Intel, AMD company focuses on energy efficiency in the development of new processors – both APU have heat at 15 W and provide a very good autonomy . To save energy, implemented a dynamic reduction in the rate when updating the information on the monitor is not required. Processors AMD Kabini equipped with USB 3.0 controllers and memory DDR3/L-1600, but only one channel , maximum capacity up to 8GB. Integrated Graphics AMD last generation (Radeon HD 8xxx) , code-named GCN (Graphics Core Next) supports DirectX 11.1, OpenGL 4.3 and OpenCL 1.2. In addition , the new APU supports output video quality Ultra HD (2160p) via HDMI and DisplayPort, as well as the "on air" with the help of technology Wi-Fi Miracast.
The performance of our test processor equipped with AMD A4- 5000 processor with a clock speed of 1.5 GHz, 4 GB of RAM and integrated graphics AMD Radeon HD 8330 is comparable to the systems on the low-voltage processors, Intel Pentium / Core i3 third generation. All daily functions are performed without any lags or delays. But the performance of the integrated graphics card is slightly lower analog from Intel HD Graphics 4000 . However, it will suffice even for demanding games at low settings , though comfortable this game will not name. For example, in the popular Panzer MMO World of Tanks fps value did not rise above 23.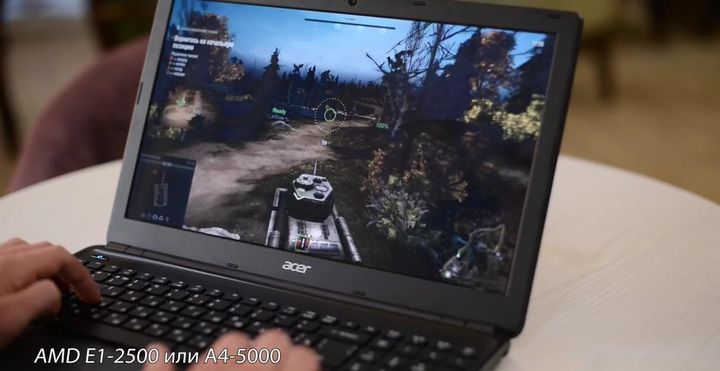 But with the autonomy of the tested model is all very well . The removable 4- cell battery with the apparent low-capacity 2350 mAh battery provides 2.5 hours of laptop battery life , in high load module enabled with Wi-Fi and a maximum brightness of the screen. In the same reading laptop lasted 7 hours. As for a budget model , the result is simply wonderful .
Verdict
Acer has released a very good budget laptop . Quality housing and assembly , excellent endurance , comfortable keyboard and a classic design. The new platform AMD Kabini has reduced the cost of the device in comparison with models of similar power processors Intel. Of course , the set of supported technologies are a bit smaller , but the vast majority of users of this and do not feel .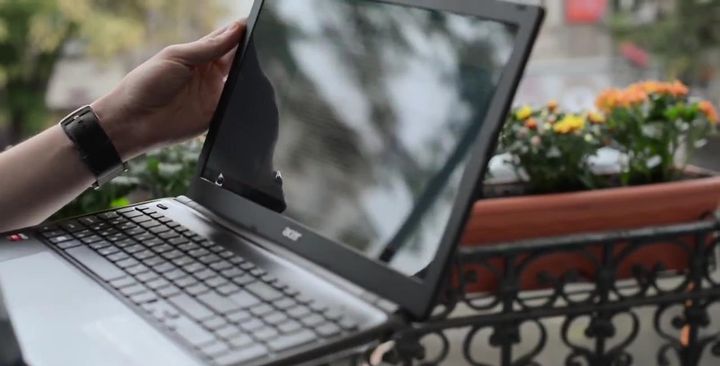 Free Article Submission Service
This model is to advise those looking for a good home laptop with no pretensions to the title game . Integrated video , though not bad, but his capacity for bandwidth-hungry games still lacking. But for the rest it will be more than enough. Verdict – you can take!
Read another very interesting article about alternative energy of the Sun, water and air.