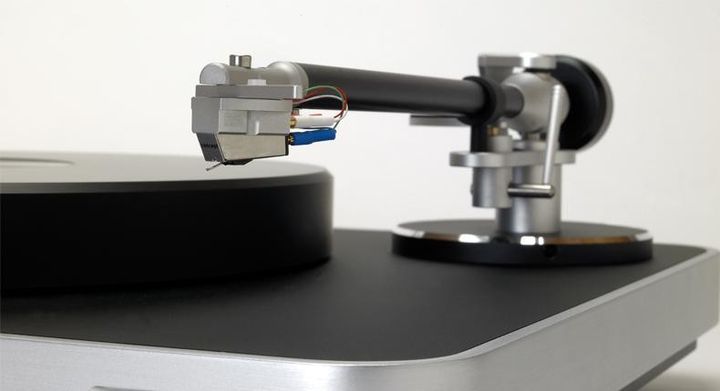 The revolution continues. The demand for high-quality players still growing. We have four different models – but only one will get the victory.
Clearaudio Concept
When it comes to high-end turntable, it is impossible not to recall the Clearaudio Concept. At one time he was with us several awards, its price is not just me; today we see its version with tonearm Verify.
Unlike many competitors, to bring in the kind of work that require angelic patience, a steady hand and a fair knowledge of mathematics, Concept allows you to start playing almost instantly.
Corporate cartridge MM Concept fixed on tonearm Verify Direct Wire Plus, the other end of the tube is floating in the air as if by magic, but in reality – thanks to a magnetic bearing in the basement. All settings of the weight of the head to the angle of displacement is still set at the factory; you just have to install the back plate and throw Belts. Before putting the plate on it, it is worth to admire sophisticated design and durable finish Concept. Speed (33, 45 and 78 rev / min) switches massive disk controller; and the system as a whole looks solid, maintaining confidence in the quality of the machine.
Michael Jackson's Thriller drive by Clearaudio shakes not less than the first viewing of the famous clip. He paves the way through each of the immortal melodies of Jackson, tapping groovy rhythm Beat It; it is equally inherent agility and poise.
Each line of the verses highlighted a short but very precisely metered pause – silence hangs as much as necessary before the next one begins.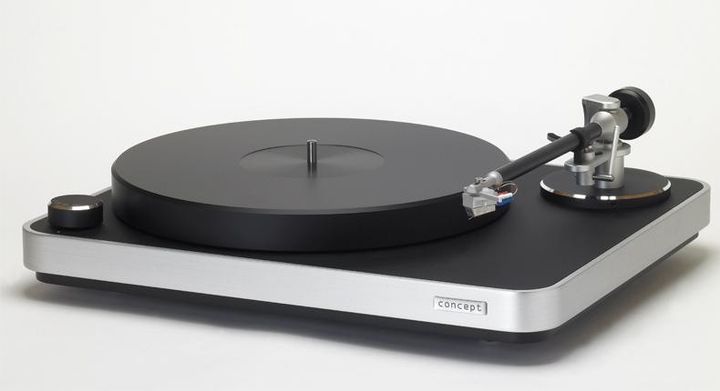 If you thought that playing vinyl differs warmth and imposingly, obmozguyte this idea again. Refined in sound Concept has to careful listening, but most of all admire his breathtaking dynamics and impeccable rhythm.
Concept in the song Love Is Only A Heartbeat Away author and artist Jamie T changes the pace, immersing the listener in a gentle and romantic mood. String gently swaying a little way off, leaving the focus delicate vocals and guitar. This player like any genre of music; Whatever you chose, he readily share your taste.
To some it may seem that the High-End-player type «plug and play» deprives vinyl share some of its charm, but the Concept just gives you a little more time to enjoy the music. He's just gorgeous!
Price: $ 2100
Rating: 5
PROS: Easy to install; excellent design; great sound
CONS: None
VERDICT: Very thoughtful and convenient in the player with amazing sound; We are thrilled
Facts and Figures
Speed: 33, 45, 78 rev / min
Electronic switching speeds: Yes
Drive: belt-driven
Finishes: 1
Dimensions (VSHG): 13x42x35 cm
Pro-Ject 2-Xperience 2-Pack
It's amazing what can be done from a piece of acrylic and a handful of carbon fiber. Take, for example, 2-Xperience 2-Pack – it looks very impressive and stylish (after you manage to collect all the elements together).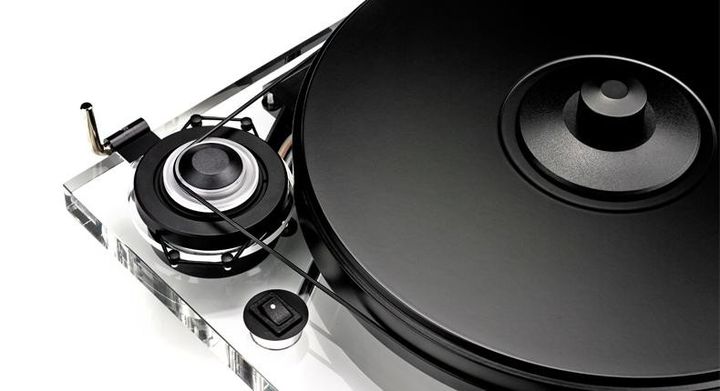 We have already met with a ruler Xperience, but with these tonearm and cartridge cases have not yet had. Excellent tonearm Pro-Ject 9cc Evolution conical tube equipped with a carbon fiber MM-head Ortofon 2M Blue.
The engine is not under the platter, as is often the case, and is separated from it and is mounted on the suspension to prevent unwanted vibrations. For a more complete isolation from the surface on which a player, each of the three legs is provided with a gasket from the polymer Sorbothane.
To get started, Belts align with the central part of the support disc player. Speed shifter is not provided; this function, you have to be carried out manually – you need to move to the next stage Belts pulley. Click on the button would be more convenient, but many faithful followers of vinyl prefer to do things with their hands.
This is the only test model, fitted with a screw clamp weighty – hard part is screwed onto the spindle and presses the plate to vinyl coated supporting disc of MDF. In the Pro-Ject argue that clamp provides a "perfect opportunity to play." Try to experiment – and hear the difference.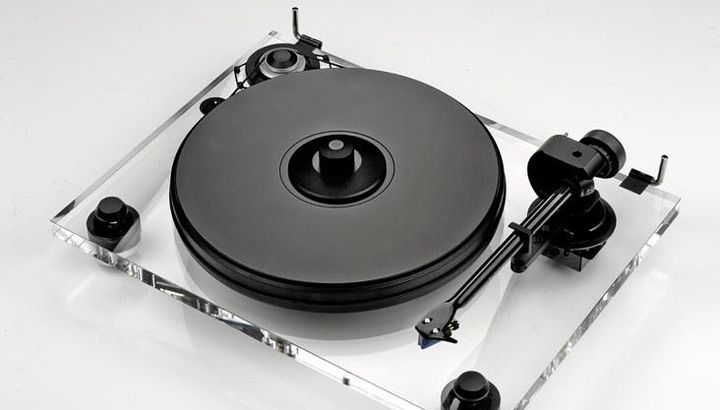 In our view, the use of a clip music sounds a little more clean and tight. And in general in these fields 2-Xperience 2-Pack is very good. Hasty heart at the beginning of the song by Michael Jackson Smooth Criminal – dense and reliable; then it is replaced by an aggressive bass line and drum sounds scathing. The overall picture is admirable.
We lack only one thing – a full disclosure of the smallest nuances of the composition. Most delicate moments seem somewhat blurred, Pro-Ject like smoothed. Because of this reduced rhythmicity, and the player is unable to transmit the contents of the listener and the charm of music as gently and precisely how his competitors.
Nevertheless, he is quite good in general, and also a very good-looking.
Price: $ 1370
Rating: 4
PROS: Impressive appearance; dense and powerful sound; Highly detailed
CONS: rhythm and finesse behind leader
VERDICT: Cute set of Pro-Ject with a powerful sound quite a bit not enough to the highest evaluation
Facts and Figures
Speed: 33?, 45 rev / min
Electronic switching speeds: No
Drive: belt-driven
Finishes: 1
Dimensions (H × W × D): 13 × 46 × 36 cm
Rega RP6 / Exact
If you look in the window with the awards received models Rega, you can find a couple of awards, confirming our admiration for the splendid combination RP6 / Exact. Over the last few years it has been our favorite player; whether he will stand before the onslaught of new and improved competition?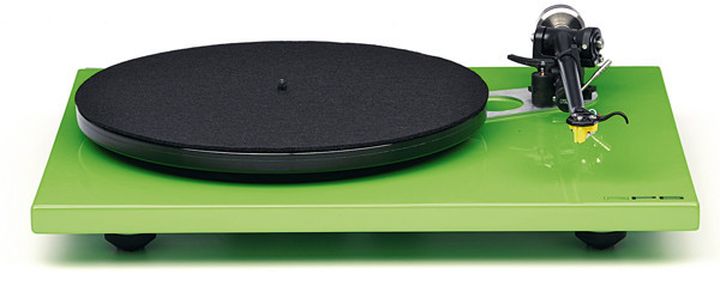 RP6 player can buy without MM-cartridge Exact, but we do not recommend to do so: they work well together, and the potential benefits of the other heads are not worth the hassle of finding and assessment of many other options.
The company often uses Rega turntables in the design of the original decision, and RP6 / Exact is no exception. It uses a multilayer glass support disk, the peripheral portion of which is thicker and heavier near the center. This increases the inertia of the disk and the stability of its rotation without increasing the load on the base and the bearing. Rega engineers have long argued that excess weight spoils sound.
This approach also explains the low weight of the cap. Increased rigidity is achieved by a special coating of resin and additional edges between the arm and the bearing.
Lack of insulation (not counting the three rubber feet) requires serious attention to the installation. Smooth and hard surface away from the speakers, creating vibration and air movement, completely obligatory.
Unlike the other three models equipped with a test player Rega external power supply, which also serves as a speed regulator. It's not the most elegant solution, but the sound quality does not degrade it.
In RP6 wonderful sound – contagious and very detailed. When Jamie T takes Limits Lie, song delights scale, as well as the depth and density of shock. Expressive vocals and straightforward, especially in the final crescendo. The music scene – a stable and organized.
"Planets" Holst require the player increased meticulousness, control and dynamics – but RP6 / Exact they are without difficulty. Quiet parts sound very clean, loud – powerfully and decisively. This is one of the most expressive and exciting players in this category.
Thus, the representative Rega is very good. But, as we have seen, the model Clearaudio and Pro-Ject were very worthy, and we still have Thorens …
Price: $ 2,000
Rating: 5
PROS: A detailed and immersive sound; Excellent property cartridge; workmanship
Cons: Difficult installation
VERDICT: Ethnicity player Rega not too spectacular, but the sound quality is excellent
Facts and Figures
Speed: 33, 45 rev / min
Electronic switching speeds: Yes
Drive: belt-driven
Finishing: 4
Dimensions (H × W × D): 12 × 45 × 36 cm
Thorens TD 206
One of the first rules of the club's fans vinyl is: "Align the player!". It's amazing how difficult some manufacturers manage to do this in general, routine task. If the machine only three legs, available only from below, for exhibiting skill level you need from the Moscow circus juggler.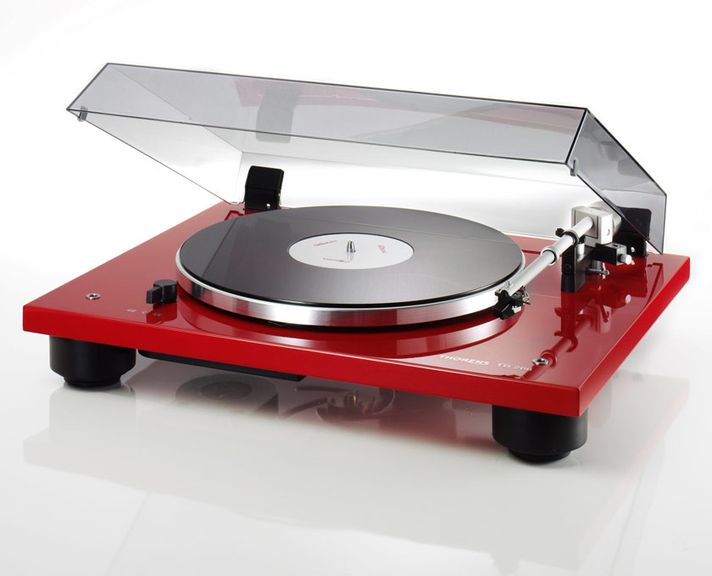 Fortunately, the Swiss manufacturer Thorens was in store for more than 80 years to solve this problem. TD 206 feet of the player can be controlled from the top, making it easy to find the right balance.
TD 206 – this is a classic type player with a rectangular plinth of MDF with glossy red, black or white lacquer finish. Compared with the more fashionable Clearaudio Concept and Pro-Ject 2-Xperience 2-Pack it looks banal and apparently does not pull the stated price category. Electronic shifter convenient manual, but it is not too solid and pleasant in the case.
To the right of the platter with belt-driven actuator is mounted corporate arm with Kata T90 aluminum tube damped for reducing vibration transmitted through it and destroy the needle in contact with the track of the disc.
Standard features include its own cartridge AT95E, but in our test sample was installed Grado Platinum Reference 1. When buying a player you get AT95E as spare parts – so you can experiment with the replacement.
As for the sound, in general it is relatively decent; We have not found specific flaws when playing Heart Skipped A Beat band The XX. The detail is quite high, but Thorens lacks expressiveness. HF are not the most clear and impressive, the music scene – rather flat and boring. A feeling that the TD 206 tells us only part of the story, while competitors fully convey a lively and playful nature of the composition.
Bass served juicy and weighty, but seem too heavy. At the Executive SBTRkT in Higher plurality of lower notes varying degrees weight, and Thorens overly emphasizes the worst of them, which upsets the balance and distract the listener's attention from the midrange and treble.
We Thorens no express major flaws, but a comparison with rivals on the test he is clearly losing. In this price range there are many models better.
Price: $ 1380
Rating: 3
PROS: Easy to use; quite rhythmic and full sound
CONS: Construction; lack of detail and dynamics; flat soundstage; overheated bass
VERDICT: Average in all respects player
Facts and Figures
Speed: 33?, 45 rev / min
Electronic switching speeds: Yes
Drive: belt-driven
Finishing: 3
Dimensions (H × W × D): 13 × 47 × 43 cm
Summing up
Winner Clearaudio Concept
From comparisons of multiple parameters head is spinning, but in the end the victory goes Clearaudio Concept for its amazing sound and ease of installation.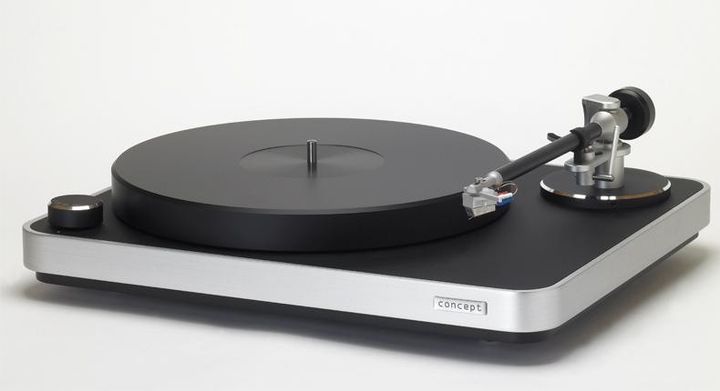 In the battle for first place agreed five-star model Clearaudio and Rega RP6 / Exact. They have approximately equal lists glorious predecessors and past victories, and none of them was going to take a step back.
RP6 / Exact most admire muscular, powerful sound, while the Concept differs incredible subtlety and dynamics. Clearaudio kit ready to use right out of the box, without any kind was dancing with a tambourine: plug it in, put a plate – and total immersion in the music you provided. But no matter what model you choose, whether or Clearaudio Rega, will not be disappointed. Pro-Ject 2-Xperience 2-Pack at least good. This player is a stylish and spectacular appearance, as well as extremely groovy and convincing sound. However, competitors can boast more precise rhythm and finer nuances of the transfer.
The bottom line of the table takes the player Thorens. In general, it is not so bad, but nothing special is no different – both in terms of appearance, and in terms of sound quality. Detail and dynamics, he concedes to competitors, and excessively overheated bass is not too long to have an audition. Other participants of the test is much more pleasant and crafted sound.
Read another very interesting article about alternative energy of the Sun, water and air.