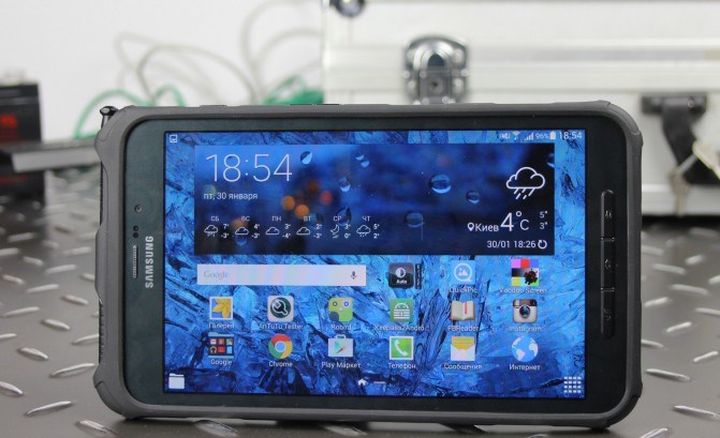 Recently, we were able to meet with a secure tablet in performance Sigma Mobile, and today we got a similar device from Samsung. In a prototype made Galaxy Tab Active Galaxy Tab 8.0 4, to add to it a new design standard protection class IP67, other than the supplied carrying case and several other significant improvements relevant to devices targeted at professional use.
Design and usability
Feature Samsung Galaxy Tab Active guessed familiar handwriting Korean designers. The front panel is similar to other tablet manufacturer, although received several fundamentally important to secure the plates improvements.
For example, all keys made physical. They are large, with a relief surface and perfectly pressed, use them very comfortable. Shield protects the frame, significantly above the surface of the glass.
Sides are made of thick plastic with a diagonal pattern, the corners have characteristic protruding nodules.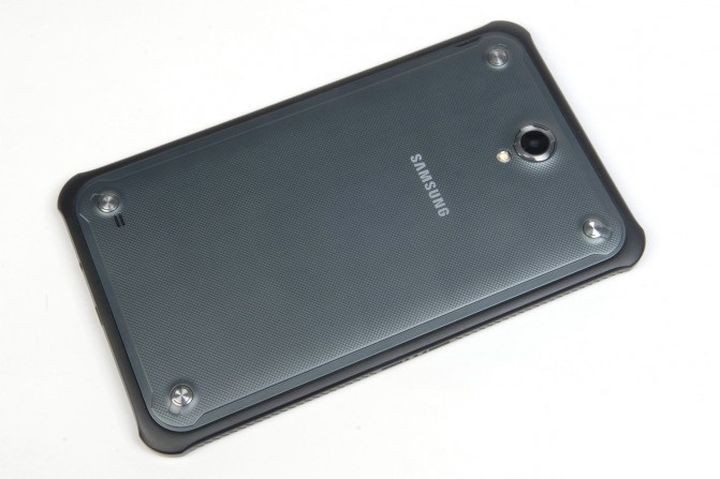 Location of controls is standard. The power key and the volume collected on the right side, and interface connectors on the bottom. Although the tablet and protected from dust and moisture according to the standard IP67, the connectors are not covered by any plugs to them is always kept free access. Two microphones are placed almost symmetrically on the upper and lower faces.
On the left side there is a group of three POGO-contacts allow you to charge the tablet using a special cable with connector magnetized. According to the manufacturer, this solution will prevent accidental damage to the connector microUSB charging time and facilitate mass charging plates for occupational use.
Back cover design is made in a fairly aggressive for Samsung style. Decorative metal plates mimic fixing plugs, camera lens is surrounded by a metal ring. Top left has a notch that allows to remove the cover, which is attached to a plurality of small latches.
On the reverse side you can see a thin rubber gasket protects the electronics from moisture. The same solution is used in the smartphone Galaxy S5 . Under the hood you can find MicroSIM slots and memory card, and a removable battery.
The tablet comes along with a protective cover made of plastic and rubber. It provides additional protection, including screen from accidental falls. According to the manufacturer, dressed in such a case Galaxy Tab Active survive a fall from a height of 120 cm.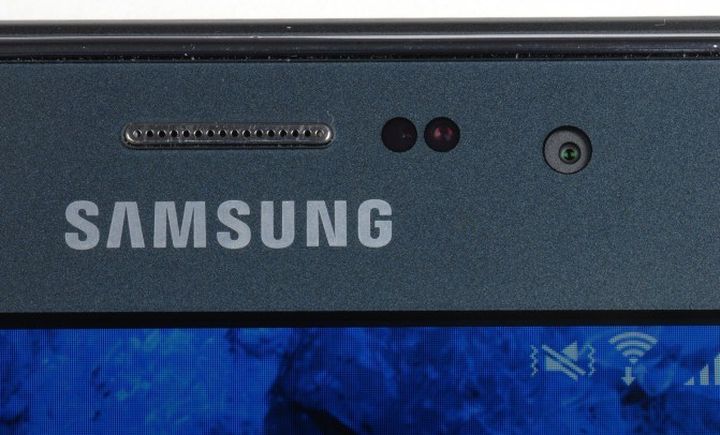 Case significantly improves the usability of the tablet, despite the marked increase in weight. He makes the body more uhvatistym and not moving, buttons and volume control are perfectly distinguishable by touch.
At the top of the cover hides the stylus, called C-Pen. Unlike the Galaxy Note 4 , it does not carry any special functionality, does not contain within the electronics and is designed for simple management of the tablet, for example, in the cold season. With conventional touch screens C-Pen does not work.
Display
In Samsung Galaxy Tab Active mounted 8-inch screen with a resolution of 1280 by 800 pixels. Between the protective glass matrix and no air gap, the brightness varies from 3.9 to 335 cd / m² and the measured contrast ratio was 1: 690. There is the auto-sensor lighting level, it works correctly.
Samsung does not mention the exact type of matrix screen, but the maximum viewing angles say that in front of us or PLS IPS screen.
The screen slightly narrowed and shifted color gamut, but all the other parameters (gamma, color temperature) correspond to the reference values, indicating good calibration matrix.
In life, the screen looks good, even though not the highest resolution, which is enough for watching movies, playing games or reading. Positive impression on the screen to help create smooth, natural color reproduction, comfortable dimming range, good oleophobic coating.
Hardware Platform
Samsung Galaxy Tab Active received high performance hardware platform. As a good friend of SoC supports Qualcomm Snapdragon 400 quad-core c Cortex-A7 operating at 1.2 GHz and graphics Adreno 305. RAM – 1.5 GB, 16 GB of built-in, there is a slot for memory cards.
Set of wireless interfaces introduced dual-band Wi-Fi 802.11 a / b / g / n, Bluetooth 4.0, NFC, GPS / Glonass and support for mobile networks with the ability to make calls, send messages.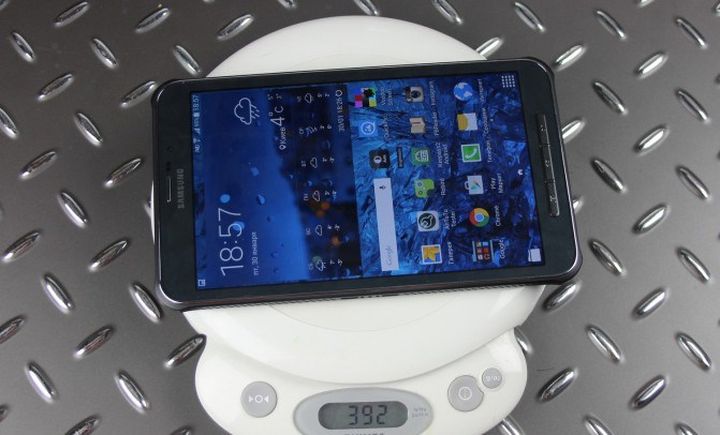 In benchmarks tablet shows expected average and impressive results. At normal speed using the normal. To work with specific applications, including games, smooth interface, we did not have any complaints, but when you switch between different programs Galaxy Tab Active sometimes thinks for a moment.
The GPS and Wi-Fi can be called perfect – the module data transfer normal sensitivity and speed, and GPS satellites find and connect to them in just a few seconds.
Calls, multimedia
Despite the fact that the Samsung Galaxy Tab – the tablet primarily for its multimedia features are still in place. Built-in audio player includes a plurality of audio settings, supports lossless-formats, and most users will be satisfied with the quality of music playback with headphones. The video player is also relatively omnivorous.
Multimedia speaker is located behind it loud, plays well. The earpiece too loud, the presence of desire on the tablet as you can talk on the smartphone. Vibrate medium strength.
Operating system and shell
The tablet is running an operating system Android 4.4.4 KitKat, a standard interface replaces the shell TouchWiz, there dvuhokonny mode that allows you to work with two applications simultaneously, resize the window of each program.
Operation time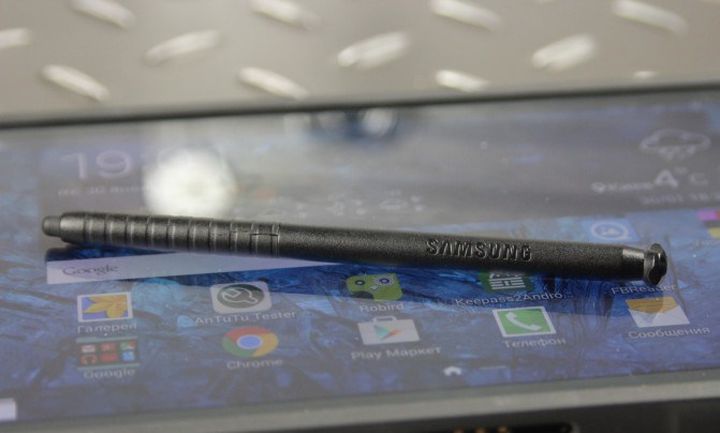 Samsung Galaxy Tab Active received a removable battery capacity of 4450 mAh (16.91 Wh). In the mixed load, including watching videos, reading, browsing, playing it allows the tablet to work about 9 hours, which is quite a good indicator based on the diagonal of the screen and battery capacity. Below you can see the results of the tests of autonomy.
Camera
In the tablet has two cameras. As the front you have a conventional module with a resolution of 1.2 megapixel and has a main sensor with a resolution of 3.1 megapixel, with autofocus and flash.
Camera app contains the usual Samsung devices settings and shooting modes.
Quality front camera can be evaluated as normal, it will be enough to communicate in Skype.
The main camera, despite the presence of autofocus and flash, can not boast of outstanding ability, but existing capacity is enough to scan the barcode or take a picture of the text.
Results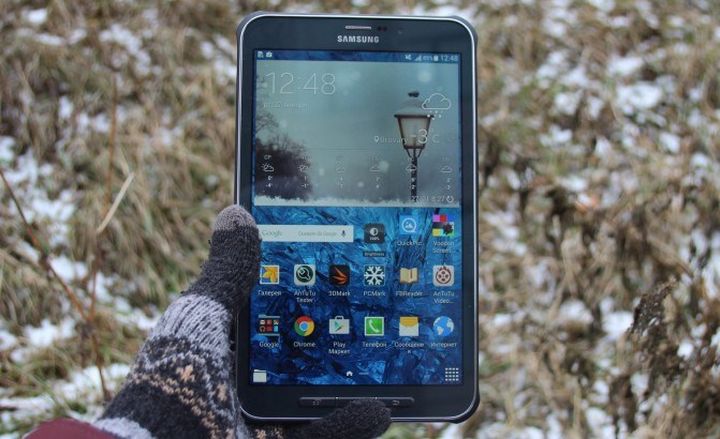 Taking the ordinary consumer model, Samsung managed to create a quality tablet for professional use. The use of physical keys, fully collapsible body other than the supplied stylus cover, protection standard IP67 and all necessary communication modules made of conventional tablet universal "harvester", which will help solve the problem of working in all operating conditions. In this model has kept a relatively civil appearance and reasonable weight and size characteristics, allowing you to use Galaxy Tab Active as a regular tablet with additional protection from drops and moisture.
Liked:
+ Thoughtful design, physical keys, folding case with a removable battery
+ Quality complete Case with Stylus
+ Screen color reproduction, wide dimming range, the presence oleophobic coating
+ Full set of communication modules (Wi-Fi, Bluetooth, 3G, GPS, NFC)
+ Time work
Did not like:
– The use of the average performance of the hardware platform
– Relatively low screen resolution
Read another very interesting article about alternative energy of the Sun, water and air.