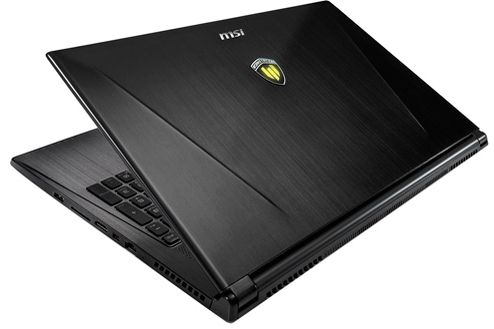 MSI has more than one year is known for its quality products, among which there are motherboards, servers, tablets, laptops, etc. In addition, in the range of a certain niche occupied by mobile workstations. Previously, they were within the gaming segment, although they had a professional stuffing. But now created for them a general rule «W», which includes workstation WT and WS. Figuratively speaking, WT – it's heavy artillery, the design of which is borrowed from the GT, whereas WS – thin high-performance devices, with the appearance of the GS.
With one of the workstations WS series we met. MSI WS60 2OJ – is an upscale working tool with many features with which you yourself feel like a fish in the water, even when faced with a real challenge. It was announced in the summer of 2014 and was able to interest the large audience of users. The singularity of this workstation is the design, which as two drops of water similar to gaming. But it is hardly the only thing that will attract attention, probably something left overs.
Design – MSI WS60 2OJ
For many there is a certain way that mobile working dock – often massive laptop, made in classic style. Probably, MSI WS60 shake your confidence, because its design is not the one to which a workstation. Originally intrigue cover that strongly resembles the surface of a gaming notebook. You will see a sloping panel, convex strip.
Also attract the attention of not only the company logo as a special emblem, much like the symbolism of Republic of Gamers, – icon mobile workstations MSI. If you are interested in laptops close of the manufacturer, it could not be seen in the design of a great similarity with the MSI GS60 2PC Ghost, whom we used to devote a separate review.
Housing workstation made of magnesium and lithium. He is strong and reliable, but also thin enough, because the designers managed to hold the stuffing in the design of the device is not thicker than 20 mm. In this case, the outer surface is not as practical as we would like. At the slightest touch lid collects a large number of fingerprints. As for the other sizes, then the length of the workstation 390 mm, while the depth – 266. It is noteworthy that all MSI WS60 weighs 1.9 kg and is given battery.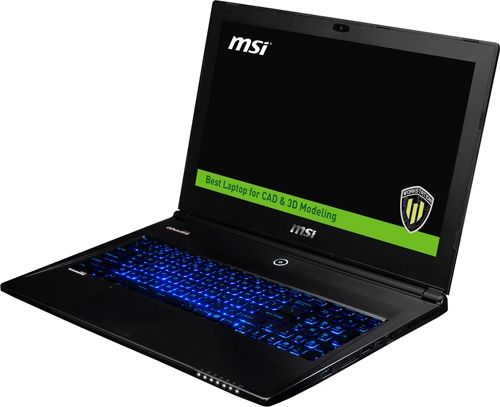 Bottom of the notebook is a surface on which the speaker grilles, concentrated near the sides, as well as ventilation and several stable legs that do not allow to swing a laptop on a table or other flat surface.
If we talk about build quality, the gap is not noticeable, and body parts are secured tightly. However, the lid flexes a bit. By the way, the display is connected to the base by means of a strong and rather thick hinge, with his help he can open up to 140 degrees, which is enough for the job.
Display, sound, webcam
It is due to differences in the resolution of the display, MSI WS60 2OJ can be in two versions. The first – a Full HD (1920×1080 pixels), the second – an option that we are considering – WS60 2OJ 3K IPS Edition. This Notebook is equipped with a glossy screen with a diagonal of 15.6 inches. His main trump card – a very high resolution 2880h1620 pixels with which you get superb detail and realistic image. In addition, the matrix is IPS technology, which will provide a broad overview and deep saturated colors. If we talk about the level of brightness, it does not exceed 300 cd / m2, the display workstation that should be enough.
Traditional choice acoustics by MSI and this time remained unchanged. Dynaudio provides high-quality sound that is transmitted the most realistic, and four stereo speakers perfectly cope with the withdrawal of the high and low frequencies. Music in the laptop sounds dynamically, there is no distortion and no noise. By the way, enhances the listening experience technology Audio Boost, and Creative Sound Blaster Cinema 2. They will sound more impressive as the speakers and headphones. By the way, audio jack for a headset is gilded, that will ensure the most efficient signal path, reducing the amount of noise. Perhaps workstation all is not so important, but in his spare time is more than urgent, whenever you want to watch a movie or play.
Standing in laptop webcam not particularly appreciate, because its resolution is only 1 megapixel. Although if it is needed only to communicate in Skype, then this will be enough, especially since the camera is supplemented with two built-in microphones.
Keyboard and Touchpad
Availability island SteelSeries keyboard with adjustable backlight in a mobile workstation is controversial. It is clear that if we were talking about the game laptop, it would be understandable why adjust the backlight of certain areas, but this functionality to the device for professional use is not quite fit.
They are very comfortable would Shortcut Manager. With this software, you can assign each key its function. So, at the press of a button, you can run consistently perform certain commands. It is not only individualizes but simplify workflow.
Called the standard keyboard layout completely does not work, due to the fact that it lacks a key [Windows] on the left side. The rest are all simply and thoughtfully. Thus, the optimal size of main buttons, they are clearly visible marking; dial key block and nampada little less, but they are also comfortable to use. With regard to the keystrokes, it is more soft than hard, but returns when printing is quite clear. Minus the keyboard surface can be considered to sag, especially when intensive printing. True, you can not hear the clatter strong.
Above the keyboard there is no additional keys except the buttons on your notebook. During operation, MSI WS60 2OJ highlighted its border, as well as an icon inside. Depending on which card is active at the moment, one can see the white or orange luminescence.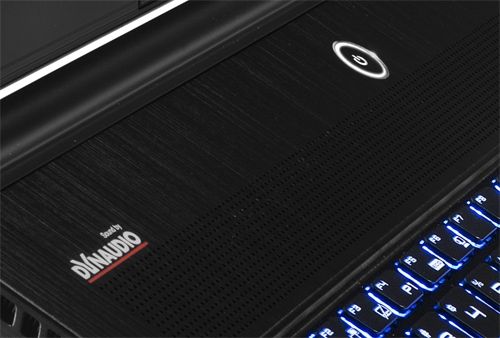 As for the touchpad, it is not a large amount of his more close to the average. Discomfort during the work it does not create, the more that the entire sensor surface is smooth, responsive and with clickable area, under which the hidden key. The touchpad supports standard multitouch gestures, such as scrolling and zooming.
Performance
On the laptop MSI WS60 2OJ-026RU worth 64-bit operating system Windows 7 Professional, which is quite logical for the workstation. Inside the laptop is a quad-core Intel Core i7-4710HQ, built according to the norms 22-nm technology. It has a clock speed of 2.5 GHz, which can grow in Turbo Boost mode up to 3.5 GHz with an active nucleus and up to 3.3 GHz – at work of all four. The chip has a cache memory 6 MB third level and provides excellent performance due to the possibility to simultaneously process up to eight data streams. As regards energy consumption, it reaches 47 watts, naturally with the built-in graphics Intel HD Graphics controller 4600 and memory. In general, such a powerful processor Haswell can easily deal with complex tasks.
No matter how modern and productive nor was integrated video accelerator complex graphics tasks will fall on the shoulders of professional graphics NVIDIA Quadro K2100M, built on 28-nanometer technology on the architecture of Kepler. This controller has 2 GB of internal memory standard GDDR5, supports DirectX 11, and his level of heat can reach up to 55 watts. This video card drivers are optimized for applications such as AutoCAD, CAD, Autodesk, and the like. In addition, Quadro K2100M supports display resolution up to 3840h2160 points, and also allows you to display an image on the four external monitors, of course, with the appropriate ports. By the way, in addition to professional problems, you can do video editing, handle complex three-dimensional images, play some modern games, all this performance video card should suffice.
As for storage, then this provides a hard disk capacity of 1 TB, but for the operating system and various programs, there are two SSD-drive in a RAID 0, a total volume of 256 GB. It is in this mode, the read speed of RAID data closer to 1000 MB / s.
RAM in the laptop fully realized. Its 16 GB, which occupies two slots, more than a good supply for all calculations and complex professional programs. That's enough for the next few years. RAM is standard DDR3L-1600 MHz.
Ports and Communications
Interfaces MSI WS60 not too diverse, but among them there are those who will make an impression on you. So, on the left side of the workstation has two audio jacks for microphone and headphone jacks, Kensington lock slot. Also there is a socket for recharging, and two USB 3.0.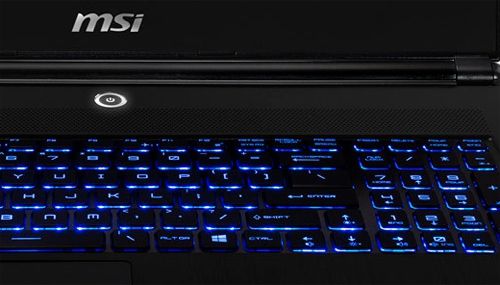 It is worth noting that in the laptop all have modern standard USB 3.0. In particular, on the right side of the device there is one such port. Next door to them are HDMI, Gigabit Ethernet RJ-45 connector, card reader, readable format SD / SDHC / SDXC, and one of the main interface, attracts the attention of many – Thunderbolt 2 is compatible with Mini DisplayPort 1.2. It provides high-speed data transfer (20 GB). Besides using mDP can be displayed on an external display one video streaming 4 K, whereas the presence of two – can show an image with a resolution QHD. Do not forget that not only Thunderbolt port to connect a variety of devices, but also the possibility of recharging. As you can see, in the MSI WS60 lacks an optical drive.
Located on the sides of the vents. Also there are bars on the rear panel. And the front end of the connector is free.
Indicators in the laptop abound. Their numerous group includes display battery status of the notebook, the activity of wireless networks. There is also a Num Lock and Caps Lock. As for wireless communications, they represented Wi-Fi 802.11 b / g / n and Bluetooth 4.0.
Battery
Battery in a laptop lithium-polymer, it has six sections and capacity 4840 mAh. While its charging is done quite powerful 150-watt power supply. As for autonomy, it is about three hours, and at maximum load the laptop, and when working with documents and viewing images. This is due to the powerful short stint filling and high-resolution display 2880h1620 pixels. However, for a workstation, even a relatively compact, it is unlikely to critical, because most of it will be on your desktop near the outlet, and less on the go.
Conclusion – MSI WS60 2OJ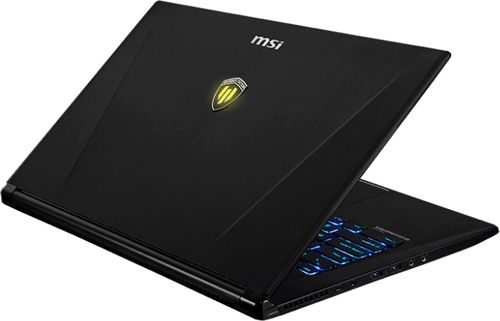 Well, the workstation from MSI was a success. Despite the fact that the chosen design solution for her style gaming notebook a bit unusual, appearance MSI WS60 2OJ looks modern and extraordinary. There are a few elements that you are unlikely to meet in the workstation segment. This adjustable backlight SteelSeries, the presence of 2 Thunderbolt port, as well as the highest resolution display 2880h1620 pixels.
However, in the workstation, there are other equally important aspects. Filling laptop above all praise. Quad-core processor Haswell with professional graphics NVIDIA Quadro K2100M "heat ask" any applications, in particular those associated with the design. And support for 16 GB of RAM and two SSD-drive running in RAID 0, quickly cope with the task. Of course, such a battery pull stuffing and display with a resolution 2880h1620 points is extremely difficult, which is why the autonomy of MSI WS60 not exceed three hours. As for the cost, you should expect no less than $ 2,000.
Do not think that if the mobile station – this is a serious tool for the daily work, its computing power and functionality is not enough for the tasks associated with leisure. This machine high morale!
Read another very interesting article about alternative energy of the Sun, water and air.