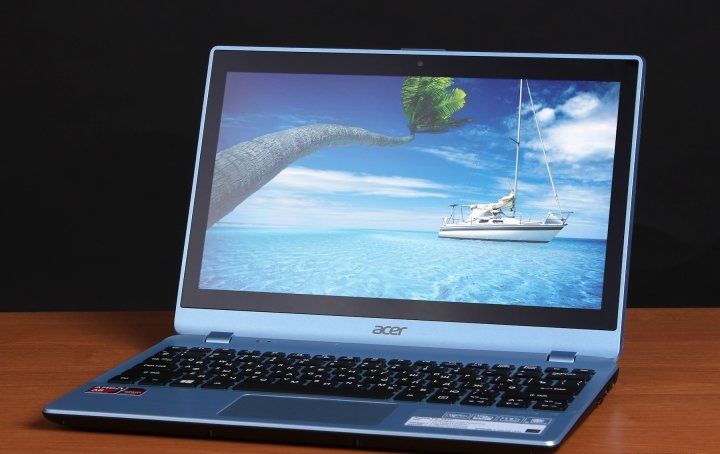 A couple of years ago, netbooks beat sales records, being the ideal solution for many users. Basically – businessmen, students and those who frequently traveled on business trips. These miniature devices provide the necessary capacity to perform basic tasks – working with text, view photos and videos, and perhaps some simple toys to help pass the time waiting for the arrival from point A to point B. In this case netubki were very affordable.
Appeared subsequently plates were actively "eat off" from the audience netbook users those who needs more entertainment. The remaining "workers", which was still need a physical keyboard, a familiar operating system and familiar tools for a reasonable price, and are the target audience for the device, which we received on the test.
Based on the newest platform AMD Temash ultraportable 11-inch notebook Acer Aspire V5-122P not only inherits all the advantages of a traditional netbook, but got a particle tablet functionality in the form of a touch-sensitive screen.
Appearance
Ethnicity Acer Aspire V5-122P quite traditional for devices manufacturer – sleek design, with a predominantly flat surfaces and smooth angles. The case is made entirely of plastic, with the upper part finished by brushed aluminum. The lower part has a practical rough coating. The device looks fairly neutral, yet elegant, and it is equally possible to recommend both boys and girls. It should be noted, and rather narrow frame around the display, which makes the gadget more modern look. This model is available in two body colors – light blue and silver.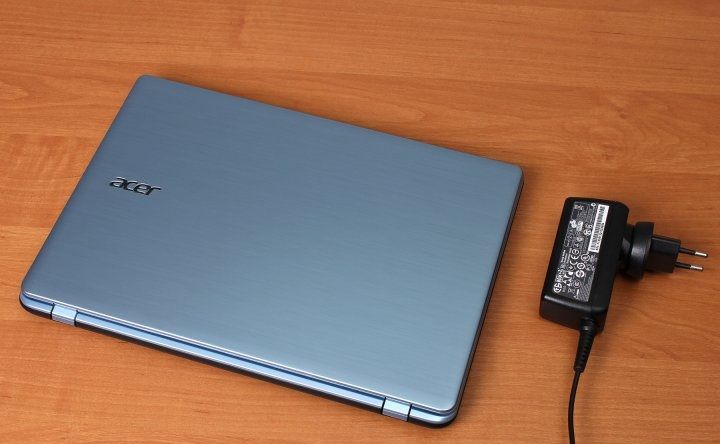 Compiled laptop very soundly, no backlash and no squeaks. The display unit is attached to the base by means of two hinges. Hinge allows the laptop to open wide enough for comfortable work setting it to its knees. In this loop a little tugovat, so knocking the cover with one hand, have to stick to the bottom.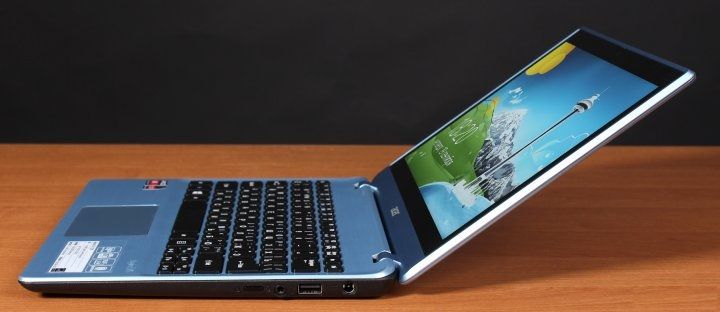 Weight and dimensions are not particularly stand out against classmates and are ideal for mobile use – 1.4 kg and 21 mm at its thickest point. Is that the complete power supply is a bit more cumbersome than, for example, the Asus notebooks of similar form factor.
Keyboard and Touchpad
In this model, fitted with traditional notebook Acer keyboard, the main feature of which can be described as very uncomfortable, as for me, the block cursor keys, which goes from model to model more than a year. Otherwise, it boasts a very mild stroke keys and quiet actuation, which is an advantage when working, for example, in the library, or when a loved one is sleeping beside.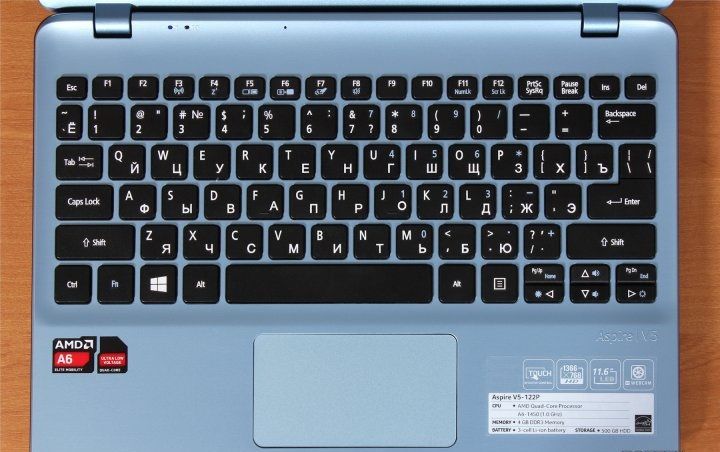 The touchpad is small size is exactly in the center podladonnoy surface. Works quite adequately clear the cursor control. Supports full range of multi-touch gestures and gestures to control in Windows 8.
Interfaces
A set of interface connectors, with which the Aspire V5-122P , was unusual, although at first glance it is usually – a pair of USB (2.0 and 3.0), the combined audio jack for a headset, SD-card reader, and another port, similar to the mini Display Port. In fact, he said Converter Cable Port and is designed for a special adapter Acer Converter Cable by three interfaces – USB 2.0, VGA and RJ-45 network.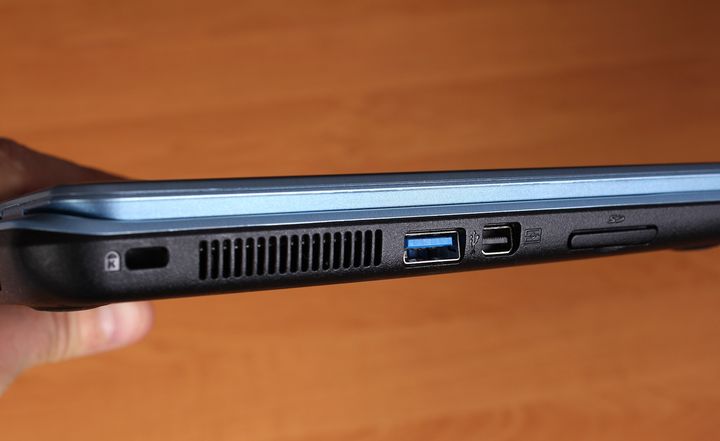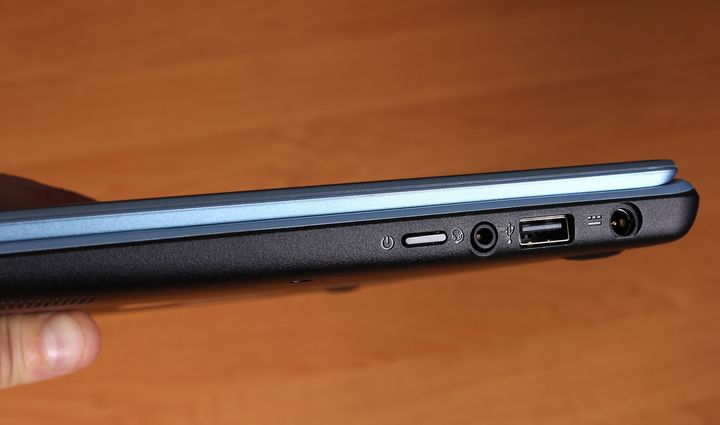 How convenient it is difficult to guess, but some logic in this decision is. In the mobile application you probably do not often need to connect a network cable, an old monitor or projector with a VGA-interface. For connectivity, such as a wireless mouse and USB-stick enough on-board connectors. In all other cases, there is an adapter. Depressing only that it would have carried around everywhere and if it accidentally somewhere to forget everything – write-gone. And the size of it too tiny not name. In any case, the fact that the company is trying to experiment, is commendable.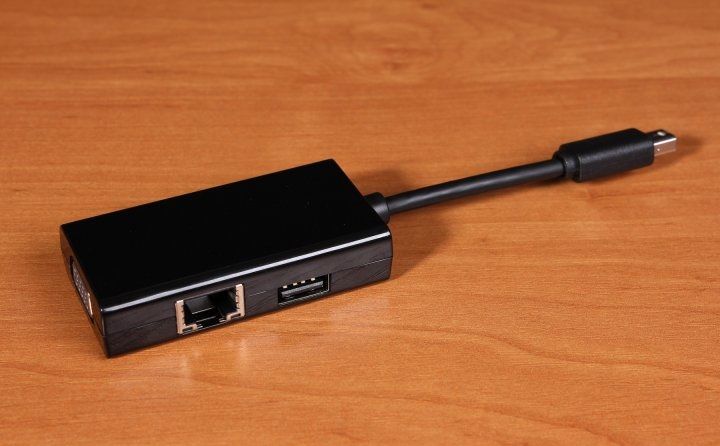 Wireless are on board the good old modules Wi-Fi 802.11 b / g / n and Bluetooth 4.0.
Display and Sound
In the Aspire V5-122P set a great IPS-matrix than the Acer delivers a very good example to other manufacturers, one of the first displays of this type of equipping their budget laptops. The panel is hidden under the cover glass with a glossy finish, closing almost the entire surface of the display unit and is equipped with a sensor to recognize up to 10 simultaneous keystrokes.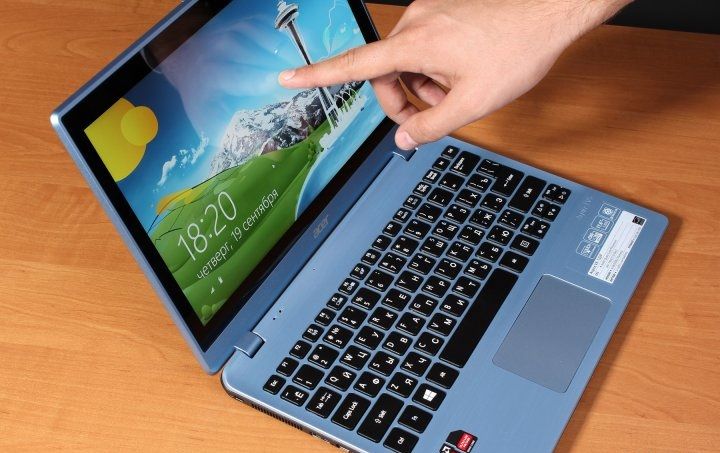 At the factory calibration of the display was good, although there are small flaws that can be seen in the graphs below. Color temperature, gamma and hue to look almost perfect, but the color gamut disappoint. The screen has excellent viewing angles and excellent image contrast (807:1). The brightness level varies from 11 to 180 cd/m2, which will not go blind in the dark, but in bright light to work will not be so comfortable because of poor readability and glare from reflections on the glossy.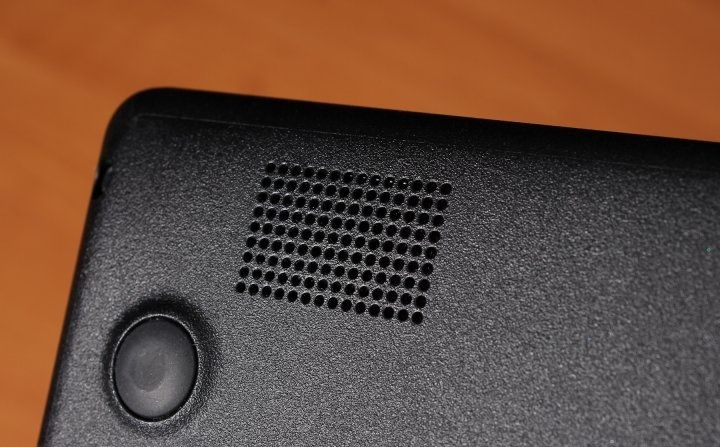 Sounds like a laptop and all the classmates – without the expressive bass and midrange. The stock volume loud enough to voice a small quiet room. At the peak there is no distortion. The only "but" – the speakers are located underneath the unit and will be muted when setting the notebook on a soft surface.
Functionality
At the core of Acer Aspire V5-122P platform is the recently introduced AMD Temash, specially designed for just such miniature laptops with touch Ekan, tablets and hybrids. This model can be equipped with one of two APU – A4-1250 and A6-1450 with two and four cores, respectively, Jaguar and an integrated graphics accelerator, built on the architecture of the Graphics Core Next – AMD Radeon HD 8250. Clock frequency of the nuclei of both processors is 1 GHz, and only senior A6-1450 can be overclocked to 1.4 GHz. RAM – 4GB, and two of them are soldered on the motherboard. Hard drive capacity 500 GB.
The new platform AMD Temash worked well, although not compete in performance with Intel Pentium and Celeron past generations it is not so easy. However, TDP at the new AMD does not exceed 9 watts, which allows production of devices based on their much smaller size, including tablets. Performance is quite low when compared with full-size laptops, but lacks the speed to perform all the basic tasks – Web surfing, documents, movies and casual games.
Despite all the efforts to make the platform AMD LP while maintaining maximum performance, in this specific case, the great breakthrough in this area, however. Our standard test subject lasted five and a half hours of reading and a little less than two hours under load. Probably the main reason is the small capacity of the battery – only 2640 mAh.
Output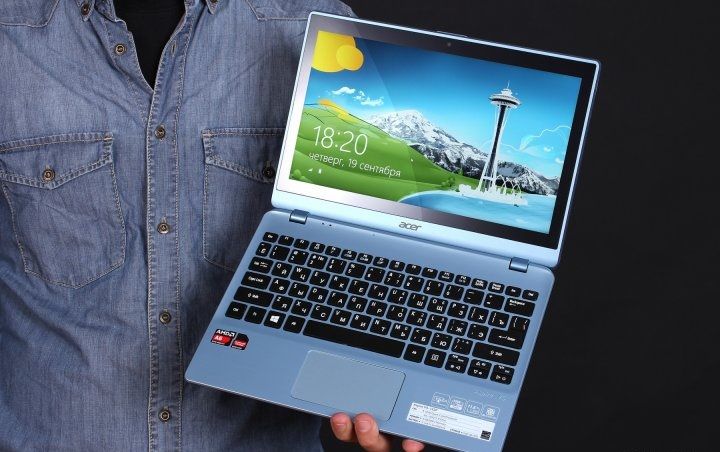 Despite not being the best endurance, the complexity of rendered block assembly and the relatively high cost, the model turned out quite attractive thanks to a pleasant design, the use of IPS-matrix and excellent build quality. Our verdict – Acer Aspire V5-122P is worthy of close attention.
Read another very interesting article about alternative energy of the Sun, water and air.