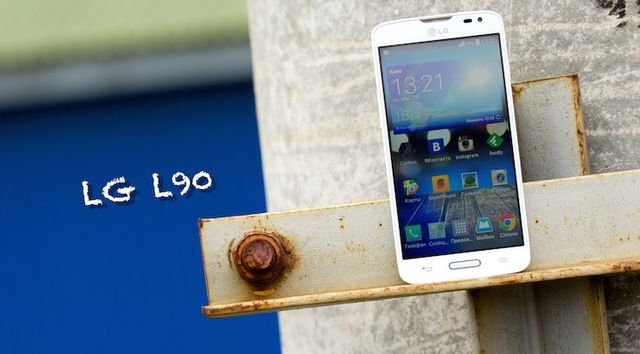 LG has long been engaged smartphones. Difficult to argue that if Google trusted company and as a result are ready than two generations of smartphones Nexus, hence, LG really know a lot about the business. And this applies not only to orders from the Corporation's flagship good, but all the other units of the company. If a couple of years ago with inexpensive smartphones any manufacturer it was cheap and easy, but now the market requires good displays, more performance, practicality and firm buns. Well, actually, manufacturers try not to disappoint their customers.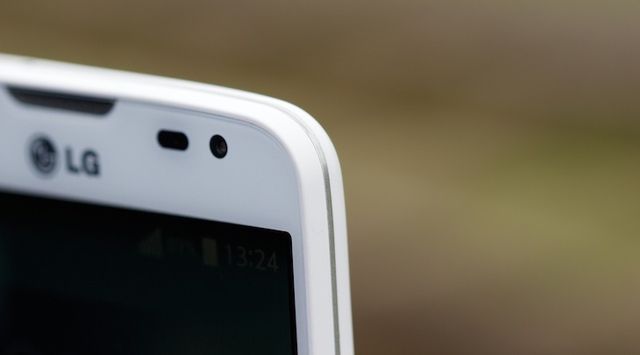 And a L-Series. The ruler is not new. Originally smartphones this series were quite bad, they had their own style, and the competition they are adequately kept. This year they have experienced restyling and increased their production capacity. Someone should please change accustomed to the past line appearance is unusual. Subjectively, a very good update. That's what all the talk today. And we will discuss the top model in the series of budget L – LG L90.
First impressions LG L90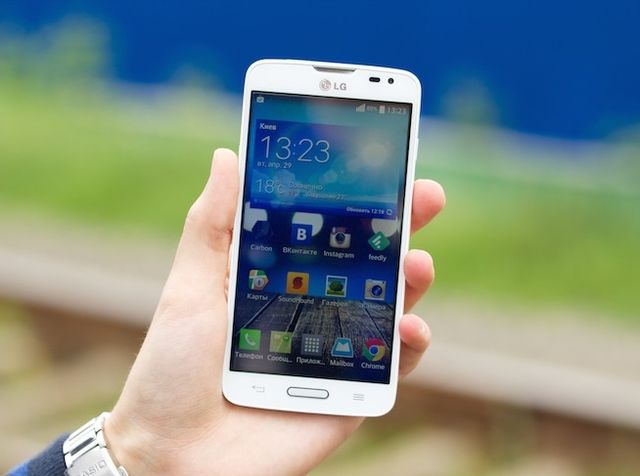 Old L-ki can be identified on the forms, they were kvadratnenkie. Now corners smoothed and distinguishing feature lost. These changes have started in some previous models, but the entire line is completely refreshed already at the MWC 2014. Besides design, lost and branded soft key, and it was the biggest drawback. Everything else, on the contrary, only improved. Of course, a subjective factor, but look smart phones have become better, less toy. On this smartphone is already pleasant to look, and in his hand is somehow easier.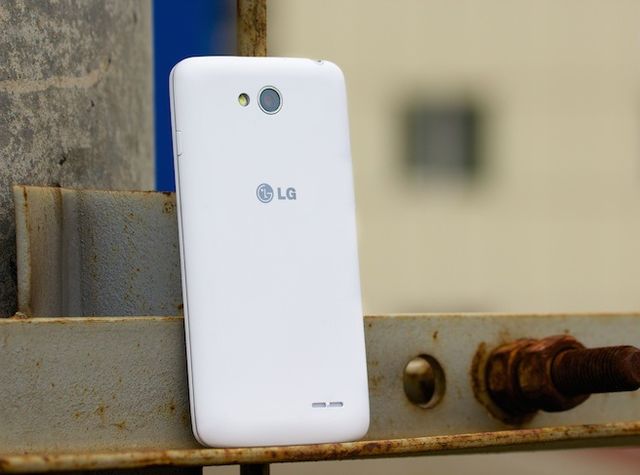 And now the entire line looks almost the same. There are differences, such as a sub-screen buttons, but it's not immediately evident. At first glance, the device does not cause any negative emotions. If previously you had to twist and get comfortable with the look, but now he once more pleasant. It is this change should greatly strengthen the hand of the new line, because this form and design in general look better than the last. First enable and configure traditionally for devices with newer versions of Android is fast and no mistakes. Now more detail about everything.
Design, buttons LG L90 …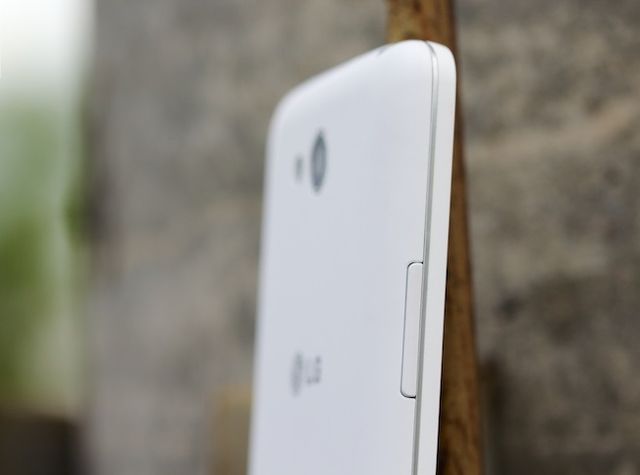 I know, most of today's smartphones are extremely similar to each other. Yes, L90 – not the flagship, and design without raisins, white chocolate crumbs or taste wild coriander. It's quite simple smartphone, but it looks pretty. Color variations are only two external design: black and white. The body is made of a smooth matte plastic. It is slippery and the first time nars slip out of hand. Over time, the user will get used to it and will often use a smartphone with both hands, and will be more careful if the other hand busy with something, and on the smartphone will still need to do something. Body dimensions – 131,5 x 66 x 9,6 mm and weighs 126 g L90 can be used with one hand, but to intercept smartphone still have. Among the competitors, you can find more subtle device, but in the rest of the criteria, with a 4.7-inch display, L90 came out very small.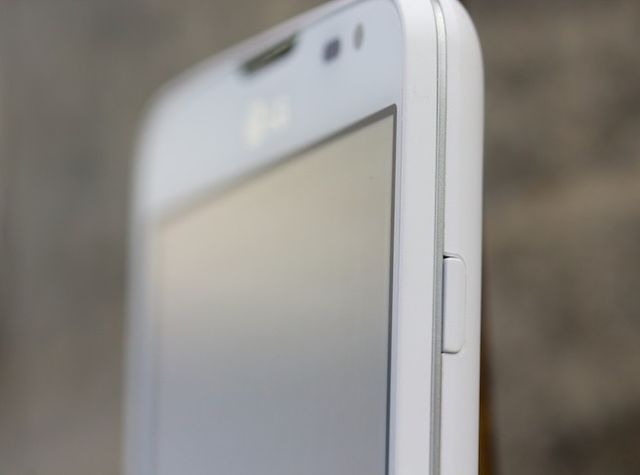 Assembly also did not disappoint. The back cover is removable, it clings to the body mounts a dozen. Backlash and squeaks, no, she's great sitting in his place. Underneath a removable battery, SIM Access and memory card. To change the SIM-card will need to remove the battery, and the format of SIM – Mini. The only action that can make the body to issue a crunch – is twisting, and it's not the right way to interact with your smartphone. So engineers have tried well, and the assembly is not lame.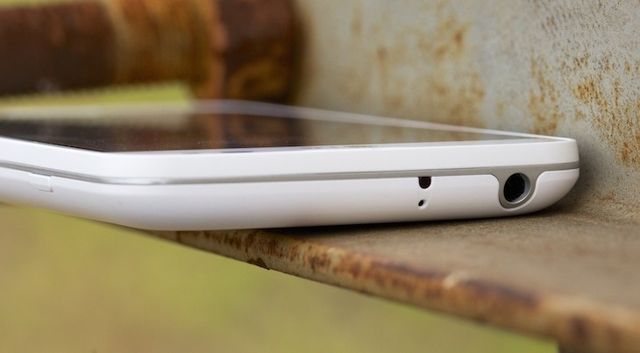 Arrangement of all elements on the body is quite ordinary. Behind the camera window in a silver ring, flash, logo printing LG and main speaker who tends a little rasp at high volume playback. On the right side – the power button on the left – dual volume control buttons. They are exactly where your finger will look for them. Bottom of the housing aperture for the microphone and Micro USB, top headset jack, infrared port to control a TV set and an optional microphone. Front side is covered with tempered glass. Above the display is the earpiece, company logo, a proximity sensor and front camera. Below the display are three buttons: "Back", "Home" and "Menu". The central button is mechanical, the other sensor. No backlight. Mechanical button can be distinguished from one L90 SIM, since Dual-version one more button, and there they all touch.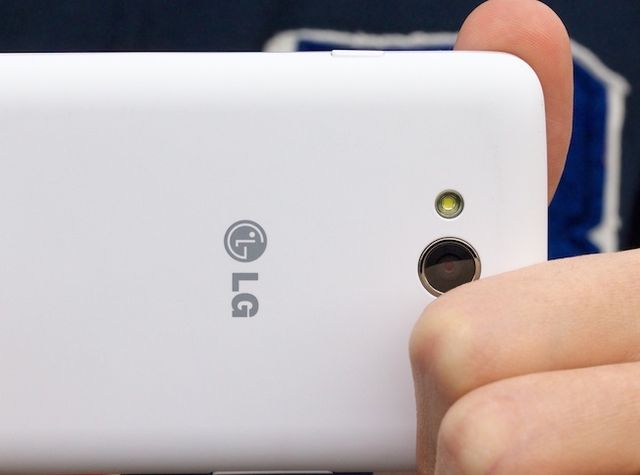 The only thing I would change, because this place is slightly lower camera window. In the present situation it is possible to accidentally cover with a finger. The rest – a very simple and practical design. From decorations here only a thin silver bezel, which extends from the bottom and cool captures headset jack on top. Personally, I like this design more than the previous options in the L-Series. Defect slippery surfaces overlaps practicality, because scratches and abrasions are simply invisible. More to say about the design of the inning.
Display LG L90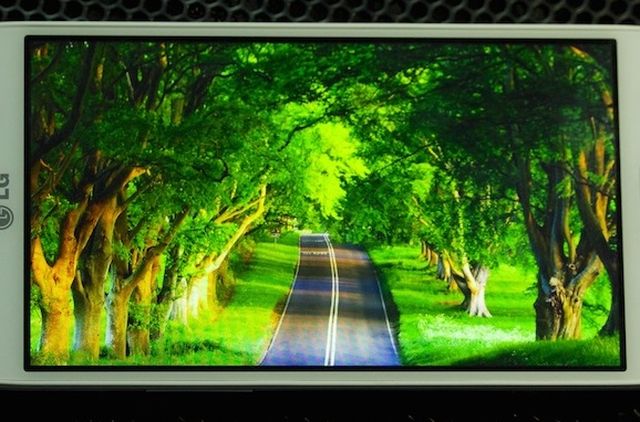 It seems, ends up being weak displays. Even in the middle price range. This year in the flagship L-Series has a 4.7-inch display with IPS-matrix. Resolution can arrange it by no means all, because of 960 x 540 pixels now really not a good indicator (234 ppi). At a working distance pixels are not visible, but if you bring the display closer and closer look, you can find individual points. This is generally not a big problem.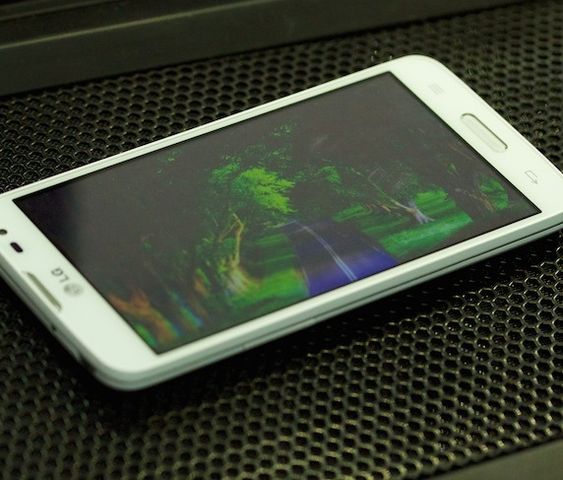 With the transfer of all colors well. Subjectively, the display could be a little colder out of the box a little warmer than normal color. Viewing angles are not always maximized, ie at a certain angle, you can find color distortion. But hardly anyone under such angles looks something on the screen of your smartphone. In principle, the display is all very well, but could not save the sensor lighting, it is severely lacking. But you can survive this loss. Yes, and the display itself is quite decent for this class of devices.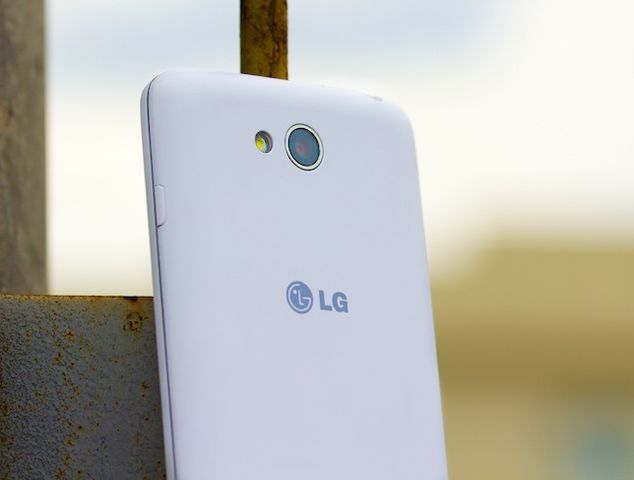 Two cameras in the smartphone today standard. LG did not deviate from it. Front received 0.3 Megapixel resolution makes photos and videos (640 x 480). But demanding avtoportretchika above the second level it is not satisfied. For video need to be in a well lit room. On the main camera case traditionally are better. It is 8 megapixels with fairly good opportunities. Camera is not the flagship, but good lighting makes quite decent shots. When light becomes smaller, the pictures can be seen working staff shumodava. As you know, the camera in the middle class devaysakh need more light, then the pictures are good. Otherwise the quality is severely lost. This camera records video in Full HD (30 fps). Focus does not work very fast, but slow and I would not call her. A wide range of options and opportunities familiar to LG. A few examples of photos and talk about the hardware.
Hardware, software and battery LG L90
As I mentioned at the beginning, today even state employees can work well. Improved Android, smartphone manufacturers do not stand still. As a result, the money for which you have received earlier frankly slow device now cheap smartphones can work well. L90 showed himself quite steeply. Inside devaysa work quad Qualcomm Snapdragon 400 (MSM8226), laborer at 1.2 GHz, Adreno 305 video and 1 GB of RAM. 8 GB storage capacity will give the user a little less than 4 GB, but there is a slot for memory cards. Nevertheless, completely impossible to move the big games, and hence for players smartphone will not work. In the tests, the results mediocre, just the cost of the device.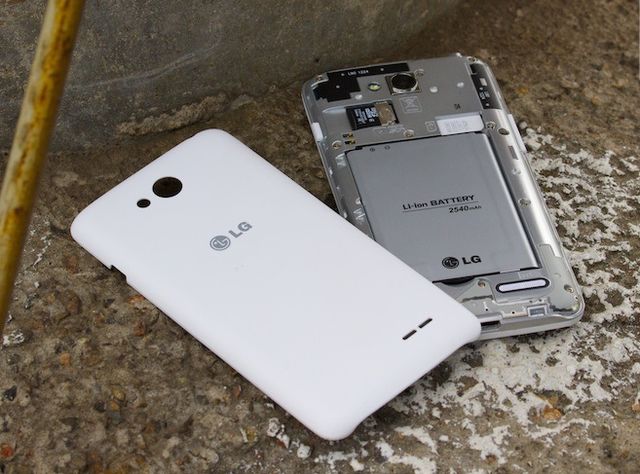 Android 4.4.2 on LG L90 works great. Moreover, the current version of the OS out of the box! Cool! Proprietary interface Optimus UI adds the OS turned out all of the innovations, like the flagship. All this work personally, I was very pleased. There were, of course, single problemki, but they sinned even top of the device. And everything went smoothly and without nerves. It is surprising that at the mid-market smartphone immediately available the latest version of the OS and full chips flagships. I want to believe that the company will update this as soon as possible all and please nick of new features.
Surprisingly long discharge smartphone. Somehow I thought that since it works well, it will affect the autonomy tightly. No. Pleasantly surprised by the battery capacity of 2540 mAh. It discharges an average of two days. Depending on usage, the user can not search outlet 1-3 days. If active torture device, for a day will suffice. If we are talking about a measured use when the user is distracted by life, work and communicate with people not only in the web, the smartphone can hold out until the third day without charging. So with all of autonomy as great as performance. Moreover, the battery is removable, which is a very significant bonus, especially for travelers and komandirovschikov.
Specifications LG L90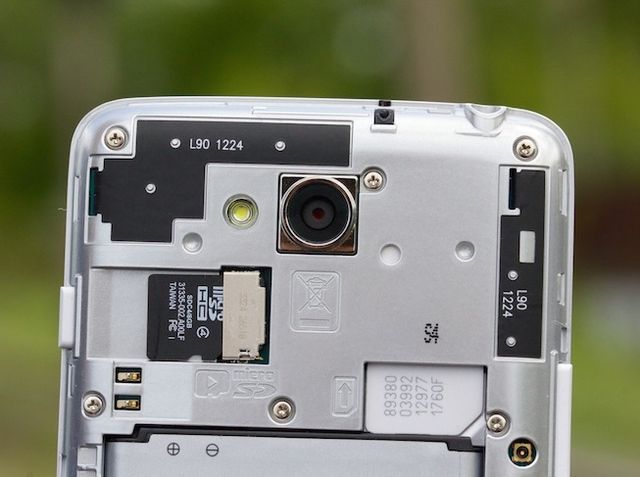 Dimensions: 131,5 x 66 x 9,6 mm.
Weight: 126 g
Operating System: Android 4.4.2 KitKat.
Processor: Quad, Qualcomm Snapdragon 400 (MSM8226), 1,2 GHz.
Graphics: Adreno 305.
Display: IPS, 4,7 ", 960 x 540, 234 ppi.
Memory: 8 GB flash + micro SD (up to 32GB).
RAM: 1 GB.
Camera: 8 MP, video recording in Full HD, 0.3 megapixel front.
Wireless Technology: Wi-Fi, Bluetooth, NFC (depending on the region).
Interface connectors: 3.5mm headphone jack, Micro USB.
Battery: Li-Ion battery 2540 mAh.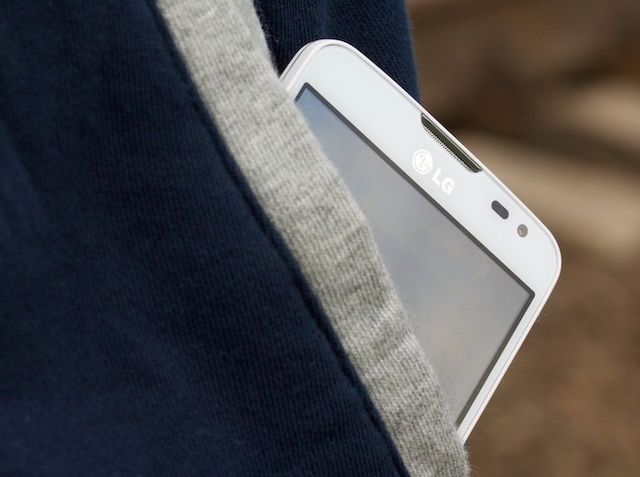 Conclusions and personal impressions LG L90
LG L90 is an excellent example of an inexpensive smartphone. Of the weaknesses mentioned display without automatic backlight adjustment angles and slow, and not the most outstanding camera. Subjectively smartphone design has become too easy in comparison to previous models of the series, and externally device can easily get lost among the most inexpensive smartphones, though it looks nice. For countries where relevant, support LTE device is not received. But it is perfectly constructed, very practical, works well with the latest version of Android with all proprietary operating time from LG and able to surprise its autonomous operation.
Read another very interesting article about alternative energy of the Sun, water and air.