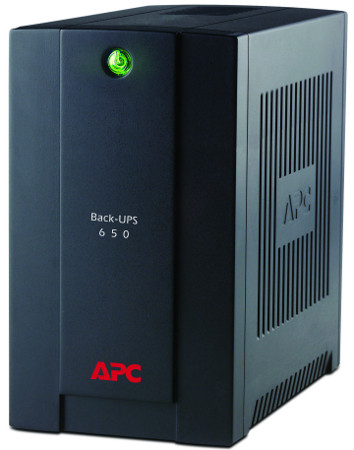 Providing quality power supply – a pledge stable operation of any electronics. And considering the fact that the state of electricity in our large and rich country can hardly be called good, for many, this problem becomes extremely relevant. Schneider Electric has released the market inexpensive device APC Back UPS BX650CI-RS, capable of providing electricity in case of a sudden power outage, or have any problems with power supply.
This UPS is designed for use primarily for domestic purposes, can be used with computers, network attached storage (NAS), ADSL-modems and other home electronics. The device comes with four euro outlets, so that you can connect anything that has an appropriate plug. However, it is worth considering that only three of them provide a transition to battery power in case of failure in the power supply.
Weight of this model is not very big, and it does not look too bulky. The device is designed for a maximum power consumption of 390 watts (650. A). Body is made of non-staining and quite durable black plastic. He laced vents and battery power is not heated too much. Its shape is typical for models of this manufacturer – is relatively high and narrow device that easily fits under the table. W ere is no LCD screen, familiar to older models, the front panel is only one power button with an indicator showing the current operating mode.
This model is equipped with automatic voltage regulation, which provides normal power to the load at elevated or reduced supply voltage without going offline. This, in turn, can extend the battery life.
Conveniently, that provides the ability to connect to a PC, which has a USB-port. Thanks to this special supplement PowerChute Personal Edition can monitor the current status of the UPS, diagnose and configure various settings.
Instead of the usual for many devices of this type of fuse in this model uses an automatic safety device that helps return the UPS operating status by simply pressing the button after tripping due to overload power or short circuit.
Its primary function device copes well. In order to ensure the load, we used PCs based on AMD A6 3500, equipped with a video card AMD Radeon HD 6870 paired with a 23-inch LCD monitor. When you run at maximum load power meter shows the value of 340-360 watts. Food was provided for 5 min, the rate of switching from the "mains" to "battery" does not cause any complaints. When running on battery, this UPS provides step-approximated sine wave. This type of signal is suitable for most of the electronic equipment
Full-charge time of this device is about 8 hours
Read another very interesting article about alternative energy of the Sun, water and air.