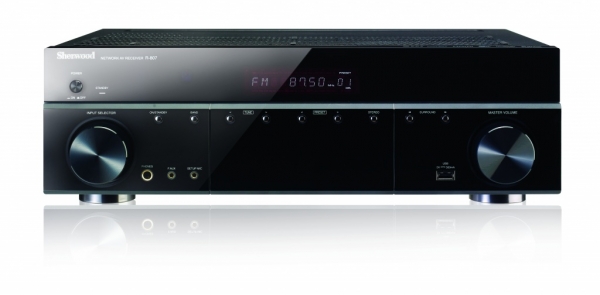 American brand Sherwood, who began his story as much in 1953, is celebrating its 60th anniversary. In honor of this event the company has prepared the fans a great gift engineering Sherwood – Sherwood R-807 : a unique of its kind, the first in the world, built-in power amplifier with a Wi-Fi Direct.
Receiver Sherwood R-807 is really interesting device, stepping up with the times. It eliminates (as far as possible, of course) on opostylevshey "noodles" of the wires and without unnecessary by as access points, wireless media player and individual modules at high speed (up to 54 Gbit / s!) Receives HD-content directly from your tablet or smartphone. Few would argue that it is comfortable and modern.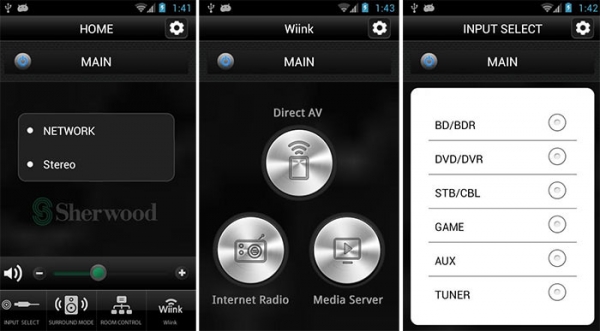 In other words, all you need to do in order to enjoy excellent sound and excellent picture, you will need to relax on the couch watching TV, and turn on the desired movie / concert / music album on your phone. The desired media content to be broadcast to the maximum available capacity on the screen and speakers of your home theater.
In addition to the simple translation of content available and the extended configuration and control of the machine with mobile devices over Wi-Fi.
By the way, "communication" with the receiver via a smartphone or tablet via the free app Sherwood Remote, any second now available on the most popular mobile platforms – in the App Store and Google Play Market.
The hardware and resolutions
Sherwood traditionally provides a stable high output power and high quality sound and picture. All this is achieved through high-quality components base. For example, each of the output stages of the seven-channel amplifier designed for the proprietary technology of using discrete transistors.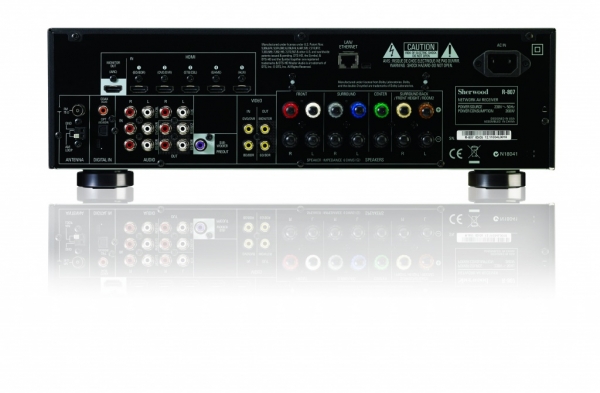 Receiver 100 provides the seven watts per channel in multi-channel mode (channel characteristics of each while also include the range 20 – 20 000 Hz, 6 ohms impedance, and harmonic distortion 1%) or 75 W in stereo mode (range 20 – 20000 Hz, 6 ohms, THD – 0.1%). Operation of all channels provide DAC working with a sampling frequency of 192 kHz (24 bits). The ratio of "signal-to-noise ratio" is 95 dB.
By the way, you can cause the amplifier to operate in the "multi" when two different facilities the device provides the performance of two different configurations of columns: the first zone – 5.1 second – 2.0.
There is another very useful feature – automatic speaker setup and calibration with the microphone.
Built-in surround sound decoders "understand" all the popular modern formats HD Audio (DolyTrueHD, DTS-HD, etc.) and Legacy formats (Dolby Digital Plus, DTS-ES, etc.).
As for video playback: an HDMI supported broadcast digital video streams in 4K resolution and 3D Full HD 1080p.
Among the ports, inputs and outputs can be found: Ethernet (to connect to your home network), USB (for connection of storage devices and play them with the content), HDMI (1 output, 5 inputs), an optical input, digital coaxial, 6 linear audio inputs and outputs, headphone jack and composite video in and out.
I should add that there is a built-in media server, and support for Internet radio and a digital FM / AM tuner with 30-station customizable.
Receiver Sherwood R-807 weighs 8.5 kg, has physical dimensions of 435 x 138 x 379 mm. The price of the device at the time of this writing is in the area of ​​19 thousand rubles.
The new receiver is definitely worth paying attention to the fans of quality (and very powerful!) Sound.
Read another very interesting article about alternative energy of the Sun, water and air.