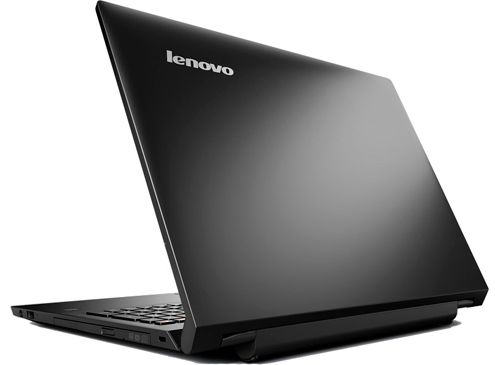 Lenovo IdeaPad B 5070 – a budget laptop that did a fine job with office tasks and help in the business. In other words, it can be expected of good work, including in the educational sphere. Is that some demanding tasks will be beyond him, since he is not the highest performance. In the filling of the device can be seen processor Pentium 3558U, integrated graphics Intel HD Graphics (Haswell), and 4 GB of RAM.
In general, if your circle of problems is reduced to the documentation, watching movies, surfing the web or, for example, the creation of presentations, the laptop Lenovo IdeaPad B5070 should be more than enough. Let's see what are the chances of him, because competition among low-cost models is quite high.
Design
The notebook looks simple, it is low-key and no-nonsense. Matt smooth surface, made of plastic, dark colors – standard selection for most office devices are not spared and Lenovo IdeaPad B5070. To work it is very convenient, because nothing will distract. As you can see, the design is made in a minimalist style, and it is noticeable not only outside but also on the work surface. In principle, office workers more is needed. Is that add trouble fingerprints left on the body, because this notebook will periodically cleaned.
The bottom of the device is also not particularly stand out. It is possible to see several oblong ventilation grilles, the battery compartment with the corresponding sliders to eject it. In addition, you cover that hides the access to the internal components, and four stable legs. With regard to the strength of the body, you have to put up with a little slack lid and keyboard. But do not think that because of the latter, you will be uncomfortable to type texts.
Dimensions IdeaPad B5070 normal for a 15.6-inch laptop: 380h262h27-32 mm, and weight of 2.25 kg more than acceptable to take the device with you when traveling.
Display, sound, webcam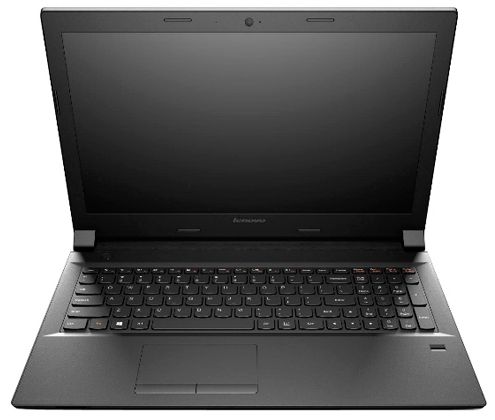 The laptop is equipped with a display diagonal of 15.6 inches and a resolution of 1366×768 pixels. We can not say that this is the best option, rather, not the best at the moment. However, this resolution is enough, if simply to work, typing, surfing, and not to engage in some professional tasks such as video editing. By the way, please do not display a high level of brightness, as it does not exceed 220 cd / m2, as well as wide viewing angles and rich colors. In general, this is a common fiscal TN-matrix, which is not enough stars in the sky. The only thing that's nice to see a working laptop matte screen surface. It is thanks to her almost will not affect anything and shine that will deal with cases concentrated.
The camera in the laptop is suitable except for videoconferencing. Its resolution is only 0.3 megapixel, so count on high-quality images and video even more, of course, not worth it. Acoustics are also not up to par. It is represented by two built-in stereo speakers located above the keyboard; helping to set up the sound Dolby Advanced Audio. As for the office notebook IdeaPad B5070 sounds fine, but that's to play video or music well enough, unbalanced, without bass, in a word, expressionless. The best option here would be to connect headphones.
Keyboard and Touchpad
Branded keyboard AccuType in this island, and a full-size laptop. It is supplemented by a separate number pad. The keypad buttons are pressed clearly, without much effort, they have a convenient shape and rounded at the bottom, which will allow for a long time to type texts without undue fatigue. Arrows and nampad only slightly narrowed, but to work with them will not be obstacles. Marking is also thought, in particular, the basic symbols and icons on the function keys are different white and orange, respectively. The keys are not backlit, which is to be expected for an inexpensive office laptop.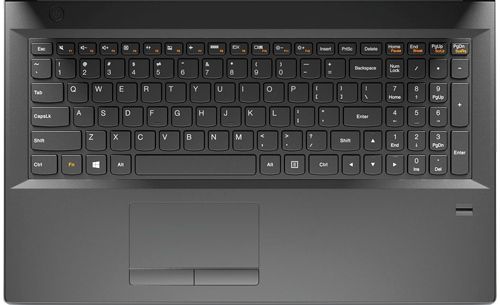 As for the touchpad, its size is not the best for, so to speak, extended position. This is especially true height, because of what seems to be pointing slightly flattened. However, this is the only drawback, otherwise touch pad is smooth, sensitive, you can use it to zoom and comfortable flip through pages of documents. If you do not like the touchpad to work, you can always connect a mouse.
To the right of the touch area is a fingerprint sensor. For a businessman, he is particularly relevant because it does not penetrate to the data allows an outsider.
Performance
In complete Lenovo IdeaPad B5070 (59435821) is provided DOS. This will install any you like the version Windows. The laptop runs on Intel Pentium 3558U, built on 22-nanometer technology microarchitecture Haswell. This low-voltage dual-core processor is, however, due to the lack of support for multi-threading technology Hyper-Threading, it can simultaneously handle only two data streams. Each core Pentium 3558U operates at a frequency of 1.7 GHz CPU cache is 2 MB (level 3). Incidentally, the basic frequency remains, as Turbo Boost is also not supported. Generally, said processor refers to the entry-level performance, he is not much better some family chips Ivy Bridge. Certainly, Pentium 3558U cope with a variety of simple calculations.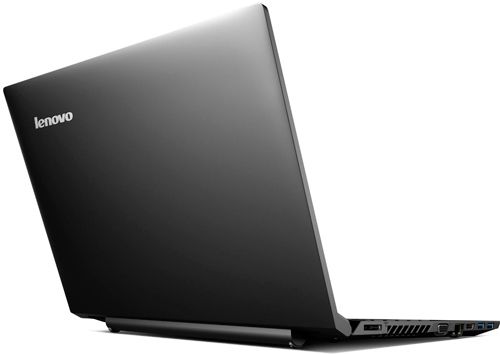 With processor running integrated graphics Intel HD Graphics (Haswell) with support for DirectX 11.1, OpenGL 4.0. Own video memory it does not, it utilizes a portion of RAM. For simple graphics tasks it will be enough to head, but for today's game performance integrated adapter is not enough. Rather, you get to play with toys 2012-2013,. at low or medium settings.
Despite the fact that the manufacturer provides a complete set with discrete graphics AMD Radeon R5 M230, it is unlikely it will be a good alternative to the built-in graphics card family Haswell, because its performance is relatively low.
RAM in the laptop has 4 GB DDR3-1600 MHz standard, for which there are two slots. For today's program that is enough, especially since you can count on up to 16 GB, putting in each module to 8 GB – and it's quite a big margin. As for the hard drive, it has a capacity of 500 GB, enough for a working laptop. Hard drive works with a standard speed of 5400 rpm on it you will be able to store documentation, a set of necessary applications, a small selection of video and audio content, and so on.
Ports and Communications
Most of the interfaces is located on the left side of the notebook. Here you can see two USB 3.0, HDMI, analog output VGA, as well as the network connector RJ-45 jack for charging connector and One-Link. It is designed for fast data transfer, including video. Moreover, it serves for charging devices. Also on the left side of the ventilation grille taken out, which eliminates warm air.
But on the right side is only available USB 2.0, composite audio jack, and Kensington lock slot and a built-in optical drive DVD RW Super Multi, supports dual-layer discs.

On the back of the laptop ports are not available, but the front has a card reader, readable format SD / MMC / SDHC / SDXC, and two LED lights to indicate the work drive and battery charge status.
From wireless communications in the Lenovo IdeaPad B5070 has a Wi-Fi 802.11 b / g / n, operating in the 2.4 GHz band, and Bluetooth 4.0. Desktop notebook that's enough.
Battery
The laptop is equipped with 4-cell lithium-ion battery 2200 mAh (31.7 Wh). With it, he will work no more than five hours in maximum power saving mode. Even during normal office work at a reduced level of brightness by 40%, autonomy is not more than three and a half hours. In general, IdeaPad B5070 is not long lasting laptop while charging rather quickly – by 90% for a half hour 65-watt power supply.
Conclusion
It is unlikely that Lenovo IdeaPad B5070 become a favorite among office or notebook models of budget-line business class. However, as a modern working tool it is very easy to use. This toiler even in the face of fierce competition has to offer. In particular, with daily work tasks successfully handle the low-voltage processor Haswell, supplementing the 4 GB of RAM and integrated graphics. Also, the laptop is equipped with a built-in optical drive and the optimal number of ports and connectors needed to connect a variety of devices. As always, please ergonomic keyboard proprietary AccuType. Along with this, there are a number of shortcomings. For example, the display did not impress the budget, although a matte finish is certainly a plus, and a webcam with a resolution of 0.3 MP is nothing special is. At the same time, given the low cost of about $ 400, then it is some of the nuances, you can close your eyes and without a doubt buy this notebook.
Read another very interesting article about alternative energy of the Sun, water and air.