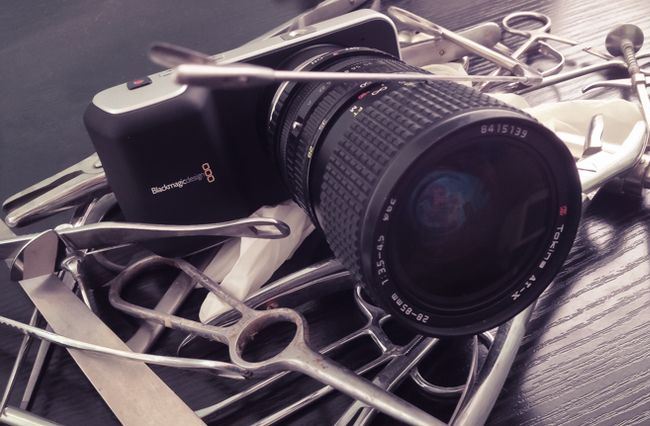 Remember, we once said that the photo was initially chosen occupation, as required tremendous knowledge and expensive equipment? So, the video stepped even further – despite modern technology, film equipment worth sometimes, as a good car. Therefore it is not surprising that the film and video kinokachestva until recently, was available to very few, and ordinary consumers were offered the possibility of SLR and mirrorless cameras. But then came an Australian company on the market and proved to all that the professional quality and high price does not always have to go together arm in arm. And she showed her line of products BlackMagic, the cost of which was daringly low compared to others and clearly below the psychological barrier that exists in our heads.
But the decided not to dwell, and in 2013 the company showed its most accessible FullHD-movie camera with a furious dynamic range, compact size, standard matrix Super16 and mount Micro 4/3. We are talking about the character of our review – BlackMagic Pocket Cinema Camera.
Design – BlackMagic Pocket Cinema Camera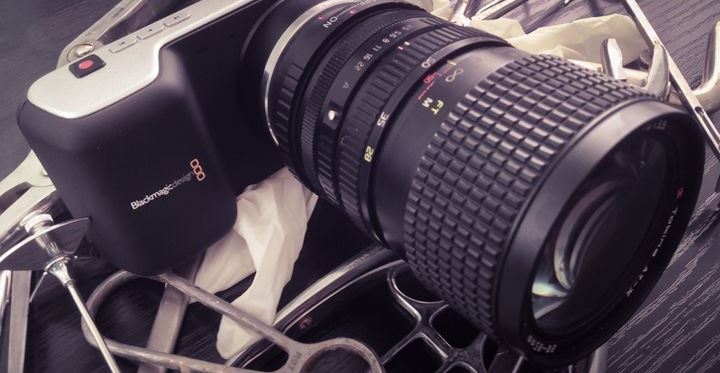 You take a BlackMagic Pocket Cinema Camera in hand and immediately realize that the design was paid a lot of attention. Camera to the best portable, small, stylish. Grip, despite its compact size, very comfortable. This contributes equally as comfortable serving Battery handle and rubberized finish front side, which is a half meter looks like velvet.
On the front side – nothing but the inscription BlackMagic Design, mount and buttons detaching. By the way, here bayonet – MFT, but because of the size of the matrix can be put absolutely any lenses via an appropriate adapter.
All faces except the right, are covered with metal, which improves the durability of the BlackMagic Pocket Cinema Camera. Inside there are also metal chassis.
Buttons – at least, so that fans will have to DSLR ergonomics are not very comfortable.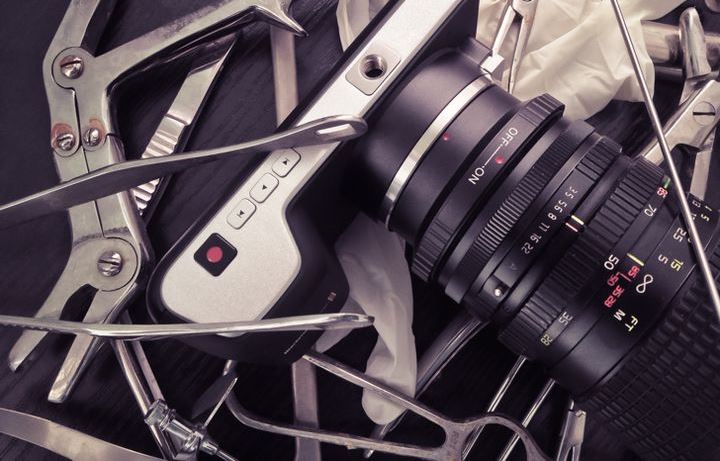 Top – tripod socket and four buttons: Play, Back, Forward, Rec.
Bottom – tripod socket and lid under which hides the battery, USB connector and a slot for SD-card.
The left side of the connectors. Then there is the port for remote control and Mic In, Headphones Out, HDMI and a 12v charging. That all connectors on one side – not very convenient when using a large number of accessories.
The right side is empty.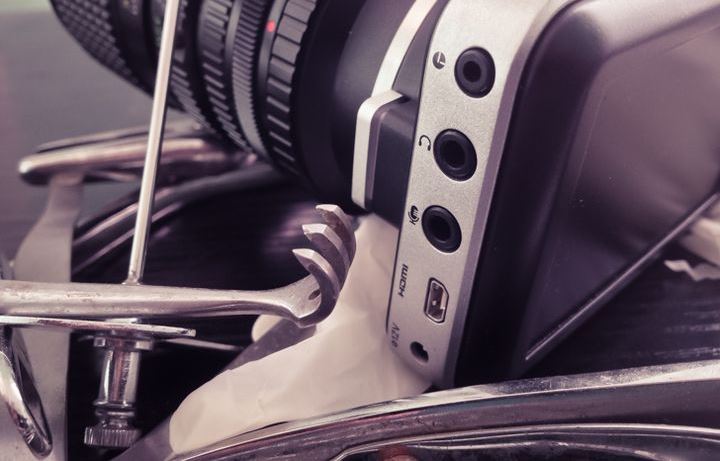 The back panel is made of soft-touch plastic, which does not collect fingerprints. The best part is given over to a matte screen with a diagonal of 3.5 "and a resolution of 800 × 480 pixels.
The left – button Iris and Focus, which are responsible for sharpening when you (like DSLR) and aperture. But it works only with all modern lenses.
Below – four-way joystick and an OK button. Below – Menu and switch button.
All the buttons are pressed very clear, with a nice click that one might desire klatsat more and more.
Inside – BlackMagic Pocket Cinema Camera
As the photosensitive member in the camera matrix format Super 16 and the physical size of 12.48 × 7.02mm. Resolution – 1920 × 1080 pixels. Crop factor – 2.88.
Version of the processor – is unknown, but according to personal feelings, it does not matter. Camera just flies like a power on / off, and when moving through the menus, video recording, otsmotren material or configuration changes.
Video quality – BlackMagic Pocket Cinema Camera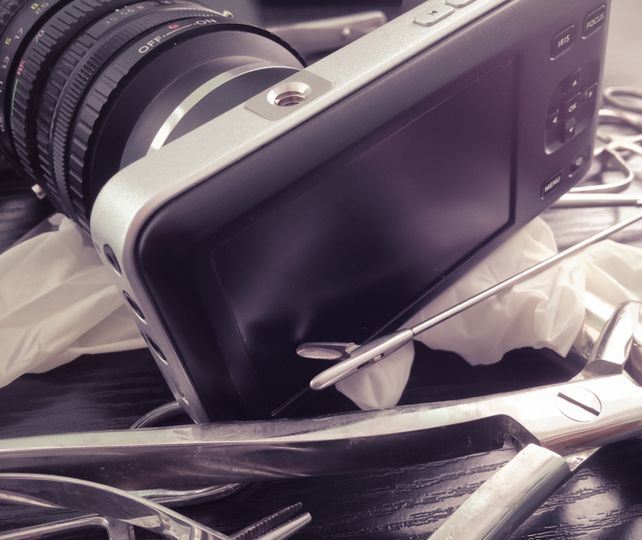 Here questions to the camera BlackMagic Pocket Cinema Camera does not arise at all no. Its main function it performs at 5 +, showing excellent results in all versions of the.
All videos are written only with FullHD, progressive, frame rate – from 23.98 to 30 is not a lot. But there taymlepsy that do not kill the shutter. Thus the shooting range – from frame 1 to 10, 1 to 10 seconds from 10 seconds to 60, from 1 minute to 10 Select a few good for all purposes.
Video is the ability to write in two variants of dynamic range – Film and Video. In the first mode, the picture is very well, Flat, or flat, low-contrast and unsaturated, but there are all 13 stops of dynamic range. This enables even the most complex lighting scene to pull in the post-production stage, remove noise, or simply change the color.
The second option – Video, which will reduce the DD to Rec709, but easier in post – to make high-quality color picture you can simply just something simply pull saturation. Or throw LUT if desired.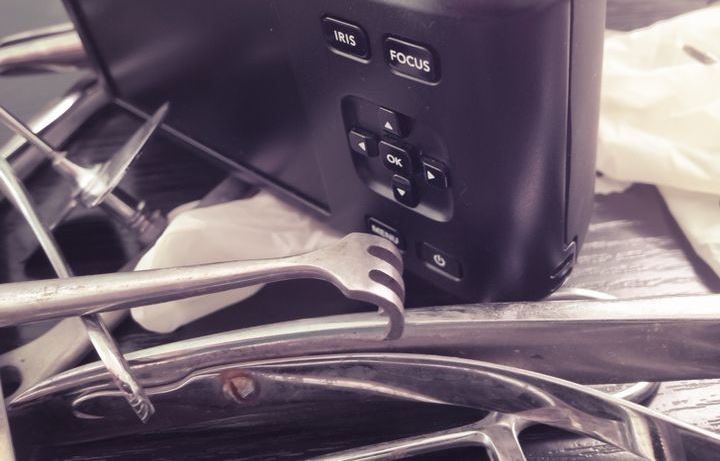 The first – a RAW DNG, which allows for the possibility of magic pocket in full. Withsuch a record is not created by a holistic visual imagery, and a bunch of separate photos stacked in a single folder. Accordingly, 10 seconds of video at 24 frames – 240 shots. Well, and so on. This allows you to flexibly control all parameters in Lightroom or Photoshop and only then download the pictures for further processing in the video editor. By the way, the native RAW processing in FCPX I have not found, maybe bad looking.
The second option – to use different ProRES. To choose from – 422 HQ, 422, Proxy, LT. The difference – only in bit rate and quality. For example, for 422 HQ he is 220 Mb / s. What wow. Although, according to my personal impressions, the same Proxy or LT can beat any H.264 with DSLRs, but competent treatment. Videos are just packed in mov.
By the way, the same thing when shooting timelapse – when choosing RAW you get a lot of pictures when choosing ProRES – mov-file.
ISO range – from 200 to 1600 Ideal operate value can be considered 800 It is the ratio of light / noise is optimal. Although ISO 1600 can shoot. Ugly noise is removed by post is very easy, and after the same experience shumodava video with a DSLR basic, with minimal loss of quality. By the way, it is possible for these values ​​to enclose and support in the form of film grain – the effect is excellent.
The feel of the work – BlackMagic Pocket Cinema Camera
Perhaps we should start with the screen. Despite his resolution and a matte finish, initialed on a bright sunny day is not very convenient. He is blind. Therefore, to increase comfort, is to use the viewfinder or on the screen or external display. Absent here, and a histogram, so come to the aid focus picking (by double pressing the Focus) and zebra overbrights, which is included in the menu. You can also bring the image of the double-tap of the OK button. After a week spent with the camera still can be used, especially as a small matrix with wild dynamic range and depth of field forgives some error focus and exposure.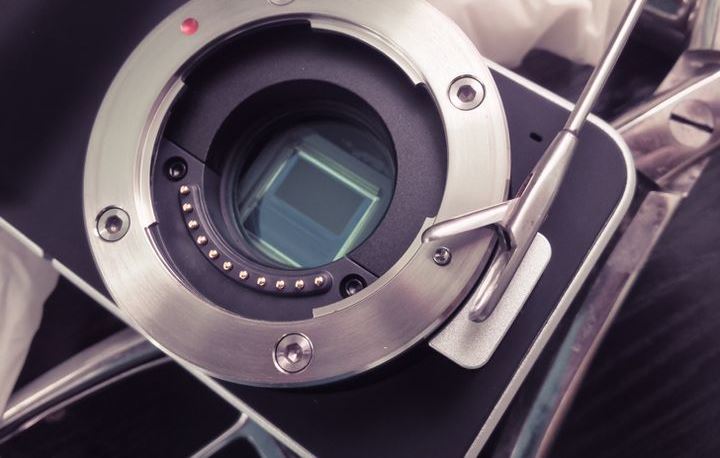 The same small matrix plays another bad joke – for example, to find a wide angle lens is not so simple. But the dynamics of the shoot is easier – to cover up to F8, you can easily be in focus even when you remove the active / closer to the subject.
The second – is to use the menu. Specifically, the need for menus. For example, you need to change the color temperature – climb on the menu. ISO – climb on the menu. At this time, the sight, of course, is not available. For such cases, require an external screen.
Another feature – the use of non-standard shutter speed and shutter angle . You can learn more about what it is at this link .
It allows the use of shutter angle to give your videos a smooth and soft appearance, strengthen the movement, for example.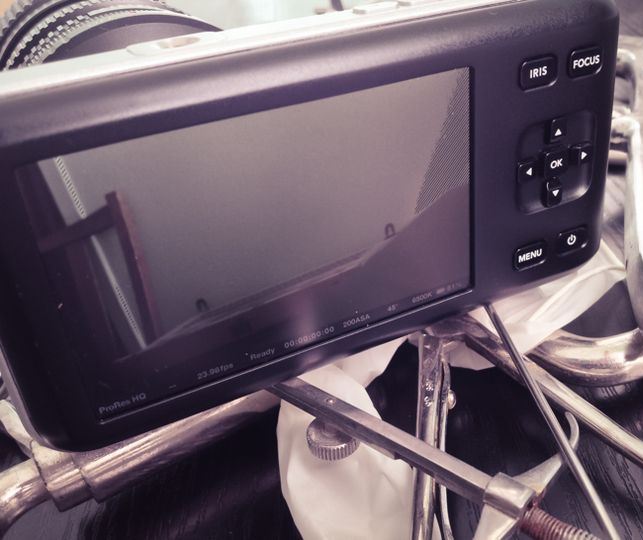 Record sound good here. On the built-in microphones surrounding noises and sounds are recorded quite well, so look for the sound passing car is not necessary. But the built-in recorder with an external microphone could be better. Still, to get the perfect sound recorders is recommended to use the type of Zoom.
It should say that the histogram recording here also do not – have to be monitored via headphones or intuition.
As noted by Anton Tkachenko in one of the video blogs, formatting the memory card inside the camera is not. As the removal of the bad frame. Computer – our all.
To perform adequately RAW / ProRES 422 HQ / ProRES 422 should be used only memory card UHS-I at a rate of 95 Mb / s. Reported at the manufacturer's site map – SanDisk Extreme Pro – review it here . Of course, I tried to use the card, but got a wild Frame Drop (subsidence fps) to 7.10 k / s using ProRES. RAW also renounced saved and the successful record of 240 frames (10 videos), only 70-80 frames. Empirically found that card at a rate of about 45 Mb / s suitable for taymlepsov, ProRES Proxy and LT, but still scared to risk. Especially for commercial orders.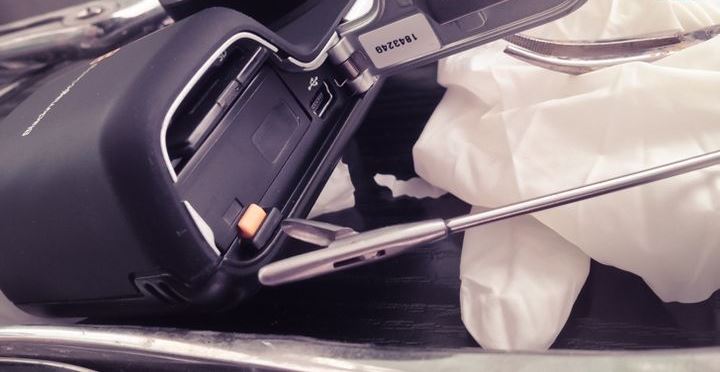 By the way, if you want to do just one memory card, I advise you to carry a laptop – 1 minute ProRES HQ weighs about 422 gigabytes. Proxy – as with a nice modern SLRs.
Another feature of the camera was its metal housing. He is waiting, though gets very hot. Initially I thought that this is happening during use under direct sunlight, but it turns out that the use of the camera, even in the room leads to heating. But in contrast to the same Canon can work without loss of productivity or stops recording.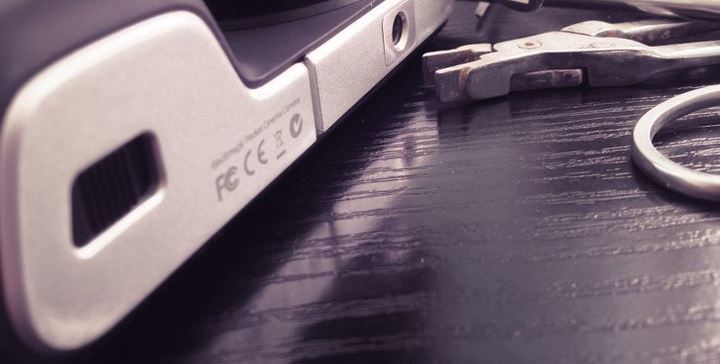 Regarding the battery life – then it really is not very good. 40-50 minutes, depending on how and in what rate a shoot. Not much, but enough for me personally over. Charging a battery lasts about the same hour. Have the ability to shoot and when connected to mains power, so that the premises is not a problem.
Liked – BlackMagic Pocket Cinema Camera
design
ergonomics
the ability to shoot taymleps
the ability to shoot in RAW and ProRES
dynamic Range
the presence of various ports
compatibility with all types of lenses
control of motion blur by shutter angle
work built-in microphone
the ability to work from the network
large depth of field
JavaScript focus picking
presence of a zebra overbrights
the presence of two tripod socket
speed
Do not like it – BlackMagic Pocket Cinema Camera
low power consumption and battery
need to adjust the settings in the menu
lack of audio histogram
no histogram video
inability to format the card inside the camera
mediocre quality of the built-in audio recorder
large crop of the matrix (the difficulties in selecting a wide-angle)
absence for the battery charger included
Outcome – BlackMagic Pocket Cinema Camera
BlackMagic Pocket Cinema Camera – a great choice for those who shoot, who do not need photos and who wants to grow in the video towards the improvement of quality. Its $ 1,000 price, it fulfills in full, providing the user with a tremendous opportunity in the post-production to achieve the best result. Just for this very result you need to spend a lot of time on the computer. If you are not ready for this, this camera is not for you.
Read another very interesting article about alternative energy of the Sun, water and air.