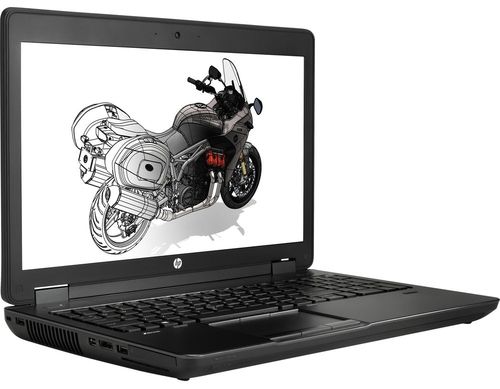 HP has surpassed all expectations with its new mobile workstation called «HP ZBook 15 G2». This 15.6-inch sample of working on high power of the processor Intel Core i7-4710MQ and professional graphics card NVIDIA Quadro K2100M. He is perfect for the most demanding tasks diverse, when you perform all of this can be away from home or office. What laptop manufacturers, it is clear, however, how much, and it is easy to use, and we have to find out.
Design
Despite the power and status, HP ZBook 15 G2 won a very elegant design. Almost the entire perimeter of the cover is rubberized strip, which, in principle, any functional load is not, however, a portion of individuality adds. Brushed metal body has some semblance of grinding, so the special issue of the fingerprint can not speak. The device is black in color, with a major manufacturer's logo in the middle of the lid.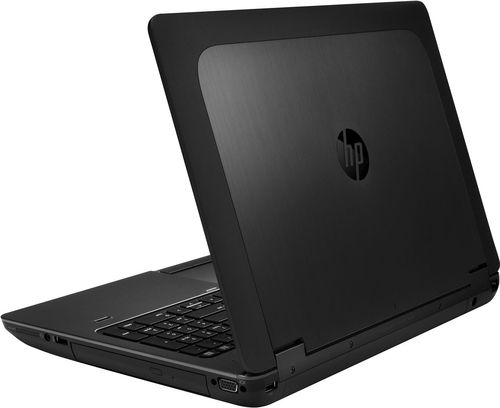 Parameters of the housing is very standard – 381.5h257h30.5 mm and weighs about 2.8 kg. Yeah, still mobile workstation is not too suited for everyday transportation manually.
Quality ZBook assembly 15 at a height G2, as well as the materials used to manufacture – a pressure plate and a lower metal cover is not pressed through. Moreover, the notebook lid can recline up to 180 degrees, providing virtually unlimited possibilities in the review screen.
Another highlight is convenient workstation is easy access to internal components through the bottom panel – it is elementary removed without the need for any tools. In addition to the removable panel on the bottom is a slot for a docking station, remove the battery, and three pairs of rubber feet.
Display, sound, webcam
Laptop ZBook 15 G2 offered in several trim levels, including with different resolution matrix display. The cheapest version is the workstation with Full HD-display (1920×1080 pixels). We also consider the option of more expensive, more solid for modern mobile devices – with a resolution 3200h1800 points. Matte 15.6-inch screen has received anti-reflective coating and matrix IPS with a good margin of brightness and excellent color reproduction. Maximum brightness is adjusted up to 279 cd / m2. The screen has excellent contrast and wide viewing angles. By the way, if someone icons and font as a result of high-resolution seem small, you can either reduce the resolution up to Full HD, or work with scaling.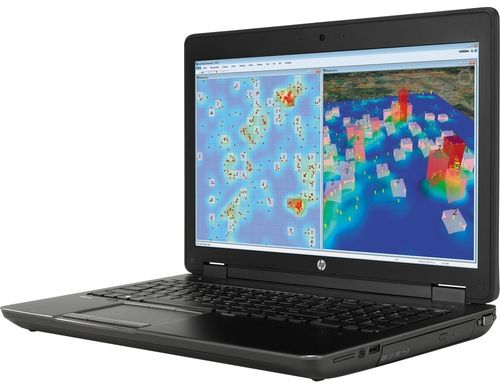 Grille, located above the keyboard hides the integrated stereo speakers. For sound quality meets technology DTS Studio Sound HD-Audio, which provides enough clear sound. Although mobile workstation rarely acts as a device for listening to music, ZBook 15 G2 cope with this task without problems.
Webcam 720p located above the display. Next to the eye is a pair of built-in microphones and LED work. Shoot camera well enough, you can comfortably communicate in Skype.
Keyboard and Touchpad
The island is equipped with a backlit keyboard, which significantly increases the level of convenience in the dark. Nampad present and a number of additional physical buttons made in the upper part of the workspace: switching, wireless, and adjust the volume. Right of the touchpad is a fingerprint scanner – a necessary attribute of workstations. On the quality of the work he is worthy of praise, as instantly reads drawing fingertip. The keypad buttons have a short stroke, in the quiet and, in principle, very comfortable for long typing. Between the keys [G], [H] and [B] is the trackpoint – a device for those who are uncomfortable to use a traditional mouse or touchpad.
The touchpad is quite large, has a pleasant texture to the touch. It supports operation with three fingers, has good sensitivity for fast execution of a given action.
Performance
Powered HP ZBook 15 G2 (J8Z59EA) under the operating system Windows 7 Professional. With regard to the diversity of options toppings, then, as already mentioned, this workstation has a wide variation in price and level of performance. The device can be equipped with processors Intel, starting with Core i5, and ending with Core i7, as in our case, and work with a variety of graphics cards from NVIDIA and AMD.
So, we are considering the presence of equipment provides quad-CPU Intel Core i7-4710MQ with an operating frequency of 2500 MHz (dynamic reaches the threshold of 3500 MHz). Solution offering high performance and support hyperthreading function, due to which in the performance of multi-threaded scenarios, the CPU load is distributed more evenly. CPU has 6MB of cache in the third level and built on 22 nm process, working with a TDP of 47 watts.
Integrated graphics Intel HD Graphics 4600 uses 20 actuators and operates at a frequency of 400-1350 MHz. It is part of a family of Haswell (fourth generation of Intel) and supports DirectX 11.1.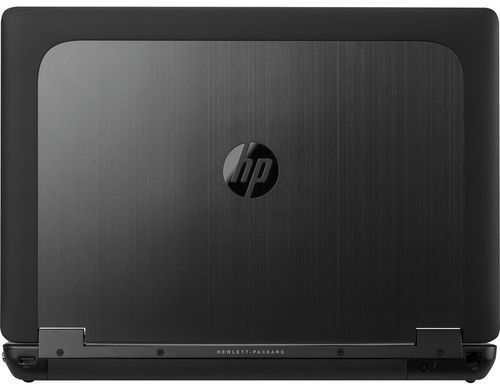 Discrete graphics card NVIDIA Quadro K2100M – a professional solution that is designed specifically for devices such as workstations. Graphics made on 28-nanometer architecture Kepler, has 2 GB of GDDR5 memory and supports PCIe 3.0. It easily handles the CPU-intensive tasks that are typical of professional workstations: graphic design, DCC, CAD and so on. As for gaming performance, the laptop's native resolution will not all play, so it's easier to immediately reduce 1366×768 pixels. Under these conditions, at high settings will Tomb Raider (2013) with 50 fps or GRID 2 (2013) with 76 fps.
For storage it uses a 256 GB solid state drive. Thanks to the work with PCIe provides high speed data transmission.
The RAM 1600 MHz DDR3L is 8 GB (4 GB in two slots). Total for bars memory has four slots expandable RAM up to 32 GB.
Ports and Communications
ZBook 15 G2 is very diverse in the issue of interfaces. In addition to traditional USB, meet and Thunderbolt, and DisplayPort, but there is no HDMI. On the right side of the body are: card reader SD, combo audio jack, USB 3.0, DVD drive and VGA.
To the left you can find a slot for a Kensington lock, USB 2.0, ventilation grille, Thunderbolt 2, DisplayPort, USB 3.0 with charging function, the reader Smart card, port ExpressCard.

At the rear bevel carried USB 3.0, power connector and an RJ-45, and on the front row of indicators: the hard drive, battery, and power of the wireless module.
To provide dual-band wireless communication module is provided with support for Bluetooth 4.0 and Wi-Fi 802.11a / b / g / n.
Battery
In mobile workstation integrated 8-cell lithium-ion battery 75 Wh. Given the capacity of the system and the highest resolution screen, stand-alone device is unlikely to be an advantage of the owner. For example, just over an hour the device is fully sit down when using the workstation to the "whole hog", while as for surfing the internet or playing video while reducing the brightness of the screen, you can count on three or four hours away from an outlet.
Conclusion
HP ZBook 15 G2 – it is quite expensive, the price tag is indicated by $ 2,800. On the one hand, it offers such a chip as the highest resolution 3200h1800 screen pixels, and on the other hand, it is Ordinary of feature set power level and working on the background of the mobile stations from other manufacturers. So, if you agree of any consideration as to lay out a tidy sum for the purchase of 15 ZBook G2, then, HP has created this high-power mobile device for you, but not to the general public consumers.
Read another very interesting article about alternative energy of the Sun, water and air.