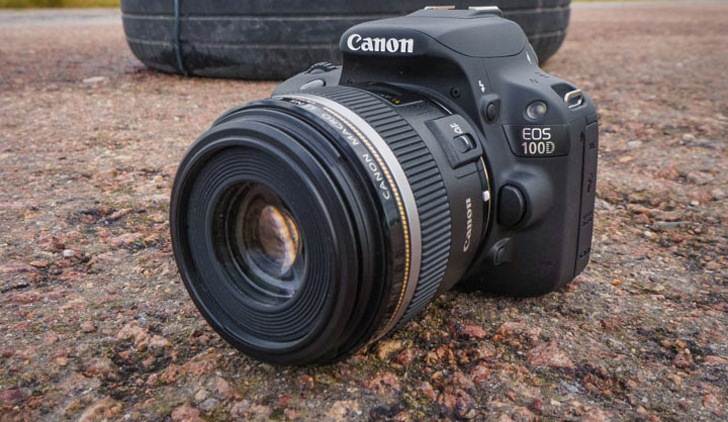 In today's digital world the ability to make good pictures was not just an interesting option, but a necessity of many people. Good picture can make a soap box or smartphone. But if you want to make a really interesting shot, then you will need a camera with a sensor larger. Choosing from existing proposals, have to compromise – on the one hand, significant size and weight with mirrored devices, on the other – the compact dimensions and the lack of an optical viewfinder with no SLR.
Canon's engineers decided to combine business with pleasure – to reduce the size and weight of the SLR to a minimum, retaining all its traditional strengths. So the light was born the smallest SLR camera in the world – Canon EOS 100D.
Delight than outside Canon EOS 100D?
Basis aluminum casing, the top is covered with polycarbonate, and in some aspects even used carbon. All for minimum weight and size while maintaining stiffness and solidity of construction. By the way, the weight of Canon EOS 100D with battery equals 407 grams, dimensions – 117 x 91 x 69 mm. This means that it is easier to model the initial EOS 700D by 42% already – 14% lower than – 10% and its depth is less than 14%. Nevertheless, do not have any illusions – this pocket SLR does not become. But breaks any conventional bag and takes up very little space there, especially with the pancake lens, EF 40mm F2.8 STM.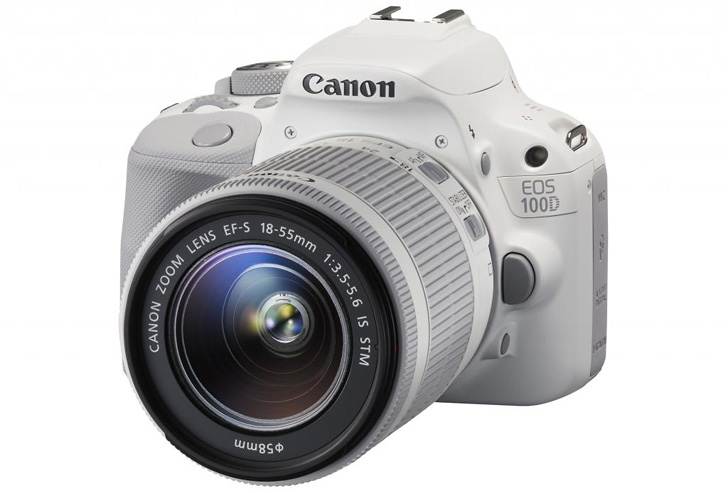 Is produced not only in classic black, but white. In the latter case the same light tone will be painted and the kit lens 18-55mm F3.5-5.6 IS STM or "pancake» EF 40mm F2.8 STM. On the background of ubiquitous black design makes it fresh and airy. Naturally, this color is more suitable to the ladies, but guys with stylish white smartphone will come in handy. It is likely that such a big camera in his hands around her you attract more attention than the more expensive machines.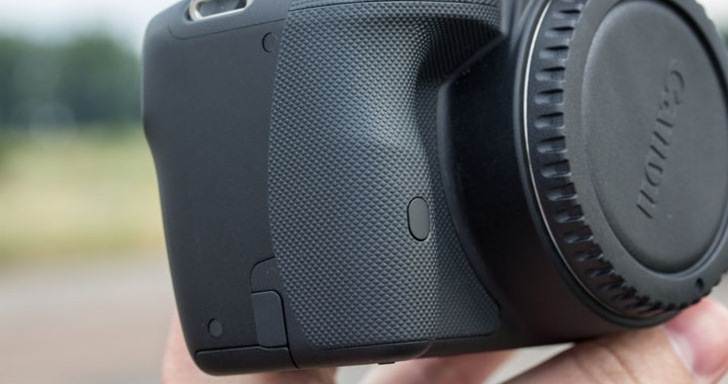 Matt surface of the body, and it is not fingerprints. Textured rubber pads protect against slippage in the rear and plenty of space on the handle on the front side. Handle itself serves a quarter body forward. It is enough for small and medium-sized hands. Holders of the same big hands will not be comfortable. Prilovchilis, you can put it on almost the whole hand, however, the little finger is still "behind". According to the daily operation of convenience Canon EOS 100D is not inferior older model 700D , which is compensated by smaller size and weight. Such a camera you really often you take with you, even if not planned a specific survey, while, as a more overall and heavy counterparts in those cases would have remained at home collecting dust. In the same vacation or business trip economy grams and millimeters would be much preferable to gain some convenience grip. Many owners of DSLRs who took my camera in hand, at first laughed at unusually small dimensions Canon EOS 100D. But then, out of it in his hands and taking a few shots, came to believe that the camera is very interesting and even "Kulnev." It is this want to have with you anytime and anywhere.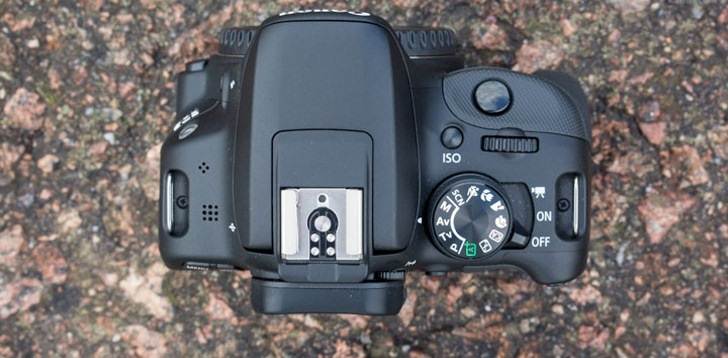 As for the controls, they are retained here almost fully compared with the Canon EOS 700D. All the important elements remain in place. On top of a typical set of the shutter button, the steering wheel, the keys change ISO, arm power on / off, combined with video recording, as well as classic mode dial, which in addition to automatic scene presets fit and manual modes M, Av, Tv and P. The wheel itself belted small raised dots that provide sure cranking with clear clicks and a little effort, even in hot weather.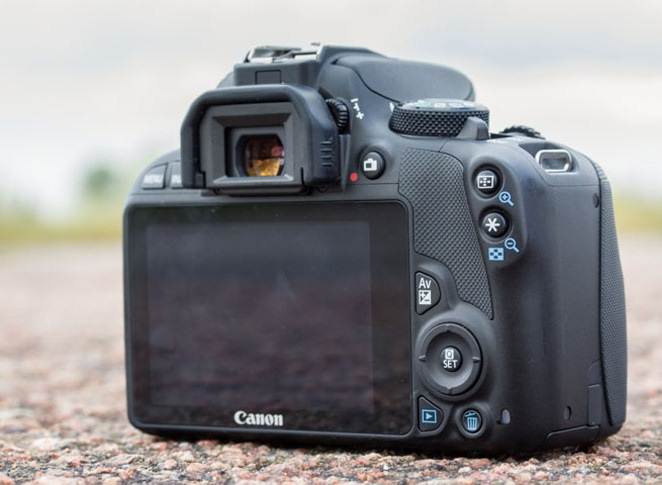 Most of the rear panel is a 3-inch touchscreen display with a resolution of 720 x 480 pixels (1.04 million). He does not swivel, but he has excellent viewing angles, detail, color and responsiveness to the touch sensor. The interface is optimized for control of the fingers, without in any way limited and mechanical control buttons. As you might need and use. Distinct advantage touchscreen – the ability to quickly select a focusing point, scroll and zoom in on photos habitual gestures smartphones ("slide" and "pinch-to-zoom"), as well as a silent change settings when shooting video, to outsiders "clank" keys and wheels were not recorded on the built-in microphone. The screen surface is covered with a special layer to prevent the appearance of fingerprints after every use.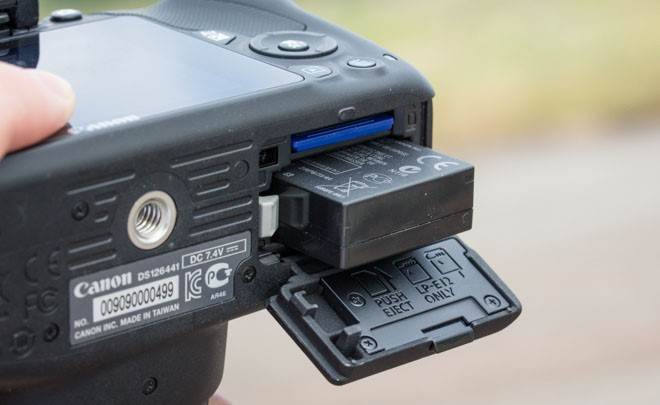 The left side of the camera – just two buttons and menu information. Right of the display – call button Live View mode or start / stop recording, two zoom buttons, viewing the footage, delete photos, iris control button / exposure compensation, as well as five-way joystick button Set / Q in the middle. With the latest logs on to the rapid changes in the main menu of shooting parameters that are equally quickly and conveniently switch as with the joystick, and touch controls. The only thing lost Canon EOS 100D compared with the older 700D, – an additional opportunity to change the four options by pressing the extreme positions of the joystick. But it's all there in the quick menu and no individual buttons can live.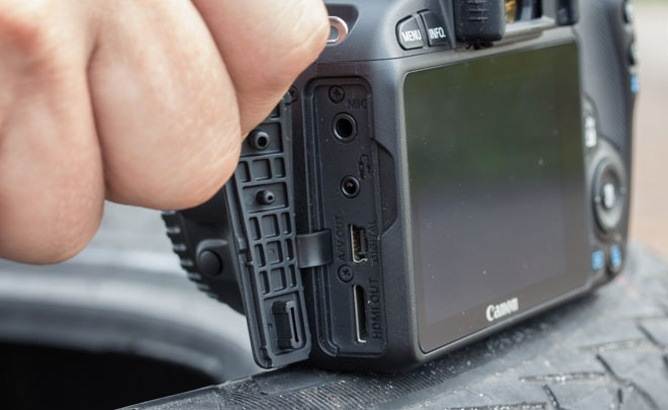 Despite the desire to minimize the size, it was astonishing to find a proximity sensor above the viewfinder. It, for example, there is a model EOS 600D. Sam viewfinder covers 95% of the image field with increasing 0.87h. Beside him fit and trim wheel diopters. At the top of a standard hot shoe located, speaker, mono microphone and built-in flash with a guide number 9. It can not accidentally open the bag by pressing the button. To do this, the camera must be turned on. At the front of – IR receiver, button disconnect bayonet repetitr window aperture and shutter timer signal.
On the left side, I was glad to see the full range of ports – external microphone input, wired remote control, USB and HDMI. On the right side the usual card reader for SD cards you will not see. He combined in the battery compartment with the battery. Last slightly reduced volume compared to 700D. Its capacity is 875 mAh vs 1120 mAh. On the autonomy it affects not for the better, but "weaving" may take more photos and shoot video than most no SLR.
What's under the hood Canon EOS 100D?
What – on anything, but on the quality of photos and video engineers decided not to save. It is worth the 18-megapixel sensor, the same as in the 700D, 60D and 7D. For signal processing and speed meets 14-bit processor Digic 5. Here system uses the latest second generation «Hybrid CMOS AF II». I recall that in the older model 700D used its first version. What is it? This engine placement phase sensors directly on the sensor, which helps contrast AF in Live View and movie to find and capture the focus of the goal. When this is possible, and focus tracking. In the field of new generation cover frame has reached 80% as opposed to the concentration sensors only in the middle of a previous version. This gives you the opportunity to take advantage of the phase sensor even when you aim at the eyes of a man on the edge of the frame. With a lens equipped with motors STM system Hybrid CMOS AF II works quickly and accurately. Ideally, therefore, need to pay attention to this labeling and preference lenses with motors STM. That Canon EOS 100D help reveal their full potential. Or conversely, they reveal the potential of Hybrid CMOS AF II in the "hundredths".
Sensitivity range of ISO – from 100 to 12800, 25600, plus the advanced mode. Can safely expose any value up to 1600. Difference will have to look under the 100% increase in the picture. In printing and viewing on a TV / display pictures will be clean of noise and with great detail. 3200 costs include shooting RAW + JPEG, and in which case the maximum pull parts in RAW-converter, although intracameral JPEG setting is made very well – kept a good balance between noise canceling and details. On the values ​​of 6400 and 12800 is better to use only the format RAW, if you plan to view in full screen mode on your TV / display or print format is not small. If a picture is needed for the web, and then JPEG will be fine. Expanded to include the value of 25600 only when absolutely necessary and it is better to turn on the b / w.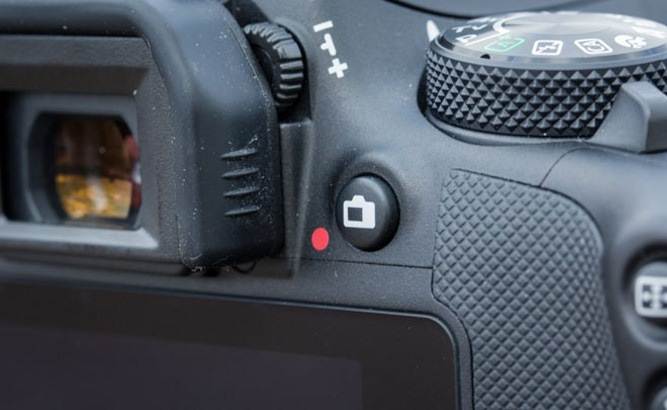 As for color accuracy, white balance and metering, it's always been a strong SLR Canon EOS 100D. In the Canon EOS 100D does not cut in this respect, the picture is at least no worse than the older brothers like 700D, 60D and 7D.
Burst speed – 4 frames per second. In the buffer can hold up to 4 images in JPEG and 9 in RAW. In the case of JPEG when the buffer is slightly reduced speed and can shoot until the memory card, and have to wait for RAW recording information on a map. Tests were carried out with a fast memory card SDXC UHS-I 600X. In terms of speed on / off and start shooting very fast and SLR Canon EOS 100D is no exception. Saw an interesting shot, and the camera hanging around his neck? Quickly turn right and start taking pictures. Virtually no delay.
Module phase Focusing here is the same as in the model Canon EOS 600D – 9-point cross-type sensors in the middle with. He is slightly inferior to that used in the older model 700D, but a tip perfectly centered focus in most shooting conditions, including focus tracking fast moving subjects.
EOS Canon EOS 100D video capabilities are not inferior to more expensive machines. Can record FullHD-video frame rate 24, 25 or 30 frames per second in progressive scan, or 1280 x 720 50p/60p. Available fully manual settings video and manual volume control with filter wind and attenuator. When recording on the built-in microphone is not enough, you can always use an external port via a standard mini-jack. As already mentioned, right during recording, you can change the exposure parameters as mechanical controls, and touch. Traditionally SLR Canon, the quality of the video is excellent.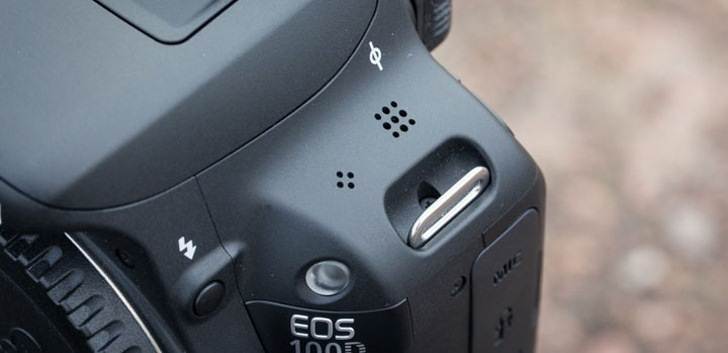 Among the additional features, I want to emphasize the implementation of HDR shooting. It is not a program, and consists of consecutive shooting three photos with different exposures and subsequent automatic gluing in one frame with a large dynamic range. This allows you to make unusual photos on a bright sunny day with a cold light, the pictures at sunset to achieve similar exposure of the sky and a man in the foreground, as well as in many other photographic situations where standard DD DSLRs enough. The downside can be called unless the inability to put the settings manually. But even for beginners is a plus.
When shooting night scenes without a tripod can be useful mode in which the image is 4, which are then combined, and the processor calculates the difference between them to get the most clean of noise picture. Works only with fixed objects. When shooting night portrait should use the relevant paragraph of the scenes. In this case, the automatic itself will determine how much power the flash set to highlight the human need and what other options To draw a beautiful city with evening illumination.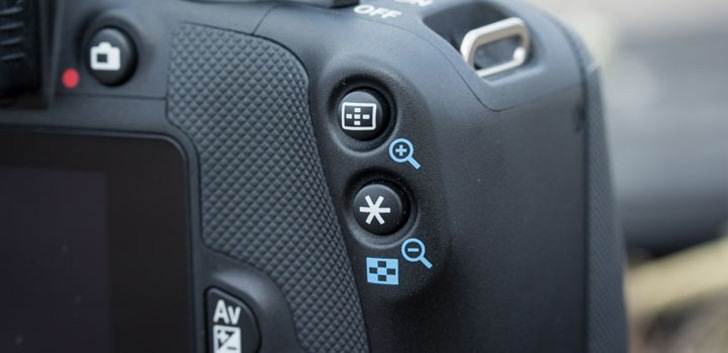 Besides the previous three paragraphs, which also met in the model 700D, a novelty added three scenes: children, food and candles. First, as you might guess, is designed for moms and dads who need the time to take a picture of their child and not bother in terms of settings. Camera itself activates AF tracking, continuous shooting and will set a shorter shutter speed to catch the interesting point without unnecessary blurring. The second stage is intended for people who can not start drinking your morning coffee or eat lunch until it was photographed. Turn this mode and get juicy, contrasting and very detailed shots. The third stage is required to include in the intimate lighting conditions, for example, in the candlelit restaurant, the wedding party or birthday. Automation will try to preserve the atmosphere of the people in the frame.
In the «CA» using clear tips you can decide for yourself whether you want a clear or blurred background, get the effect of b / w thumbnails for pictures, etc. Not ignored and amateurs take on the machine portraits, landscapes, macro and sports. For each task its specially tuned mode.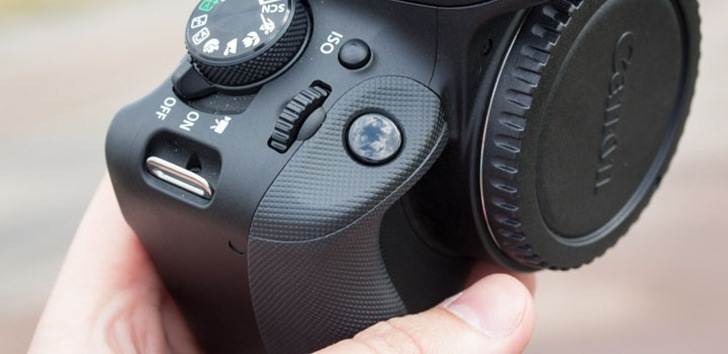 If you want to just buy a camera and take pictures, then for the whale with the lens 18-55mm F3.5-5.6 IS STM have to shell out around $ 620. If you plan to purchase a separate lens, for example, from a list of recommended above, then the "body-only" Canon EOS 100D version will cost only $ 460. Please see the price of cameras here.
Summary Canon EOS 100D
If you do not want to carry in a bag extra hundred grams of plastic, and place there sovcem bit, then why not look to closely SLR Canon EOS 100D. It combines the most compact dimensions of existing DSLRs on the market and minimum weight, while maintaining good ergonomics similar to older models shooting quality photos and videos, fast autofocus and a plurality of auxiliary functions for beginners in photography. Anyway, with such a camera you get more fun from daily use than older confounding bricks. Professional photographers can also pay attention to the Canon EOS 100D, because an additional 400 grams coffer weather will not do, but to save the situation in the event of failure of the main camera can quite. The girls all now had no choice, Canon EOS 100D in white – just must have for them.
Read another very interesting article about alternative energy of the Sun, water and air.