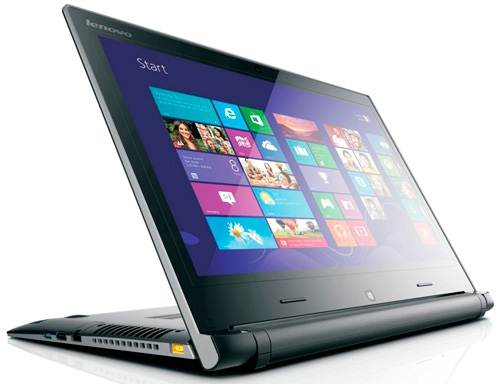 The idea of a ruler Flex engineers Lenovo emerged relatively recently, however, accuse her of lack of demand can not be hearing it on the users, as well as a series of Lenovo Yoga. These two lines quite significantly different from each other, from the appearance, and ending with its value. However, one common item they still present: it is the possibility of transforming the device.
Just family Lenovo Flex currently available gadgets with three form factors: 10, 14 and 15 inches. And if an older model we have already seen in one of the reviews, the youngest of – Lenovo IdeaPad Flex 10 talk here and now.
Design – Lenovo IdeaPad Flex 10
Appearance of the device is very simple, it contains no frills. The case is completely made of matte plastic, measure brand. It is very light, which allows the device to weigh only 1.2 kg. The gadget is available in only one color – black. Perhaps thereby manufacturer as it alludes to the fact that the tablet is not suitable only for simple tasks like surfing the Web or work with documents, but also for a more solid work.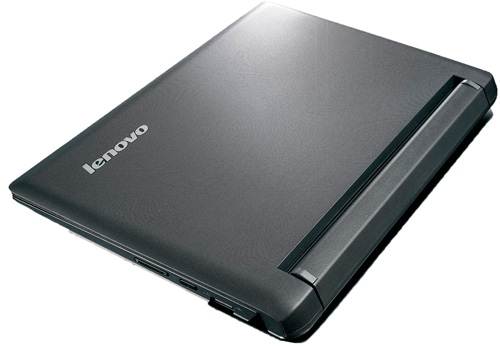 When meeting with the Lenovo IdeaPad Flex 10 first thing catches the eye quite massive hinges that allow you to open the laptop to 300 degrees. Unlike hybrids Yoga, which provides four modes of transformation, there are only two: the laptop and console. In the first case, the device can work as a conventional laptop, the second – to involve, for example, for a presentation by exploiting the touch screen as an input device.
Very convenient to use a laptop as a console, ie keyboard down. It is practical and functional, given that the perimeter of the working surfaces are rubber feet that will not allow the device to slide. But still actively pushing fingers on the screen is not recommended, since due to the small weight of the base can be lifted. Device screen is quite small, because there are only 10 inches. Above it is a webcam, under it – the button «Windows». The keyboard is also very compact, with a miniature touchpad.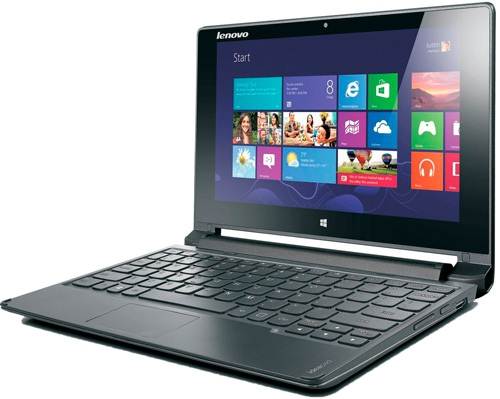 The bottom of the gadget is not allocated any originality: it is the same and frosted plastic-like cap and worksurface. The bottom of the whole, therefore, to climb inside, have to unscrew your entire lid. By the way, you can only upgrade the hard drive and RAM. Incidentally, an interesting feature of this model is the lack of fan (as well as the vents on the bottom, which is logical) through passive cooling system and energy-efficient processor generation Bay Trail.
And of course, not to mention the hinges. Here they are thick enough, however, performed solidly and conscientiously. They are moderately tight, do not creak, no backlash. Due to its design, the hinges allow you to change the position of the laptop, fixing the display at an angle up to 300 degrees. By the way, note the dimensions and Lenovo IdeaPad Flex 10, which constitute 273h189h21 mm.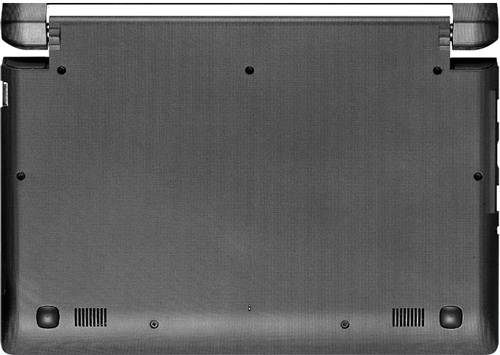 Display, audio and webcam – Lenovo IdeaPad Flex 10
Resolution glossy display in this laptop is only 1366×768 pixels, diagonal – 10.1 inches, type of matrix – TN. Perhaps such a resolution would not be critical, if not the rest "but", namely very low brightness, respectively, and contrast. All these qualities combine to provide not the best color reproduction and poor viewing angles. Unfortunately, the slightest change in angle leads to an inversion that significantly impairs the view of the image itself. Touch screen device, and even with that, he manages to "excellent." Response to press fast enough, repeat the command several times no special need. There is a function of ten simultaneous touches, and not five, as many of its competitors.
Located above the display 720p webcam. It is suitable for video conferencing, and is, in some way, the link between the user and his companion. Of course, on how to take pictures with this camera, this is not: too low resolution.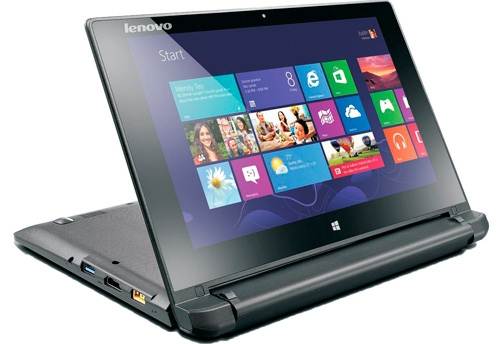 In front of the bottom bars for miniature hidden two speakers. Due to relatively high at the bottom of the legs, which prevent tight fit speakers to the surface, the sound is not muted, and very decent for a device this small form factor, although it is worth noting the complete absence of low frequencies. That's enough for viewing videos and communicating on Skype, but if you decide to do it on the street may be insufficient volume. In this case, it is more logical to use a special headset.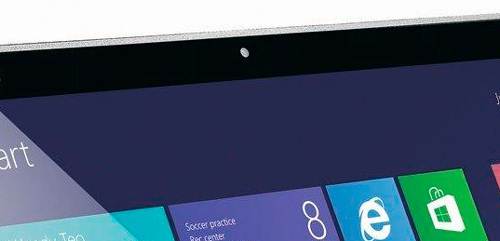 Keyboard and Touchpad – Lenovo IdeaPad Flex 10
Island keyboard AccuType, used in this mini-notebook, due to their size are not the most prominent, can hardly be very comfortable. Form keys with rounded bottom part, which immediately gives the manufacturer. Decent spacing between the keys, which is very convenient, because the risk is reduced to push something wrong. Key labeling is made in white, and a number of additional function keys labeled orange. The design of the keys is not unusual. All of them, by and large, our habitual forms. For example, [Enter] – Single row button [Shift] under it – quite long, slightly larger than the left [Shift]. It is convenient dial unit, not too small to displease the user. Nampad, of course, is no.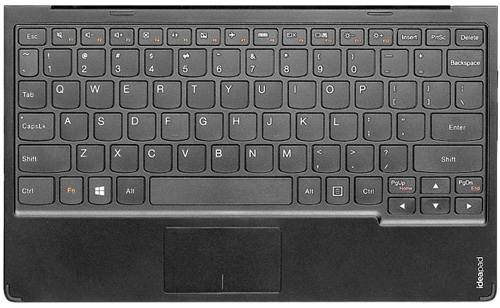 The touchpad is hardly a comfortable, practical and functional, because it a very small size. It is therefore reasonable to connect a mouse or touch screen to work with. Physical keys touchpad can not boast, they simply do not, but there is a small area, with Legend of the left and right mouse buttons.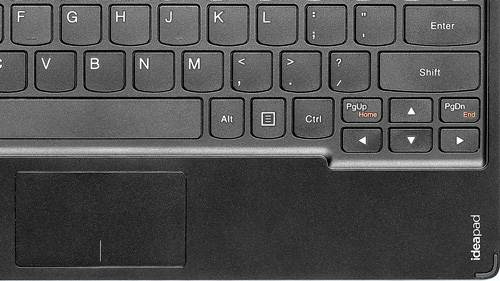 Performance – Lenovo IdeaPad Flex 10
In Transformers Lenovo IdeaPad Flex 10 (59401554) running Windows 8. Main hardware component of the laptop processor acts, in this modification – Intel Celeron N2810 is clocked at 2.0 GHz. This low-voltage chip is often installed in low device that is our hero. It is made on 22nm process technology, has at its disposal two cores, and its TDP level is only 7.5 watts. Support for Hyper-Threading technology is absent. Also, there are other options kitting processors Intel Celeron N2806, Intel Celeron N2910 or Intel Pentium N3510.
The gadget is equipped with only integrated graphics Intel HD Graphics (Bay Trail), which is equal to the maximum frequency of 1100 MHz mode Turbo Boost. The video card is built on 32 nm process technology, supports DirectX 11 and Shader 5.0. As for the games, the owners IdeaPad Flex 10 will only be available at all or undemanding games released for a long time on the minimum settings. For example, in Tomb Raider, lowering the resolution to 1024×768 pixels and putting low setting, can be observed around 13 fps. Play at these rates is hardly possible. In Anno 2070 the situation is slightly better, although the play will still be difficult because of the large braking.
The RAM is 2 GB standard DDR3L-1333. Of course, this is very small, even for such a compact device and undemanding as Lenovo IdeaPad Flex 10. Hard disk capacity is 320 GB, a rotational speed of 5400 rev / min, the data is not too impressive, but it is worth considering that the line Lenovo IdeaPad Flex is designed more for work and not for entertainment.
Ports and Communications – Lenovo IdeaPad Flex 10
Connectors and ports in the laptop, perhaps not enough, you can even say that there is the necessary minimum. On the right side there is a port USB 2.0, power button with LED indicator and volume rocker.

Left – another USB, this time 3.0 standard, video HDMI, combo jack for headphones and microphone, built-in microphone and jack for charging laptop.

Neither the front nor rear nothing.
As can be seen in the IdeaPad Flex 10 only one port USB 3.0, no card reader, no RJ-45 and VGA. In fact, the fact that there are very few, and because of that the user may experience some discomfort. What to wireless communications, then without surprises: Wi-Fi 802.11 b / g / n, Bluetooth 4.0. It's a pity that there is no 3G-modem.
Battery and heating – Lenovo IdeaPad Flex 10
In Transformers 3 set-cell battery, the capacity of which is 2300 mAh. You can not call it a great potential for autonomy, but the result was quite good: about 8 hours of reading at reduced brightness, a little less than 4-in Web surfing, about 3 hours to get to play in elementary toys and no more than 4 – hours watching videos. Basically, if you have planned a brief trip, this time should be sufficient.
Laptop heats up quite a bit, and then when working intensively. As mentioned above, it does not have a fan, and this is clearly delight lovers lie in bed with a laptop: IdeaPad Flex 10 can be placed on a blanket or other soft surface without risk cover vents, which is simply not there.
Conclusion – Lenovo IdeaPad Flex 10
First of all, we note that the line of Lenovo IdeaPad Flex does not pretend to be the most stylish or productive. It is practical and convenient devices that have one interesting feature: the ability to transform, however, only two modes available. This family – it is like a prototype Lenovo Yoga, but with fewer opportunities and, consequently, lower price.
Lenovo IdeaPad Flex 10 – model with a small 10 inch screen and low resolution (1366×768 pixels). The screen is obviously saved, because its quality is poor. Due to small size notebook keyboard and suffered: it is very compact, and though the keys and large, work on it for a long time is not very convenient. Filling is decent enough, but obviously a little upsetting RAM: 2 GB obviously not clear. Well, and ports – a different story altogether, their frankly a little.
Together, these features make the Lenovo IdeaPad Flex 10 is not the most desirable device for potential buyers. And though the price (about $ 400 on average) has to purchase, it will be willing to make, probably not so much.
Read another very interesting article about alternative energy of the Sun, water and air.