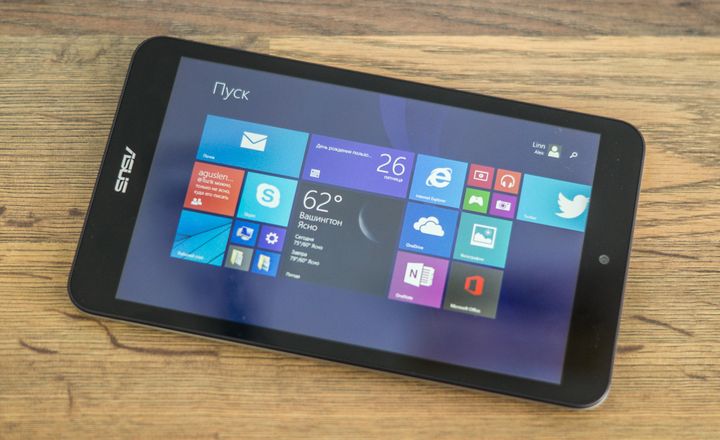 Ninth of September this year the Taiwanese company ASUS has quietly expanded its range of tablet computers new model – ASUS Vivotab 8 (V81C) . Among its distinctive features – an adult operating system and a very democratic price tag – $ 199 for the United States. The tablet has not yet gone on sale, but came to our office. We are glad to share experiences.
In the current situation manufacture tablets running Windows 8.1 is gaining momentum. Manufacturers from around the world do not hesitate to experiment with new formats in different price segments. Microsoft, Dell, Lenovo and ASUS have already please want a full OS in a portable tablet format. The only cavil to such devices could be considered their cost. Pioneers categories – Tablets Microsoft Surface – could afford not everyone. As if hearing the request of consumers, tightened and other companies offering more compact solutions and balanced characteristics.
ASUS has excelled good eight-inch model with a stylus – Vivotab Note 8 , the review of which you may have seen on our website. Our hero is the same interpretation of the budget of the senior model.
Packing and accessories ASUS Vivotab 8
ASUS Vivotab 8 is packaged in a white box, onto which the photo of the tablet and service information. Inside we will have a golden color device, wrapped in a protective film. Under it – USB-cable and power charger European model. Visible to the eye "abundance" has ended, but there are a couple of pleasant surprises.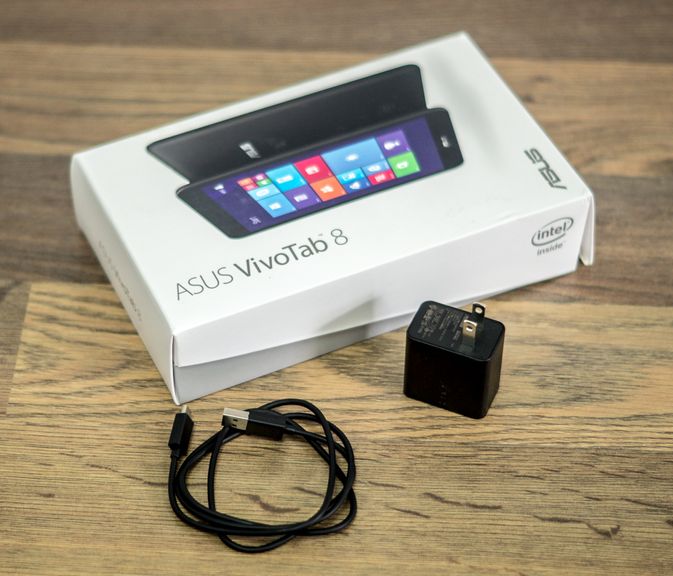 On the tablet you will receive a license preinstalled with Microsoft Office 365 for 1 year, which can be called extremely useful bonus.
The tablet will be available in gold, purple, white and black colors.
Design, ergonomics ASUS Vivotab 8
Design ASUS Vivotab 8 fairly typical line of tablet: small framing frame, rounded corners, at least one interface connector. Is it bad? Far from it, with a design point of view ASUS well tried, developed the concept of pleasant appearance and quite practical devices.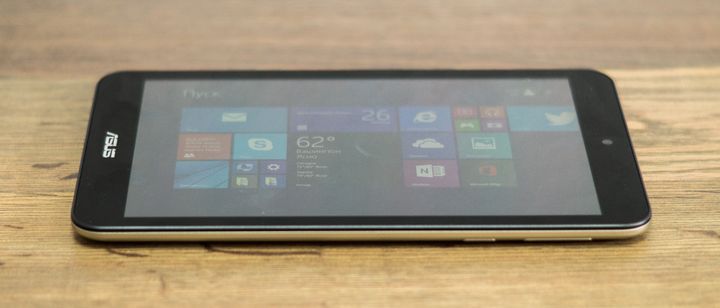 Under the screen is the logo of the manufacturer of the screen – the eye of the front camera. The left side of the plate can be found naked memory card slot, on the right – the power button / lock and volume control buttons. It should be noted that the keys are slightly recessed into the body, which is a bit difficult for them to press, it is necessary addictive. I'm more impressed by the solution used in the ASUS Nexus 7 the first generation.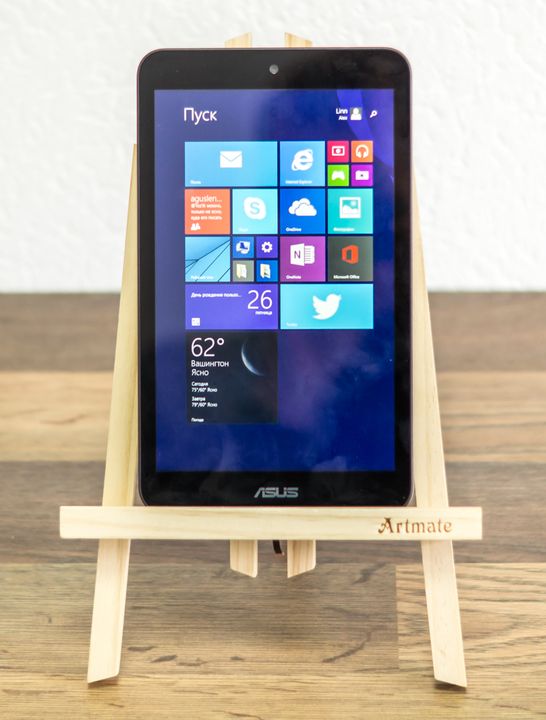 Lower bound is free of connectors and controls. On the upper face – microUSB, a microphone and a 3.5 mini jack.
The rear of the tablet is very pleasant to the touch, made of plastic. I would like to once again praise of those who designed the device. Used rugged plastic practical enough, it is not covered with scratches and does not allow the plate to slide much in hand. In the upper right corner – the eye of the main chamber at the bottom – the speaker grille.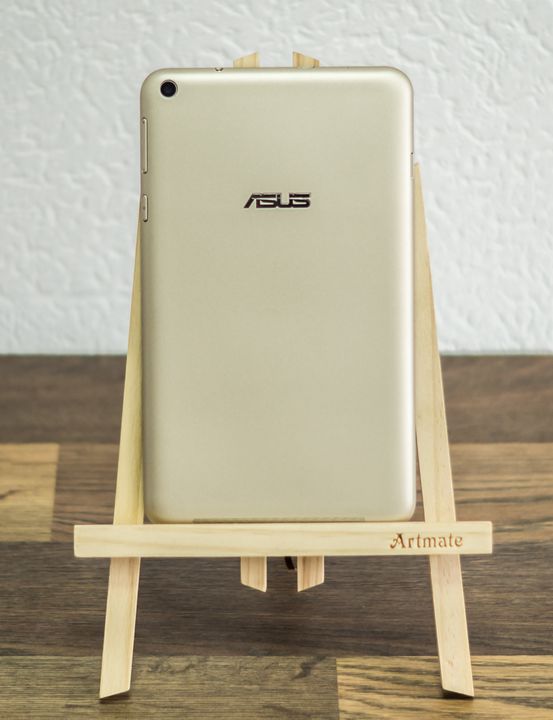 Despite the so-called budget, ASUS VivoTab 8 devoid of design flaws and build quality can be described as excellent. Controls do not play, and the screen is quite secure. Weight standard for tablets of similar size and is 330 grams. For comparison, Dell Venue Pro 8 to 65 grams heavier.
Screen ASUS Vivotab 8
Framing the screen frame may at first glance seem broad, but in practice, contribute to a very comfortable Enough tablet in any orientation. Display ASUS VivoTab 8 is made by technology IPS. He is able to take up to ten simultaneous touches, has a size of 8 inches and a resolution of 1280×800 pixels. These parameters correspond to the density of 189 ppi. The first time to include tablet and armed with a magnifying glass, I was able to distinguish individual pixels, they are visible in extreme close device. While working with the ASUS VivoTab 8 impressions of the screen mostly positive.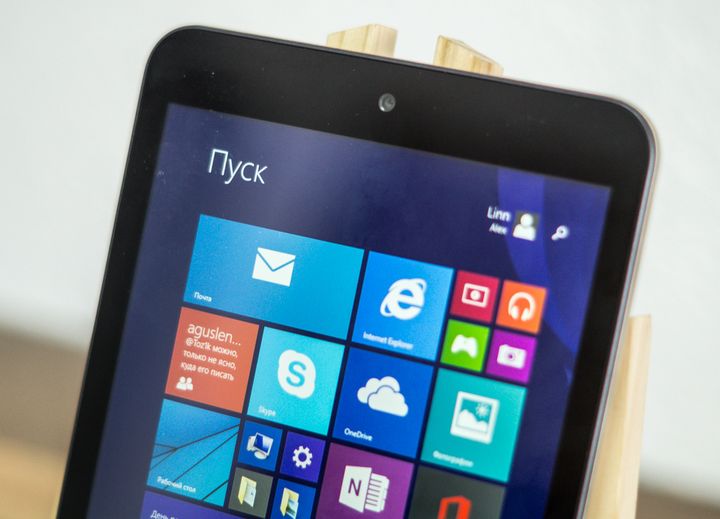 Variability of levels of brightness allows to balance between the modes to work in the hot sun and energy-saving night. Viewing angles are good, as befits IPS-matrices, the image fades only when severe deviation. But the quality of the oleophobic coating is poor. Tablet instantly catches fingerprints and all possible dirt.
Camera and Sound
ASUS VivoTab 8 has a pair of cameras with a resolution of 2 MP. Front very pleasantly surprised – along with a good microphone for Skype communication brings only positive emotions.
Sensitive the camera I would also drew praise. Clawed at the lamplight, my face was well visible to the interlocutor. For photo and video provided by a special application – ASUS Camera. It has a portion unpretentious setting, which is enough. The main camera is shooting in the resolution of 2 megapixels. Autofocus not, in fact, like a flash.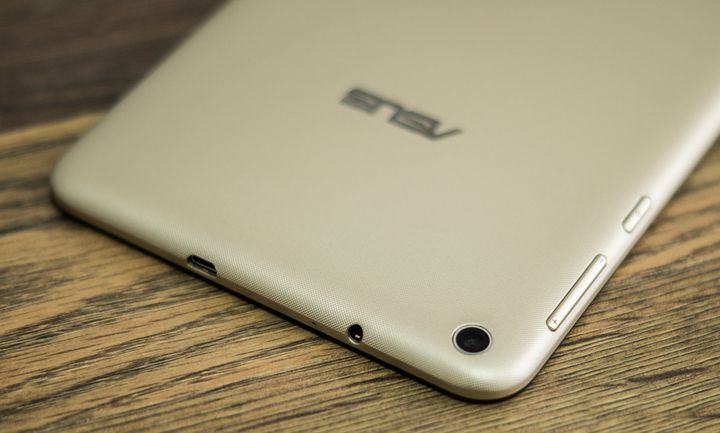 Microphone I've managed to praise, claim to it, and there can not be. Inside ASUS VivoTab 8 resting couple of loud stereo speakers, which are suitable even to watch a movie in a noisy environment. Alas, when twisting the volume to maximum audible wheezing and doubt about the "survivability" Acoustic plate. On the other hand, the average volume level of more than enough almost all situations. Using the tablet in landscape orientation, the speaker may inadvertently cover the hand.
Hardware and software
ASUS Vivotab 8 is built on the new platform Intel Atom Z3745. This energy-efficient quad-core mobile chip designed specifically for tablets running Windows and Android. Operating frequencies range from 1.33 to 1.86 GHz, depending on the load.
Processor belongs to the family of Bay Trail-T. Thanks to the use of 22-nm process technology, performance and power efficiency is significantly improved compared to previous generation models chips. RAM is 1 GB. Depending on the region will also be available a version with twice the amount of RAM. Integrated graphics – Intel HD Graphics, its capabilities are very modest.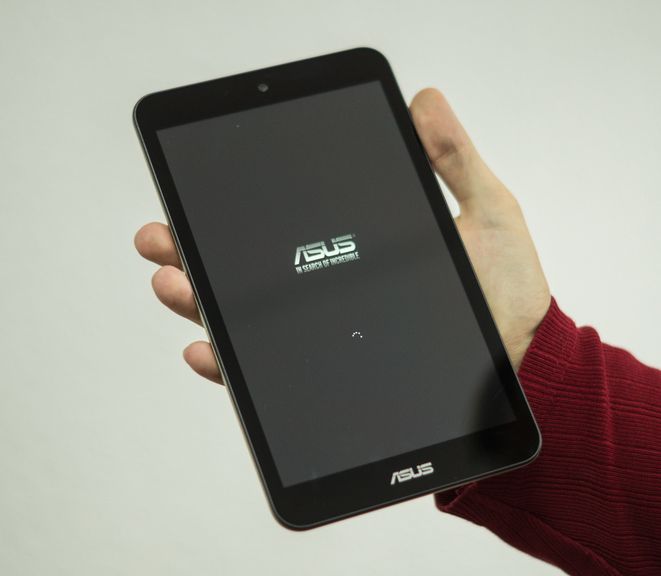 Unlike his older brother , the budget ASUS Vivotab 8 does not work as fast. The main limitations are hiding in the storage area. If 1 GB of RAM for Android still fits with grief in half, then for Windows-based tablet that too little – in the "adult" OS appetite is many times higher. Selecting a version with two gigabytes of RAM will solve this problem.
According to documents in the internal memory 32 GB tablet. In practice, the C drive has a size of 20.8 GB, of which exactly 15 Apparent free space used by system – Windows 8.1 with bing and pre-installed Microsoft Office. Where did the additional 12 GB – remains a mystery. Rather, they are reserved for the recovery partition.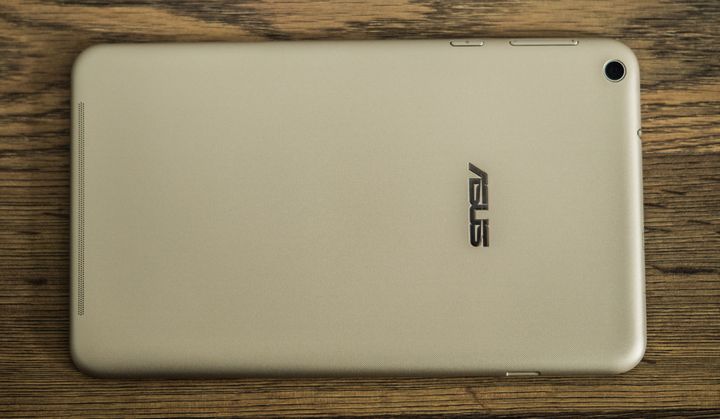 For memory expansion card slot is provided microSD. It supports SDXC memory cards up to 64 GB. In addition, owners of the device ASUS also provides 5 GB (on a permanent basis) and 11 GB (for 1 year) in the cloud storage ASUS WebStorage. As a useful supplement should not forget about the possibility to integrate in Windows 8 OneDrive, in which each new user at the moment are offered a free 30 GB of cloud storage and alternative.
Total iron – in front of us a tablet that can work perfectly in ModernUI-applications, as well as single task with a full-fledged software.
Why do I need ASUS Vivotab 8 and personal experience with the device
As I said in the introduction, I decided to check the personal skin, why do we need such a tablet format. But first, being socially active person, I decided to ask members on Twitter.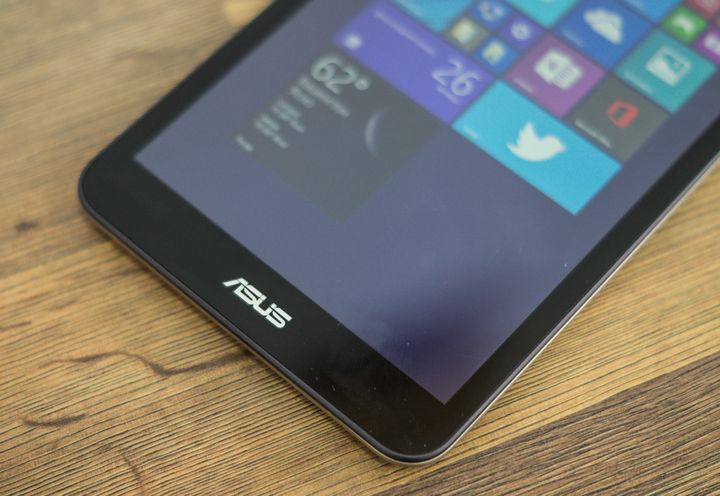 As you can see, the answers were quite interesting. Consumers have a positive experience using compact tablet to work with documents, as companions in travel, and even as a cutting board for food. The versatility of the use cases spodvigla I try to implement some of them.
As a historical reference to remind you that Windows 8.1 with bing – OS version from Microsoft, which differs from the original only in the presence bing search in Internet Explorer as the default preset. It is this version of the OS for the company subsidizes producers of iron, significantly reducing her price. Thanks to such a move was possible to produce low cost devices on Windows.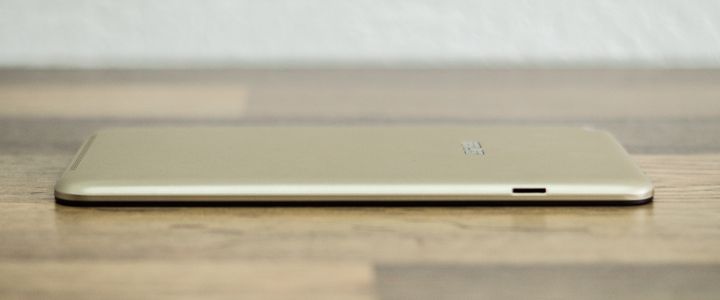 Let's talk about the usual means of input. Virtual keyboard is rather regrettable, than at least a modicum of hope for positive or promising. Compared with the equivalent of Windows 7, a new keyboard is really so much better, but use is still very inconvenient. The lack of popular technology Swipe and irrational realized layout switching is only the desire to connect an external physical keyboard and rid yourself of the torment. Hmm, forgot to specify that the keyboard will gladly takes about a half-space.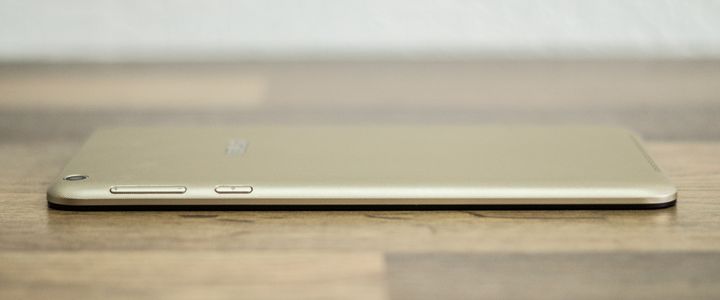 Also touch on the theme of touch control with the help of fingers. When working with desktop applications factor of successful hits in the right place the first time is about 0.3, not more. One of your friends really wanted to like the tablet itself to work with Fl Studio on the road.
After ten minutes of work with the app I swore no worse than a cobbler or a seasoned drinker. Actually, as the solution suggests a stylus, which is available in the older model – ASUS Vivotab 8 Note, or analogs with 10-inch screen.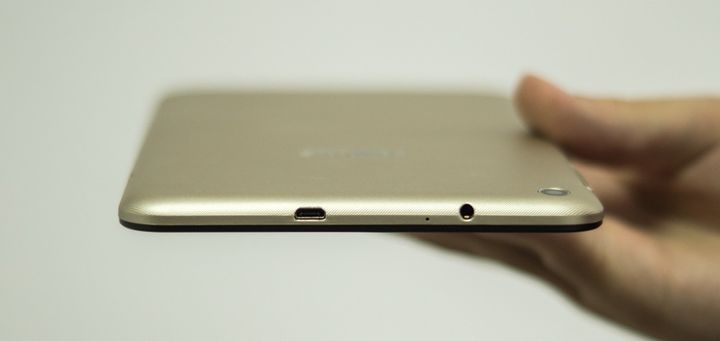 Thus, I see two types of real potential buyers ASUS Vivotab 8. First – enthusiasts tile applications that run on the tablet smartly and appropriately. Personally, I loved the twitter client that when you click on links in separate halves of the screen to launch the browser, it was very cool and comfortable. Also, I'm happy to play in the popular Asphalt 8. Fans of Microsoft's tablet will appreciate the integration of the ecosystem services of Office 365, One Note, Outlook and OneDrive.
The second group of potential buyers – corporate customers who need certain programs that can be run only in Windows environment. Such people will find for ASUS Vivotab 8 Case, external keyboard and mouse, thus making ASUS Vivotab 8 in a kind of a mobile work tool. It's like listening to my desires, the manufacturer offers us a small a keyboard dock.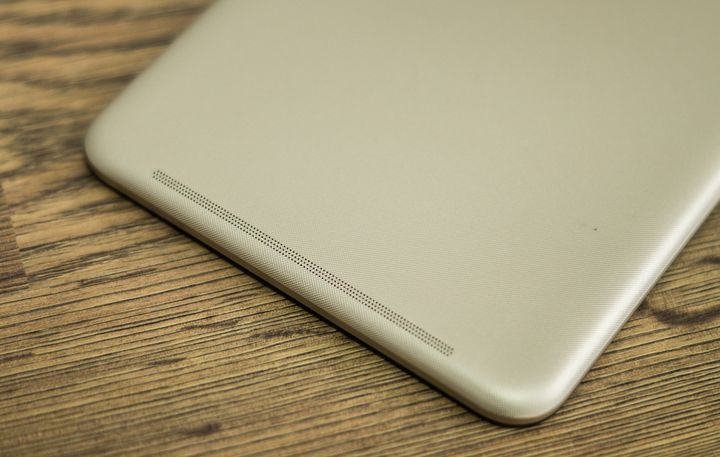 Bottom line is quite simple. If you want maximum portability and adapted to control the interface with your fingers – I advise to pay attention to the Android-tablet, such as a series of the Nexus 7 or MemoPad from ASUS. And if you like the tile application or have the need to run a specific software – the hero of our review will be a great suggestion for a modest price.
Autonomy ASUS Vivotab 8
For self-powered battery capacity corresponds 15.2 W • h. In terms of battery manufacturer promises up to 8 hours of video playback at 720p at medium brightness and off Wi-Fi. Videos eight hours I'm not cool, but I will share some thoughts. I used the ASUS Vivotab 8 every day and charge me enough usually until the evening. Among the problems were present video, a few toys in the periods of boredom and constant browsing through Google Chrome or tiled Internet Explorer. In the background periodically updated files to the vault OneDrive, the brightness was set to the average level. With such a load at 22:00 tablet asked to be charging with three to five percent of the battery capacity.
In general, the rate of autonomy ASUS Vivotab 8 comparable tablets on Android.
Verdict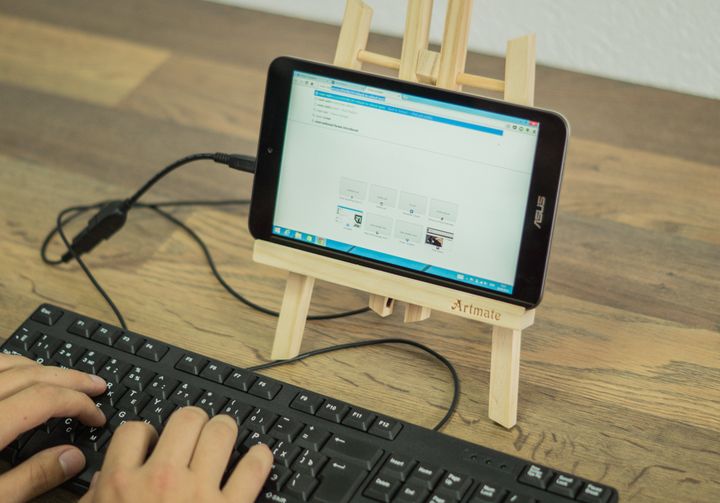 The hour has come to take stock. Direct competitors ASUS Vivotab 8 – Acer Iconia W3, Toshiba Encore 2, Dell Venue Pro 8, Lenovo miix 2 . Against the background of our guinea stands out the most new processor Intel Atom Z3745 and democratic price tag. On the side of competitors more RAM and better main camera on some models. The resulting popularity of the tablet will depend on the price that resellers will establish in Ukraine. Given that the stated price tag of $ 199 for the United States may transformirovatsya of $ 250 for Ukraine, the prospects for ASUS Vivotab 8 are decent enough, it's a reasonable price for such a device. But if the price reaches the level trehsotdollarovoy, competitive pressures will be much more noticeable. So we just have to wait for the first delivery and rely on luck.
What we liked:
Inheriting the successful design of previous models
Location of Controls
Viewing angles
Performance Processor Intel Atom Z3745
Front-facing camera and microphone quality
Stock speaker volume
Price
What could be better:
Oleophobic screen coating would do well to improve
The amount of RAM (for version with 1 GB of RAM)
Main Camera
Ease of navigation with a small diagonal
Read another very interesting article about alternative energy of the Sun, water and air.