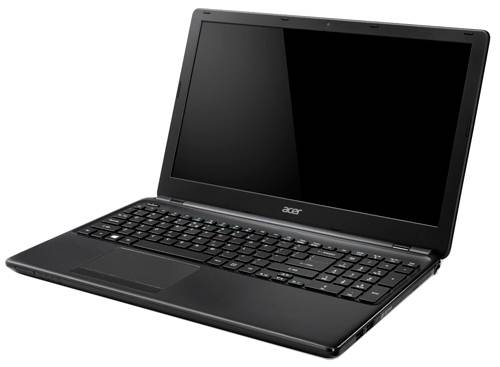 Cheap laptops have virtually every manufacturer. Acer has a lot of these devices, they are optimally adapted to the work, even for entertaining. In particular, the Aspire E series known as the budget, respectively, to its member laptops should not impose specific requirements. Nevertheless, I want to get their, albeit a little money, decent enough device that would help to perform various tasks. Let's see what the strength Acer Aspire E1-510 – one of the representatives of the budget line?
Design – Acer Aspire E1-510
To look at Acer Aspire E1-510 is very simple, made of conventional plastic. Its body has a dark coloring, which only bright "spot" is the company logo. In general, there is observed a classic style, it is manifested not only in color and the standard form, but also the absence of any original parts that could somehow decorate design. By the way, all edges are rounded laptop, no chopped panel, sharp angles. Remained the same and the work surface, it does not have any raisins. Honestly, it looks pretty boring Aspire E1, so those who are going to buy a laptop for routine work requiring concentration, not lose, because he did not distract.
Sizes expected for laptop 15.6-inch device – 382x256x25 mm. It weighs 2.4 kg, which varies within a given form factor. Most likely, the laptop will easily in the bag and will often accompany you on your travels. By the way, the assembly Aspire E1 pretty good and despite the fact that small deflections were found, otherwise no surprises in the form of a squeak or poor layout of body parts were observed. Is that the hinges that hold the display were not as tight, so he was a little shaken.
Bottom of the notebook is made of rough plastic, it is less prone to fingerprints than the other surface of the body, and not slide in hands.
Display, audio, webcam – Acer Aspire E1-510
Screen Aspire E1-510 has a standard size of 15.6 inches diagonally and low resolution of 1366×768 pixels. Apparently, in the laptop has one of the budget displays, which is suitable for daily tasks not related to the professional photo and video editing. The screen has a small supply of low brightness and contrast. At the same time, there is provided a matte finish, more comfortable to use than reflective glare and glossy. Unfortunately, the conventional TN-matrix is ​​not able to provide a wide viewing angle so that no inversion view pictures or video in the company. So I have to periodically adjust the angles to avoid changes in brightness and colors as transmission.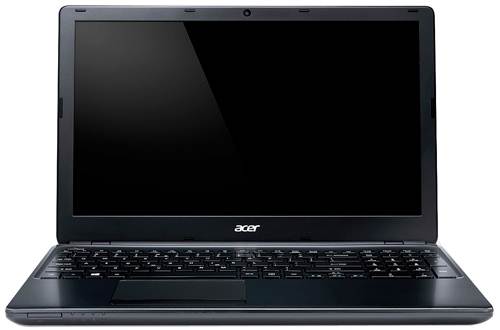 Webcam laptop has a resolution of 1 megapixel. This is a very small figure, which, however, does not adversely affect the course of videoconferencing in Skype. As for acoustics, it is quite suitable for watching movies or music. Moderately loud sound, even though the dynamics and are located on the bottom, even at the maximum it is not distorted. Is that not enough bass, treble they overlap. In general, the sound is pretty decent laptop, although the connected headphones will be much better.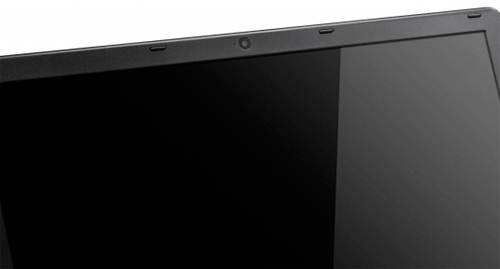 Keyboard and Touchpad – Acer Aspire E1-510
This notebook has a full-size keyboard, built on island basis. Now this is no surprise, because it is between the keys, islets observed optimal distance to comfortable typing. Buttons for typical short course, they are pressed without effort.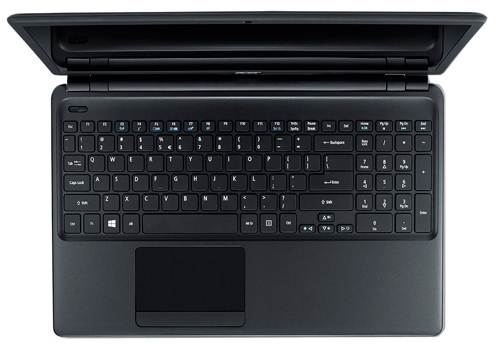 All keys are made to match the working platform, nevertheless, on the speed is not affected, as, indeed, and clearly labeled. With regard to their size, the buttons can hardly be called small, it's twice as nice as the main unit is complemented nampadom. Is that saved on "arrow", they are reduced in height, this can often lead to erroneous press. The only button located above the keyboard is a button on the laptop.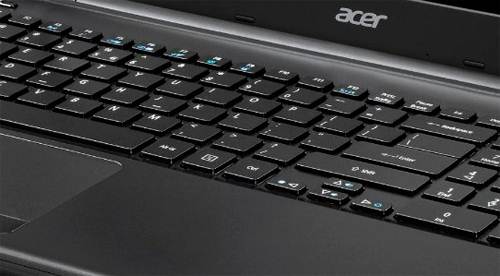 The touchpad has clear boundaries, which are easily defined when printing blindly. Dimensions touchpad will not prevent the free cursor control, and the matte surface texture will not linger fingers. Incidentally, the touch pad supports zooming, scrolling, generally when the touchpad gestures to use comfortably. Interestingly, two physical keys replaces one "rocker". Pressed it with a short course, with audible clicks of. The main thing is that it is convenient to use.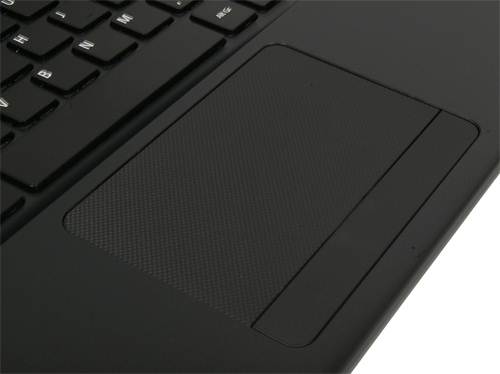 Performance – Acer Aspire E1-510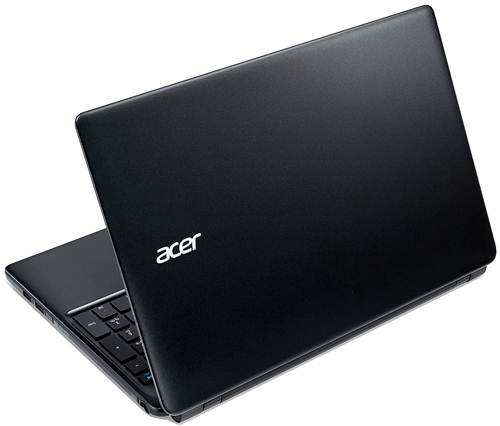 On Acer Aspire E1-510-29202G50Dnkk preinstalled operating system Linux. One of the main hardware components of a laptop is Intel Celeron N2920 processor with a clock speed of 1.86 GHz and 2 MB cache. The chip is built on 22-nm technology, has four cores, but because of lack of support Hyper-Threading can be processed simultaneously only 4 data stream, rather than 8. Course, the processor not only promises to dizzying heights, but with less complex job well not as successful as we would like.
Along with Celeron N2920 has integrated graphics Intel HD Graphics (Bay Trail) with support for DirectX 11, which will provide graphics processing at a low level. And no wonder, because she has only four execution units and a small frequency not exceeding 792 MHz. From the accelerator should not require a good performance during the Games, will only old toys. In addition, Intel HD Graphics support codecs MPEG2, H.264, VC1, VP8 and MVC, and also allows you to view two external display image.
The device according to modern standards set very small amount of RAM, only 2 GB standard DDR3-1066 MHz. So to cope with demanding applications notebook will be hard. As for storage space, then you have to be 500 GB hard drive, which has a rotational speed of 5400 rev / min. It is clear that hope for SSD is not worth it, all the same laptop, anyway, the budget to the bone. At the same time, replace the hard drive to an SSD is not difficult.
Ports and Communications – Acer Aspire E1-510
On the right side of the notebook is minimal number of ports. In fact there are only two USB 2.0 and a socket for recharging devices. Everything else takes place an integrated optical drive.

The left side Aspire E1-510 is allocated for a network RJ-45 port, video output VGA, HDMI and USB 3.0. You can see also a Kensington lock slot and a combined audio jack for headphones and microphone. As for a budget device interfaces is more than enough.

The front end of the laptop ports available, but his left-hand side you can see the four LED indicators, as well as a card reader, reading formats SD / SDHC / MMC.
Set of wireless modules entirely standard: Wi-Fi 802.11a/b/g/n and Bluetooth 4.0.
Battery – Acer Aspire E1-510
The laptop is a 4-cell lithium-ion battery capacity of 2500 mAh (37 Wh). Without charge from the network, it can survive on a single charge relatively long. For example, when viewing websites battery will last for five hours, and 4.5 hours for movies is a good result. Even the maximum load is discharged laptop earlier than 3:00.
Conclusion
The first impression of the Acer Aspire E1-510 as a simple workhorse, basically confirmed. The laptop has a laconic "clothes", which certainly will not be able to make a splash, and unattractive colors once again did not hint at things to do, and hard work that awaits the owner. Do not add pluses budget display, which not only let us down visibility, but also lacks the brightness and contrast to work confidently and indoors and outdoors. As for hardware, the processor Intel Celeron N2920 and integrated graphics Intel HD Graphics (Bay Trail), as they say, does not cook porridge. Laptop performance will be quite modest.
In favor Aspire E1-510 can be said about autonomy, which is enough for travel, and build quality that will flatter this budget device. In principle, ports and connectors are here in abundance, not to be disappointed when you connect a variety of devices. Rather, in the direction of this notebook look those whose activities are closely connected with office tasks, web surfing and other simple calculations, they power the laptop is more than enough. The more that the cost of the laptop does not exceed $ 340, and this is a good reason to look to the device.
Read another very interesting article about alternative energy of the Sun, water and air.