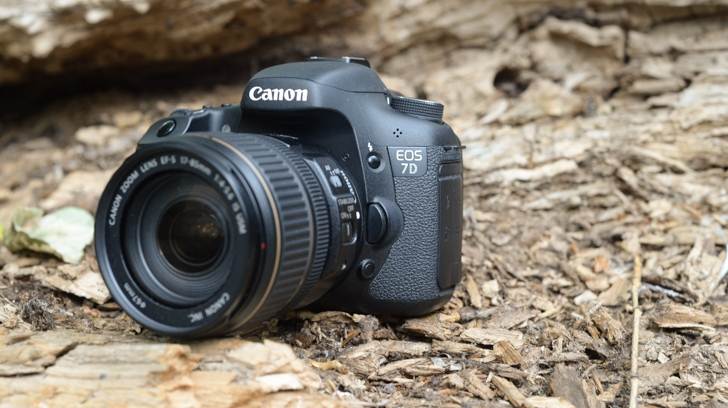 Although the modern world, and in particular technical progress, not just developing quickly, and is leaps and bounds, some things still remain undisputed classics. Whatever anyone says, but always in fashion will amerekanskogo "muscle-cars" retro motorcycles, some rock ballads. But here is applicable whether the term "classic" to the technique?
Perhaps, to some extent applicable, otherwise how to explain the fact that the company to update its products at least once a year, released a product on the market five years ago, and he still has not received the update, price stubbornly kept at around clearly no budget, professionals continue to admire and enjoy, and some end users want and lust?
Let's look at the Canon EOS 7D.
Design – Canon EOS 7D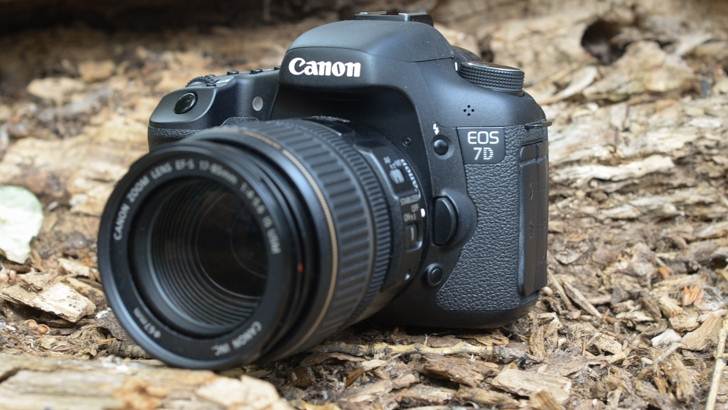 A quick glance at the camera you know that this is a clear pro-class, despite the assurances of the Canon enthusiast segment. The device is big, massive, heavy, solid-looking the rest. Body materials – metal, which allows withstand even the harshest weather and the nature of the test, as well as man. Classic grip for Canon, but the arm feels much better than in the same Canon 70D, which we discussed here.
On the front side of the camera – a key disconnect bayonet on the left, a little below – button repeater diaphragm. Above – opening flash. By the way, maybe it's only when the device, so that the bag of false openings will arise.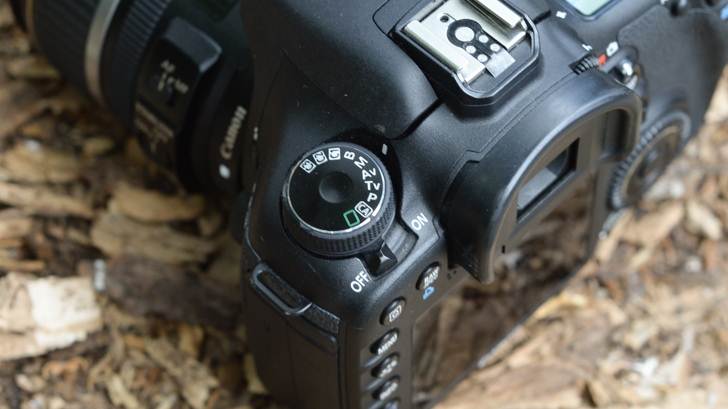 At the upper end of the left pentaprism mine – wheel control regimes, with no that have become familiar, levers or buttons to scroll lock no. Necessary each time to check the correctness of the choice.
On pentaprism – standard hot shoe and built-in flash.
Right – the shutter button, change the wheel, focus point selection button and four control element – white balance, combined with Metering, AF mode / mode "broach», ISO / exposure compensation, additional lights display, which is located here.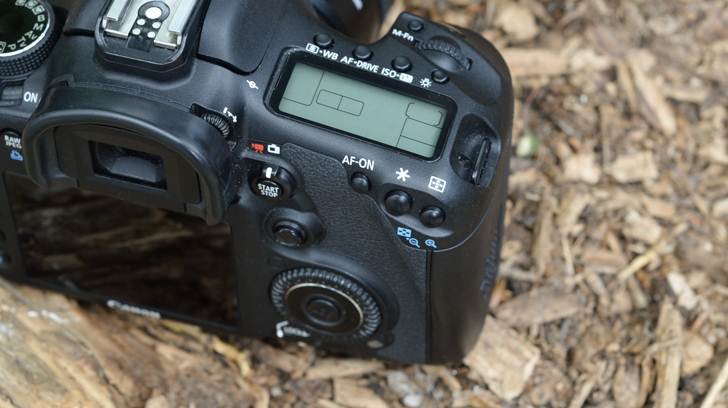 Infimum sheltered tripod mount and battery compartment.
On the left side, below the door, – connect an external flash and remote control, side by side, under the second flap, – port for a microphone, A / V output, HDMI.
The right side contains only the memory card slot format CompactFlash. Very logical move, given the age of "Seven" and its pro / semi-pro orientation.
The rear wall, as usual, the busiest elements.
Below the viewfinder diopter adjustment wheel is located three-inch display with 640 x 480 pixels. Left – a button for quick switch to RAW, in a row – Q (for quick access to settings), Menu, choice of color schemes, Info, viewing pictures and their own removal.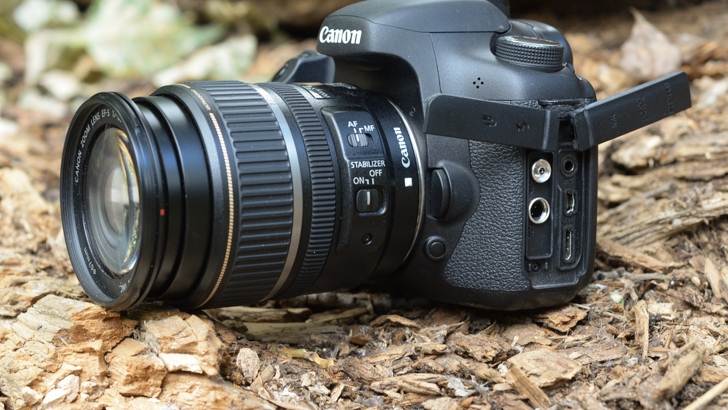 Under the thumb of his right hand – button AF-ON, Zoom In / Out, joystick, wheel change settings button inscribed with the SET (which, incidentally, turns with the wheel), the lock lever settings. The right of the viewfinder – a key switch to LiveView-mode lever and switch between camera / video modes. Button concurrently serves as the start / stop video recording. For the time – just an innovative move.
What's inside – Canon EOS 7D
Hidden behind the mirror matrix CMOS-APS-C format 18 MP and low pass filter. About vyrviglaznoy field forget how and moiré.
For image processing requires two Digic 4 processor, which by today's standards is not so cool. But not ultra-modern processor will not interfere with the camera without lags or delays handle continuous shooting at 8 k / s, and the buffer contains about 25 digital negatives, or about 100 compressed images.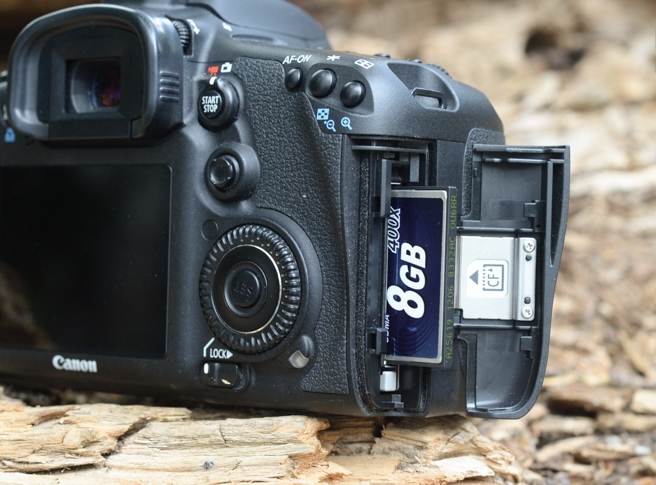 Dynamic range is enough for good and right scenes worked, but in difficult lighting conditions better to do or include bracketing HDR, if it leads to the situation. Maximum shutter speed – 1/8000s.
Values ​​ISO – from 100 to 6400 ISO. Extension – to 12800. And here is just much more likely that the processor is a bit podustarel. The camera starts to make noise already at 1600 ISO, with flaws can be corrected in the editor. 3200 shoot worth only if you know how to use Photoshop or your team has a competent retoucher. A 6400 – almost neyuzabelno value. About 12800 I better not say anything.
Autofocus – Canon EOS 7D
The module then set the same as in Canon 70D – 19 points, all of which are made on a cross type. The only difference – the lack of technology DualPixel, which affects when shooting video – automatically adjusted when creating commercials is not here.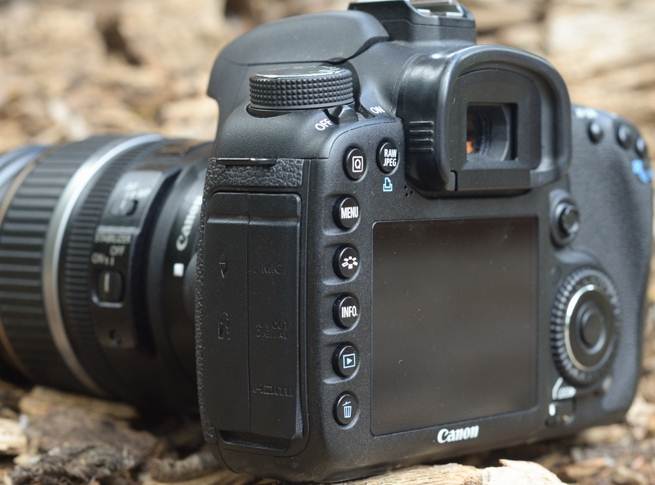 In all other artificial intelligence manages to "cheers", meshing exactly those objects that you want. Even in low light conditions it works well. It is logical that with light lenses with ultrasonic motor everything works much better.
Special mention deserves the tracking system, which touches the moving object and intelligently re-focused when shooting the series.
Videography – Canon EOS 7D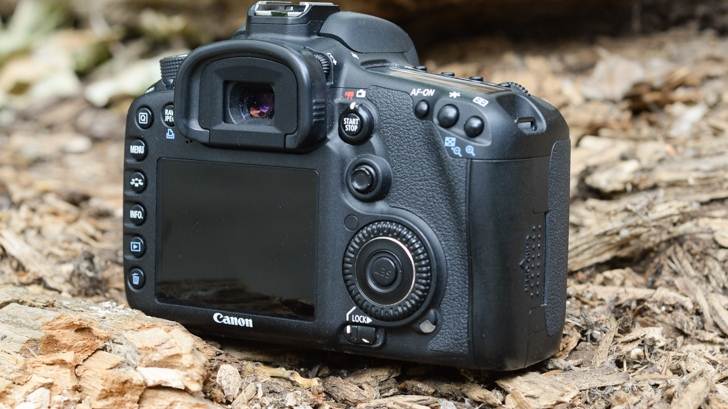 It's nothing special for the modern sophisticated user is not. Video is recorded in FullHD at 30, 25 and 25 / s. When you switch to HD are available in values ​​of 50 and 60 f / s.
But these minor flaws are easily solved by installing third-party firmware, and specifically "Magic Lantern."
Features – Canon EOS 7D
Of the coolest features, in addition to custom software presets, I want to mention wireless flash control system SpeedLight. It is possible to connect up to three groups of four each flash, and this – a significant plus, if you are an amateur to build complex circuits.
Liked – Canon EOS 7D
excellent ergonomics;
reliable dust and water tight enclosure;
100% viewfinder;
19 AF points Crusades;
steep tracking system;
wireless flash control;
Burst in 8k / s.
Dislike – Canon EOS 7D
having only one slot for memory cards CF;
no headphone port;
high noise level when working with high ISO.
Summary – Canon EOS 7D
Canon EOS 7D camera, which won TIPA in 2010 as «Best DSLR Expert». She really convenient, reliable, neubivaemaya, fast, provides excellent image quality in all conditions. Its price – about 1000 U.S. dollars. And to the question of whether to buy this device, you can skazat only thing is definitely worth, but only if you know why you need it and how you will use it. In all other cases – see something cheaper or newer.
Read another very interesting article about alternative energy of the Sun, water and air.