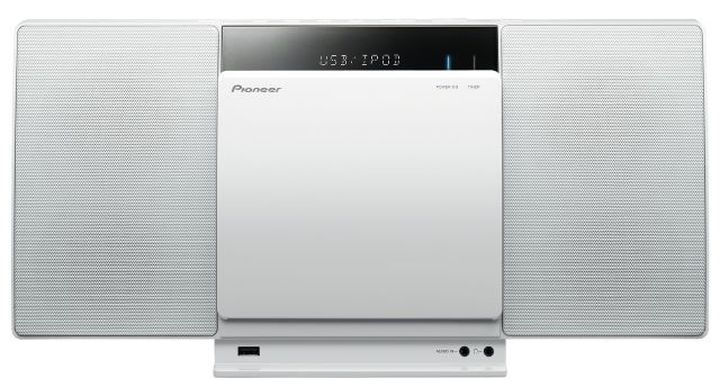 Over the past 10 years, smartphones have evolved from a simple means of communication to this laptop, absorbing a large number of useful applications and functions. Such as camera, Messager, player, navigation, etc. The more smartphones take place in our life, the more there is a variety of integrated devices, including consumer electronics.
The process of connecting your smartphone to absolutely any operating system is fairly simple. You just need to click on the column interface and find it in the list of Bluetooth-enabled devices. That's all. It seems to be all true, but often have to deal with the fact that the device can not find, contact constantly falls off or there is any other faults. Therefore, global manufacturers coming up with the times, such as the Japanese company Pioneer, offering its customers not only a large selection of micro-enabled interface, Bluetooth, and specially designed software.
Business application Wireless Streaming App (by the way, is available for free in the AppStore and Google Play) provides users with Bluetooth-systems simple algorithm to connect and manage music streams wirelessly with iOs and Android devices. Simply launch the app on your smartphone or tablet, select one of the compatible device Pioneer, and get: fast and efficient connection, the ability to control music with the usual gadget, add different sound effects, as well as a brief guide for making Bluetooth synchronization.
Compatible with Wireless Streaming App microsystems – a great many, this portable device, such as a series of FREEme or XW-BTSP1, more powerful and feature-rich system presented in a series of X-SMC, X-CM, X-HM, as well as in models of X- EM22 and X-PM12, which we describe in more detail.
Portable systems
A series of portable speakers FREEme two models: XW-LF3 and XW-LF1, which differ from each other only in finishing materials. The functional model and its features are absolutely identical.
Appearance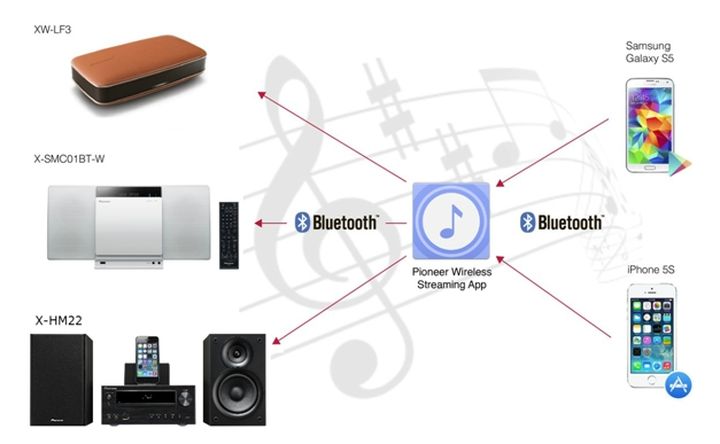 Portable speakers FREEme outside most similar to a small eyeglass case. More accurate dimensions: 151x46x83 mm. Obviously, any bag will fit without problems. The device weighs just over three hundred grams. Top XW-LF3 is made of genuine leather trim, XW-LF1 – from natural rubber, with the ends of both models are closed aluminum bars. Bottom leg is made of soft rubber feel vaguely reminiscent of suede.
Control elements located on the rear panel. This is, from left to right: the power button, the activation of pairing mode, volume, answer the call. All buttons are touch-sensitive (ie, the most "accurate" version, it is such here and need) and remarkably pressed. This is followed by a recessed button to restart the speaker, 3.5mm jack and connector for the charger.
On the front of the grid is a light indicator. It works very effectively, smoothly changing the luminescence intensity depending on usage. MicroUSB connector is also equipped with a backlight, that I can understand, the charge or column yet.
Connection
Wireless music playback via Bluetooth portable speakers FREEme comes with support A2DP protocol and conjugation through the module NFC. For Bluetooth connection you need to bring NFC enabled device to the contact point, the pairing takes place quickly and without problems.
Testing the XW-LF1 in the editorial, we have personally verified that the sound from the speakers is fairly good and loud, it makes sense to connect them not only smartphones and tablets, but also, for example, laptops. To do this, and provided audio jack, and comes bundled with cable. Options are generally quite generous. The set also comes Case and even an adapter for non-European outlet.
Sounding
So we gradually come to the main point. As you have probably realized, its main function, audio playback, audio system perform perfectly. The sound is loud, quite detailed in the low and mid frequencies. Accordingly, for a variety of electronic music trends, hip-hop or grunge it fits perfectly.
Deserves special praise and technology surround 360 ° Wide Circle Sound, applied in series models FREEme. Its meaning is evident from the title. Indeed, even the propagation of sound – a clear advantage of this system. You definitely appreciate it if you watch the movie with seven of the laptop in a tent or in the country.
Autonomy
Devices work approximately 11-12 hours. In general, this is enough to for a few days in the country or in a campaign to forget about the charger at all. When the audio system is low, the Micro-USB port is highlighted in red. Charge to 100% electronic gadgets for a couple of hours.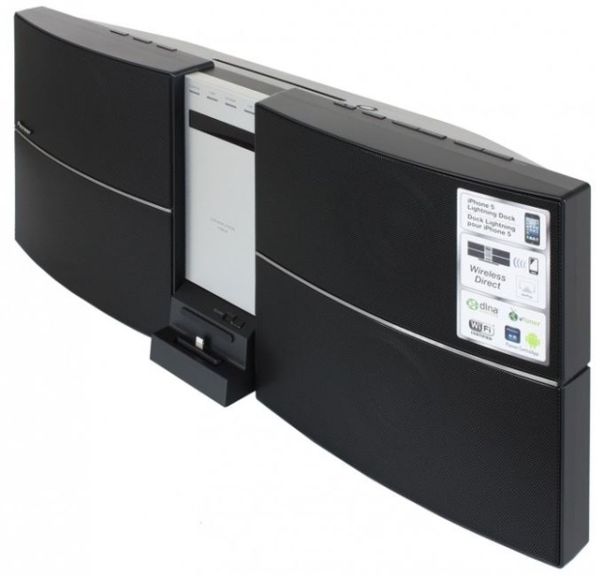 XW-BTSP1, in turn, on Garabitov similar, but slightly different forms, and its speaker is not directed in all directions. Nevertheless, the model also has the support function and Bluetooth NFC.
Microsystems
Microsystem Pioneer, supporting transmission audipotokov via Bluetooth can be easily identified by the letters «BT» in the model name.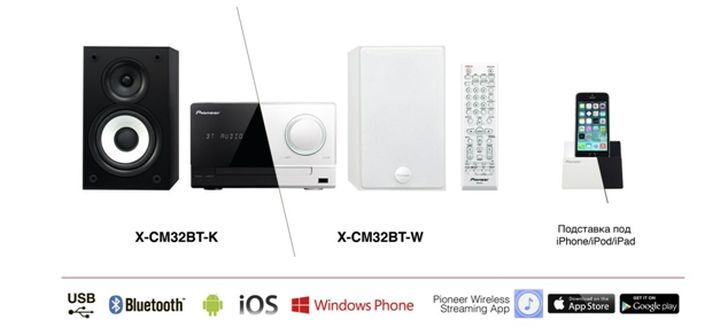 Should start, perhaps, with the most elegant models, X-SMC01BT. In addition to the elegant appearance, it is endowed with the ability to play music from the device over a wireless connection. The sound will be good, but if you want more, for iPhone owners provided connector Lighting. Through it, you can play music from iTunes in high quality.
System power is 20 watts.
Model X-SMC55, essentially similar to the X-SMC01BT, but has a higher functionality. In particular, supports Wireless Direct2. With it you can send streaming audio has, in fact, through faster compared to Bluetooth Wi-Fi without a router. It supports standards such as AirPlay and DLNA v1.5. In addition, you can use more and Spotify, if you are the subscriber, and strimmit music straight from the service. Accordingly, the capacity of the device twice, compared with X-SMC01BT-W: For 40 watts.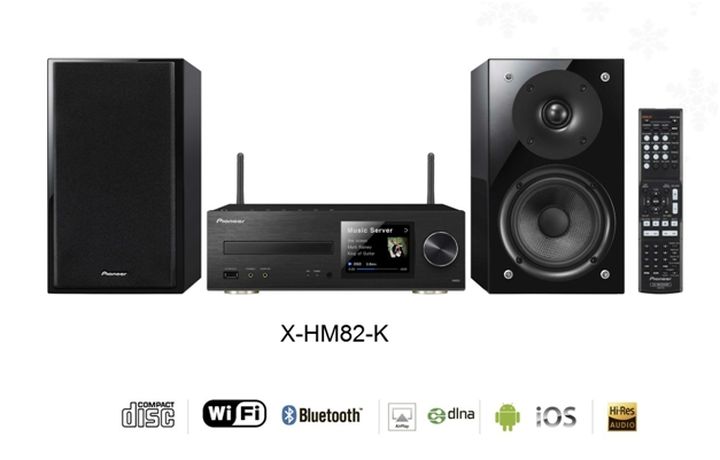 X-CM32BT and X-CM-42BT – two similar system equipped with Class-D (2×15 watts). Similarly, as the model X-SMC, these devices support playback of music from anywhere, including CD.
The similarities do not end there. System absolutely does not matter what OS is running works your smartphone or tablet via Bluetooth it transmits music with equal success. There are also additional, easy-to-use features such as Auto-Bluetooth Auto Connect and standby Bluetooth Stand-by.
With the included remote control and stand under iPhoneiPodiPad. The difference between the X-CM42BT and X-CM32BT only in the fact that the first has a built-in docking station for the latest generations of iPod and iPhone.
The main difference microsystem X-HM22 from the foregoing models, mainly lies in the design. It is important to note that this model comes with a built-Class D stereo amplifier and two two-lane Vented speakers rated at 15 watts. In each set of 10-inch woofer and a 5-inch tweeter soft dome and a removable grille.
X-HM72 / 82 – more expensive models due to its advanced network capabilities and high-quality audio components class Hi-End. Bluetooth in them compatible with the audio codec aptX, which is able to quickly stream music wirelessly and without loss. This codec can transmit uncompressed audio formats such as FLAC and WAV. Amplifier in the X-HM72 / 82 has a capacity of 2×50 watts, and a column with a 120 mm mid / bass driver made of fiberglass and 25 mm soft dome tweeter. The difference between the models solely in the materials used in their manufacture. Of course, all the network functions, as mentioned earlier, are available to them.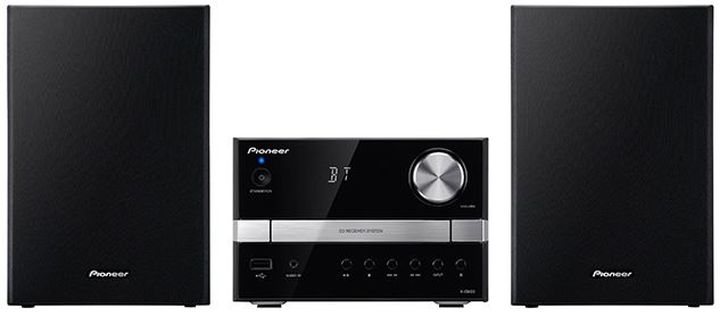 Special mention deserve two more models, announced recently: X-EM22 and X-PM12.
X-EM22 has two amplifiers from the front with a capacity of 15 watts. Supports CD in it still is. Also it is integrated FM-tuner with RDS, USB-port available. Playback formats supported: MP3 or WMA files from your music collection. Bluetooth, of course, is also available.
X-PM12 like her, but among other things, support CD-RW discs, which can store mp3-files.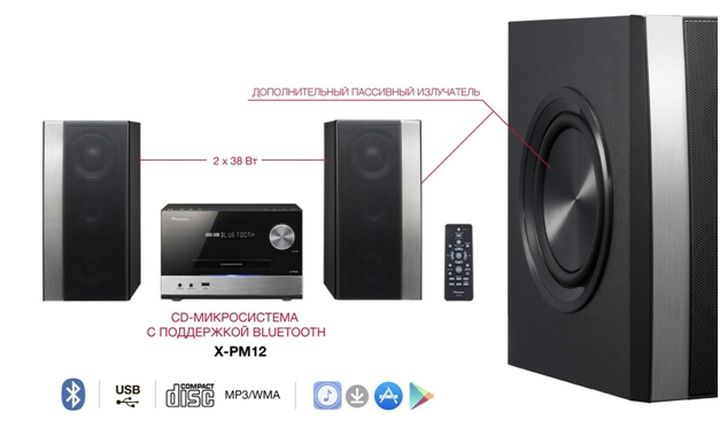 Digital Amplifier 38 W in each column, and the ability to connect to the device optional powered subwoofer – the key to a strong sound, and an additional passive radiator in every way contribute to a truly high-quality bass.
In turn, the mode P-BASS, even more they reveal, will plunge into the music with his head. The main feature of the model is that, despite the relatively modest size, the sound it produces is truly impressive.
As previously mentioned, all the mentioned microsystems can be controlled by Pioneer Wireless Streaming App, app available for iOS, and for Android.
And in the end I want to say that Pioneer's neat approach in the design of their products can be felt throughout, and the combination of high-tech "curls" with a strict classical design clearly the most pleasant experience.
Read another very interesting article about alternative energy of the Sun, water and air.