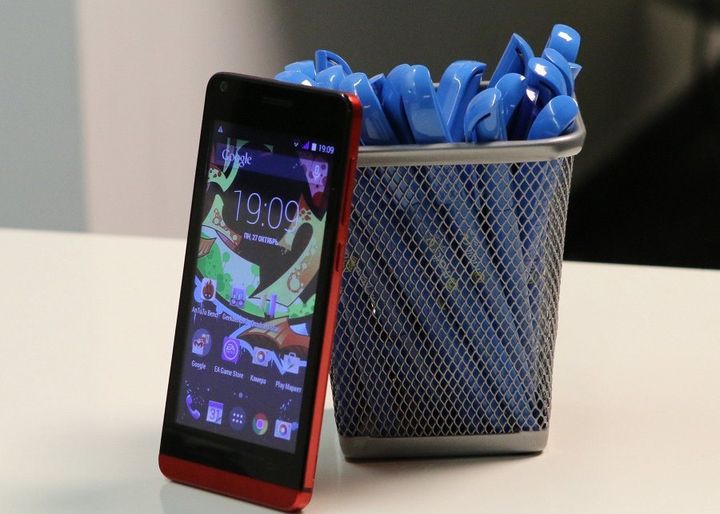 Trёhsimochny Tornado smartphone from Explay – a tool for business, but also an attractive appearance is not deprived. The fact that this popular gadget represents, today we cover in our review.
Now come to the fore, especially products with the best "price / quality" – of course, in favor of the buyer.
Design
It is known that low-cost smartphones often suffer external "faceless" black or gray when one model is almost impossible to distinguish from the other, but about Explay Tornado can not be said in any case. Moreover, complete with an elegant appearance in his slim body, framed in textured plastic under the skin with a soft skin flirting and "stitched" to the contour of the rear cover of the corresponding color embossed "stitch sewing." Front panel – the traditional black, but it does not give the same "faceless" gadget, because the rear end and along the lower part of the "from the front" can be one of the five colors (white, black, green, blue, red) – a great gift for the modern young man or woman, not burdened by stereotypes style. Color, by the way, now is still in vogue. But as you see, and strict black and white versions, too, have – for fans of the classics.
Smartphone Explay Tornado
The dimensions of the smartphone average in terms of compliance with 4.5-inch display with a thin bezel around the screen, which gives as a result the size 133h66h9 mm. Floor, by the way, is resistant to scratches and even reminds oleophobic in much more expensive devices because there is not enough fingerprints.
Mechanical control buttons are located next door on the right side (the power button and volume control button in body color that fits) minidzhekovy headphone jack into the port of micro-USB – also neighbors, only the top. No more foreign elements on the housing are not found except for the microphone hole bottom.
Remove the back cover – and under it we see three adjacent slots for SIM-cards (one micro-SIM and two nano-SIM). There, between them, you can insert a MicroSD card and lock it all battery 1550 mAh.
As far as supplied, it is extremely laconic, there is nothing superfluous. In color box found himself smartphone, battery, micro-USB cable and some papers: garantiyka, a brief instruction in the form of a booklet and a card manufacturer.
Technical elements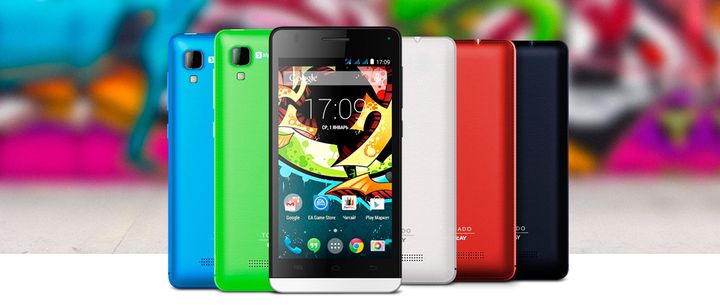 The question of why the buyer need three "Sims" – the sole responsibility of the buyer. If you buy – it means you need. If you sell – then you need to. With an abundance of offers of mobile operators in the market that deal with calls and messages within a particular group (eg, family), a matter of SIM-cards in one case is relevant, and highly. In the case of Tornado significant advantage is the fact that all three "Sims" support 3G communication, coupled with the transfer of data: it is known that the majority of low-cost competitors in the same price range offer this option only on one card, and the other "Sims" are left with obsolete 2G without any "buns". Here it is not about the Tornado, in general.
Slots three SIM-cards and memory cards smartphone Explay Tornado
Then – display. As we have said, it 4.5 inches diagonally, IPS-matrix with wide viewing angles (178 degrees, which is almost a full turn) and good color. Screen resolution – WVGA (480×854 pixels), which gives the density of points in the 217 ppi. Mul maintained up to five simultaneous touches.
Camera, connectors and buttons smartphone Explay Tornado
RAM is not very much – 512 MB – but to start is enough. Four gigabytes of internal memory also means that you need to buy an additional MicroSD-card (supports cards up to 32 GB), but without it today in any smartphone and so nowhere. And MicroSD cheaper right before our eyes.
Options smartphone Explay Tornado
Hardware platform smartphone modern, it's a good quad MediaTek MT6582, specially designed for smartphones and tablets budget class. Cores running at a frequency of 1.3 GHz, has a dual-core gaming accelerator Mali-400 MP2 400 MHz on the core modules WiFi 802.11b / g / n, modern Bluetooth 4.0, aGPS-module and FM-radio. Chipset, incidentally, supports 720p camera and up to 13 megapixels, and, in principle, can process and output video format Full-HD 1080p. But do not do it for obvious reasons.
Camera
And, as it should have, even in the low-end segment in Explay Tornado present two cameras: a five megapixel rear and front 0.3 (it is the same – VGA-resolution). The rear camera is in a convenient location in the upper left corner, and fingers will not interfere with shooting, if at this time to turn the smartphone into a horizontal position, as the lens will remain on top. It is also worth noting an interesting and convenient solution: a still image mode volume key acts as the shutter button. On the one hand, allows not "clutter up" unnecessary elements butt, on the other – does not force dodge and allocate extra finger is not always easy to buttons at the bottom end, well and in general, compactness – our all.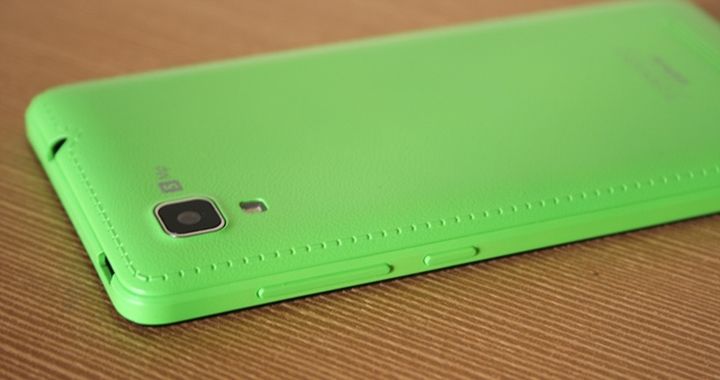 Camera Setup smartphone Explay Tornado
The test photos were taken back camera is used mainly as a front for video calls. In the budget smartphones her self is not recommended because of the poor quality of this module.
The rear camera also allows you to take in the Tornado with a resolution of up to 2560h1920 pixels and an aspect ratio of 4: 3. When the GPS module in the technical information recorded images geo coordinates shooting. Next we show a few images taken under different conditions.
Video smartphone records in MPEG-4 with a profile 3GPP Media Release 4 (file format respectively – * .3gp). The maximum video resolution is 640×480 pixels with an aspect ratio on 4: 3. Mode frame rate while variable, from 15 to 30 frames per second, Color Depth – 8 bits, and the sound is spelled with a bit rate of 128 kbit / s and up to 48 kHz AAC.
Software chips
On a smartphone Explay Tornado operating system Android version 4.4 KitKat. Not the latest version, but it's for the better – today it is 4.4 can be called the most optimal version of Android for smartphones with RAM less than one gigabyte, and it is easier to "five" after all. Pre-installed software gadget rendered in the form of labels on two screens, and they are not very much for a smartphone, plus separate: it is known that the majority of pre-installed software users are not very favor.
Desktop and smartphone application Explay Tornado
Of useful preinstalled applications may be noted free antivirus Dr. Safety and a few games: Green Farm 3 racing simulator GT Racing 2 football game Real Football 2015 and World at Arms. Explay own services is not established, they are not designed for such a device, in principle, and most people this state of affairs is quite satisfied. And by the way, is also reduces the final price of the device, which is good for the buyer.
Testing
Testing was conducted fairly standard set consisting of AnTuTu Benchmark v5.1.5 with additional tests AnTuTu 32 / 64bit CPU Test v5.1.5, AnTuTu HTML5 Test, AnTuTu Video Tester 2.2, and Vellamo and a set of utilities 3DMark.
In AnTuTu Benchmark Tornado «flown" to 18296 points, "browser-'test – to 8445 points, and processor – 2818 and 10819 points, respectively.
Utility AnTuTu Video Tester 2.2 has assessed 376 points, and the results we can conclude that Explay Tornado has shown good results, especially for its class (screenshots tests and a summary table of the results can be seen below).
Vellamo popular test is divided into three categories: Browser, Metal, Multicore. In the Browser test Tornado scored 1539 points in the Metal – 782, but with Multicore could not quite that, in principle, it is logical.
About the test 3DMark have to tell a little more. It consists of three parts: Ice Storm, Ice Storm Extreme and Ice Storm Unlimited. Ice Storm is a basic test, Ice Storm Extreme more resource demanding devices, and Ice Storm Unlimited is designed exclusively for testing high-performance vehicles, usually gaining sky-high values in the previous two.
Therefore, it is logical that the last of them Tornado has not passed, but the other two is quite able to show itself: Ice Storm 3215 device received points, and Ice Storm Extreme – 2125 points.
Finally, the battery is 1550 mAh Tornado tested no less popular AnTuTu Tester and scored as typical for its class results.
Is not so difficult as it seems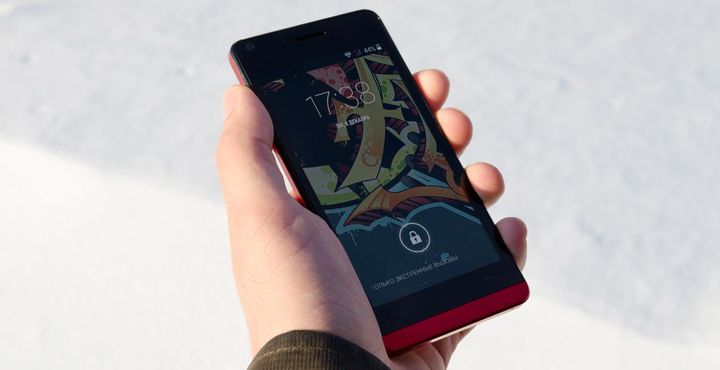 In general, for "state employee" smartphone Explay Tornado shows strong and reliable results without the incredible miracles and annoying surprises. Quite good battery and screen, a small amount of RAM (it really could have been more – platform allows), in general, the smartphone from the technical point of view typical, but nice and bright. Budget option with three SIM-cards that can be used as a business phone, and conventional, and to communicate with the closest.
Finally it must be said that buyers smartphone Explay Tornado – a very popular thing. For example, according to the federal network of stores communication "The Messenger" it is on the second place among smartphones Explay after model Fresh and boasts 6,500 pieces sold in the last week of the previous year. Given the economic situation is very, very decent numbers.
Read another very interesting article about alternative energy of the Sun, water and air.