All we had to do something for the first time, and of how this time will depend largely on the next steps. It is based on the neophytes, who decided to taste the sound quality, designed for domestic cinema set, consisting of a 5.0-Attitude Echo acoustics and AV-receiver Pioneer VSX-329.
Feature of domestic cinema
Of course, at such a low price it is reasonable to expect all sorts of compromises, and this is true, but on the whole system turned out to be surprisingly good. The five-channel receiver is successfully combined with five-channel acoustics and design, and performance. Furthermore, the system seamlessly fit and our subwoofer, which we used in the evaluation of multi-channel sound. Vented front speakers contain inch tweeter and a pair of midrange / woofer diameter of 6.5 inches. The center channel speaker and surround used 4-inch midrange transducers and tweeters size ¾ inch.
The receiver is able to decode high-definition audio streams major formats, ready to work with 3D-video signal and transmits 4K. Located on the front panel USB port lets you listen to music from iPhone / iPod files from USB-drives in formats AAC / MP3 / WMA. Also available AM ​​/ FM-tuner with RDS and 30 radio stations.
A bit of compromise. As typical of low-cost devices, the receiver is not implemented video conversion. The analog video input signal is not transmitted to the HDMI-out. Customize the unit under the acoustic characteristics of the room, you must manually – auto-calibration is not provided, although it is hardly worth it to refer to serious shortcomings, as this procedure – usually single. In addition, we visited the instance with due regard could be seen as the cosmetic flaws in manufacturing speakers.
When used in stereo set proved to be a very good idea. The compositions in jazz interpretations of Bach Jacques Loussier Trio when playing a Blu-ray convey the atmosphere of a live performance at Leipzig cathedral, with a fairly broad picture and sound tonally balanced. Bass sounds lively and elastic, piano – vigorously. And this is true for stereo – when switching to multichannel tonal balance somewhat worse.
Behind the back of the new domestic cinema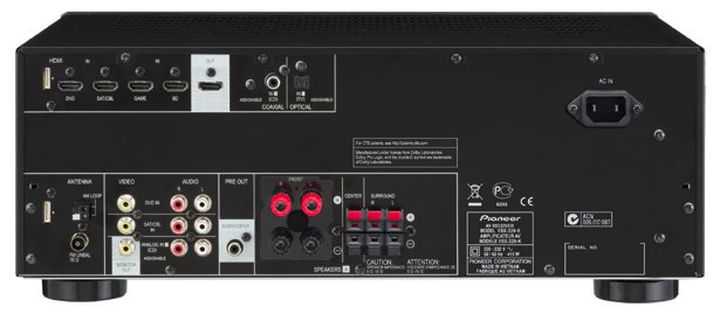 The patch panel of the receiver does not look as impressive as that of the more expensive models, but all the connectors required to work with laser players, satellite receivers, and gaming consoles, there has
Less impressed us the use of the kit as part of DC. In the movie "Admiral" loud battle scenes (with the support of the subwoofer) passed convincingly, but during the dialogue, attention is drawn not to the characters on the screen and to the center channel, which is clearly not enough volume and larger speakers.
Summarize. For the "gurus" in the field of domestic cinema Hi-Fi, this kit is unlikely to be of interest, but for those who are going to discover the sound quality, it can be a ticket to this wonderful world.
Price – domestic cinema: $ 430
PROS – domestic cinema: Good sound in stereo mode, the lowest price per set
CONS – domestic cinema: Malovata center channel speaker, not the build quality column
VERDICT – domestic cinema: A good choice for a first acquaintance with domestic cinema Hi-Fi-sound; If you plan to use a set of primarily as a recreation center, you should consider buying a subwoofer
Source: Pioneer
Read another very interesting article about alternative energy of the Sun, water and air.