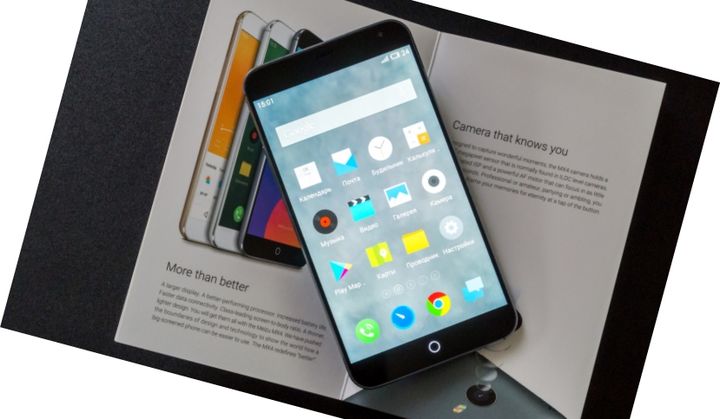 This device I've been waiting a long time. Days and nights passed slowly in anticipation of the most powerful, the most beautiful, the most non-standard smartphone on Android. Read all reviews, reviewed all the videos, read the saga in two parts in the blog – and here it is, Meizu, Meeeeeeizuuuuuu my dreams. Yes, you read that right, it Meizu MX4.
And if earlier on smartphones such as Oppo, Xiaomi (and a half years ago – even on Lenovo) said: "Do you think Chinese companies can make a really cool smartphone?", Now with these brands are considered and advise each other as the best analogue to state and uninteresting expensive flagship. After all, the Chinese have shown by example that it is possible to create both a qualitative and inexpensive product. And if the summer all stirred up OnePlus One aka Killer flagships, the same in 2014 and was featured Meizu MX4, who charmed the public and the price and performance of its filling, shifting the leaders of synthetic benchmarks. Farewell, Snapdragon, long live MediaTek!
Appearance and ergonomics
Unusual. This is the first thing you think Meizu MX4 pulling out of the box. First, from an unusual box, hateful little book, whose title – More Than Better. The Company prepares you for getting into the hands of a great product, so did not hesitate to arrange the pages of the two thick three main "focus" the phone: it's all fine (camera – especially) and the shell Flyme 4 all amazing. And cut out the pages is the unit itself. I got a copy of the smoky-gray color – as for me, terribly beautiful and better than white, white appliances boring, but it is – a personal opinion of the author. There are golden and white-unit all-white, where even the metallic edge is painted, but such instances, only 10 thousand. Under the book in a box has microUSB-USB cable and an empty compartment for headphones with a paper cap Earphone not included. Greed is or not, everyone will decide with my conscience. Complete adapter for European sockets.
Smartphone itself is not the most common forms and parameters. Whatever it seemed wide (because stouter as much as 3 cm compared with Meizu MX3), fits in the palm, is the size in size with the same feeling and OnePlus One shirocheznosti get it through thin frames and maximize the display area. Anyway, on the part of the width or height is almost the first device, which does not want to cut or forehead or chin or at the waist to remove a couple of inches. Due to the parameters of 144 x 75.2 x 8.9 mm and weight of 147 grams Meizu MX4 only the first couple of hours in the hand is unusual, but quickly get involved. For the sake of convenience, the device manufacturers have added the invoice, which made large size practical. Thus, the basis of the smartphone has become aircraft-grade aluminum. This lightweight, yet durable material for a month or kotsochki – a measure. After all, smart lived with Miss Krashtest. And I ask to observe and psevdopeschanik OnePlus One ushatala … Beveled faces look elegant, but due to the rounded back cover smart comfortable in the hand.
Above the display with a diagonal of 5.36 inches unusual is the set of sensors, front camera of 2 MP and short earpiece. Under it there is only one control button. She – like maraschino cherry on the cake. After all, this is a button touch, replace all three standard control buttons, and even phosphoric – that is, glows in the dark. And in general, it also acts as a notification light, winking in the case of missed calls and messages. With its help, you can lock your phone, simply by holding the sensor for a few seconds, or use it as a "Back" button, run your finger tip up, if Google Now is pulled. But more about that in the firmware menu. And I remind you – it is due to the presence of sensory kruglyasha smartphone Meizu so often compared to (or compared?) With the iPhone.

The first thing that annoys, – button on the top. If you are conservative and do not want to include a double tap of the display, it really is a problem, because the use of one hand finger to the upper edge does not reach. There is also the microphone and audiodzhek a notch on the back cover. Despite the fact that the faces are thin and sloping, is located on the left swing adjust the volume. Downstairs there are four holes speaker connector microUSB, one microphone and a recess for the nail to remove the lid.
And it will have to withdraw, but only once, because underneath slot microSIM. The memory card is not available, the battery on the 3100 mAh non removable, and the cover though was a recess removed still hard. However, despite the fact that the body collapsible, Meizu MX4 turned out pretty strong and not lyuftyaschim machine. I do not know how things will fare after six months, but I have in the past month use all ok. The rear panel has a peephole 20.7 megapixels with edging to a piece of glass does not scratch, and dual LED-flash two shades.
Display
Screen size – 5.36 inches, the aspect ratio of 9 to 15, and resolution – 1920 x 1152, and it is 418 dots per inch. Some blamed the company's commitment to remain true to its 15-to-9-ideals, because it is because of this smartphone too wide, but personally I like this unconventional approach. Tonyusenkie 2 mm frames, beveled faces aircraft aluminum and the overall slope back cover – all this makes the image at first glance seemed to hang in the air. In fact, the effect is achieved thanks to technology Response Time Enhancement of MediaTek, which reduces the response time of the display by 50% and reduces motion blur. That's why the picture looks so alive. A technology MiraVision adjusts the backlight intensity is not only depending on the ambient light around you, but, depending on what is shown on the display, the colors of the picture. Chipset selects the brightness based on the comparison of these two factors, and thus also saves battery. At first glance, it is not noticeable, but on a sunny day you will feel the difference.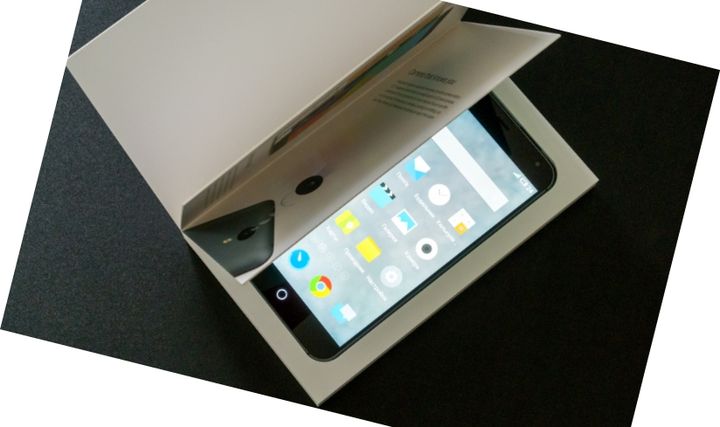 Generally speaking, the image is really impressive. Detail, color transfer, viewing angles – all excellent. When we first opened the box edition, general impression was that the picture "come to life" as in films about Iron Man. But the miracle did not happen, and we got the display is excellent, not supernatural, but it was enough to make a lasting impression. Top covered with protective glass Gorilla Glass 3, tsarapok not. Oleophobic coating on a 4: support smart bunch of gestures, and from them then "branches" prints across the display. Between the housing and the display has a special layer that will act as a cushion to protect the glass in case of falling smartphone.
Camera
I trudge on camera software. Not so much on the quality of images that makes the front camera of 2 MP, how much of what you can then do with it. Now most of the audience did not understand, because it is a boy-geeks, but with one application can primarafetit face, make up an existing photo. Girls will squeak with delight, and the first couple of nights just to pass this imaginary beauty salon. Even if your girl geek. Just do not overdo it. Themselves out of the ordinary can be made as a doll and a clown. By the way, this feature is called Face Beautifier and also developed spices MediaTek, so other smartphones, where it will be MT6595 chip, it also can be found.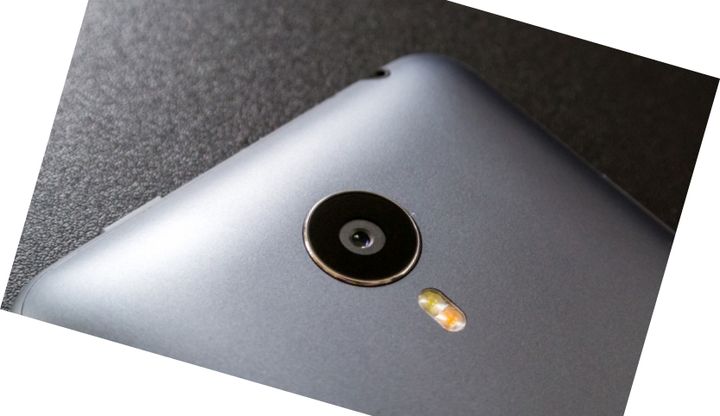 The main camera is a 20.7 megapixel with autofocus, dual backlit pyatilinzovym lens aperture of f / 2.2 – in short, all the same as that of the Sony Xperia Z3. Only in our machine works it is not as smartly as the Japanese flagship. The mode changes swipe right across the screen, or you can call all tapnuv top icon. There are only nine: auto, portrait (here you can drag away his face and eyes straight increase in real-time), view, change focus, night, scanner, slow motion, close-up and full manual mode with shutter speed settings, ISO, shutter speed, focus point . But if manually tap on the screen, then tighten the focus automatically, and exposure. A little way, annoying floating white balance. But smart shoots in HDR, and even video in 4K writes with 30 frames per second. But I was more properlo slow motion. Silent, but funny.
Sound
Very good. And not so much because of the headphones, but because of the speakers. It is necessary to pay attention at least because once the company starts its way it is with the creation of players. And if in the previous models of smartphones manufacturers to introduce a separate sound chip, the Meizu MX4 provides a turnkey solution – MT6595 integrated audio chip Wolfson WM8281. I can not compare with the previous models of the company, but overall the sound is clear, without any kinks, and loud enough.
Features & Software
This is a very big point, because there really talk about anything. First, the important basic parameters – 8 cores, MediaTek MT6595, where 4 core Cortex-A17 at a frequency of 2.2 GHz and 4 core Cortex-A7 at a frequency of 1.7 GHz, 2 GB RAM, GPU PowerVR G6200MP4, where 4 cores running at 600 MHz. In the chipset used architecture ARM big.LITTLE, which allows you to assign a task to each desired number of cores simultaneously conserve battery power. And it used the most advanced version, where all cores can operate simultaneously. Top it all seasoned with proprietary technology CorePilot by MediaTek, which allows more flexibility and change the frequency of the nuclei. For instance, can simultaneously operate the four cores and two A7 – A17 at a suitable frequency for a particular application, or, for example, one and two core A17 – A7. Thus achieved a near perfect balance of performance and energy efficiency.
As a result, it is thanks to this technology Meizu MX4 (or any other smart running MT6595) 10-15% more energy efficient competitors. It is possible even in real time to observe how the CPU core off after you turn hard off. From what we started (and this ponderous World of Tanks and 8 Asphalt, Real Racing 3 and Dead Trigger), everything is going to cheer. "Asphalt", however, writes that this medium graphics settings, but enough for a comfortable ride.
Autonomy
Almost the only moot point for me. Because 3100 mAh – it is enough, but if you are an active user tsiferki charge roll down to zero right before your eyes. Smartphone lived a little more than a day at a screen activity for 3 hours. In general, if you want more, carry a powerbank. There are system power saving mode: productive, balanced, energy-saving. But I did not feel much of a difference between the first and second, and the third I do not particularly like it. This is certainly not an option when the smart turns into black and white dialer, but also a special joy from podlagivaet just does not arise. But yes, in such soup can live for two days. Of course, if you bought the most powerful smartphone is not to play with toys.
Output – Meizu MX4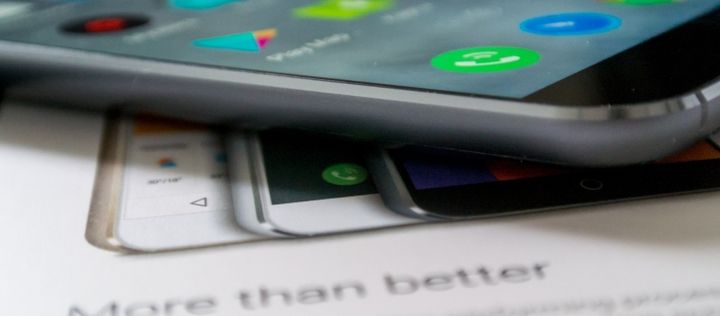 Meizu MX4 – throughout custom smartphone. Here unusual proportions, screen size and body materials. In addition, the most powerful of all flagship smartphone, and while it is based on the chipset MediaTek. So if you need a regular bar faceless iron, this is not for you. On such a display picture though on the surface, it all like it. And with such a power simply do not want to let go, I am absolutely in all igruli spire, without ceasing. Even tanks! Play is not very learned, but retracts. Only here the battery lasts no more than a day. This is the only thing that can confuse you. And the rest is the most powerful and horror what a beautiful smartphone! The average price of Meizu – $ 350 for 16 GB. This is the same as buy OnePlus One 16GB + $ 50 for shipping or ORI to 64 GB. What to choose? A very difficult question!
Read another very interesting article about alternative energy of the Sun, water and air.