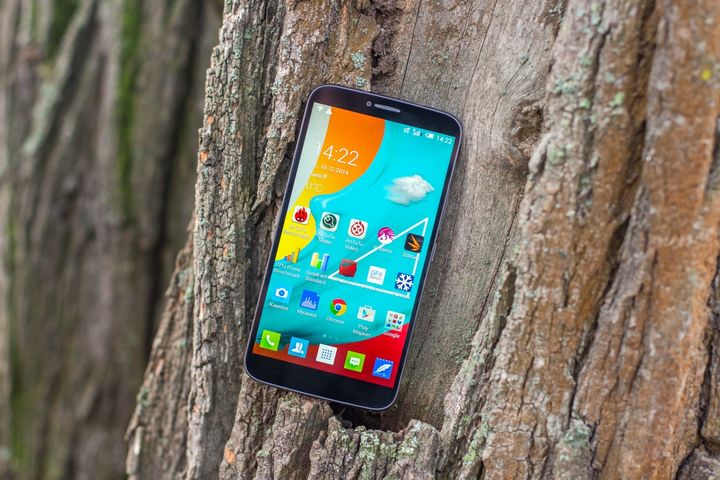 8-core solution with a 6-inch Full HD IPS-screen, 2 GB of RAM, battery 3100 mAh, and to support handwriting with a stylus. User also waiting for a pleasant musical "bonuses" in the form of a track from DJ Avicii, the Audio Hi-Fi Audio, preinstalled utilities Cross DJ Hero, as well as connectivity cover MagicFlip DJ, converting Phablet a DJ mixer. However, even this is not all that will ALCATEL ONETOUCH Hero 2 "stand out" from the crowd of competitors.
Scope of delivery
Packed smartphone in a white cardboard box on top of which stretched bright "Case" with icons denoting its basic specifications, photograph of one of the most popular DJs in the world – Avicii, as well as a reminder of the bonus tracks from that artist as a gift. Yes, it was nominated two musical Grammy Awards Avicii presented Hero 2 as part of the Berlin exhibition IFA 2014 electronics.
According to the manufacturer, the DJ took an active part in the development of Hero 2 cover panel MagicFlip DJ DJ mix to mix music on the go.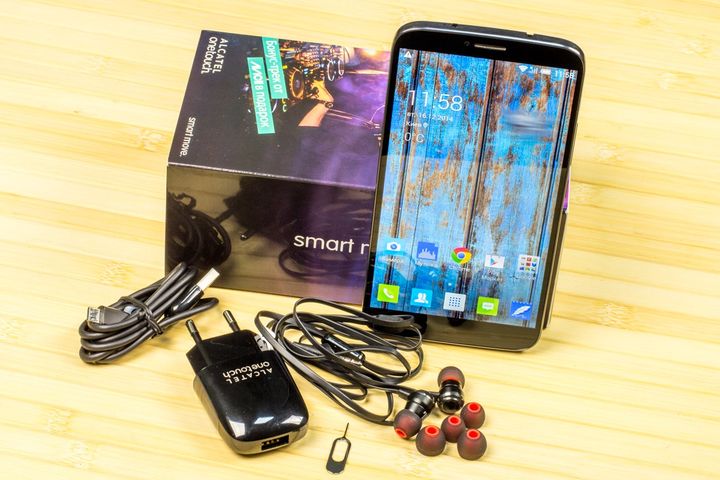 Apart from him, by the way, can be connected to your phone, and a number of other branded accessories purchased separately: LED cover MagicFlip LED, Case, Stand Stand MagicFlip, cover with a window Aero MagicFlip and a Bluetooth-headset Sidekick 2 as a small push-button phone with support for NFC, allows remote manage multimedia features, view SMS, contact lists and more.
Returning in the delivery note are in the box with Hero 2 charger with USB-cable, wired stereo headset JBL with three sets of interchangeable ear cushions ckrepki to eject with MicroSD-card and Simcoe, and user's manual and warranty card.
Design
The model Hero 2 brand Alcatel has developed and refined the concept of corporate design line of devices OneTouch Hero with smooth lines and a tendency towards simple, classic style. Not folding enclosure with rounded corners, sloping rear panel of frosted soft-touch material and ultra-side display frame – like silhouette was last year's Hero.
However, the second-generation model due to the rear and side of a metal frame looks much more solid than its predecessor. However, no plastic also done – insert two top and bottom rear side. They are painted in the body color and have not only a decorative function, but also a hidden internal antenna communication modules.
And Hero 2 grown up, but actually increase in length is only 2 mm in width and even less – 1 mm. But the thickness and weight of the unit decreased that at least a little, but still easier to work with Phablet – 7.9 mm and 175 g vs 8.5 mm and 177.6 g in Hero.
However, without the proper skill to operate Hero 2 especially with one hand will still be very difficult and the only way out in this case may be except that the regime "one-handed", however, it can only use the application calculator and dialer.
But do not forget that Phablet comes with a stylus, which, though less functional than samsungovsky S-Pen, but also somewhat easier to work with Hero 2.
Pen firmly placed in a special compartment inside the case tube, so that by itself it would not fall out.
I would add that in addition to the beautiful appearance, the new Hero also perfectly assembled – nothing nowhere creaks or backlash in the hand during compression housing unit is not crispy. The model will be available in only one color – dark gray.
Functional elements
On the front above the display is a smartphone earpiece eye 5MP camera, LED, as well as proximity switches / lighting.
Below the screen are three touch controls c illumination mode of operation which is set from the settings menu.
The rear panel of the unit is divided between the protruding above the body core 13.1Mp peephole camera, framed by a metal rim, LED-flash, the logo of the manufacturer, contacts for mounting branded covers, as well as a hole to hold the stylus smoothly passing on the bottom of the gadget.
The power button and volume rocker located on the right "marginalia" next to the tray microSD-card.
They shifted closer to the back of the case and so thin that visually hardly noticeable, sometimes they even grope blindly at the first attempt fails.
The left side is the SIM-card format micro.
The top end smartphone occupy 3.5 mm audio jack, IR port and output noise canceling microphone.
At the lower edge equipped two lattices, one of which hides a multimedia speaker, and the second microphone.
Display
6-inch IPS-screen Hero 2 has a resolution of 1920×1080 pixels and a pixel density at 367 ppi, which is enough to show smooth fonts and clear image as a whole.
Protects the display from scratches glass Asashi Dragontrail, which has a relatively good anti-glare filter and high-oleophobic coating. Due to the last finger glides across the screen, and the appearance on the surface from fingerprints minimized.
Display Hero 2 boasts good contrast and wide viewing angle both vertically and horizontally – color distortion at minimum deviation.
Brightness as it gets, at least at its maximum level under the sun information on it remains readable.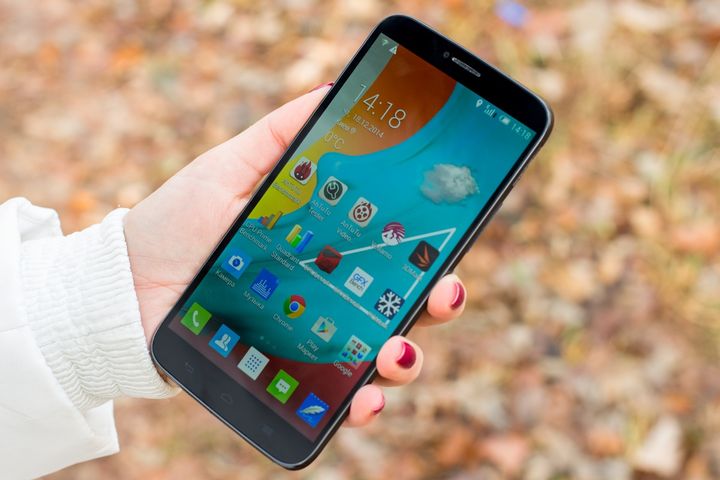 Incidentally, the user can not only regulate the level of illumination, but also the color temperature.
And in the settings screen, you can use the function ClearMotion, enhancing the smoothness of the image when viewing video, due to the conversion of a video series 24/30 frames / second in the format of 60 frames / sec.
Sensor layer capacitive type supports up to 10 simultaneous touches. Its sensitivity is excellent.
Memory
The declared amount of internal memory is 16 GB, however, are available to the user about 12 GB. Extension is possible with the help of microSD-cards up to 64 GB. In addition, through the support of USB-OTG technology You can connect a flash drive.
Features and performance
Hero of the second generation has become much more powerful than its predecessor. In place of the 4-core MediaTek MT6589T novelty came in an 8-core MediaTek MT6592 processor with a clock frequency of 2 GHz and graphics Mali-450 MP. The amount of RAM remains the same – 2 GB.
In practice Hero 2 with no problems coping with Full HD movies, the most demanding 3D-games and applications. Interface smartphone running smoothly.
Wireless interfaces
Phablet got a wide range of communication modules: Wi-Fi 802.11b / g / n technology with Wi-Fi Direct, and the ability to use as an access point, Bluetooth 4.0, GPS technology A-GPS.
The smartphone supports work in networks and LTE-standard wireless multimedia signal Miracast. And provided here NFC-technology Android Beam allows you to share content with a simple touch phone to phone.
Battery
Battery capacity Hero 2 decreased in comparison to its predecessor – 3100 mAh.
According to the manufacturer the battery life of the gadget is 15.5 hours of talk time (2G), up to 60 hours of audio playback and up to 500 hours in standby mode (network 2G).
In practice, in medium display and an active Wi-Fi-connection of one full battery charge smartphone enough for 3 hours watching Full HD-video or about 17 hours of audio playback. The average charge is enough for the day, with the active operation of the gadget you need to charge it twice a day.
Provides energy-saving mode here, including "Superekonomii energy," leaving only the functions available to the user SMS, calls, calendar and note book.
Dynamics
The speaker volume is at a good level, there is little margin for conversations in noisy environments.
Supports technology Voice HD, which provides better sound and speech intelligibility. However, it depends on the services provided by the operator, and in addition, will be active only if it is supported by both devices subscribers.
Multimedia speaker produces loud and clear sound throughout the frequency range. If you pick up a successful tune, then will not miss an incoming call, even in very noisy place like the subway.
The scope of delivery of the smartphone, as mentioned earlier, the headset comes from JBL. This type of intracanal headphones, which boast a pleasant sound with the ability to play a fairly wide frequency range.
When they are connected in the settings you can activate Hero 2 FM-radio and music mode Hi-Fi Audio, allows you to play audio files as close as possible to the original.
Camera
5MP front photomodule Hero 2 with a widescreen mode copes well with video conferencing and is well suited for group or panoramic "self."
He supports "Avtoretush" collage and filters.
The main 13.1Mp camera smartphone supplemented LED-flash, digital zoom, autofocus system and optical image stabilization.
Photos taken outdoors with a sufficient amount of light are bright and sharp even on automatic settings. In low-light shots go lower quality, however, the noise on them as much as it could be.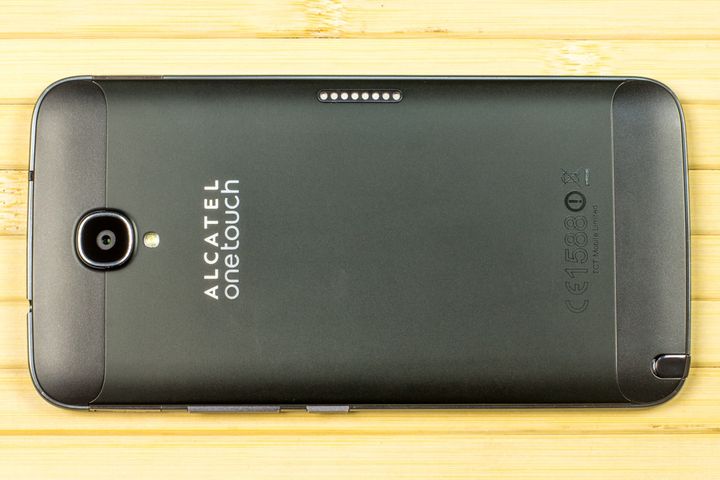 During the shooting function is available "Face Detection", built-in scanner codes, as well as modes of "Panorama", "Superpanorama", "Sport", "Night" and «HDR». In manual mode, you can adjust the exposure, ISO, white balance, shutter speed, select the focusing distance, control mode and brightness LED-flash.
Both photo module record Full HD-video. When shooting movies in the main chamber can be activated by digital image stabilization.
Software
The smartphone runs on Android 4.4.2 with a modified proprietary interface Alcatel.
A set of pre-installed applications includes all programs that may be needed for comfortable work with the device "out of the box": video and audio player, a file manager, a program to synchronize and backup data, office suite WPS Office, News Magazine Flipboard, an application for reading books Kobo, remote Peel Smart Remote, utility to create the projection screen on the TV, office suites Kingsoft Office and office Suite, Evernote, and Antivirus, Shazam, PicSay, with a subscription music service Deezer and more.
As a bonus for the entertainment of the user will have access to social networks Gameloft games and utility Cross DJ, allows you to experience yourself as a DJ, zamiksovav couple of tracks.
There is also a proprietary multitasking called "two windows", allowing to divide the screen into two parts and work in two applications. Size of the windows can be changed by dividing the slider.
To work with a stylus are only two applications – Pro Notepad and Calculator Pro.
Available opportunity to control gestures and connect additional accessories.
Findings
If we talk about the cost of treating a smartphone today, then for our market, it has not yet been designated. However, in neighboring Russia gadget sold at an average price of $ 280, which, in my opinion, quite corresponds to its characteristics.

At Alcatel ONETOUCH Hero 2 is not only effective hardware stuffing, Full HD-quality screen, good speakers and camera, but also a stylish metal body, as well as several additional "bonus" in the form of NFC chip with Android Beam, support for LTE-networks, Miracast , USB-OTG, and multitasking "Two window" function control gestures with one hand. The only "but" – this unit still requires a deeper and more advanced optimization for electronic pen.
Moreover, someone he may seem overly cumbersome, however, in his big screen it has a weight of indisputable advantages – diagonal of the display in inches 6 delivers much more fun while surfing the Web, watching videos, games or reading books.
Pros
– Thin metal case;
– Good build;
– High-quality screen;
– Supports control gestures with one hand;
– Multitasking "Two windows";
– Speakers.
Cons
– Average autonomy;
– Limited functional electronic pen.
Read another very interesting article about alternative energy of the Sun, water and air.