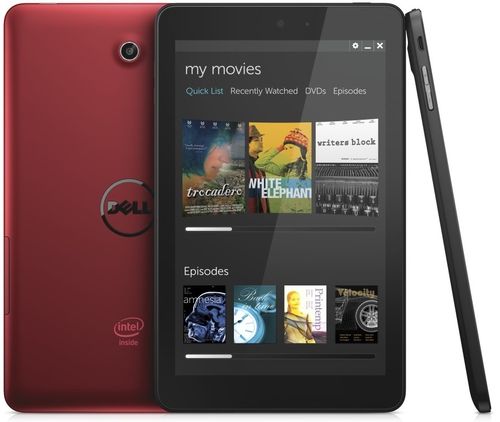 Dell corporate logo is not so often seen on the plates. The American company has repeatedly tried to gain a foothold in the market with their tablets, but little success and has not achieved. Everything changed in late 2013 when the newcomers came just four models: Dell Venue 7, Dell Venue 8, Dell Venue Pro 8 and 11 Dell Venue Pro. Venue Pro 7 and 11 Venue Pro we have already told you. Now turn and 8-inch representative of this line. Combines these tablets overall design, as well as some similarities in the stuffing, and other specifications. In addition, Dell Venue and Dell Venue 8 8 Pro, among other things, are also the same diagonal display, but different operating system, the tablet with the prefix «Pro» is based on Windows 8.1
But dwell on the Dell Venue 8. Can be assumed that this gadget will enjoy the greatest popularity of the quartet, because the plates with 8-inch is enough demand to date. The main feature of this tablet is the presence of processor Intel, which is very pleasing, given its relative budget (an average of about $ 250).
Technical characteristics Dell Venue 8
Processor: Intel Atom Z2580 2000 MHz
Memory: 2 GB DDR2 1066
Storage: 16 GB of internal memory
Display: 8 "1280×800 WXGA LED IPS, glossy
Video: PowerVR SGX 544MP2
Wireless: Wi-Fi 802.11 a / b / g / n, Bluetooth 4.0, GPS
Audio: 1 Speaker
Interfaces: Micro-USB 2.0 (HOST / OTG), card reader SD / SDXC / SDHC, combo audio jack
Extras: 2 megapixel front webcam, 5MP rear webcam
Battery: 4100 mAh
Dimensions, weight: 210x130x10 mm, 350 g
Operating system: Android 4.2.2
Design Dell Venue 8
Appearance Dell Venue 8 pleasant enough. But fans of the gloss on it is not even worth watching, as it is completely matte. Buyer can make their choice in favor of pleasing colors, which in line two: the familiar black and bright red. The second, perhaps, to suit everyone who likes to stand out from the crowd, but the first color variation – uniquely for more respectable people. On the cover there is a corporate logo Dell, as well as rear webcam.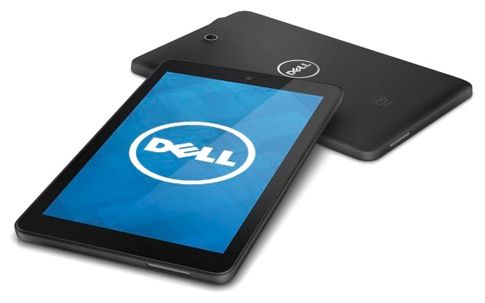 The material involved soft-touch plastic. In this he is no different from the Venue or Venue Pro 11 7. Such coverage is more pleasant to the haptics, but there is in it and a huge minus fingerprints remain on this surface even at the slightest contact, and get rid of them without special equipment is very problematic .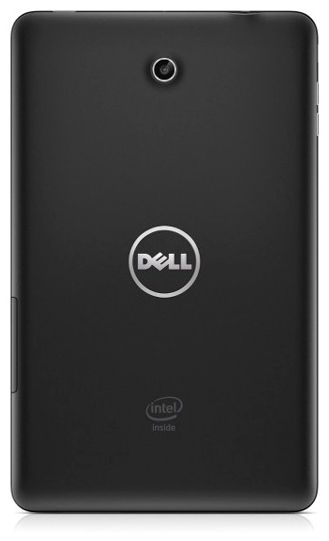 Frame around the display is sufficiently thin as possible, for example, the Dell Venue 7 it thicker. Screen is covered with a protective plastic over it is a front webcam. No physical buttons on the front of the housing is not provided, and the available interfaces are "scattered" around the perimeter of the Tablet PC. Orientation at Dell Venue 8 vertical.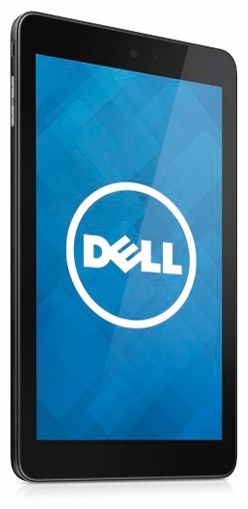 In general, this gadget is good, as far as can be judged by the design of the device. He is strong enough, but if the rear cover much pressure it flexes, however, without any distinctive sounds. As regards the dimensions of the tablet, they are as follows: 21 cm long, 13 cm wide and about 1 cm in thickness.
Display, audio and webcam Dell Venue 8
It should be noted granted display Dell Venue 8 made by technology IPS, and for this it is possible to put an extra plus. However, this fact darkens the screen resolution – 1280×800 pixels, which would be more appropriate for a 7-inch gadget, rather than for the 8-inch. It also supports multi-touch. Brightness and contrast of this screen average as color rendition. But striking the individual pixels, which means that for such a small diagonal such permission.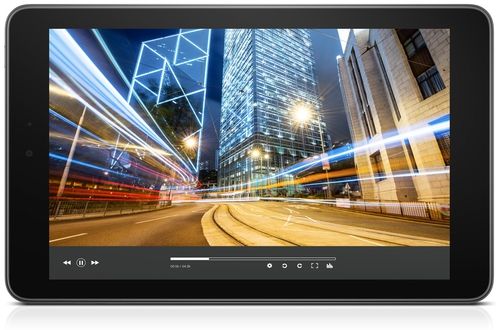 Rear and front facing webcam, of course, are on the tablet is not for decoration. Front camera with a resolution of 2 megapixels can be used for video calls: With it, users can communicate with each other, such as Skype.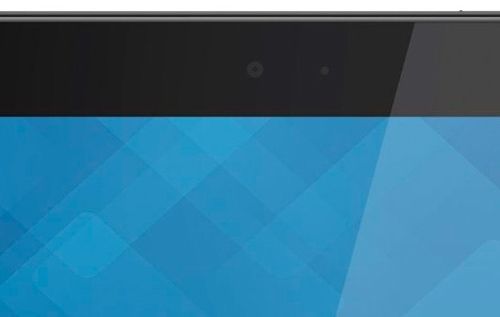 Say that a rear camera has a specific mandate, it is impossible. In this case, it boasts autofocus and a resolution of 5 megapixels, which, incidentally, can often be found even in much more expensive models. You can use it to make quick shots, especially when the camera is not at hand, but high quality requirements should not present a photo.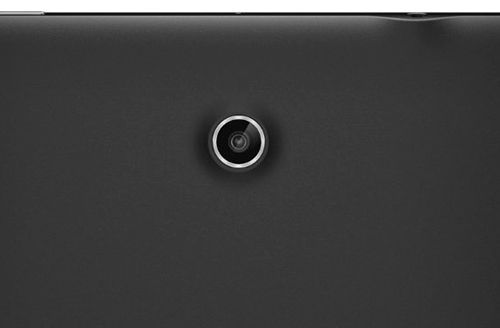 Dell Venue speaker 8 is on the bottom, and with a noticeable shift to the right. The disadvantage is that it can inadvertently cover hand, in landscape orientation, and in the book, which can significantly reduce the volume, which, in general, very good, as for the tablet. But, unfortunately, at maximum volume is still audible wheezing. But by and large, of the speaker should be quite sufficient for gaming, video and music playback. If not enough, you can use an optional headset as headphones.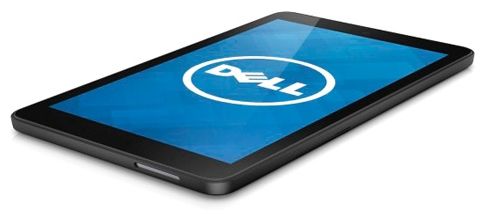 Keyboard Dell Venue 8
In some models, the tablet with the device and provides a docking keyboard, but our hero can boast only virtual. Those users who have been exposed to the operating system Android, nothing new here not see. If you work with the OS first, then deal with the keyboard there is no trouble, all intuitive. If necessary, you can always change the language, select the letter or digital layout, etc. By the way, users are three touch buttons on the screen: "Return", "Home", "Menu". More than any buttons on the front panel is not provided.
Performance Dell Venue 8
Dell Venue 8 is available to users in two trim levels, which differ only in internal memory, and they include the following features. First of all, is an operating system Android 4.2.2, which, in addition to ease of use, provides an opportunity to use gratuitously store Google Play. As the processor supports dual-core Intel Atom Z2580, the clock frequency of 2 GHz. Hyper-Threading technology can handle 4 simultaneous data stream, which has a positive effect on the efficiency of the processor. Additionally, we note that it is powered by 32-nm process technology, has 1 MB of cache memory, and power consumption is 3 watts.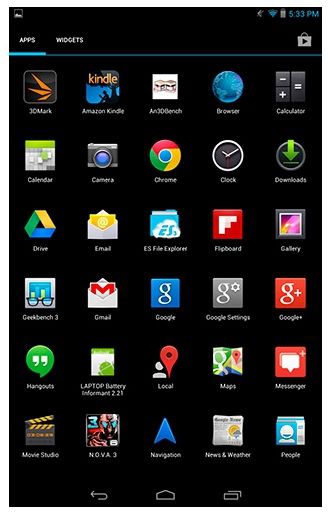 Graphic processing is fully vested in the integrated graphics PowerVR SGX 544MP2, which is the operating frequency of 533 MHz. This accelerator shows quite good results for both graphics tablet. And tandem Intel Atom processor and this card is much higher than that was quite popular among tablets MediaTek MT8125.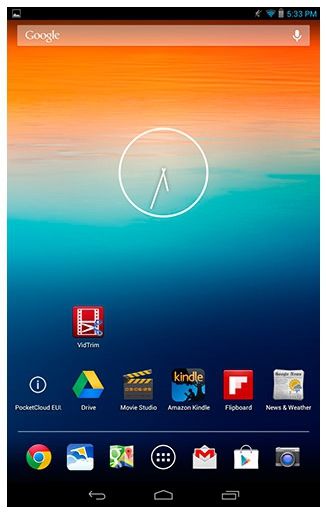 RAM is available in 2 GB standard DDR2-1066 MHz, and built-in – 16 GB or 32 GB, but thanks to a microSD memory expansion slot that figure can be increased.
Ports and Communications Dell Venue 8
As part of the plate interface Dell Venue 8 can be compared with a younger model Dell Venue 7: their location and the number of identical, the only difference in the dynamics, which in the first case is just right. Right end is able to boast memory card slot for SD / SDXC / SDHC, which is hidden under the permanent cap. In models with 3G-modem and here is a slot for the SIM-card.

Left – Port Micro-USB 2.0 (HOST / OTG), as well as an oblong volume rocker. By the way, thanks to the support HOST / OTG device can be charged and connecting it to other gadgets.

At the top of the power button located tablets built-in microphone, as well as a combined audio jack.

In the lower part there is only a speaker located closer to the right edge of the tablet PC.

Note and wireless communications: Wi-Fi 802.11 a / b / g / n, Bluetooth 4.0 and GPS. In addition, optional module available 3G. Of the sensors has an accelerometer, a gyroscope and an ambient light sensor. Recall that the accelerometer is responsible for the ability to change the orientation of the tablet, play games. Gyroscope determines the accuracy of movements in the same games (for example, the slope of the tablet right turns in the same direction as the car races, etc.). Well, the light sensor adjusts screen brightness required in specific circumstances.
Battery Dell Venue 8
Here also, there is complete identity with the Dell Venue 7: tablet equipped with a battery capacity of 4100 mAh which is (15.5 Wh). Gadget charging 10-watt power supply. Well, according to this indicator, we can conclude that the younger models autonomous figures are somewhat better than the older, given a more compact screen and less powerful processor.
However, despite this, Dell Venue 8 can work for a long time without recharging, and therefore perfect for long walks. In particular, watch movies without recharging get about 7 hours on maximum brightness, but with games the result is somewhat worse – about 3 hours.
Conclusion Dell Venue 8
Given that Dell has announced the launch of the tablet market once the four models, there is nothing surprising in the fact that they are very similar to each other. The main difference lies only in the diagonal of the display, operating system and filling – the more powerful the older models, and weaker at younger.
Dell Venue 8 has proved decent enough tablet PC with average characteristics. This gadget – an ideal purchase for mobile young people who need the tablet to surf the web, play and perform simple tasks. In principle, this is what is intended any tablet. So what's the point of paying more, selecting a device status when this tablet is equipped with a convenient display for many 8-inch, good hardware components required ports and wireless communications? Choosing Dell Venue 8, you get a great functional device, so even for the low price.
Read another very interesting article about alternative energy of the Sun, water and air.