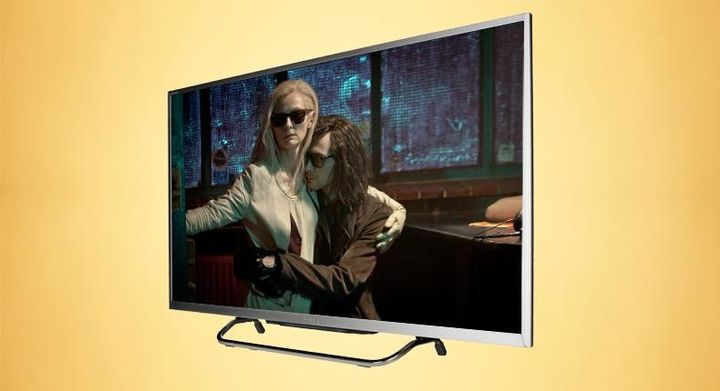 The main trend this year – permission. We're not talking about the fact that you can expand the diet, but a luxurious new TVs. Buying a TV – a risky business, but we have carried out for you all the preparatory work, picking up the best models in each price category.
32-inch Sony KDL-32W706B $ 500
Demand for large TVs (with a diagonal of 50 inches) is growing every year, but the small TV and do not lose popularity. Not everyone will have enough space for the bulky monster, and even if you are of the lucky ones, Sony may be useful to you for a second room.
Unlike many competitors in the equivalent KDL-32W706B applied panel with Full HD resolution and a matrix size of 1920 × 1080 pixels. This model Sony exclusively balanced picture and realistic color – be it skin tones, bright colors or monotonous faded objects. In addition to high-contrast detail worth noting a bright white color and deep blacks. Benefits panel with the original Full HD become apparent if you look closely at the transfer motion. And good material in standard definition. And essential TV and film "Die Hard 2" from the DVD impressive balance and precise detail.
As with all models of Sony, ergonomics in this TV at height – including colorful and logical application SideView, much more comfortable than the standard electronic program. In KDL-32W706B multiple connections. Service Sony Entertainment Network is responsible for the "smart" content, programs delayed viewing, video on demand and so on. Externally, this TV is very good; his thin tapered frame with elegant metal or silver trim immediately sets it apart from the usual black plastic TV. And even the sound is much better than most rivals.
KDL-32W706B – the undisputed leader in this popular size range.
In terms of figures
Diagonal: 32 inches
The matrix size: 1920×1080 pixels
HDMI-inputs: 4
USB-Ports: 2
3D: No
Dimensions (VSHG): 43x73x6 cm
Weight: 7.9 kg
40-inch Sony KDL-40W605B $ 750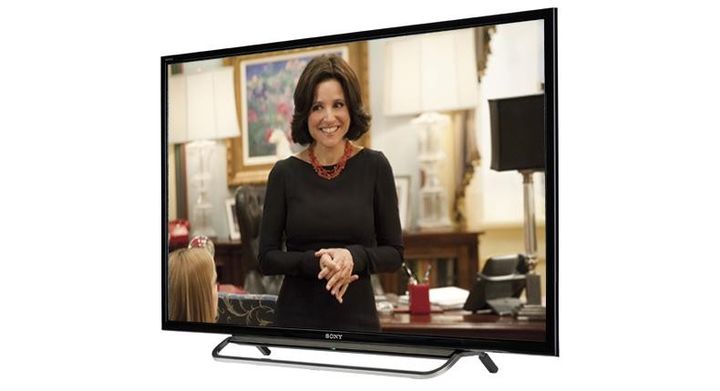 In the segment of the TV with a diagonal of 40 inches over the past few months there were many different models. Facilities and quality of TV in this price range has never been so high. Why we chose Sony KDL-40W605B?
This TV gives the impression immediately after unpacking. Even before go into the General Settings menu, you will appreciate the energy and elaborate images. Even the darkest scenes full of details, even the most vivid scenes are full of the finest halftones. The color palette – the rich and lovely, but it is completely natural, skin tones especially convincing. Motion is transmitted stable, clear outlines. All these advantages are not unique content with a resolution of 1080p, but also requires scaling.
Ergonomics and a set of connections KDL-40W605B would look great in any price range, not to mention so modest. In the list of inputs – four HDMI, two USB-ports, a built-in Wi-Fi and a digital HD-tuner; network connection provides access to the magnificent portal Music and Video Unlimited and services such as Netflix, iPlayer, YouTube, and many others. Remote control – nice and logical, on-screen menu – clear and detailed. The sound is not quite perfect, but much better than most flat-panel TVs; it conveys highly detailed, as well as the purity and clarity of the vote.
Excellent image, functionality, usability, appearance, workmanship and very good price – due to these advantages of the Sony TV has become the most interesting in this size category.
In terms of figures
Diagonal: 40 inches
The matrix size: 1920 × 1080 pixels
HDMI-inputs: 4
USB-Ports: 2
3D: No
Dimensions (H × W × D): 56 × 93 × 9 cm
Weight: 7.9 kg
48-inch Samsung UE48H6400 $ 720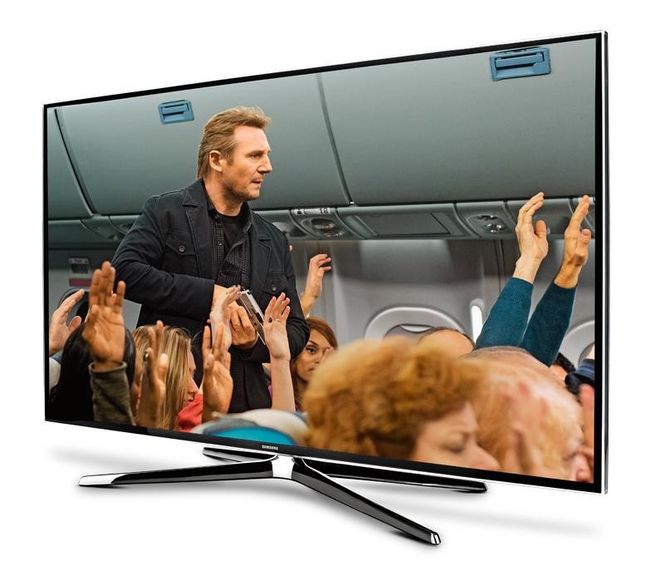 Where to begin the test? Winner of the award, the winner Super test, "Product of the Year 2014" – these are just some of the awards, which Samsung UE48H6400 awarded in recent months. So our today's review of the best TV of the world would be incomplete without this truly stellar model.
Crisp, clean, extremely detailed images (especially in HD-formats), a surprisingly high quality for this price range, captivates from the first moment. The impeccably balanced color palette of different depth, sophistication and vigor.
Excellent contrast and minimal noise emphasize a high quality of work of active 3D-system Samsung. In standard definition (DVD or ester transfer) UE48H6400 heroically monitors the noise level and provides a smooth motion.
Impressive looks like everything but the views on the claw-like stand apart, but all will appreciate the large number of connectors, smart features, remote controls, quality 3D and more.
The range of services timeshifting most competitors is limited; Samsung has a lot of them – BBC iPlayer, 4oD, Demand 5 and a rare ITV Player.
And even the sound is pretty good – is not often you can say about the flat TV, regardless of its price.
Samsung TV will give odds to any of our competitors; to its detailed and natural picture attached tempting price. In this price range and with a diagonal measurement of this you will not find anything better.
In terms of figures
Diagonal: 48 inches
The matrix size: 1920 × 1080 pixels
HDMI-inputs: 4
USB-Ports: 3
3D: Active
Dimensions (H × W × D): 63 × 109 × 5 cm
Weight: 11.9 kg
55-inch Bang & Olufsen BeoVision Avant 55 $ 9700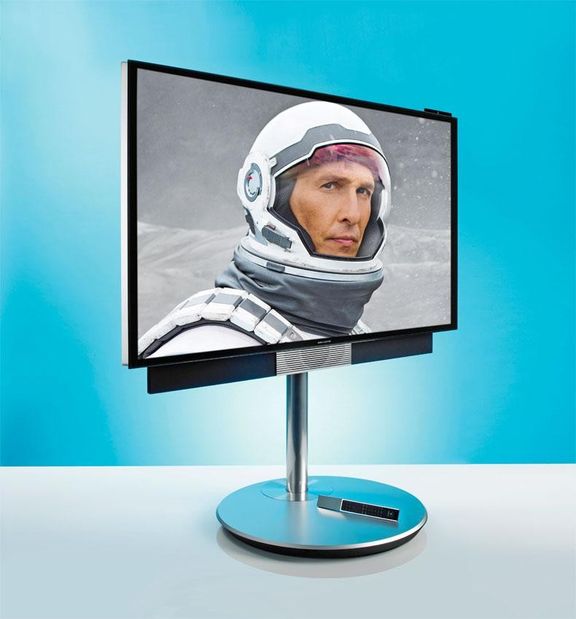 There are premium class, and is the true luxury. We think this concept is associated more with the feelings that the product is in its holder, as well as the quality of his work (including a great image). And in this respect Avant 55 can give a hundred points to all its premium competitors.
This 55-inch TV can be one of the samples 4K-technology, but to fully appreciate its splendor, it is necessary to familiarize with all its attributes. Stylish metal casing looks very attractive. Aluminum remote control – thoughtful, powerful and balanced. In comparison, many others are asking straight to the basket.
After installing Avant, 55 to the desired position on the elegant motorized swivel stand (it will add to the price another $ 2300) it goes down the AC. In fact, it's built soundbar with eight speakers and amplifier with 60 watts; its sound disgrace virtually all other flat TV. It even has a built-processor surround speakers distributing signals.
It is sad that 55 Avant not support 4K content from Netflix, but also ordinary HD- and SD-video it looks amazing. This is one of the coolest, high-quality and exciting TV that we have seen.
In terms of figures
Diagonal: 55 inches
The matrix size: 3840 × 2160 pixels
HDMI-inputs: 6
USB-Ports: 2
3D: Active
Dimensions (H × W × D): 71 × 129 × 10 cm
Weight: 55 kg
55-inch LG 55EC930V $ 2600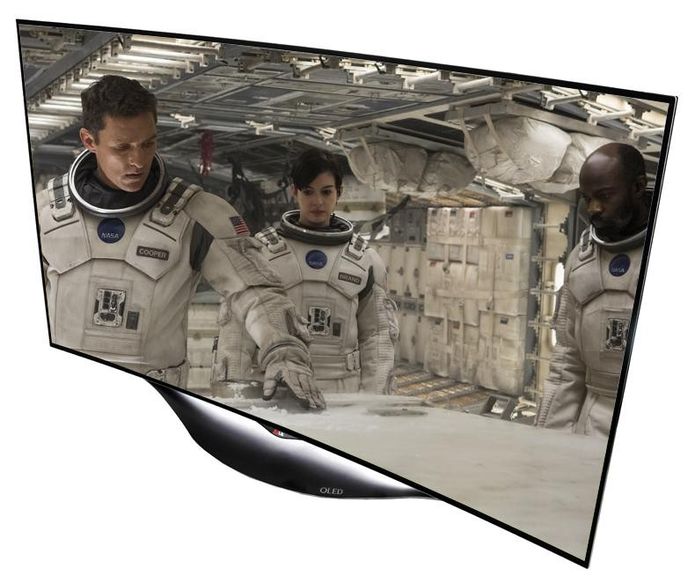 Just a year ago for $ 10,000, you could buy a TV, markedly inferior to LG with its curved OLED-screen TV. Today, a quarter of that price you can get the trendy device. As a result of these simple calculations, your hand itself will be pulled from his pocket, and the image quality will further strengthen your resolve.
LG 55EC930V – a magnificent example of modern TV, and it becomes clear before turning it on. Whether you believe in the benefits of a curved screen in front of a flat or not, one can not deny that he was very handsome. Frame extremely narrow, and OLED-screen – unusually thin.
Another of the advantages of OLED – is the lack of illumination that produces very deep blacks, like a plasma TV, without blurring shaded objects: they are extremely detailed, contrast, extremely high. Picture the LG is very clean and almost devoid of noise. Energetic white and bright colors immediately catch the eye; even without switching to the 3D image is literally "out" of the curved screen to the viewer.
The kit includes two remote control: the standard "shovel" Magic Remote and fun in the form of a banana, to control the cursor on the screen by detecting movement of the wearer. WebOS, platform Smart TV – one of the most comfortable; it lacks only support resolution 4K. But when you consider that the content in this format is still very small, and the beginning of his translation is not yet defined, it is not such a serious drawback. For those who prefer a full immersion, LG will present a rare combination of technology, quality and price.
In terms of figures
Diagonal:, 55 inches
The matrix size: 1920 × 1080 pixels
HDMI-inputs: 4
USB-Ports: 3
3D: Passive
Dimensions (H × W × D): 72 × 123 × 8 cm
Weight: 14.4 kg
55-inch Samsung UE55HU7200 $ 1580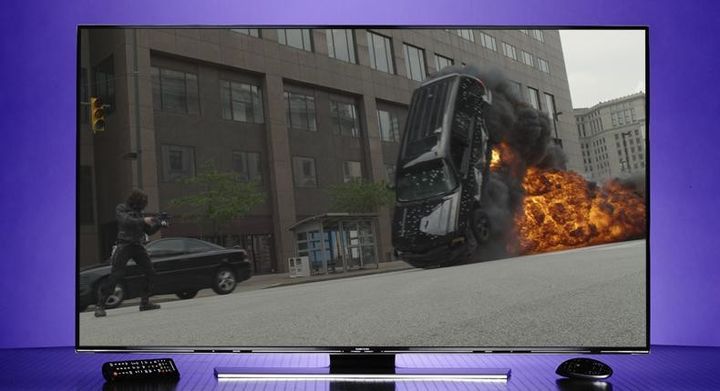 To evaluate all the splendor of this TV standard 4K Ultra HD, you do not need a hundred percent vision. And do not have to turn out his pockets at the Samsung UE55HU7200 more than affordable price.
55 inches – a serious diagonal size, but not overly large. Once the TV has received awards last year, its value has decreased. But the main difference from competitors – not the price, and effective combination of image quality and workmanship, online features, design, and ergonomics.
Naturally, it is best to look the material in its original format 4K and streaming content from Netflix. All the most important characteristics of the image (contrast, color palette, detail, clarity circuits) are flawless, the motion is transmitted very smoothly; picture UE55HU7500 fully captures the viewer. 4K-TVs have to spend a lot of effort to scale content in Full HD and even more so in standard definition, but the Samsung admire coherence and cogency: picture with Blu-ray-discs in 1080p gorgeous, ethereal TV – very good.
Facilities UE55HU7500 is consistent with price range: 3D ( a pair of active shutter glasses included), 4 HDMI-connector, three USB-ports, thoughtful five-page interface, satellite and digital HD-tuners – in short, everything you need. Like most flat panel TV, Samsung can not boast particularly full and exciting sound, but with this trouble can be overcome with the help of the soundbar, sound stand or 5.1-channel system. Believe me – it's worth a great image.
In terms of figures
Diagonal: 55 inches
The matrix size: 3840 × 2160 pixels
HDMI-input 4
USB-ports 3
3D Active
Dimensions (H × W × D): 71 × 123 × 4 cm
Weight 18 kg
65-inch Samsung UE65HU7500 $ 3000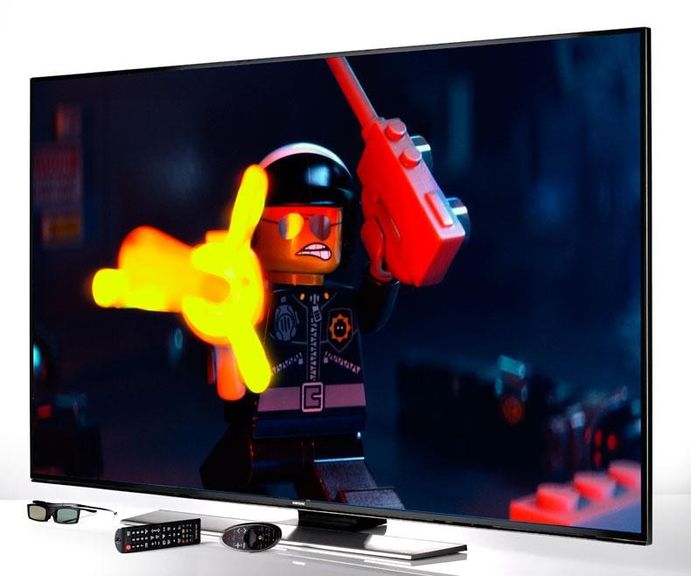 TVs with a curved screen like not all. If you are looking for a new flat TV with support for 4K and with a diagonal of 65 inches, the best choice – it's Samsung UE65HU7500. We tested this model in August last year, and it was the first 4K-TV, we have received the highest score.
Some similar models focus on a picture in 4K, some sacrificing picture quality in Full HD and SD. However, Samsung has managed to provide the perfect balance. All eight million pixels of the content in its original format 4K find the best use; series "Breaking Bad" with the portal Netflix delights texture of objects. The image is clean and clear, with a minimum of noise. Color perfectly balanced, they became less flashy than previous models of Samsung. However, the picture can not be accused of excessive and restraint; She is very energetic, but not enough to bother my eyes. Image in HD – as clear and detailed. The film "American Hustle" on Blu-ray-drive quite charming. Liveliness and brightness of the picture are combined with natural and convincing tones. Highlighting smooth, black color is excellent.
In addition, Samsung TV is nice and easy to deal with. He has two remote control, including "smart" to control the cursor by using the motion sensor. He is responsive and pleasant to use. The Range of smart features impressive; they can be controlled by means of a convenient and elaborated menu system, access to on-demand content and paid services – simple and fast. This is a sample of first-class television.
In terms of figures
Diagonal: 65 inches
The matrix size: 3840 × 2160 pixels
HDMI-inputs: 4
USB-Ports: 3
3D: Active
Dimensions (H × W × D): 83 × 145 × 4 cm
Weight: 24.6 kg
65 inch Sony KD-65S9005B $ 5400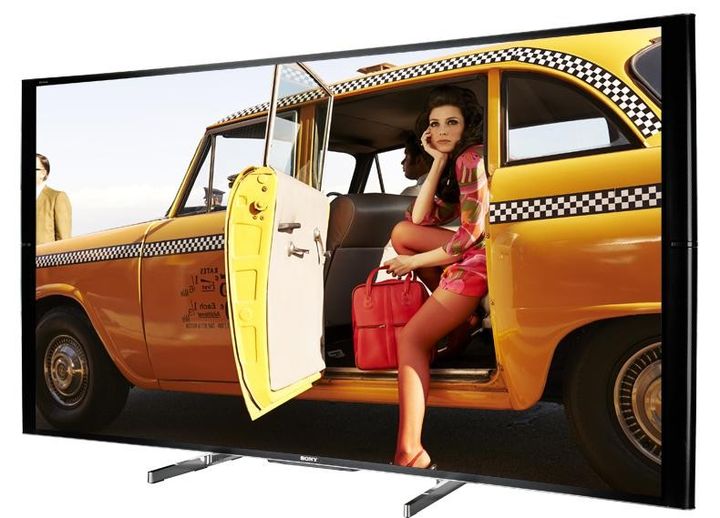 Sony has released in 4K-sector curved TVs late, but this beauty was worth the wait. This TV slightly smaller bend over competitors; this was done in order to improve the picture when viewing at an angle or distance. With a normal distance, it seems almost flat. He has a very effective design, and the curvature of the screen stylishly combined with rounded ends.
Rounded sections at the ends of the TV – it really sets the speaker, and thanks to them KD-65S9005B boasts excellent sound quality. He is able to process the signal in Dolby Digital and DTS independently and provide virtual surround sound on the built-in 4.2-channel system. It creates an impressive spacious sound – weighty and vigorous, with accentuated dialogs in the center of the acoustic field. All these innovations would be useless if the image quality was average, but the picture Sony deserves the loudest epithets. 4K digital content from Netflix is great. Incredibly high detail, clarity, and realism – is beyond praise. The series "House of Cards" seems a fragment of real life. The colors are rich and natural; deep blacks and bright, vibrant white dynamically fit together.
Transfer movement has always been strong point models Sony, and KD-65S9005B not behind fellow: fast moving objects can be seen clearly and precisely, long spans of the camera – a stable and clear. And Blu-ray-discs, and television with HD-channels are very good.
This is an extremely high-quality TV, a cut above the average 4K-model. Consider curved screen just as a nice bonus.
In terms of figures
Diagonal: 65 inches
The matrix size: 3840 × 2160 pixels
HDMI-inputs: 4
USB-Ports: 3
3D: Active
Dimensions (H × W × D): 87 × 156 × 12 cm
Weight: 40.7 kg
Read another very interesting article about alternative energy of the Sun, water and air.