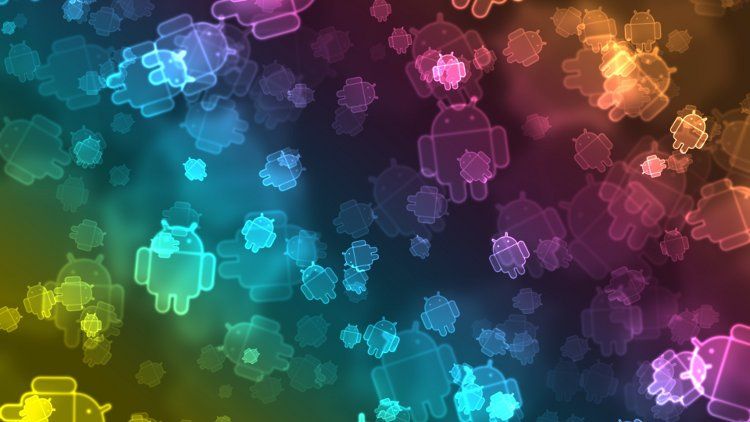 LG G3 and Moto X 2014 were among the most attractive devices of the season, and their comparison, of course, interesting to anyone who close high technology. Both smartphones are great, but which of them is better? The answer depends on what the user needs. Moto X is sometimes called the best Android-smartphone.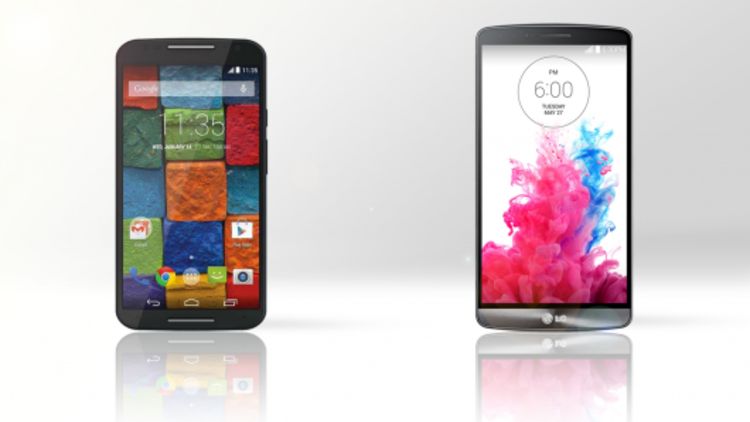 Browser resource Gizmag has set a goal to compare phones on their most important characteristics and made ​​a wonderful selection of illustrated to demonstrate the capabilities of both devices. Their specifications are widely known, so basically provides comparative indicators.
Size – Moto X 2014 or LG G3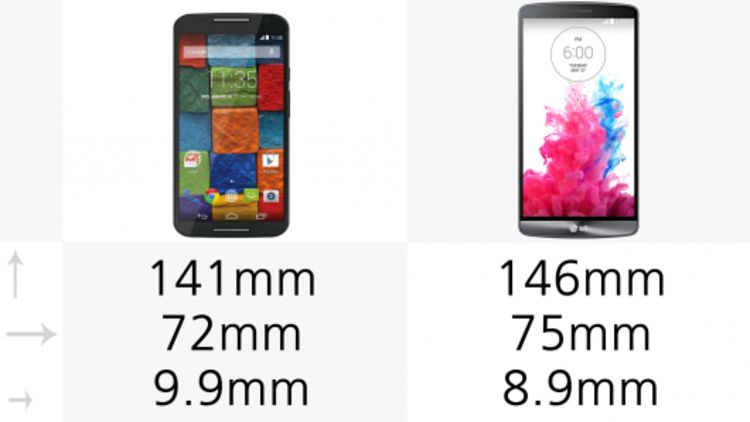 G3 by about 4% higher and the same amount larger than his opponent. Thus, the flagship of LG somewhat larger smartphone Motorola, and its curved back panel allows you to keep it in his hand with a high degree of comfort. Both the thickness of the device in slightly less than one centimeter, wherein Motorola X 11% thinner than the G3.
Weighs – Moto X 2014 or LG G3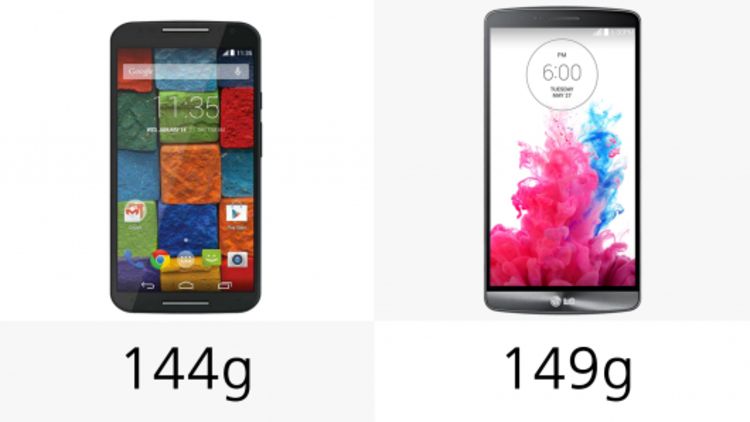 LG G3 while only 3.5% more than the Motorola X 2014.
Assembly – Moto X 2014 or LG G3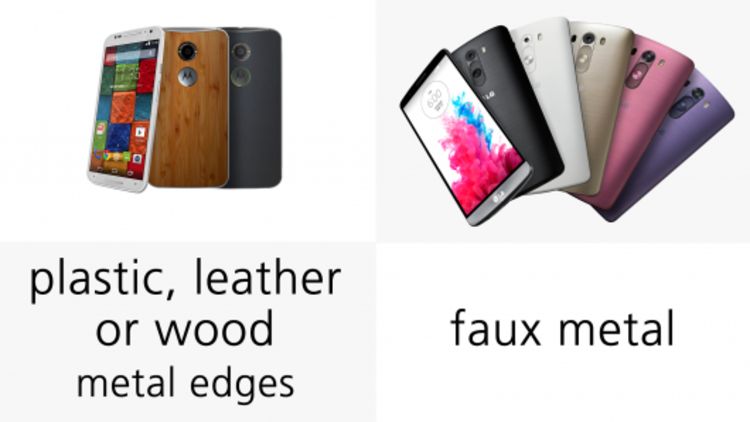 G3 housing is made ​​of plastic with a metal trim. This approach adds to the assembly devaysu feeling of solidity, but, of course, not as much as the metal casing of some smartphones , which are considered to be perhaps the most important sign of the premium device.
Motorola offers a choice of rear panel made of plastic, wood or leather. Around the device – a metal rim. Metal or wooden back panel significantly increases the price of Motorola X.
Colors – Moto X 2014 or LG G3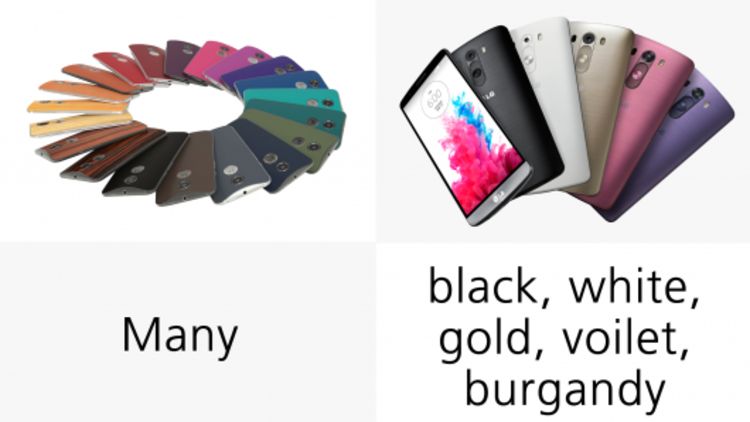 Choose colors G3 lot, but Moto X is far ahead of him in this respect, providing the user with a huge variety of choices of external registration number, available through the service Moto Maker.
Screen size – Moto X 2014 or LG G3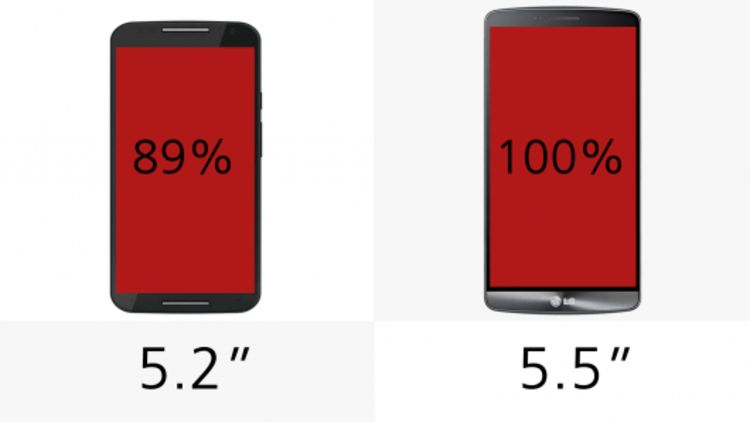 G3 has a 5.5-inch display, and while Motorola X display is also quite large, actual size of the screen G3 is 12% higher.
Screen resolution – Moto X 2014 or LG G3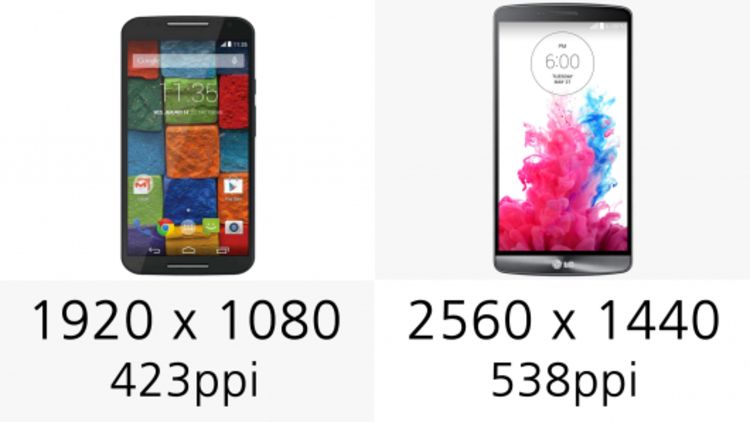 Device LG has Quad HD-display with an incredibly accurate transfer of images, offering users a 27% greater density of pixels per inch than the Moto X.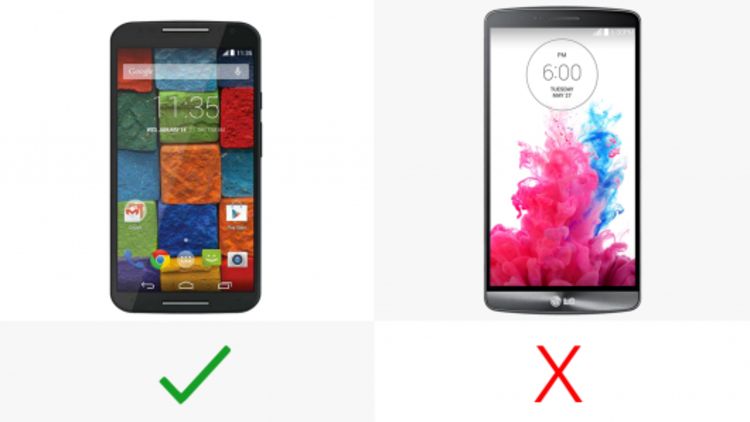 Motorola Active Display in the display of Motorola used Super AMOLED-panel, allowing the company to call it Active Display. When the screen is turned off when you receive notification, the screen is able to highlight only those pixels that are needed to display the received notification. This allows you to not to include the entire screen, in order to check the notice.
Camera – Moto X 2014 or LG G3
According to the "megapixel" main and front camera both phones are almost identical: 13-megapixel camera on the back and 2.1-megapixel (in G3) and a 2-megapixel (with Moto X 2014) front camera. But megapixels does not always determine the quality of the camera. Some Soup have cameras that can not boast high "megapixel", but at the same time provide an excellent survey. Examples include the camera HTC One M8, as well as Apple iPhone 5s, 6 and 6 Plus, the distinctive characteristics which are also their aluminum enclosures.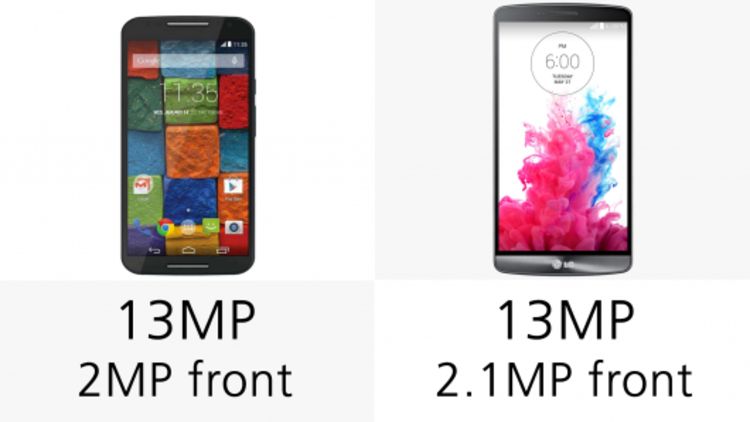 Moto X camera can be activated even when the screen is off movement, reminiscent of the opening of the doors.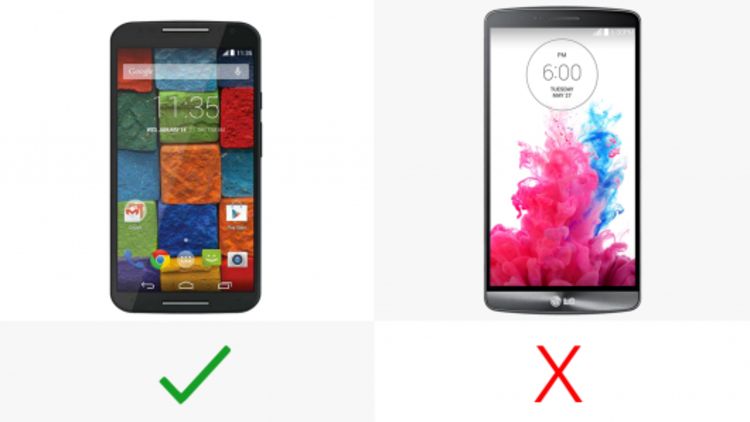 Laser autofocus camera – Moto X 2014 or LG G3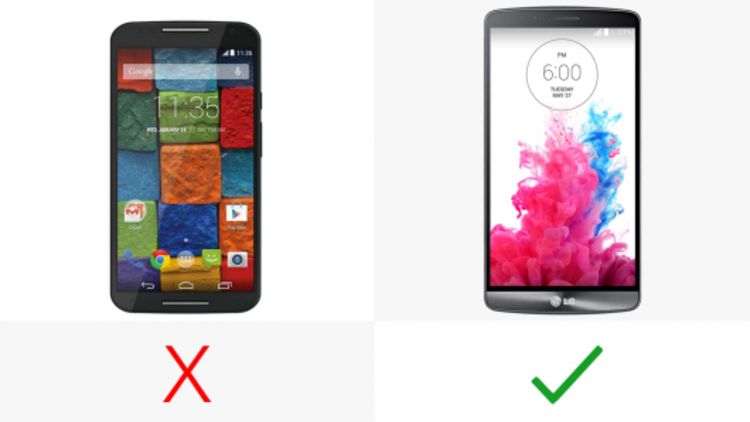 LG G3 defines the distance between the lens and those who are or what you're shooting, allowing to carry out the auto focus. Tapnuv on the display, it is possible to carry out the focus of the image, followed by a survey. This is one of the most remarkable qualities of this camera smartphone.
Watertightness – Moto X 2014 or LG G3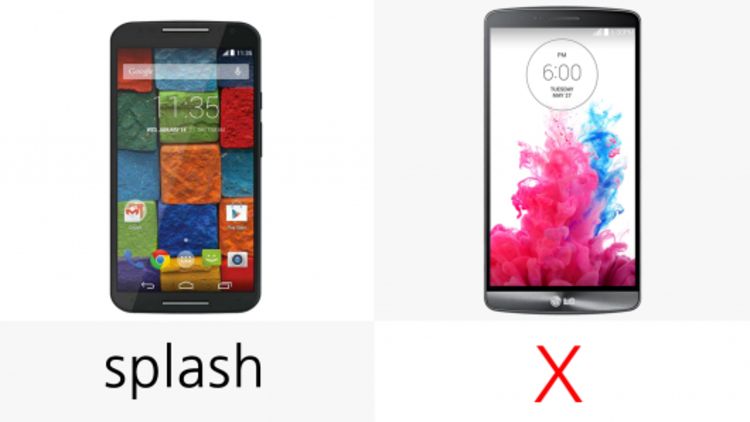 Both do not possess, but Motorola X is not much afraid of water spray. However, wash it with water does not follow.
Unlock – Moto X 2014 or LG G3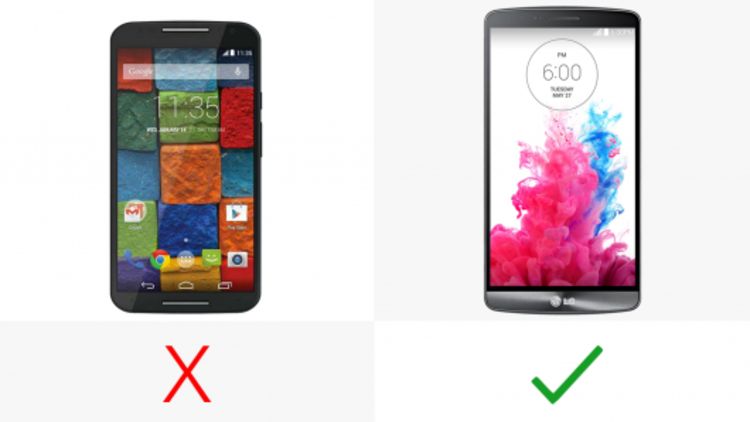 You can unlock the smartphone LG G3, tapnuv on the screen before the prescribed manner.
Generator of infrared signals – Moto X 2014 or LG G3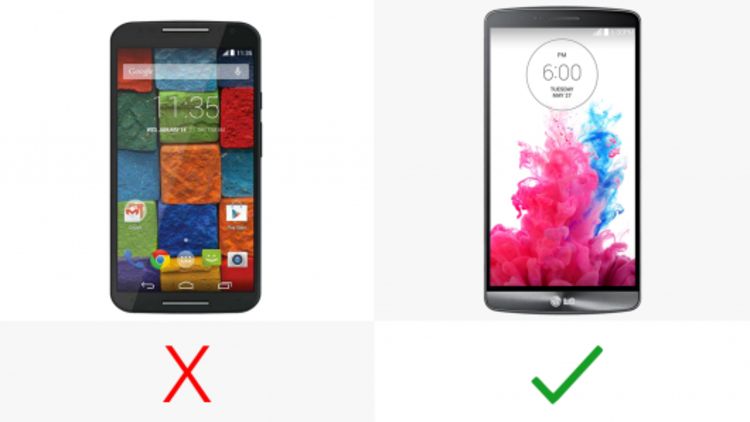 G3 has it and can be used as a remote control for the TV or set-top box.
Battery – Moto X 2014 or LG G3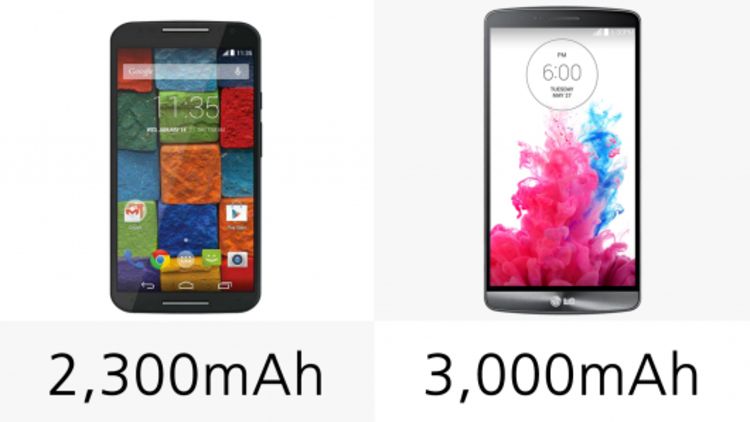 Battery G3 is much more capacious than the one which comes with Motorola X. This is due to a larger screen with a higher resolution.
Processor – Moto X 2014 or LG G3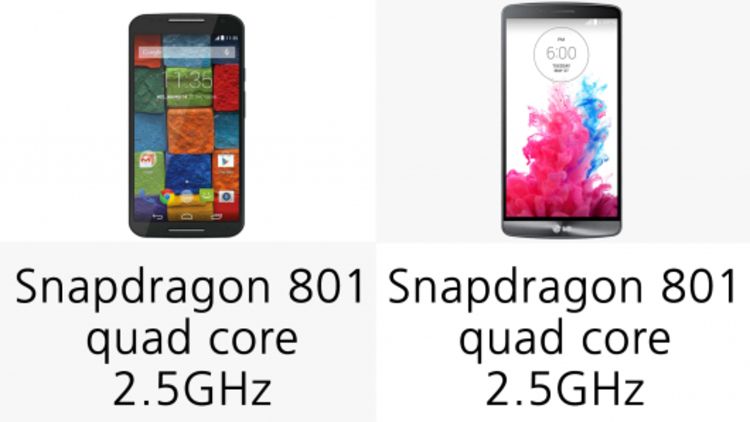 Devaysa Both are based on the same powerful quad-core chip.
RAM – Moto X 2014 or LG G3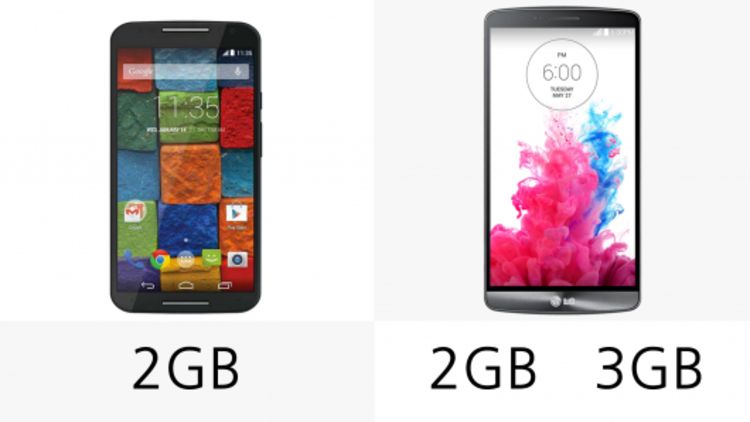 G3 RAM capacity depends on the size of the drive. 32-gigabyte model comes with three gigabytes of RAM, and 16-gigabyte – two as Motorola X.
Drive – Moto X 2014 or LG G3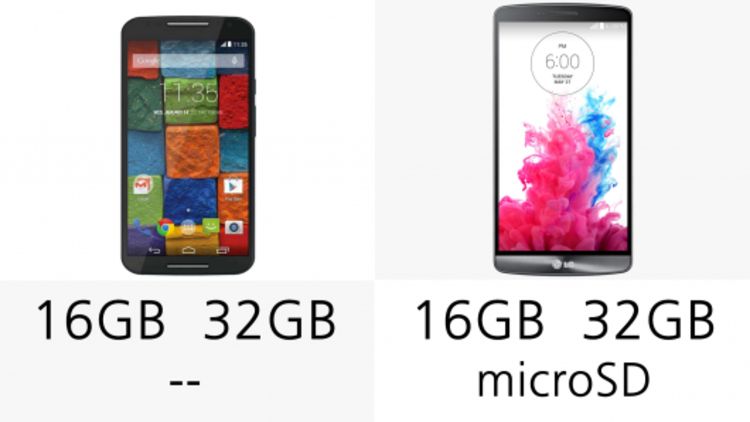 Out of the two phones LG G3 only has a slot for memory cards microSD, which is also and Samsung Galaxy S5.
Software. Motorola X is based on almost pure Android. Motorola has made only minor changes that extend the functionality of the operating system.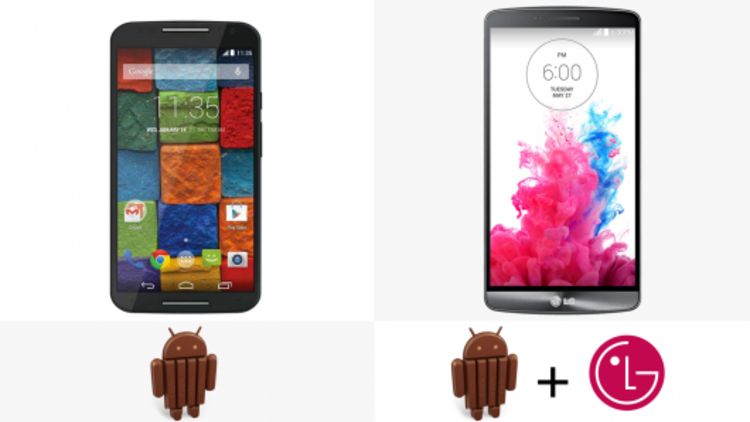 LG G3 is based on Android with a shell from LG with customizable settings menu and pop-up when a message is interactive notifications. In LG G3 observed minor lags, which are easily eliminated selectorbox Android Runtime (ART) instead. However, this option is intended for developers, and users should think carefully before you apply it. When experts Gizmag tested device, this change does not violate the stability of the software, and yet it must be remembered that this is not intended to change by the user.
The minimum price – Moto X 2014 or LG G3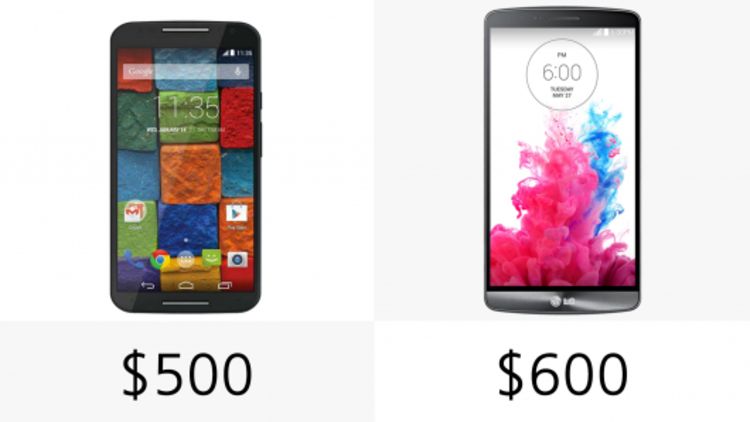 G3 in the United States is worth from $ 600, while in the Moto X will cost $ 500 when it comes to the minimum configuration device.
Which of these smartphones, you would call the flagships most attractive? What is the quality of each of these phones do you think the main argument in its favor?
Read another very interesting article about alternative energy of the Sun, water and air.