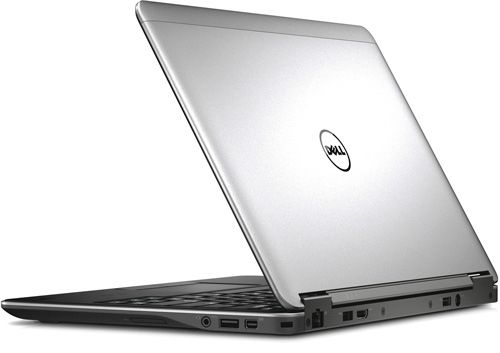 Dell Latitude E7240 is an ultrabook oriented business segment. This means that, even without seeing it even once, you can draw some conclusions, for example, that, most likely, it is very thin and light, and it can carry all day. Also, it can be assumed that the design has no flashy elements predominate classic colors with a modest design. In general, it's all really about this laptop.
Note that in addition to the hero of this review, Latitude line has expanded another model – E7440. Unlike the E7240, he has a diagonal display of 12.5 inches and 14 inches. Also, both the laptop meets military standard MIL-STD-810G, so you can not worry about spilled liquid on the keyboard, falling from a low altitude, extreme temperatures, vibration, rain, etc. In short, the new items are not afraid of anything!
Design – Dell Latitude E7240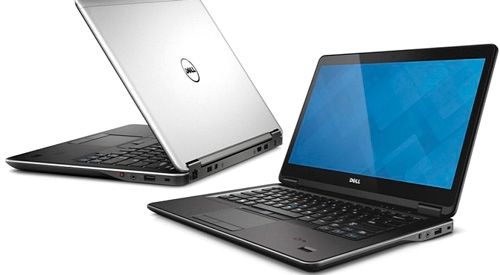 The design of the Dell Latitude E7240 is nothing special, however, much of it attracts and catches the eye. Its lid is made of textured silver aluminum looks quite classic and strictly.
Inside, on the contrary everything is made of matte plastic, painted black, but it is a pleasant and visually and to the touch. Along the perimeter of the screen are moderately broad frame, the top of which you can see the eye of a webcam.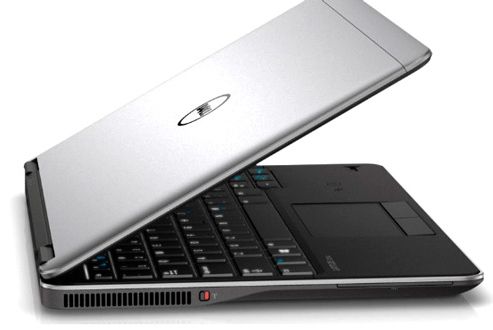 The keyboard is a traditional, two-level, key usual size for most users. Under it there is a sufficiently large touchpad for 12.5-inch device. Also, in some trim levels can be seen attribute many business notebooks – fingerprint scanner.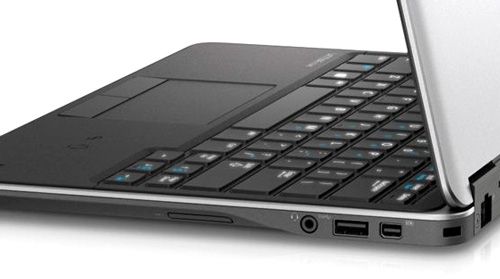 The bottom is also plastic, but, unfortunately, not soft-touch. It is possible to see a large battery compartment, a connector for a docking station and air vents for cooling. After removing the battery and cover the bottom, you can access memory (2 slots), wireless module and SSD. The device weighs 1.36 kg, and dimensions – 310h211h20 mm. In principle, they can be regarded as the averages for this form factor, ultrabooks. On the practicality of this laptop does not make sense to complain, it is not easily soiled, scratches on it also practically invisible. Furthermore, when using even active, no deflection as a keyboard and a screen. All collected firmly and accurately.
Display and sound webcam – Dell Latitude E7240
By and large, the screen – this is one of the most important elements of any device. It determines how comfortable the user will work, sit on the Internet, play games, watch movies, etc. Belonging to the laptop business segment involves the use of it for business purposes, and, therefore, regularly and often. What opportunities Dell offers its potential buyers? Very, very mediocre: Latitude E7240 diagonal display is 12.5 inches, it is matt, with a very low resolution – only 1366×768 pixels, but with anti-reflective coating. If the matte finish all clear – this is without a doubt, plus, the resolution is puzzling. Such permission is simply surprising: in fact, while other manufacturers are actively implementing their devices resolution is much higher, and even Full HD already seems rather weak, Dell engineers continue to implement the good old HD.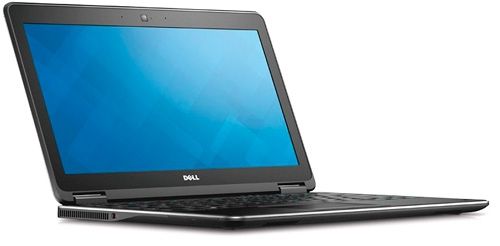 As might be expected, viewing angles Dell Latitude E7240 rather weak. Color reproduction is poor, as well as contrast. Brightness is slightly better, but in conjunction with all of these factors and it does not save the situation. So, enjoy, for example, the colorful film the user is unlikely to succeed: many colors are transmitted implausible, and the display will always have to adjust to not clearly see the inversion. However, we note that there is a configuration with a higher resolution – 1920×1080 pixels, and in this configuration provides sensory input.
In the frame of the screen is the HD-camera (720p), which is suitable for video, in particular, with partners, colleagues, friends or family. Photos taken with it, unfortunately, disappointed with its quality.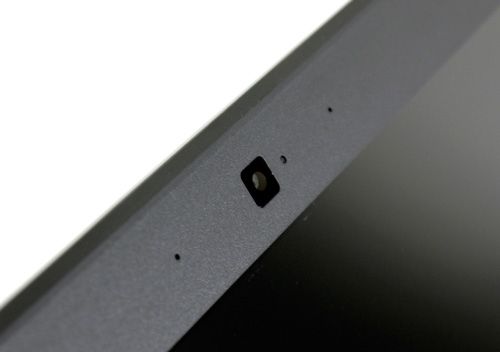 As for the sound, then to him no major complaints. Yes, it is not perfect, however, and do not multimedia laptop. For its segment sound is at the proper level, in any case, for video and communication will be sufficient. But during the presentation will be more rational to connect external speakers.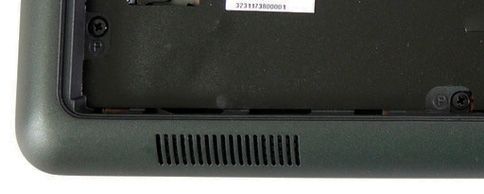 Keyboard and Touchpad – Dell Latitude E7240
The keyboard in this case is not an island, and nothing special stands out. As for the 12-inch Ultrabook, it is big enough, and keys – large. Marking buttons – white, extra functions on the keys marked with blue paint. All the important buttons for your operation, such as [Enter], [Backspace], both [Shift] – elongated and incredibly comfortable when pressed. A switch block, surprisingly, are not the smallest, although at such compact devices is a rarity. There are lights with four levels of brightness, which is activated by the key combination [Fn] + [→], which is traditional for Dell. Nampada, of course not. The key travel – very soft, they are pressed softly. In short, the print – it is a pleasure.
Above the keyboard on the left just under the loop are three very small keys that govern the sound: louder, quieter off. On the right side you can see the oblong also very compact button on the laptop, illuminated LED, and three indicators: switching ON of wireless networks, the hard drive activity and battery status indicator.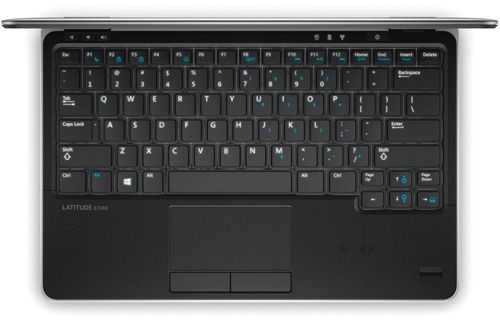 On-site for hands well under the space located touchpad. It has a familiar look, because there are two physical keys, while many manufacturers confidently continue to follow newfangled trends hiding mouse buttons below the general surface. Touchpad works quickly and accurately, supports multi-touch gestures. Function keys are pressed gently, and even something as unusually soft.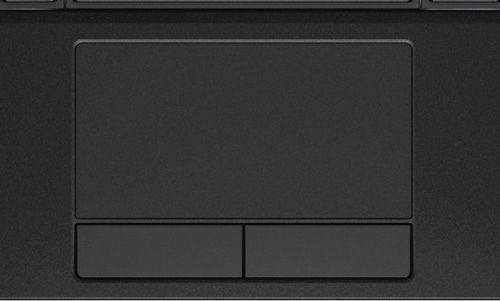 In some trim to the right of the touchpad has a fingerprint reader, which is more preventive function: it protects your personal data from unauthorized access.
Performance – Dell Latitude E7240
The operating system in Dell Latitude E7240 CA016RUSSIALE72406RUS installed Windows 7 Professional. Dual-core processor Intel Core i5-4300U generation Haswell is clocked at 1.9 GHz, while it may be possible to increase to 2.9 GHz mode Turbo Boost, and thanks to the support of multithreading technology Hyper-Threading two cores can process four threads simultaneously. The processor is built on 22nm process technology, cache level 3 is 3 MB, and the maximum level of a TDP of only 15 watts. As we already mentioned, Dell Latitude E7240 can be purchased in other equipment, such as a processor Intel Core i5-4200U.
Responsible for the graphics integrated graphics Intel HD Graphics 4400, clock rate, though low, only 200 MHz, but it can be increased up to 1000 MHz, thanks to technology Turbo Boost. It supports DirectX 11.1 and Shader 5.0. The performance of this graphics card can be compared with a discrete AMD Radeon HD 7610M. In the game you can also play with the proviso that they are not very demanding and released a couple of years ago. For example, with a native resolution on medium settings, you can play in Sleeping Dogs, the number of frames per second will then be 26 fps. Under the same conditions the game Dead Space 3 will go with 27 fps, and even Mafia 2 will fly (more than 30 frames per second).
Ultrabook is equipped with 8 GB of memory standard, DDR3L-1600MHz – 2 strips 4 GB each, which operate in dual channel mode, the maximum possible amount is 16 GB. 128 GB SSD-drive is used to store information. It allows you to quickly load the operating system and in a matter of moments to cope with the load application. In addition, in the case of a solid-state disk, you can not worry about the damage of information, because there are no moving parts. Incidentally set Latitude E7240 traditional hard drive is simply not possible, it is too thin for that.
Ports and Communications – Dell Latitude E7240
But that clearly pleased – it ports them in this notebook a sufficient amount. And they are very evenly distributed, the only exception is the front face. So, on the right side you can see the port USB 3.0, Mini DisplayPort, a combined audio jack, memory card reader (MultiMediaCard, SD, SDHC, SDXC) and Kensington lock.

On the left side there is a slot for a smart card and the switch work Wi-Fi and a large ventilation grille.

Back face turned very full, however, it is not surprising, because this is a business laptop, and it is unlikely someone came into our heads to sit with him in a chair or lying in bed. So, here you can see most of the available interfaces, namely: two USB 3.0 (one of them with charging function), RJ-45, HDMI video output and power connector.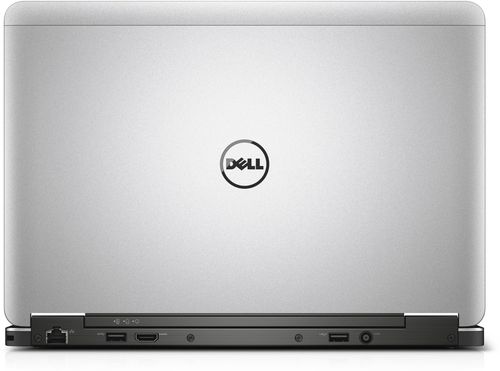 The front face, as already mentioned, is empty. But at the bottom there is also a connector for a docking station. By the way, removing the bottom you can see the empty module slot for 3G. If desired, you can install it on their own and use high-speed Internet away from the points Wi-Fi, using a slot for SIM-card, which is located under the battery.

Among the wireless communications available Dell Latitude E7240, there is only Wi-Fi standard 802.11 b / g / n.
Battery and heating – Dell Latitude E7240
For autonomy in this model there are two types of batteries: 3-segment Li-ion 31 Wh capacity and 4-cell Lithium-Ion 42 Wh, both endowed with technology ExpressCharge. In our second modification is installed higher capacity version. Without charge at this ultrabook will work out more than half of the working day, of course, true for the read mode, occasionally supplemented by web surfers. But the play of the game can only be an hour and a half.
As for the heat, everything is done without any unpleasant surprises. At rest the body temperature is low, and even comfortably cool. However, if on a laptop running demanding applications, the body becomes critically hot.
Conclusion – Dell Latitude E7240
In general, business laptop Dell Latitude E7240 showed a good side. Externally it though discreet but stylish enough, with clearly not ashamed to be seen by partners or colleagues. That can only disappoint quite mediocre display resolution with a small, poor viewing angles and unnatural colors. Perhaps in the case of the touch Full HD matrix, the situation will be better.
As for performance, the business model is quite high – a good processor of the latest generation, fast SSD-drive, 8 GB of RAM. Well, you have all the necessary ports can not but rejoice, because this time it is particularly important for business models.
Summing up all the above, we note that the ultrabook is perfect for users who value mobility and comfort, and do not regret it funds. For the complete set of Dell Latitude E7240 CA016RUSSIALE72406RUS will have to pay about $ 1,500, and it's not even the top-end configuration.
Read another very interesting article about alternative energy of the Sun, water and air.