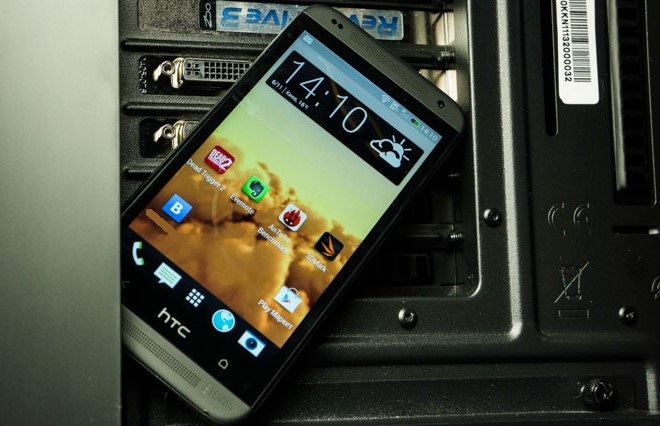 I do not understand why every smartphone lineup One of the differences are erased Desire, bringing smart phones into a common denominator. After all, once the representative of the ruler and One Desire were absolutely different categories at once One mini Desire and 601 are virtually identical. The main difference is that the housing, as well as display and price. In the course of the review I would be interested to find out if they need someone to live for One mini Desire 601. Who's with me – I beg a cat.
Design and Ergonomics
At first glance, it seems that the smartphone lineup belongs One, but when you take into your hands and you realize that the back cover is plastic, there is only one option – Desire. Ctereodinamiki that used to benefit only rulers One, now, and moved into this unit. The rest is all the same good old Desire. Strange, but the first of the earpiece on standby could hear some noises like interference (eventually passed). In addition to stereo speakers, front, as usual, there are sensors, front camera and touch buttons.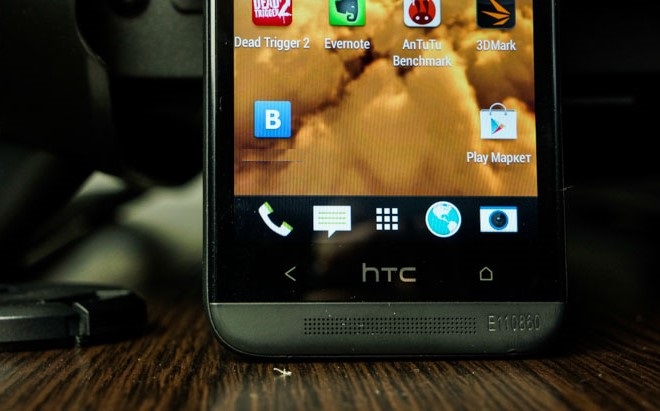 Rear – Solid softtach, with the exception of an additional microphone, flash, camera and a hefty edge around it. Bottom – Micro USB, from the top – the lock button and headphone jack. Right – two separate volume buttons.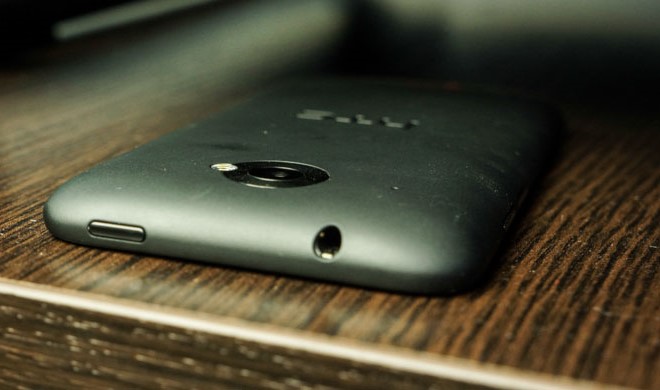 The case folding. By the way, remove the cover is quite difficult. Under the "hood" – removable battery, a slot for Micro SIM and Micro SD-cards. In his hand the smartphone is excellent due to a small width. In my test sample is quite different backlash and squeaks, but knowing HTC, in-store samples of all of this corrected. And what about the tactile response of the keys is not sure, since the One mini, for example, the keys spoke clearly.
Display
Looking at the specifications, the first thing that comes to mind: "Maybe the display – this is the weakest side of the device. This is partly true. In fact, it uses a good matrix. Diagonal – 4.5 inches, resolution – qHD (960 x 540). Viewing angles are maximum inversion and no flowers. Perhaps now it will not surprise anybody, but the layer of air display is so small that the image is literally on the surface. This makes the interaction significantly more pleasant when compared with other devices. Natural colors are a little brighter.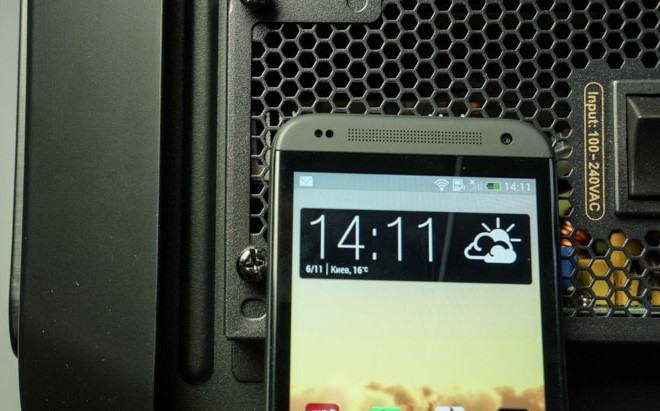 Cameras
The smartphone – two cameras. Front – VGA, it is enough for video and photos with friends, but only in good light. Main camera – 5 MP. The Matrix is ​​definitely better than the similar in Galaxy Nexus, for example. In good light all right, when there is insufficient detail decreases sharply popping noise. I do not know why the designers have focused on the camera. Show off the camera this device is not necessary.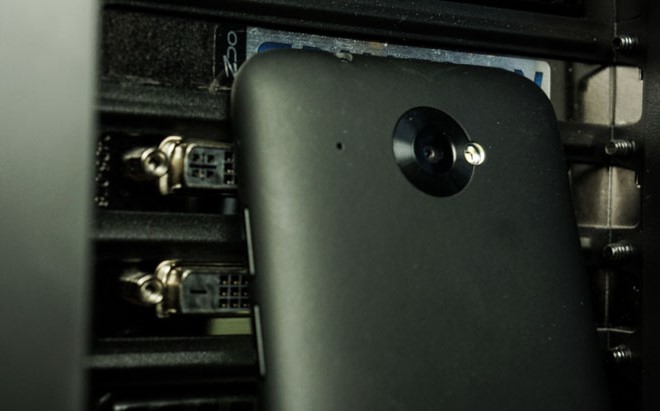 Specifications and Software
The smartphone runs on Android 4.2.2 with Sense proprietary shell 5. The shell is probably one of the most enjoyable to date, but I think there are too many things piled up, so I prefer a naked Android. And I am in anticipation of the fact that Google Play will be a separate application launcher Google Experience, which can be put on any smartphone in a couple of clicks. In HTC Sense 5 emphasize their services and fichah such as BlinkFeed, BoomSound and Zoe. Most of our readers have long known about the innovations in the Sense 5, repeat for the other. The first "trick" – Zoe, the main feature of which is the combining and editing of individual sections of photos. It works like this: after pressing the shutter button you will see a small movie, which consists of a few photos. Due to this, for example, then you can remove unwanted objects from photos, or open his eyes blinked. Sounds good, but in practice I do not want to use it, because it all looks quite difficult. Видео и фото на HTC Desire 601 The second "trick" shell – similar Flipboard from HTC called BlinkFeed. Default Blinkfeed installed as the main desktop, it is unlikely that it will be convenient at least someone. Fortunately, you can change the table with no problems, but remove Blinkfeed with him is impossible. As an option – throw it away. Functionality of the service is simple – reading news and posts from social networks. Add your sources can not, we can only choose some of the available.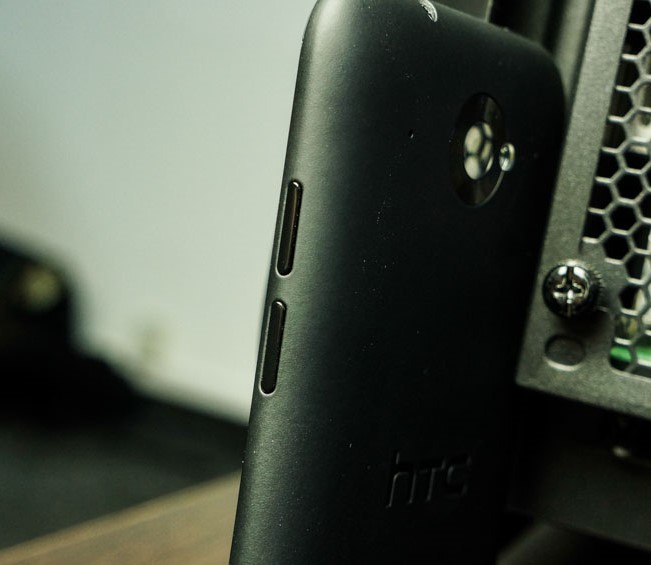 And third, the most major and necessary, "trick" – BoomSound – set of hardware and software to improve the sound, and the two coolest stereo speakers on the front panel.
Works this miracle on the Qualcomm Snapdragon processor 400 c speed of 1.4 GHz, Adreno 305 GPU, 1 GB of RAM and 8 built-in (which obviously would not be enough, but the device supports MicroSD memory cards up to 64 GB). RAM also for all tasks and comfortable enough work. A similar iron and HTC One mini, so the performance is identical, but at the expense of the memory card 601 th win. Battery Capacity – 2100 mAh, which is 300 mAh ahead One mini.
Dimensions: 134 x 66,7 x 9,88 mm.

Weight: 130 g

Operating System: Android 4.2.2 JB.

Processor: dual-core, Qualcomm Snapdragon 400, 1.4 GHz

Graphics: Adreno 305.

Display: 4.5 ", 960 × 540 pixels, 240 ppi

Memory: 8 GB MicroSD support up to 64 GB.

RAM: 1 GB.

Camera: basic – 5 MP, video recording at 720 p, front – 0.3 MP.

Wireless technologies: Wi-Fi, Bluetooth 4,0.

Interface connectors: 3.5mm headphone jack, Micro USB.

Battery: Li-Pol battery 2100 mAh.
Findings
HTC One mini looks more advantageous due to the camera, metal body, but there added plastic edging. The display is also better, but looking face it, for most people it will remain unnoticed.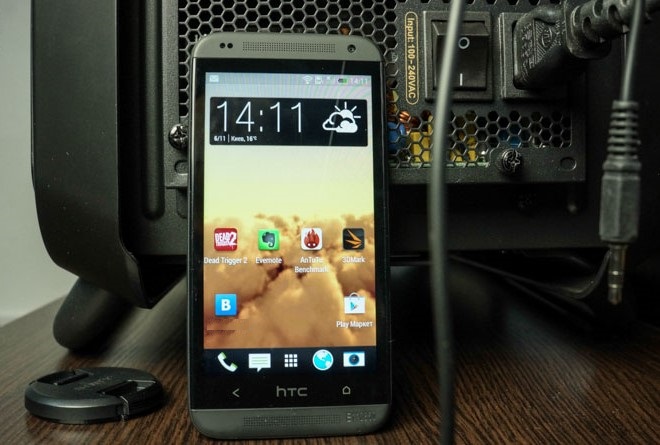 But the difference in price of almost $ 110 will be visible to all. In this regard, Desire 601 stacks up against rival brother very well. And considering the benefits in the amount of memory and battery power, time to market of these two models like solutions from Samsung – all and more. On the one hand, the good, the user more choice, but would like to see us more often fall "to the point" and create smart phones that are suited to all. In the confrontation between the above two models I would choose Desire 601, because I believe that the camera body and One mini is not worth $ 110.
Read another very interesting article about alternative energy of the Sun, water and air.