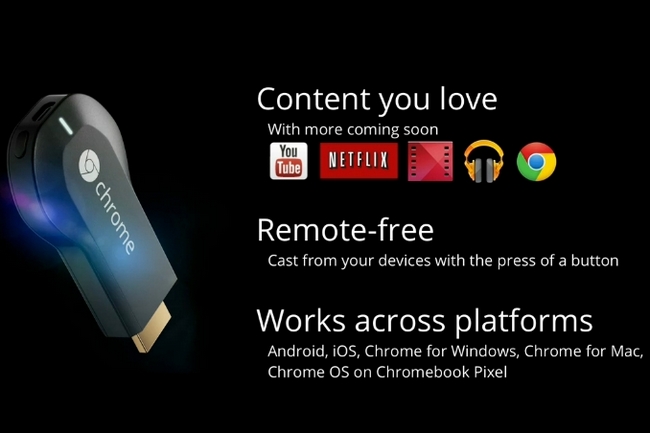 Like many other companies Google is aware that the house center of digital entertainment universe, and for the modern man often stands in the living room TV. It is usually mounted panel with the largest diagonal is connected to it is the high-quality speakers / game console / media player and next to it is the most comfortable bed in the house. And if the struggle for pockets (smartphones) and bags (tablets) of consumers goes to normal, the special successes in the living room until it can boast of no one. Aims to reverse this situation a new development company Google – miniature TV Chromecast dongle for HDMI-connector costing only $ 35.
The principle of operation is quite simple and Chromecast much like used in devices from Apple technology AirPlay.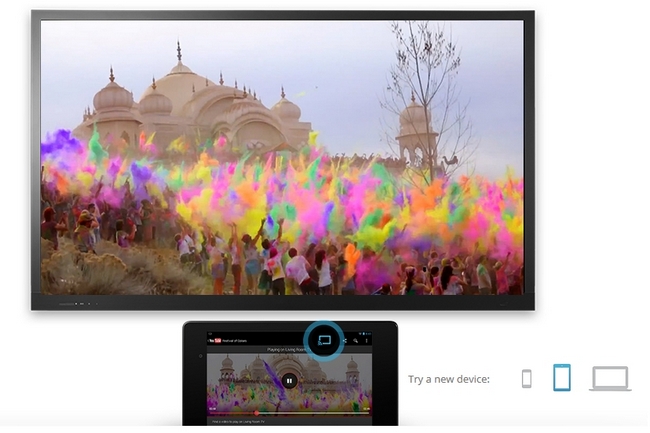 To get on your TV "over the air" video, audio, and still images Chromecast enough to connect to an available HDMI-connector on your TV, no additional configuration is required (except for the password to your home Wi-Fi network).
Miniature dongle long as 5 cm running a simplified version of Chrome OS and is compatible with all popular devices, including smartphones and tablets based on Android OS, computers with installed browser Chrome for Mac / for Windows and even with smartphones and tablets iPhone iPad. For developers who want to add to your application the ability to transfer content to the soon to be released Chromecast corresponding SDK.
During the press conference it was shown how to use mobile devices, you can control playback (pause, rewind, create playlists) and TV (volume). Interestingly, a running play from one device, you can stop or pause at the other. Finally, Google said that the price is so low (recall only $ 35) was chosen in order to allow users to equip Chromecast every TV in your home.
Read another very interesting article about alternative energy of the Sun, water and air.