You do not think about the fact that two years ago, everyone loved 7 "tablets for their compactness and convenience, particularly in the transport and use of one arm, and now these are already 8" device? I think a tablet with a 7 "has become increasingly niche, especially if it does not have the functionality of the phone. Diagonal of the display's top smartphone closely matched to a 6 ", and some models have already exceeded this mark. Let us recall the Samsung Galaxy Mega 6.3. When display size 6.3 "I better take this smartphone, other than and in addition to it 7" tablet.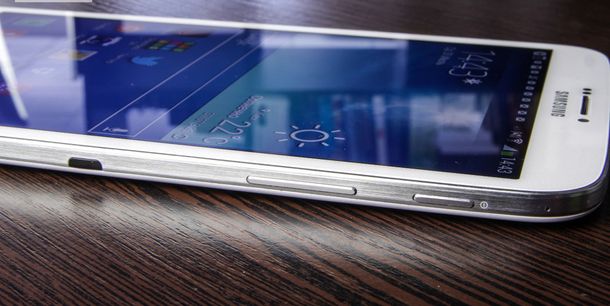 8 "- it is still quite a lot for a smartphone, and I think the last diagonal display is not reached such a magnitude. Probably the average diagonal smartphone in place on 5-5.5 "fablety will have displays 6-6.5". In this 7 "tablets will lose popularity, yielding such as our current gadget – Samsung Galaxy Tab 3 (8.0).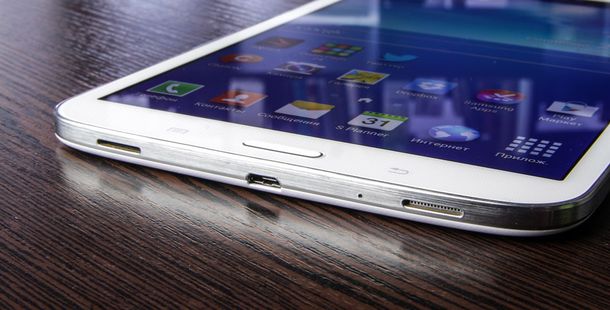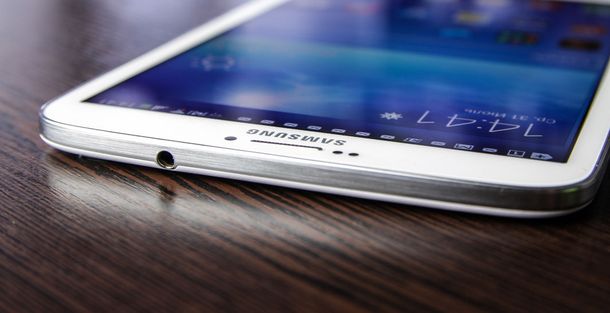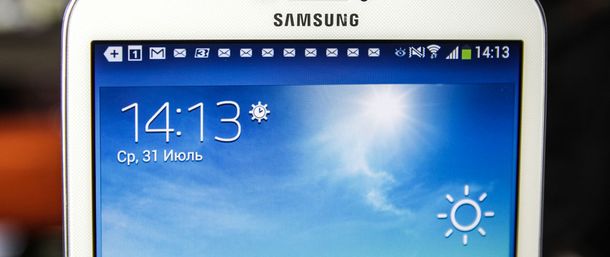 Samsung updated its line of tablet Galaxy Tab to the third version of it for three models – 7 ", 8" and 10.1 ". In my opinion, it is our tablet will be the most popular. It is very similar to the Samsung Galaxy Note 8.0, but there are differences. The most important of them are: proximity to the design of Samsung Galaxy S 4 in Tab 3 and the lack of a stylus. I liked the design of TEBA more due to thin frame around the display tablet more comfortable to hold with one hand.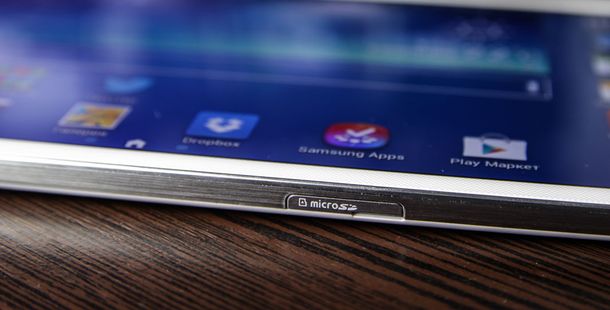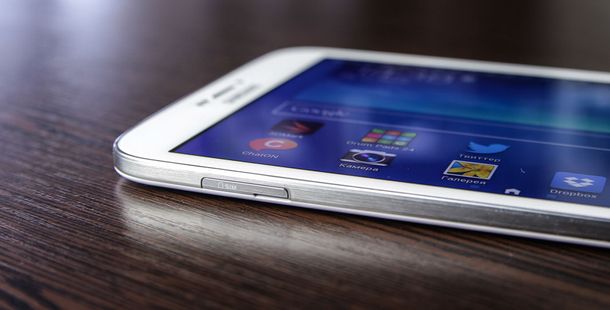 Rather, the scope of a Galaxy Note 8.0 are present, because someone will be convenient to write or draw with the stylus in the portrait orientation, there is no stylus. Tab 3 (8.0) which is held with one hand in the upright position, and to keep in the horizontal or on the frame or with two hands. The lower part is occupied by three keys, two of which have greater touch area and action. Case thickness – only 7.4 mm, the weight of the tablet – 314 g.
An arrangement of elements is the same as in the Galaxy Note 8.0. The only thing that I still do not understand why in the case of the Tab 3, I often click on the volume key instead of the lock screen. Perhaps in Note 8.0, these keys have been shifted below? More differences I have found. With the tablet, you can still ringing in our version of a microphone and earpiece, but will be sold and the Wi-Fi only-plates. They will be missing the speaker, as well as a slot for a sim-cards.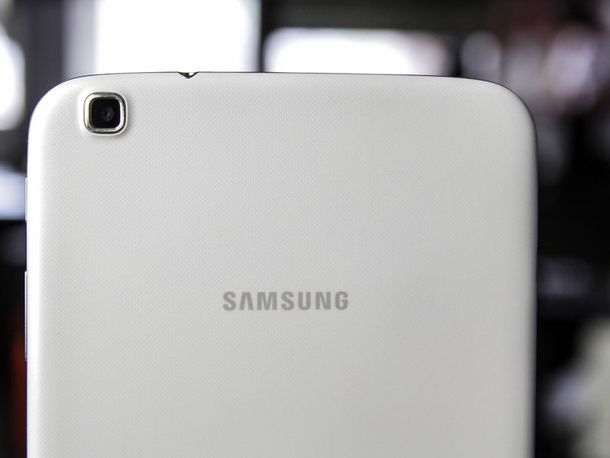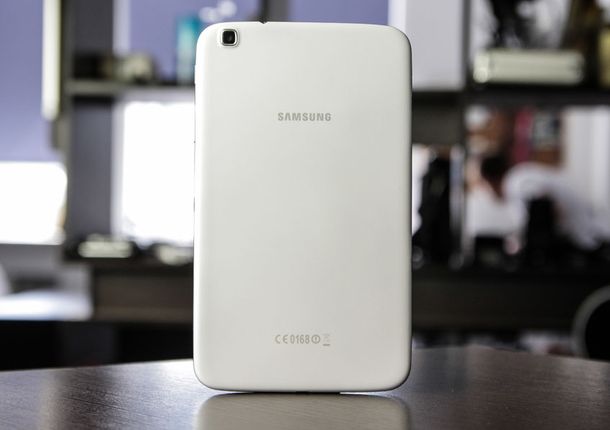 Assembling a good, if not, great. The plate was my week, I got it new and I can not judge how the device behaves in continuous operation, but I think it creaks and backlash should not appear if you do not forget to get the tablet out of his back pocket before sitting down. The case, as in other models of the manufacturer, all-plastic. As Galaxy S 4, the side edge is similar to metal, but it is also plastic.
Display
Display novelty is the same as in the Galaxy Note 8.0 – 8 ", 1280 x 800 pixels, 189 ppi. A TFT-screen, but the differences from the PLS, which in Note 8.0, I can not see. The viewing angles are good, as with contrast and brightness. Also, I really like the brightness range in the latest Samsung. At maximum brightness information remains readable even in direct sunlight, although the colors and lose their intensity.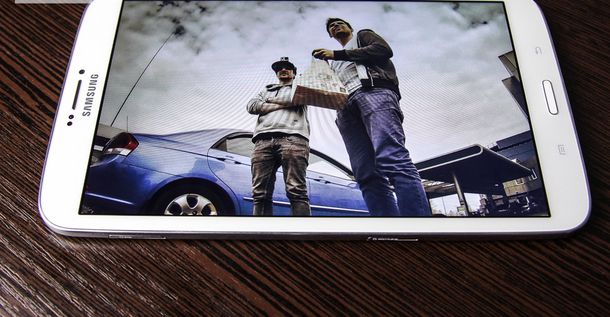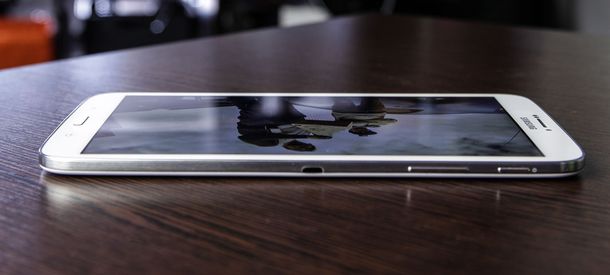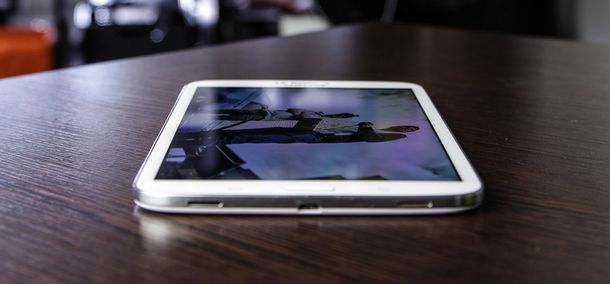 But the sun is practically difficult to work with any device, so we always make a shadow to look at the display.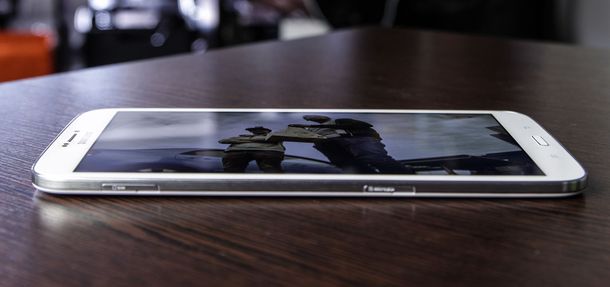 But the minimum brightness – this is something that can not be changed if it is too big. In Samsung Galaxy Tab 3 (8.0), it is so small that special day and you can not tell whether the image on the display. But in the dark you and your eyesight not create discomfort, and others.
Cameras
Unlike Tab 3 (10.1), the basic model is equipped with an eight-chamber 5 MP, the same as in the Galaxy Note 8.0. At a ratio of 4:3, you get a 5 megapixel photos at a ratio of 16:9 widescreen photo size is reduced to 3.6 MP. Video Main camera writes in resolution HD. The front camera – 1.3 MP, but the video writes in VGA. I would like the front facing camera is also wrote the video in HD, because the pictures on it, you will rarely, and for videozaonkov on Skype I would like to HD-quality. The quality of pictures taken with the main camera is decent for tablets. Looking at the target audience of this device – young businessmen, according to Samsung, – pictures of business cards and documents sometimes you will, with this Tab 3 (8.0) copes well. The pictures taken in daylight, suitable even for my fine instagrama, however, the darker, the more noise there is. There is no flash.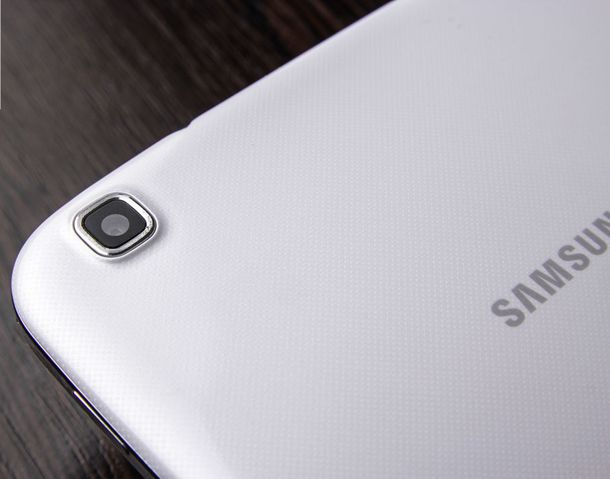 The interface is exactly the same as in modern smartphones Samsung, but the functionality is a bit easier. For example, only 4 filters available, less global and camera settings. Shooting modes can be selected from 6 available: panorama, auto, sport, touch-up, night and the sound and picture.
Specifications and Software
As in several other reviews, I repeat – the main thing that worked fine. If the manufacturer will make the device without CPU or something else, but it will be focused on the user experience with him, I do not mind. Of course, if the tablet was installed 20-core processor, I would have started this paragraph to the next. However, there is installed a dual-core Exynos 4212 processor with a clock speed of 1.5 GHz and a graphics Mali 400MP. Whatever it was, the tablet is fast in all the tasks that I could think of. Real Racing 3 is no problem, graphics, though a bit truncated, but the reflection in the mirror is. Perfectly playable, and, consequently, with other games no problem.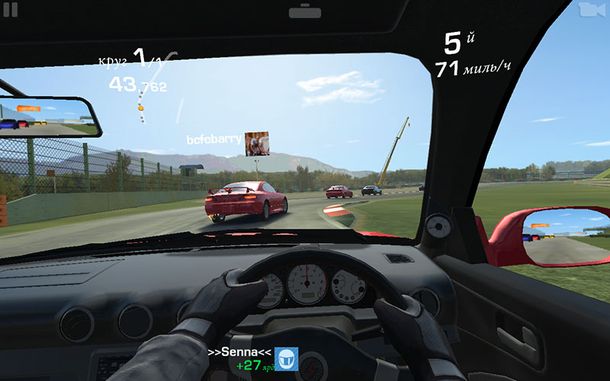 In this tablet almost no heat, the heat of the game is felt only on the left side.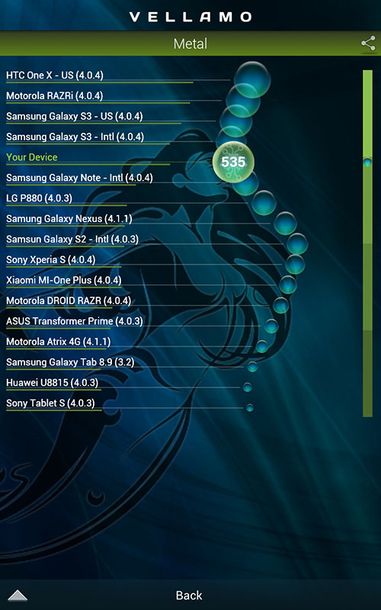 RAM as much as in the Galaxy Mega 6.3 – 1,5 GB. User – 16 GB, there is a slot for memory cards Micro SD.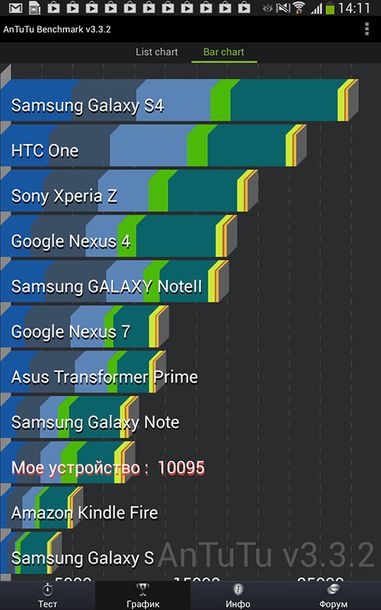 Version of the Android Samsung Galaxy Tab 3 (8.0), fresh, 4.2.2. On top of it – the latest version of TouchWiz. Hubble, light effects – everything is there. It is worth to mention about some of the bonuses that the buyer will get the tablet. Galaxy Tab 3 (8.0) – is one of those devices that the user will get 50 GB of Dropbox for a period of 2 years. This, of course, nice. The second bonus, smaller, but still enjoyable – $ 10 for purchases in Google Play.
Feature fresh version of TouchWiz – function MultiWindow, which allows you to split the screen into two parts. For a tablet is, of course, far more useful than a smartphone, even with a 5 "display. This function is enabled in the settings screen, and then, at long pressing the back key, you can call a retractable left a bar where you can see all kinds of applications. Now drag a single icon up, the other down and get, for example, Twitter and Chrome on the same screen. The size of one relative to the other can be changed.
Tablet can be used in both vertical and horizontal orientation, but still the main one. Configure the new TouchWiz can be almost anything that you want. For example, the lock screen can be simple, can contain widgets, icons for quick launch specific applications, or watch your chosen greeting text that can be customized by color, and unlock itself may be accompanied by a sound and light effect or be a standard – in the form of a ring. You can also choose the type of release: face detection, face and voice, picture, pin, password, or even turn off the unlock.
The "Smart Screen" will keep the display on, if you look at it. Also, the device itself will determine whether you need to change the screen orientation when you turn the tablet. This is useful if you, for example, choose to read a book or twitter, lying on its side.
You can even customize the notifications panel by placing it in a fast access to all the functions you need. They can be moved relative to each other (this is done in the settings screen).
Your desktop and applications menu is familiar to most users Android, they will not be mentioned separately.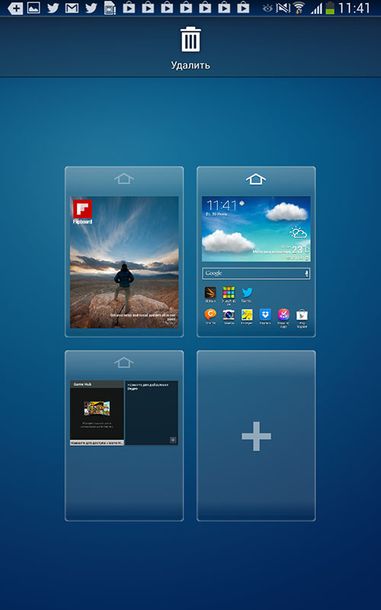 The improvements have touched music player – now it is a function of improving the sound SoundAlive, which is used in the manufacturer's players. The tablet plays most popular video formats, up to 1080p: WMV, AVI (DivX and XviD), MP4, MKV (H.264), etc.
Battery capacity – 4450 mAh. This is enough to gadget lived a few days in the mode of use as a tablet: web, social networks, watching videos, etc. If you use your smartphone as Tab 3 day get active work. When playing a video tablet held just over 8 hours.
Dimensions: 209.8 x 123.8 x 7.4 mm.

Weight: 314 g

Operating System: Android 4.2.2.

Processor: Dual-Core Exynos 4212 Dual, 1,5 GHz.

Graphics: Mali 400MP.

Display: TFT, 8 ", 1280 x 800, 189 ppi.

Memory: 16 GB flash card slot for memory Micro SD.

RAM: 1.5 GB.

Camera: 5 MP, video recording in 720p, front facing – 1.3 MP.

Wireless technologies: Wi-Fi, Bluetooth 4,0.

Interface connectors: a 3.5-mm headphone jack, Micro USB.

Battery: Li-Pol battery 4450 mAh.
Output
Ruler Samsung Galaxy Tab 3 does not surprise you with something sverestestvennym is continuation of the line, upgrade performance and design. An eight-inch model seems the most balanced, as 7 "- it's nearly a smartphone, and a 10" screen model has a lower pixel density.
Who is that, but I choose the "eight". I think this is one of the strongest competitors iPad mini, at the Galaxy Tab 3 (8.0). The model will cost about $ 100 less than 8 Note, for this reason, no novelty S-Pen pen and two processing cores of the processor. But, as I said, the performance Tab 3 even enough for comfortable playing in Real Racing 3, worry about the lag is not necessary. I would choose exactly eight-Tab 3, not so much because of the cost, but because of the design and size. Note 8 reminds me of last year's SGS3, while the new Tab 3 incorporates the best features of SGS4, if you like its design. The smaller width for me – a big plus, I rarely need to hold the tablet for the lateral side, while typing with your thumbs easier for small frames.
Read another very interesting article about alternative energy of the Sun, water and air.