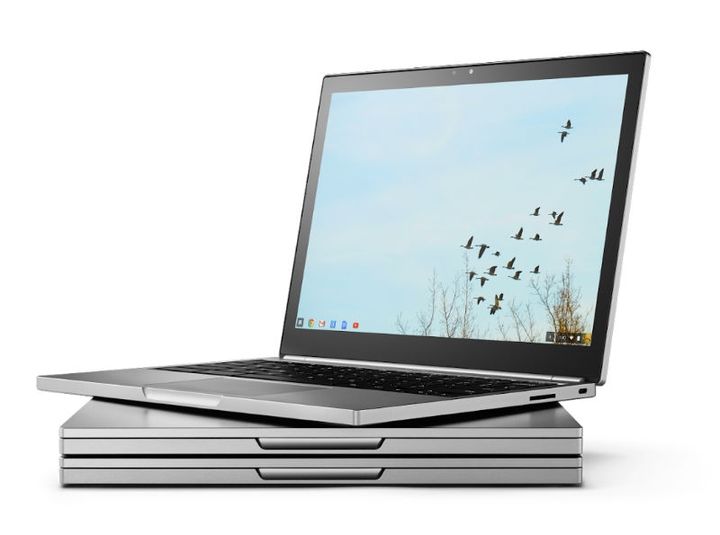 Google has released the second generation of the reference Chromebooks that foreign media have already named competitor submitted a few days ago Apple Macbook. Both devices are their own vision of a mobile PC Google and Apple. In this new model Pixel possesses a large number of ports and has several other advantages.
A year after the release of aluminum laptop with a display of high-definition Chromebook Pixel Google Inc. unveiled the second generation. Foreign media has dubbed his competitor announced a few days ago Apple Macbook. Chromebook Pixel – is what the corporation sees "Chromebooks" notebooks based on Chrome OS.
New Chromebook Pixel looks the same as a laptop first generation, presented at the end of February 2013 From Macbook his native aluminum body, "island" keyboard with backlit screen with a higher resolution and interface USB Type-C. In the two-port 2 Pixel USB Type-C, whereas only one Macbook. Furthermore, the model is equipped with a card reader SD (in the new "MacBook" it either).
Diagonal screen Pixel 2 is about 13 inches (12.85 inches) and its resolution – 2560 x 1700 pixels. This combination provided a resolution at 249 ppi. It is slightly larger than the Macbook (226 ppi).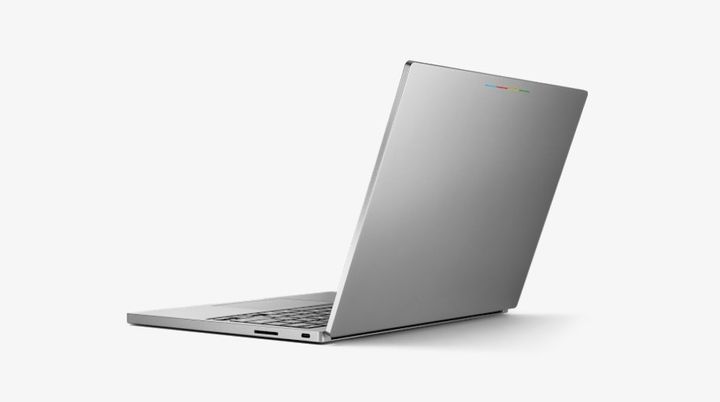 Chromebook Pixel 2 slightly thicker Macbook (2 mm) and significantly heavier. Its weight is 1.5 kg compared to 920 g for a new laptop Apple. Computer from Google even heavier 13.3-inch MacBook Air – 150 g
The benefits of Pixel 2 can also be attributed to the manufacturer the battery life – up to 12 hours. This value corresponds to the index 13.3-inch Macbook Air. In turn, the new ready MacBook on battery is not more than 10 hours.
New Chromebook Pixel
Another advantage is that the screen Pixel 2 – touchscreen. Apple has yet touch panels are not equipped with their laptops.
Laptop put on sale in the US at $ 999
Chromebook Pixel 2 comes with the operating system Google Chrome OS. It is oriented to work with the services Google – Gmail, «Contact», «Calendar», Google Docs, and others. The user can set the web application from a specialized store Chrome Web Store and launch applications for Android. Interact with the service through a web browser Chrome. The system is equipped with voice control. Users simply say "OK, Google" to start the search. Entering a search query can also be done voice. Similar opportunities exist in Chrome on other platforms.
Presentation of the new Chromebook Pixel
Pixel 2 is equipped with Intel Core i5 processor with a frequency of 2.2 GHz or i7 2.4 GHz (Broadwell), 8 or 16 GB of RAM, SSD capacity of 32 or 64 GB, Bluetooth adapter and Wi-Fi. Mobile communication module is not provided. Connect your laptop to an external display, you can use the optional adapter with USB-C to DisplayPort, or HDMI. Small built-in storage capacity due to the concept of Chrome OS, that most of the user data stored in the cloud Google.
Chromebook Pixel 2 went on sale in the US for $ 999 and $ 1,299, and depending on the configuration. On sale in other countries, the company did not report.
Source: TheVerge
Read another very interesting article about alternative energy of the Sun, water and air.