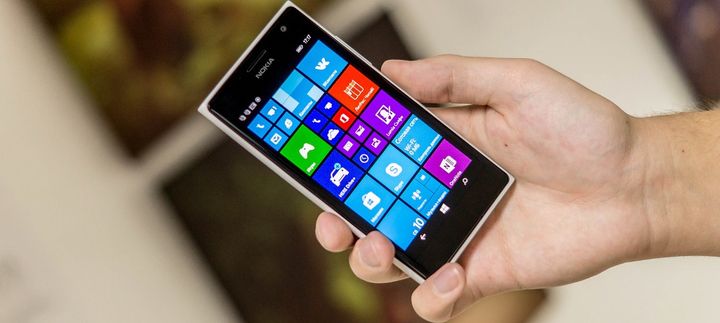 I do not know for you, but for me an example of the iconic design of the new generation of Nokia smartphones have become the model Nokia N9 and Nokia Lumia 800 / 900 – rounded sidewall controls on the right side, strict appearance and nothing more. Quite a long time the company has experimented with different approaches in this area, the result was a rectangular Nokia Lumia 630 , metal Lumia 930 and puzatenky giant Lumia 1520. But the hero of this review – Nokia Lumia 730, has kept true to the tradition, received the most iconic design of earlier models and compact size. Let's look at it closer!
Packaging equipment
In typical Nokia's box we were met by a striking example of greed uniform manufacturer. Package consists of portions of papers and charger. Such has been forgivable if younger Lumia 630 But not even put kopek USB-cable, not to mention the headset – at least disrespect to the buyer. And this is the price of the device is almost 4000 USD.
Design and Ergonomics
A little bit about the design I have already told in the introduction. Classic brusochek with rounded sidewalls very well fits in your hand. The control buttons on the right side a little loose, but tugovato pressed that prevents accidental activation in a pocket, for example. Will express their dissatisfaction at the lack of a separate camera button, which in this smartphone is likely to be used often enough.
Weight of 130 grams can be considered close to ideal for 4.7-inch smartphone – he does not draw his pockets, but it is not lost among other small items.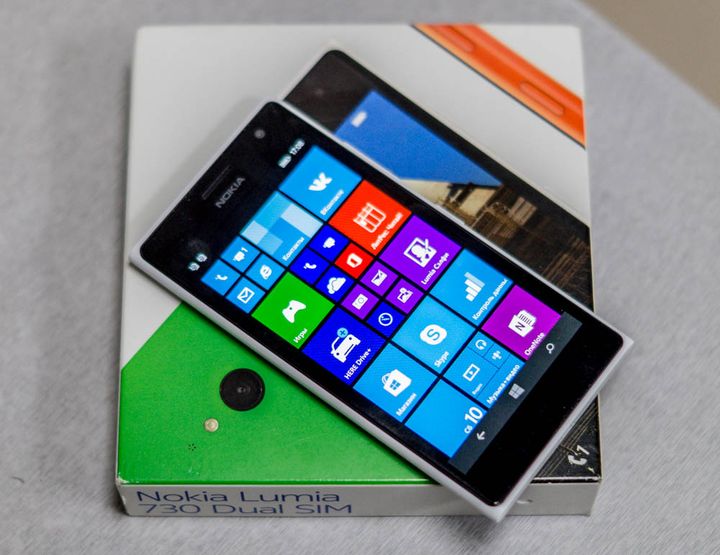 Housing design seems at first glance monolithic as it had predecessors in design, but in fact it is not. Cover envelops smartphone with almost all sides, that has some consequences. Collapsible design creates a precedent in the form of a small squeaking by twisting the device, though it needs to make considerable efforts. By the way, backlash buttons are also called features cover.
But on the other hand there is good news. We have access to the battery and are free to change it if necessary. Housing is put on the phone frame, which means that if we accidentally broke a button or serious external damage, then just buy a new cover, receiving virgin kind smartphone.
Matte white cover does not collect fingerprints, but only quickly spoiled. Comes to the rescue cloth moistened with alcohol or a similar fluid. Monster! Alcohol (or similar fluid) taken orally in and out on a smartphone, then quickly wipe with a cloth (approx. Editor).
Features protective glass Gorilla Glass 3
Screen – quite controversial place in Nokia Lumia 730. From the positive – excellent viewing angles, bright and rich picture, wide dimming range. Of problem areas – there is no function Glance, which shows the notification off the smartphone's screen.
What else is on the screen? Lovers looking at pixels notice PenTile, which is usually ruthlessly criticize. Automatic brightness adjustment is carried out on all three predetermined levels. Eat off of the screen onscreen buttons. Oleophobic coating quality is satisfactory.
Camera
Nokia Lumia 730 is positioned as a marketing company "smartphone for self" to which alludes Megapixel front module. In this regard, I would like to mention high-quality photos and post-processing application Lumia Celfi.
The latest decision allows you to apply a portion of the filter and promptly remove shoals. But the interesting thing happens if you make pictures in low light conditions, software algorithms quite successfully struggling with this problem and the output is sufficiently bright images with good detail.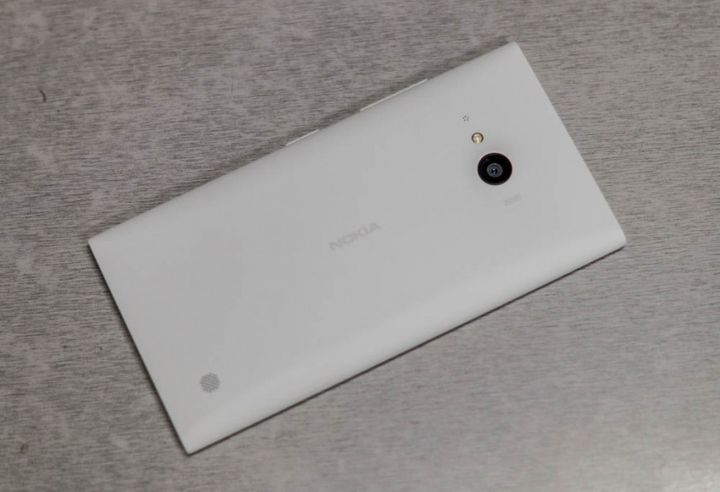 With the main camera was a pretty interesting situation. How to write some of her colleagues, a model software (!) Cut to 6.7 megapixels, leaving the same matrix as in the Lumia 830. It was necessary from a marketing perspective – not to compete with the older machine. It is likely that this is true, but for the future by what is important – the quality of images, but here it is at a high level. Some observers have even put it on a par with the company's flagship – Nokia Lumia 930. That's just a single camera button is sorely missed, as I mentioned earlier. And color of the photographs often not entirely true.
Hardware Platform
Specifications are fairly typical smartphone, for a mainstream device. I would like to see a greater volume as operational – and the built-in memory. The latter can be corrected by using a memory card, there is support for up to 128 GB.
Support for the pair of SIM-cards is implemented on the basis of one radio. The interface is available on a pair of separate applications for each card.
Software Platform
Nokia Lumia 730 running the latest version of Windows Phone 8.1 with Service Pack Lumia Denim. The most noticeable change – Support folder on the desktop, and everything else was familiar.
Softkeys eat a decent chunk of the working area of ​​the screen. For them, you can choose a color scheme. On the other hand, they are automatically hidden in most applications and get them back on with a special gesture.
But in some programs button creates a problem. For example, in the popular MoliPlayer Pro while watching video virtual buttons are not cleaned at all, which, of course, disappointing.
The speed of the smartphone and the stability of a concern. I have a Windows Phone has always been associated with the reliability and predictability, but Nokia Lumia 730 shows the opposite situation: a couple of times a day smartphone tightly hung and left to reboot. After a hard reset, he will not turn on until it is connected to a power source. Typing on the virtual keyboard has been delayed. About multitask at all possible to forget – the application immediately unloaded from memory. Most likely cause is just fresh package updates – Lumia Denim, which are not well tested. I hope that soon manufacturer rectify the situation.
Sound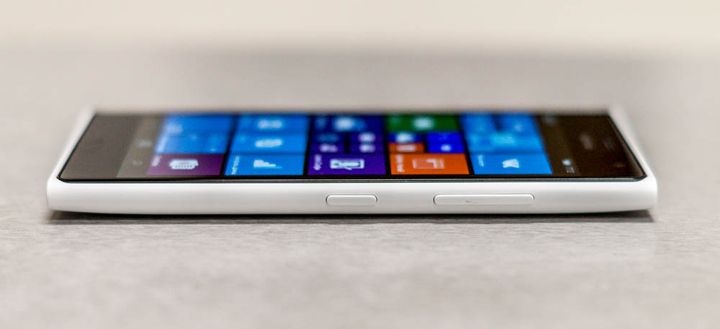 Sounding – forte Nokia Lumia 730. During the call, the interlocutor can hear well, there is a noise reduction due to the presence of the second microphone. In headphones stock volume is more than enough. Multimedia speaker on the back of one, but it is loud enough so you will not miss a call even in a noisy street.
Autonomy
Battery capacity of 2220 mAh according to the manufacturer should last for 22 hours of talk time, up to 600 hours of standby time and up to 60 hours of music playback. In practice, these parameters will vary depending on the brightness of the screen and the wireless connection state. As usual, in the mode of intense activity with 3G internet and calls on both SIM cards can be expected that the smartphone will survive till the evening. In a more sparing mode indicator will be 2-3 days.
Findings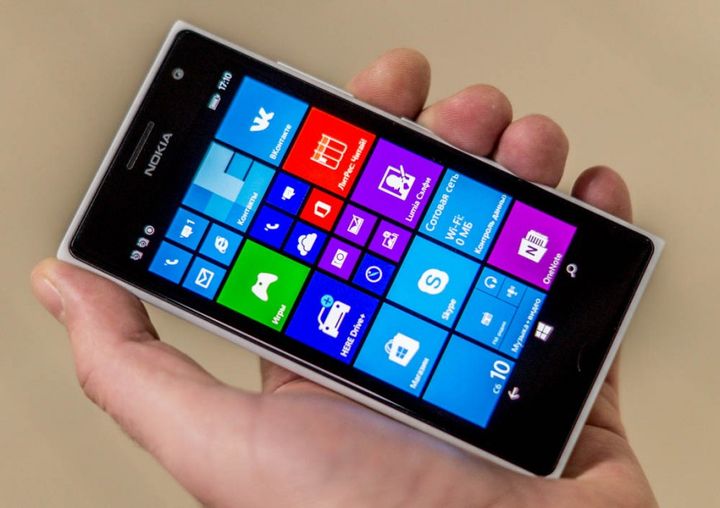 Nokia Lumia 730 was a very controversial device. Classic ergonomic design, very sturdy camera, work with two SIM-cards and quite loyal price tag of $ 220 to more than cover the average screen and very crude soft stuffing. New uniquely likely to appeal to owners of low-end models, in particular the Lumia 720. Also, the hero of this review will be a good upgrade with five or six hundred series lyumy. Not fit Nokia Lumia 730 people are susceptible to performance and those who are not friends with the operating system from Microsoft, because for a similar amount of Android-devices segment offers more than enough.
Pros Nokia Lumia 730:
quality assembly
superbly proven design and ergonomics
The latest version of the OS
layout of controls
sound quality
price-performance ratio
Cons Nokia Lumia 730:
weak equipment
no camera button
PenTile
body quickly spoiled
software bugs
Read another very interesting article about alternative energy of the Sun, water and air.