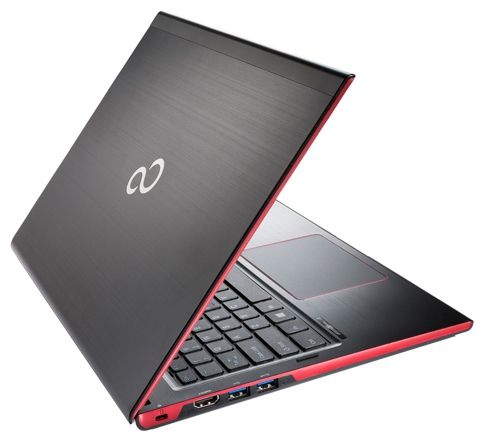 Japanese company Fujitsu laptops have considerable success among similar laptops. What is already talking about the ultra-compact devices that are actually quite popular among a wide audience. We have repeatedly acquainted with laptops range LIFEBOOK U. Among them was the Fujitsu LIFEBOOK U772, LIFEBOOK U574 and U904, the latter two were equipped with a touch screen. Each of these models can hardly be called a budget, and performance style is seen as the best way: in the case of devices referred to perfectly match black with red color.
Now it is the turn to meet another member of ultrathin laptops – Fujitsu LIFEBOOK U554. As he U574 13.3-inch, running on dual-core low-voltage processor, the fourth-generation Intel Core i5-4200U. Between these models, there are many similarities, such as acoustics DTS Boost, no discrete graphics. Well, try to understand the features LIFEBOOK U554, to exclude the possibility to call it a clone model U574.
Design
Laptop is a very attractive appearance. It is appropriate to look black with red coloring and body with a minimum of rounding. In addition, well-defined edges of the panels create a certain kind of strict, but that does not make Fujitsu LIFEBOOK U554 too boring. From the materials used aluminum and plastic, so called laptop unreliable unlikely to succeed. In addition, it is not too easily soiled due to a matte polished surface of the interior and exterior.
Assembled laptop very well, however, his body slightly curled. But the gaps are practically invisible. By the way, durable hinges that hold the display still does not allow to escape his small rocking. With regard to the size of the body, they account 322x225x17.5mm. The weight of the LIFEBOOK U554 does not exceed one and a half pounds.
Display, sound, webcam
Laptop screen is 13.3-inch diagonal and a resolution of 1366×768 pixels. The display features a good level of brightness and true color. Besides, a matte coating which prevents glare and reduce reflections. As for viewing angles, the TN-matrix they are far from perfect, however, the picture is distorted only if a significant deviation of the screen, so only occasionally have to adapt. Display laptop does not have a touch-sensitive surface, and this is different from the Fujitsu LIFEBOOK U574.
Sounds device mediocre, despite the support of acoustics DTS Boost. Low frequencies are not heard at all, at the maximum level heard small creaks and noises. In general, the sound that goes through two stereo speakers malovyrazitelnoe, it lacks a minimum depth. In headphones music will sound better, though not perfect.
LIFEBOOK U554 camera has a native resolution of 1.3 megapixels. Typically, it is enough for it to properly communicate, for example, Skype.
Keyboard and Touchpad
The keyboard is full-size turned out not may people with large fingers may find it a bit cramped. Also, there is no nampada, which is explained by a 13-inch form factor. Overall, however, the keyboard is very comfortable, when you press the buttons there is a clear return, and the key travel is not too tight. Type texts will be quite easy, even if it takes a significant portion of time. It is worth noting and waterproof surface that protects against a small amount of liquid spills internal components.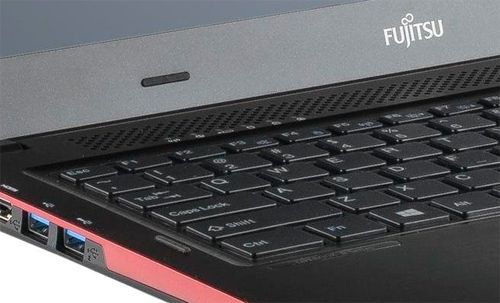 The touchpad on a laptop made besknopochnym. He's a little smooth, medium-sized, almost deepened. In addition, the touch pad is excellent recognizes multitouch gestures. On the sensitive surface of the touchpad is a special marking separating zone right and left mouse. Pressing is carried out in this portion is much stronger.
Performance
Fujitsu LIFEBOOK U554 (VFY: U5540M65D2RU) comes with the operating system Windows 8.1 64-bit version. Not exclude the possibility of installation and other operating systems, such as, Windows 7, or 8, including professional versions.
In the notebook chassis mounted low voltage processor generation Haswell – Intel Core i5-4200U. The chip has a clock speed of 1.6 GHz and third-level cache 3 MB. Two core processor can simultaneously handle up to four streams of data with Hyper-Threading. Furthermore, the support technology Turbo Boost frequency can reach 2.6 GHz, which will lead to improved performance. As regards energy consumption, its level does not exceed 15 watts. CPU performance Core i5-4200U enough for many daily tasks.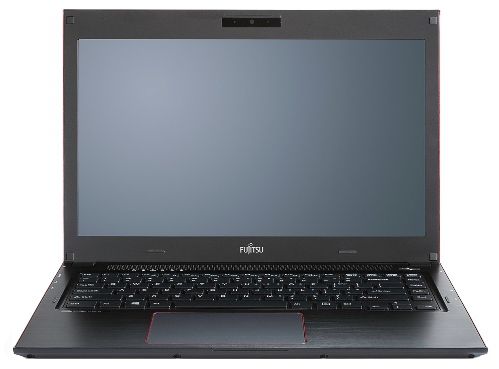 RAM in the laptop enough to work without delay with many applications. It provides 4 GB of DDR3-1600 MHz standard, which is optimal for today. However, under the system memory allocated only one slot, so you can increase it up to 8 GB by replacing the strap of greater capacity.
All information is stored on a 500 GB hard drive running at 5400 rpm. For media, documentation that is enough. By the way, fans of SSD and offered such equipment, and there are versions with 256 GB, 128 GB SATA III SSD or hybrid SSHD, like the Fujitsu LIFEBOOK U574.
Graphic subsystem device presented integrated graphics Intel HD Graphics 4400 with support for DirectX 11.1. This is a good option if you work on a laptop, and watch videos at your leisure. However, for gaming battles its performance will not always be enough, but in F1 2013 or Total War: Rome II still get to play on medium-settings and native resolution with a frequency of more than 30 fps.
Ports and Communications
Interfaces in the laptop are present on the left and right side, while on a work surface rendered their symbols, which simplifies connecting devices during search for the required connector. The front end and the back panel connectors on the loose.

To the left you can see the HDMI, two USB 3.0, and Kensington lock slot. One of the USB can be used for charging smartphones, tablets and other mobile devices. On the opposite side there is one standard USB 2.0 interface, charging Fujitsu LIFEBOOK U554, card reader, readable format SD / MS / MSPro / SDXC, and a slot for SIM-card, which is required models with 3G. Besides, here there is a combined audio jack for headphones and microphone. As you can see, the network RJ-45 connector is missing.
It is evident that all the ports and connectors are located away from the front end, so less chance that the wires and connected devices will interfere.
Wireless communications laptop are Wi-Fi 802.11 b / g / n and Bluetooth 4.0 + HS. Support WiDi technology available.
Battery
In the Fujitsu LIFEBOOK U554 is a 4-cell lithium-polymer battery with 2840 mAh (48.8 Wh). The manufacturer claims that it will reach the autonomy of 11 hours. However, does not indicate what mode. But the duration of the laptop at full load and 100% brightness is not a secret – a little more than 2 hours and 30 minutes.
Conclusion
It is unlikely that you will meet quite cheap laptops Fujitsu, because Japanese quality costs money, and this is difficult to argue. LIFEBOOK U554, considered in the review, has a price tag to $ 900. This cost is justified or not to judge you. We summarize that this notebook is provided mainly for office tasks and less for entertainment, equipped with modern processor Haswell, a necessary set of interfaces, thin stylish body made of aluminum, as well as water-resistant keyboard. Unfortunately, the screen is not touch-sensitive, and in this configuration among wireless modules do not have 3G. However, the critical shortcomings is not noticeable, so the device is likely to be competitive, but at the place anyway, have to fight.
Read another very interesting article about alternative energy of the Sun, water and air.