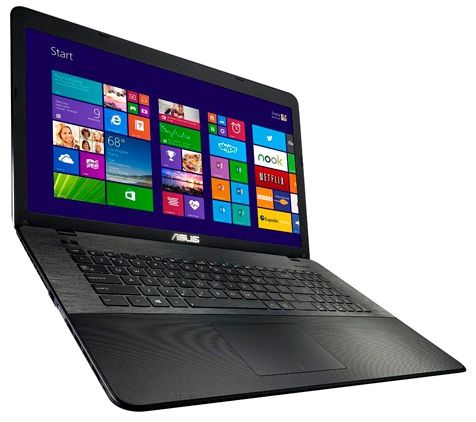 As you know, the budget line of laptops ASUS includes a sufficient number of models, each of which can be seen though not the most powerful, but quite productive stuffing. In addition, these laptops are modern, stylish often, though not premium.
We have already considered the ASUS X555LD low voltage processor family Core i3 and two graphics cards, and ASUS X552EA A4-5000M chip from AMD. In fact, all state employees from this manufacturer so soon and you name it. In this review we will focus on 17-inch ASUS X751MD, running on the CPU Intel Pentium N3530. This is an entry-level, so is unlikely to provide adequate performance, which will be enough to beat the competition laptop. He may "take" something different and appeal to many buyers who need versatile device.
Design
When you first look at the laptop immediately struck by the black coloring. Surely she would have looked dull, if not the texture pattern, noticeably enliven the upper body and the work surface and make them less messy. Of the details adorning the cover, you can see only the logo ASUS, the second is the same on the display frame. No other decorative elements do not.
ASUS X751MD design is made of plastic with a matte finish. It is relatively stiff and only slightly pressed in the cover. At the same time gaps quietly and play parts too. So, in general, very good assembly. As for the bottom, there is, unfortunately, no cover to get to the internal components is significantly complicate the self-upgrade, the more that cover the bottom panel is secured dozen screws. By the way, it is possible to see very little vent.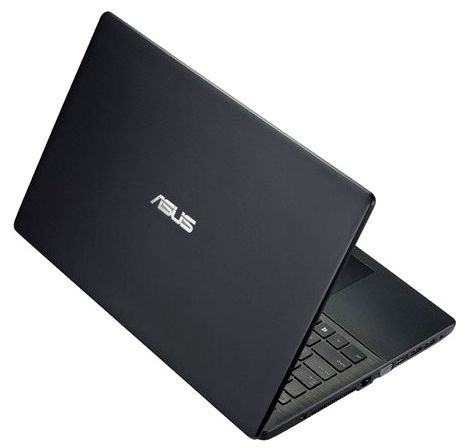 Dimensions 415x272x30 mm slim laptop for 17.3-inch device. However, this laptop is not often see on the road, rather, it is a good stationary version. And it is not only in size but also in part in weight, which is 2.8 kg.
Display, sound, webcam
ASUS X751MD equipped with a glossy display with a diagonal of 17.3 inches and a resolution of 1600×900 pixels. I must say that the matrix installed in the laptop has a good stock of brightness and contrast, but its visibility is noticeably inferior to IPS. In particular, the rather narrow vertical viewing angles lead to the fact that the image will change even with a slight deviation from the right angle. But there will be problems with the font and screen size that is optimal for watching movies or comfortable working with multiple windows applications.
In the frame of the display object is placed traditionally built 0.3 megapixel webcam. This is not the highest resolution, however, it will be enough to let you talk on Skype with friends or colleagues.
Laptop speakers presented two speakers, also are used proprietary technology ASUS SonicMaster. Sounds laptop normally, although the bass lacks. At maximum volume, and it is really enough, there is no distortion. If you plug in your headphones, you can be more comfortable to watch a movie or enjoy music.
Keyboard and Touchpad
Not surprisingly, the 17-inch device are full-size keyboard. Designated primary and digital blocks enough on both sides is still a lot of space. The keyboard is built on the principle of insular, respectively, between the buttons observed optimal distance so that the chance not to press its neighbors. I am glad that there are not too compressed keys, even arrows convenient to use. The only thing that there is no difference in color between the main and the function buttons, it would be much more comfortable. In view of the low-end models backlit keyboard is not available.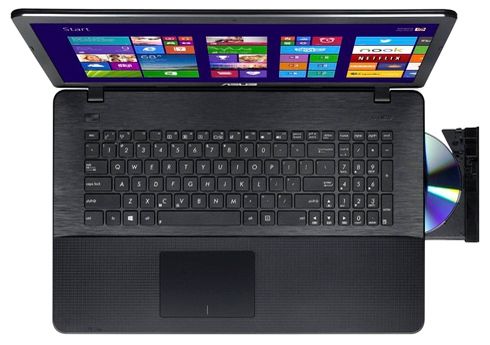 Touchpad ASUS X751MD no less ergonomic. Firstly, it is relatively large, has besknopochnuyu surface, responds well to touch. Second, support for scrolling and zooming gestures will make use of the touch pad more productive. Add that the area of the right and left mouse buttons on the touchpad separated vertical markings. Pressing rigid mainly occurs near a corner.
Performance
In ASUS X751MD 90NB0601-M01000 modern operating system preinstalled Microsoft Windows 8.1 on a 64-bit version. I would also like to note proprietary technology ASUS Splendid, through which you can customize and thus improve the image quality, depending on the four modes: «Normal», «Vivid», «Theater» and «Manual». As an option, it will affect the color saturation, sharper gradation etc.
Notebook is equipped with quad-core Intel Pentium N3530 (Bay Trail-M) with a frequency of 2.16 GHz and the second-level cache in a volume of 2 MB. Despite a sufficient number of cores, this CPU can not be called a high-performance. He will be under the power of office applications, video playback, of course, surfing the web. By the way, the processor does not support JavaScript multithreading, but is characterized by low power consumption of 7.5 watts. With Turbo Boost clock speed Pentium N3530 can be increased up to 2.6 GHz. Depending on the equipment on board the laptop can be a quad-core processor family or Celeron: N2930 or N2830, respectively.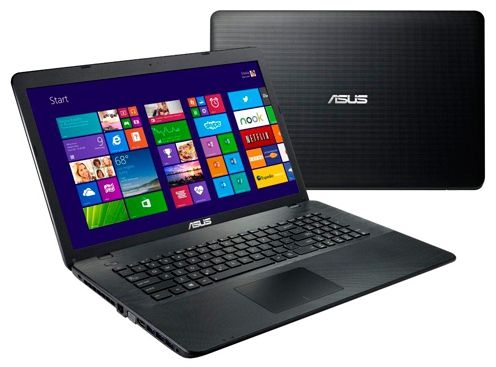 Processor works in tandem with integrated graphics Intel HD Graphics (Bay Trail). It DirectX support 11 has only four execution units is relatively slow in terms of processing solution graphics tasks. If we talk about games, then they can go only on low settings, so that the integrated accelerator is not the option to master modern toys. By the way, in addition to Intel HD Graphics (Bay Trail) provides 64-bit discrete graphics card NVIDIA GeForce 820M (Fermi). It also supports DirectX 11, has 1 GB of internal memory standard DDR3. Sorry, but the schedule is only slightly better than the built-in terms of gaming performance, so the owner ASUS X751MD should not rely on the modern game, which will be used at medium or high settings.
In stuffing laptop use 4 GB of DDR3 RAM with 1600 MHz bus speed. Her half soldered on the motherboard, and 2 GB is in the slot. The maximum that the manufacturer suggests, is to install 8 GB of RAM, the near future is more than enough. As for the hard drive SATA, it will store a lot of files, programs and documents. Provided for this 1TB is more than enough. Of course, the hard drive in this case is not the fastest, it runs at a speed of 5400 rpm.
Ports and Communications
Interestingly, all the main interface ASUS X751MD are left. As a result, there is a network RJ-45 connector, two video outputs VGA and HDMI, as well as several USB, from which a pair of standard 2.0 and one 3.0. In addition, there is a slot Kensington lock, as well as the combined audio jack provided for connecting a microphone and headphones.
The right side looks like an empty since it only has a built-in optical drive DVD ± RW SuperMulti with Double Layer support and socket for recharging.

Rear interfaces are not available, the front is only a card reader, readable format SD / MMC.
For wireless connection meets Wi-Fi 802.11 b / g / n, exchange data allows Bluetooth 4.0.
Battery
Standing in the laptop battery is a lithium-ion and has four sections. Its capacity is 3420 mAh (37 Wh). Just note that it provides a low autonomy, which does not exceed 3 hours 30 minutes.
Conclusion
ASUS X751MD – quite attractive budget laptop, which will be a place at work or at home. To him there is no critical comments. Design of the device along with a hint of a business has a texture pattern. Keyboard with touchpad is incredibly easy to use. The display is quite large, and it can comfortably watch videos, work and even play. As for performance, the processor Intel Pentium N3530 and a couple of cards, having avoided too complicated tasks confidently cope with simpler both in the office and outside of it. By the way, if you plan to frequently connect mobile devices, the ASUS X751MD there are several standard USB 2.0 and 3.0, as well as other connectors. When it will be necessary to create a rich multimedia collection is provided terabyte hard drive will be out of work.
In fact, just have to put up with large size, typical 17-inch model, small self-contained and low-resolution web-camera. However, at a cost considered complete about $ 440, it is unlikely such a laptop would be out of reach, it may even rival the similar low-cost devices. For those who downloaded an office job or a laptop often spends his spare time, buy ASUS X751MD more than appropriate.
Read another very interesting article about alternative energy of the Sun, water and air.