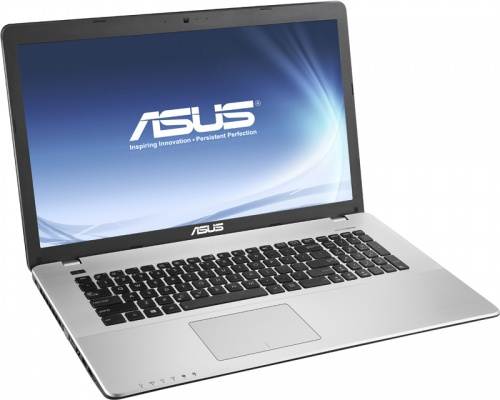 In 2013, ASUS has expanded its line of "K" new laptops, including mean and K750JA. This laptop has a few interesting points in the specifications – for example, the availability of high-performance processor Intel Core i7-4700HQ and 1 TB HDD. Clearly the weak point of the device is TN-LCD with a resolution of 1600×900 pixels and battery capacity of 3000 mAh just something. Diagonal display panel reaches 17.3 inches, so K750JA unlikely to be easy to carry – rather, it is an office or home working machine with good potential.
Design ASUS K750JA
Of course, ASUS K750JA extremely difficult to name a small laptop, because it has a large size, in principle, as a result of the same body size were as follows: 420x280x37 mm, weight 3.1 kg. It should be noted that the thickness of almost four centimeters – a fairly large measure by today's standards, even in the presence of the optical drive.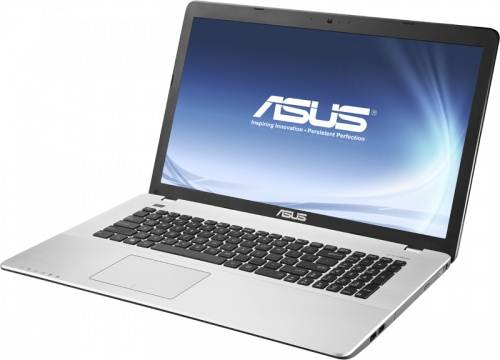 Appearance laptop – strict classic. Black cap made of brushed aluminum, the problem is acute fingerprint is not necessary. Furthermore, the use of metal creates a secure barrier against damage or scratches. Operating panel also aluminum, but has a light gray color. Long been a proven way to make an interesting design from virtually nothing – silver tones combined with black. In the case of ASUS K750JA were black keyboard, laptop and reverse side of the display frame.
The bottom of the laptop is plastic, because of the black palette on it well looked left fingerprints and other dirt. The entire bottom surface ASUS K750JA piece, without a battery compartments or under a separate access to system components. Panel correctly and firmly secured numerous bolts. On the bottom there are vent holes and rubber support feet closer to the front end is a card reader – just nothing special.
Display, audio and webcam ASUS K750JA
The laptop has a solid display sizes to ensure a comfortable stay. However, its resources in terms of the display is difficult to appreciate, as is slowly becoming obsolete matrix TN resolution of 1600×900 pixels and 17.3 inches, and even in companies with a glossy finish, create several dismal. No, we will finally put an end to the possibilities of the screen K750JA – its capacity is enough for quite tolerable view movies, work in the browser and with texts, well, can still play some toys, but more, alas, can not count. Is pay tribute to the maximum brightness level – this is enough to work even in sunny weather outside. However, a small stock of the battery capacity, which will be discussed in detail later, and glossy layer display exclude the possibility of doing it as comfortable as possible. Expected rather narrow viewing angles – even the slightest change in angle of the display image becomes distorted.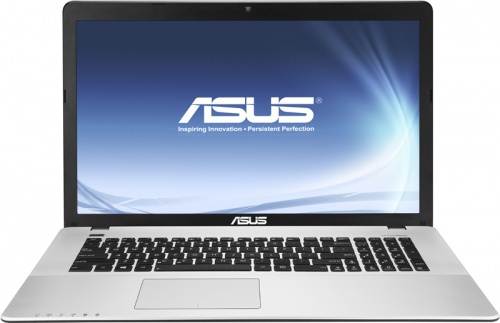 For some reason the speakers here have not provided their own slots – they are hidden under the lower lid and, most likely, the sound is output through the vents. Frankly, it is very strange is this state of affairs – in such a large body was found a couple of extra inches below the speaker grilles. However, paradoxically, but the sound in the laptop sounds pretty loud and the quality is very decent, obvious contribution proprietary ASUS SonicMaster.
Resolution web camera is 0.3 megapixels. To communicate in Skype should suffice, but for those who need is a webcam as a camera, a laptop to use the program offers Life Frame, which significantly extends the functionality of the camera.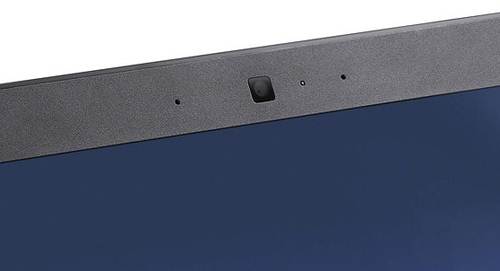 Keyboard and Touchpad ASUS K750JA
In ASUS K750JA installed chikletnaya keyboard, easy to operate. Due to the fact that the aluminum substrate, it substantially does not bend even when the active set of the text. All the buttons are black, they have a middle course, pressed elastically and work with little noise, which, however, does not irritate, in any case, the owner of the laptop. Keyboard complements a separate numeric keypad, its keys like "arrows" are the optimal size that is very, very nice. Function keys [F1] – [F12] work in combination with the [Fn].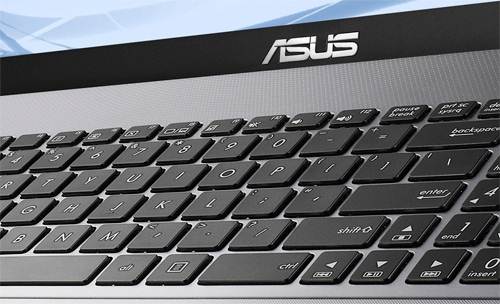 If the keyboard unit looks organically on a large work surface, the touchpad is even more pertinent because of their large size. He shifted slightly to the left from the center podladonnoy grounds, moreover, has no physical mouse buttons – they are a solid tactile zone. Touchpad works quickly, correctly, supports multi-touch gestures.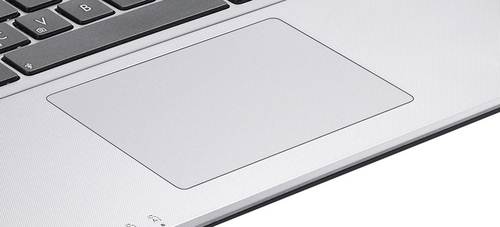 Performance ASUS K750JA
Notebook ASUS K750JA 90NB01Y1-M00090 operates under the operating system Windows 8 64-bit. Certainly many users already adapted to the peculiarities of the OS, but if you have no desire to work with her, and if not sorry to break the licensed version, you can always install everything your heart desires.
Also set high leptom Intel Core i7-4700HQ. It works with four cores generation Haswell frequency 2.4-3.4 GHz. It is a powerful solution that does not ultrabuchnoe with 6 MB cache in the third level. Processor supports hyperthreading and overclocking while consuming energy, taking into account all the components of about 47 watts. It is a lot, but the cooling system of ordinary 15-inch laptop will cope with this load without problems, not to mention the 17-inch sample considered in this review.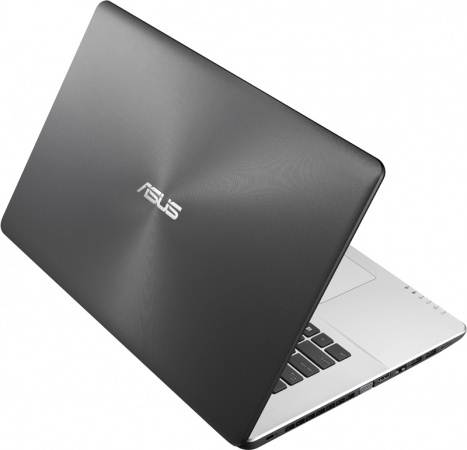 Integrated graphics is represented by Intel HD Graphics 4600 – it works in tandem with some chips generation Haswell. Card has support for DirectX 11.1, OpenCL 1.2, OpenGL 4.0 and 20 actuators that four cores more than the HD Graphics 4000, and 20% more productive. With processor Core i7-4700HQ accelerator Intel HD Graphics 4600 is clocked at 400 MHz to 1200 MHz, thereby ensuring a hassle-free solution to everyday tasks and play some games. So, Total War: Rome II (2013) will go to high-c settings 1366×768 resolution at 22-27 fps, if the lower settings to medium, leaving the resolution unchanged, you can easily play in X-Plane 10.25 (2013) c frequency of 28-29 frames per second.
RAM ASUS K750JA enough that the system functions quickly – here the standard 8 GB DDR3-1600 MHz. Two slots are occupied by two strips 4 GB each, so if you wish, you can easily put on a strap and a greater amount of RAM, worse from this will not be exact.
For storing various information provided here 1TB HDD and a rotational speed of 5400 rpm. Also, if you lift the bottom panel, you can find an empty slot for a second hard drive, which means only one thing – a little 1000 GB, add more, the laptop provides for such a possibility.
Ports and Communications ASUS K750JA
On the front panel are a number of indicators: [Caps Lock], [Numpad], Wi-Fi, hard drive activity, battery and mains operation. Close to them can be found and a card reader, which is hidden on the bottom and almost has hindered approach. But back rake completely free of any functional load.


On the left side there is the greatest concentration of connectors: Combo audio jack, two USB 3.0, RJ-45, HDMI, VGA. Also here carried Kensington Lock and ventilation grille.

Right main part took the optical drive DVD + RW SuperMulti, connector for the power supply and two USB, but version 2.0. In principle, everything is standard, but of course a lot of USB 3.0 does not happen, could be to put them everywhere.

Wireless communication is also not differ overkill: Bluetooth version 4.0 and Wi-Fi 802.11 b / g / n.
Battery ASUS K750JA
Battery – blot on ASUS K750JA. Until the moment the write up this option, and with the exception of the display, this notebook is a decent copy, but it is equipped with a 4-cell battery with a capacity of only 3000 mAh – so many tablets today have a more capacious battery! Yet, disappointed long does not make sense, the fact remains, in practice we have only about two hours of activity when the display brightness and the average level in the combined operation. Yeah, ASUS K750JA apparently without sockets can not live a few hours.
Conclusion ASUS K750JA
ASUS K750JA is a typical working machine with a penchant for multimedia segment. It has a large size and a display size of 17.3 inches and a resolution of 1600×900 pixels. TN-matrix in K750JA provides rather narrow viewing angles, mediocre contrast and good color. Performance pleasantly pleased, as a powerful quad-core processor with integrated graphics can, of course, and not too suitable for professional use or many modern games (if you have a discrete card, things might have been different), but we have what we have, the more than that everyday tasks are easy. Also encouraged a large amount of RAM and the ability to install a new hard drive. But that is why there is such a frail battery? Definitely, it is a major minus of the other characteristics of this laptop, which may partly justify the cost of about 800 U.S. dollars.
Read another very interesting article about alternative energy of the Sun, water and air.