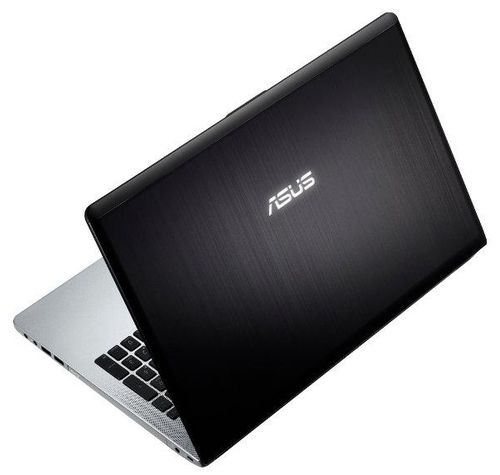 I would like to remind you that last year we have already considered one of the options multimedia series N56, built on AMD platform and a set of discrete cards of the same manufacturer. Generation laptops, released this year and received the title index J, already uses the Intel platform in the company with discrete graphics NVIDIA. Moreover, N56JK – the most powerful equipment in this line, because it is equipped with a graphics card GTX 850M, while N56JR and N56JN go with GTX 760M and GT 840M, respectively.
This model organically combines high-end multimedia quality and good graphics performance. In addition to the powerful graphics card user will get a processor Intel Core i7-4710HQ, 16 GB of RAM and 1 TB hard drive. A special attention should be given high-quality Full HD-display and four speakers with a subwoofer. ASUS N56JK worth just over $ 800, which, in general, not bad for this level.
Design
The housing is almost entirely made of aluminum, the only exception is the bottom – it is plastic. Appearance laptop extremely likable, especially his fans will appreciate the low-key style. There are perfectly combined silver work surface with a black keyboard and display frame.
Someone N56JK may seem a bit thick, because today we are more accustomed to see the elegance of thin laptops. Device really considerable thickness – 34 mm width and 380 mm depth and 255 mm, respectively. Weight 15.6-inch multimediynika is 2.7 kg. Metal lid has the effect of grinding, it is black, is located at the top of the strip of plastic, and in the middle logo ASUS, backlit white cold light during the activity of the laptop.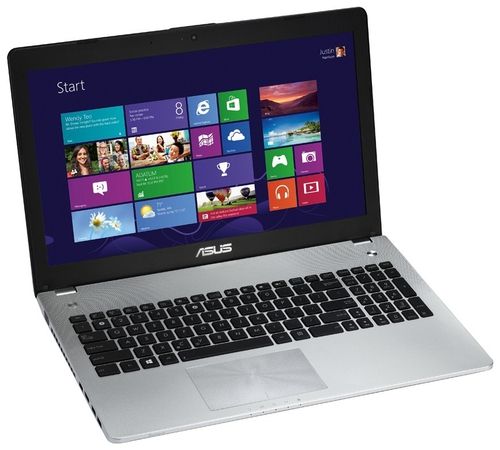 The build quality of the notebook is excellent – it is well built, but noticed one major drawback – the cover of the device is quite easy to be pressed, due to insufficient stiffness of materials. All other parameters claims to N56JK not. The maximum angle of the screen is quite comfortable, well-kept design hinges, the lid open with one hand quite easily.
On the bottom you can find the battery compartment, to which there is free access – you only need to work with the corresponding slider. In addition, it provides cover that protects access to system components and four support legs. Subwoofer, recall, external, so look for him on the bottom does not make sense.
Display, sound, webcam
In N56JK set TN-matrix with a resolution of 1920×1080 pixels. Given that the focus of the multimedia laptop, the display here plays a major role. As a result, we have a wide viewing angle, good brightness and contrast. In addition, a matte finish to avoid glare, but slightly reduces the color quality. In general, the display provides good conditions for use in the form of a laptop multimedia device. Also on sale are available komplektatsiys several different displays: with IPS-panel format and Full HD with TN-matrix with a resolution of 1366×768 pixels.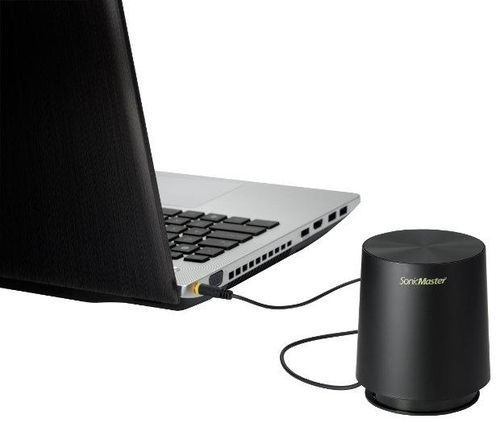 ICEPower four speakers located on the bottom, so the broadcast sound is muted, reflected from the surface. However, this does not interfere with the sound quality to be high due to the technology SonicMaster Premium – the optimal balance of frequencies, a good maximum volume. What else is needed to complete the picture? Of course, the bass, which in most notebook models lacking. But not in this case, since N56JK equipped with an external subwoofer, for which a special connector on one of bokovushek body. He significantly adds depth to the sound, making the sound even more perfect laptop.
The webcam captures 720p, and may be used solely for video calls, since no longer capable.
Keyboard and Touchpad
Island keyboard with black keys is quite compact. Above it is surrounded by numerous perforations are two separate buttons: Left quick access to the application, pre-scored on the button to turn on the right. Last equipped with a LED that illuminates while the notebook is turned on.
Keys are located far enough away from each other, so there are not nampada a lot of space – it was a bit stretched in height, and the keys themselves are clipped to the width of a few. However, in exactly the same style pointer unit. As befits a decent multimedia notebook in N56JK have a three-level LED lights that lit milky-white light.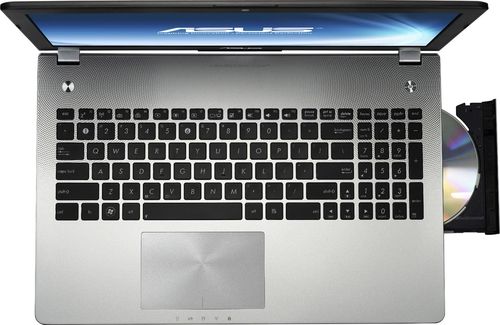 The touchpad is not very large, with a nice touch rough texture. There are no physical buttons – all hidden under the solid surface of the touch area. Do not be amiss to mention the support of multi-touch gestures and proprietary software ASUS Smart Gesture. The touchpad has an excellent sensitivity, providing high-quality navigation in Windows 8.
performance
ASUS N56JK-CN121H running the operating system Windows 8.1. In addition to the multimedia features of the character, in this laptop is necessary to allocate a good bunch of processor + graphics card. It is equipped with a powerful Intel Core i7-4710HQ with an operating frequency of 2.5-3.5 GHz. It has 6 MB cache level 3 and four cores, which then are able to process up to eight threads. It is built on 22-nanometer architecture Haswell, the processor received a set of instructions AVX2 and FMA, as well as integrated graphics Intel HD Graphics 4600, which has at its disposal 20 actuators. In general, given the power of CPU handle the most demanding applications and multitask.
As befits this multimediyniku here installed a discrete graphics card NVIDIA GeForce GTX 850M, built on the architecture of Maxwell. She has a good gaming potential, because GTX line has been designed specifically for gaming models. See her in the line N is a great success. This schedule is clocked at 876 MHz and has 2 GB of video memory standard DDR3. Of course, any modern game, it will pull no problem, as well as various tasks of graphic nature. For example, Far Cry 4 (2014) goes on ultra settings in Full HD resolution with 22 fps, and Alien: Isolation (2014) on the same terms – with 34 fps.
Also, there are 16 GB of RAM DDR3L-1600, for which the manufacturer special thanks. Memory strip fill all available slots, and their laptop in two. Winchester has a capacity of 1 TB, and the rotation speed of 5400 rpm, it connects via SATA-III. Of course, this is not the SSD, but the hard drive is fast enough to not feel uncomfortable while using the laptop. A large amount of memory will allow not to worry about every newly installed game or download movies.
Ports and Communications
We can not say that the number of slots in the ASUS N56JK impressive, but for work and leisure activities that should be enough completely. As part of their uniform distribution laptop also raises no objections. On the left side of the body is a connector for the subwoofer, VGA, RJ-45, HDMI, USB 3.0 and a pair of ventilation grille.
On the right, you can find marginalia Kensington lock, power supply, drive DVD, two USB 3.0, connectors for microphone and headphones.

On the front side endured five LEDs – CapsLock, Wi-Fi, battery, hard drive activity and laptop. Slightly to the left of them, closer to the bottom, you can find a slot for cards SD.
As part of the wireless communications ASUS N56JK offers nothing new – Wi-Fi 802.11 b / g / n and Bluetooth 4.0.
battery
Capacity lithium-ion 6-cell battery is 5200 mAh. That's enough to laptop mode web surfing (respectively, with the included Wi-Fi) worked independently for almost six hours. A good result given the considerable power powerful filling.
conclusion
What can I say, ASUS N56JK is a perfect combination of style and performance. It is equally succeeds in solving a variety of tasks, including games. The classic form factor on strong technical base in the sum give a universal answer to the question "What kind of laptop model you choose?". ASUS N56JK perfect for home or office use, and taking into account the ordinary strict appearance – any age and style of the user's life.
Read another very interesting article about alternative energy of the Sun, water and air.