A new feature Android 6.0 Marshmallow allows to use MicroSD as a built-in memory. If your smartphone has 8GB of internal memory or less, a new feature will increase built-in memory twice and possibly four times.
Even if you have a smartphone with 32GB internal memory and more, you also use the MicroSD card as the internal memory.
However, there are some nuances. Android-application developer StereoMatch did some experiments and discovered that Android 6.0 Marshmallow really allows you to use an external storage device as an internal memory, but it is not so simple.
When Android 6.0 Marshmallow sees that you have inserted the MicroSD memory card, the system will ask whether you want to MicroSD card worked as an external memory or internal storage.
If you choose the external memory, the operating system will consider the MicroSD card as a removable storage device, as it was in earlier versions of Android. Thus, you can store movies, photos, music, and photos to MicroSD card, but not a games or an applications.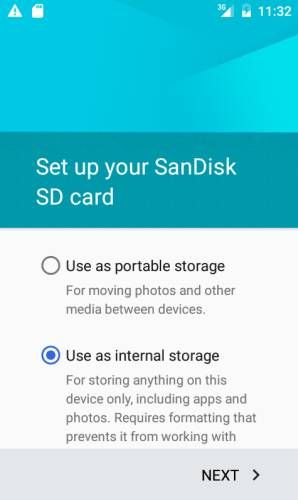 If you choose MicroSD card as the internal memory, it is encoding. After you formatted the MicroSD card will only work for internal storage. If you try to run it through the computer, the card does not work.
Also, if you go to the section "Storage and USB-drives" setting in Android, you do not even see that smartphone has more built-in memory. You will only see the free space that is available to MicroSD card.
Of course, you can still install applications on a real built-in memory and the card MicroSD, which has been formatted, and now works as an internal memory. But if you phone has 8 GB of internal storage and 32 GB MicroSD card on, you can use only 32 GB for all content, such as movies, games, music and other files, rather than 40 GB.
But what is more important: a real built-in memory of the smartphone is faster than any card MicroSD. Therefore, if you have a smartphone with 32 GB of internal memory, we do not recommend to use the new feature.
On the other hand, if you have a cheap Android smartphone with a 4 GB or 8 GB of internal memory, you can use a MicroSD card to increase the built-in memory, but you should be prepared that your phone will run a little slower.
Read another very interesting article about alternative energy of the Sun, water and air.