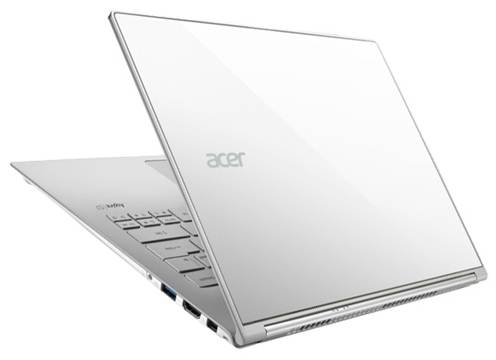 Ultrabooks in the electronics market now is not so little, and they have many well-known manufacturers. Company Acer, certainly not left out in its wide enough range also found interesting specimens including ultrabooks. One such device is the Acer Aspire S7-392, which has a 13.3-inch display with a fairly high resolution 2560×1440 pixels, as well as low weight and compact body. However, only whether it will attract the interest of many fans of ultra-thin laptops? Certainly in the bank this laptop hidden something. In general, get acquainted and make conclusions.
Design – Acer Aspire S7-392
Acer Aspire S7-392 body is made of plastic and aluminum and has a fairly compact dimensions – 323h223h13 mm. The bottom surface of the device and the working of metal, pretty solid. But the thin cover, unlike the keyboard area, the property has much to bend, so that not everything is perfect as it seems at first glance. Incidentally, ultrabook weighs quite a bit – 1.3 kg, so the trip he is always a place among other things.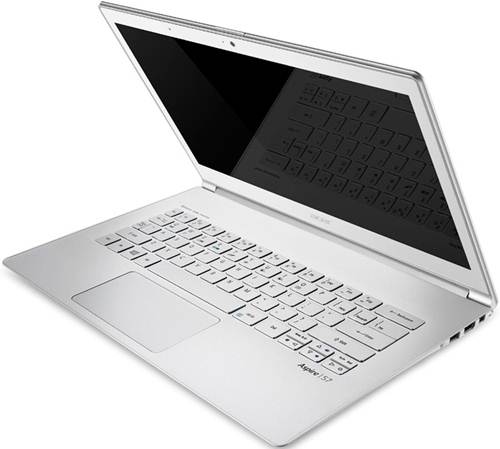 Generally, Acer Aspire S7-392 looks more than attractive. It is stylish and beautiful, although there is nothing superfluous. Acer logo on the lid are Ultrabook and the display frame, that's all. But the colors (white or silver) certainly able to please many. Interestingly, the display is connected to the base of a single loop, it allows you to expand Acer Aspire S7-392 to 180 degrees, which is convenient to perform any task on the ultrabook. Moreover, is not difficult and dismantling the laptop, because actually it will have to untwist only a few bolts.
Display, audio, webcam – Acer Aspire S7-392
The advantage of this laptop is a 13.3-inch display. It is made by IPS-technology and has a high enough resolution 2560×1440 pixels. This image on the display clear, rich, optimally suited for watching movies. If the screen will sit a few people that do not have to adjust, because a deviation from the right angle is virtually no inversion. Also want to mention a decent supply of brightness (an average of 280 cd/m2) and high contrast, color rendition is not excellent, but quite normal. The only thing that during operation without scaling much will unusually small, from what may quickly tire of your eyes.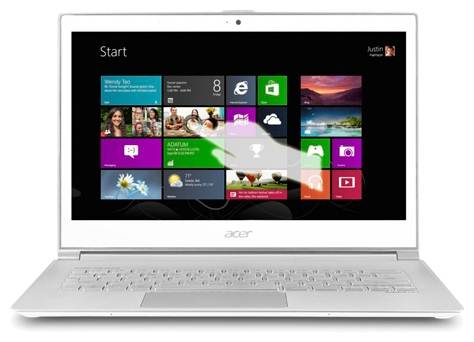 Display Acer Aspire S7-392 protects durable glass Gorilla Glass 3, scratch-resistant. Also has an oleophobic coating, whereby fatty fingerprints easily scrubbed. Moreover, given the opportunity to touch input and support 10-point multitouch.
Acoustics, in general, left a good impression. Two stereo speakers located on the sidewalls give a very good sound. It is quite loud with clear mids and highs. Of course, the bass can be heard here, as expected for the ultrabook. Of the shortcomings can be identified except that wheezing sound appears at maximum volume.

As for the camera, it has a small 1.3-megapixel resolution, which is enough for video conferencing.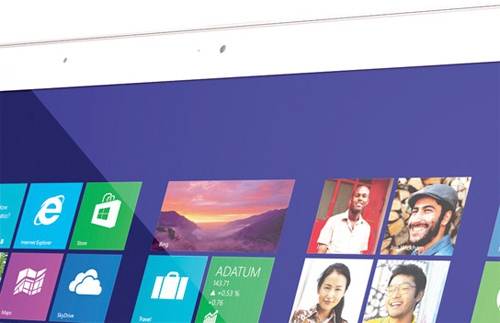 Keyboard and Touchpad – Acer Aspire S7-392
This notebook is equipped island keyboard. The main part of the key is optimum size, and the distance between them makes it possible to avoid typing errors when fingers often fall on the adjacent buttons. The only thing that differs from the standard layout, have to get used to this.
At first glance seem metal keys, but in fact it uses plastic. It's nice that they pressed very quiet, somewhat elastic, besides also highlighted, not only their outlines, but the letters themselves. The maximum level of emission is not too high, it is adjusted manually or automatically.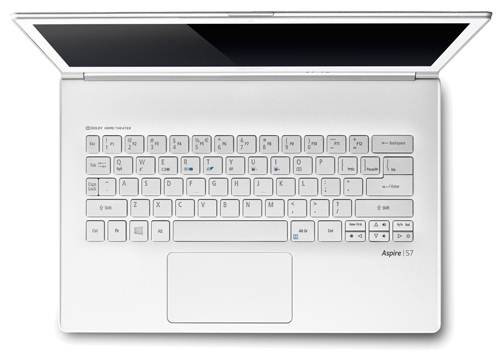 However, there has not been without drawbacks. For example, in the Acer Aspire S7-392 functional top row of the keyboard and contains letters and numbers, and [F1] – [F12]. Hardly a practical side it seems a good solution. Incidentally, the space on the work area for more than one row is enough, so it is unclear why the designers did just such a keyboard.
The touchpad is slightly recessed in the ultrabook, has clear boundaries, has good sensitivity and therefore works correctly. With a touch of the manipulator can be scaled to perform scrolling with two fingers.
Performance – Acer Aspire S7-392
Options Acer Aspire S7-392-74508G25tws equipped with a preinstalled operating system Windows 8 and has a pretty productive stuffing. One of its components is a dual-core Intel Core i7-4500U clocked at 1.8 GHz and a cache in the third level of 4 MB. It is built on 22-nm technology, has a relatively low power consumption – 15 watts. Besides support for a range of technologies allows him to quickly cope with the tasks. For example, using Hyper-Threading is handled four data streams simultaneously, with Turbo Boost increases the frequency up to 3 GHz.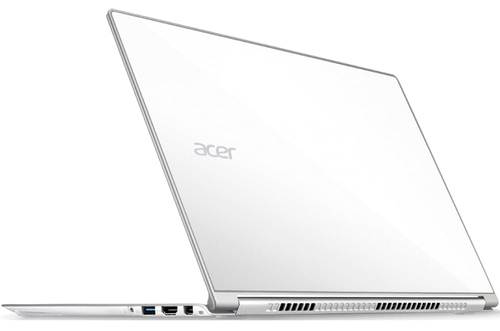 In addition to the integrated graphics processor Intel HD Graphics 4400 with a frequency of 200-1100 MHz. It decodes the video, very good processes graphics for games, etc. Of course, to play at a high resolution in modern toys you do not succeed, but if you reduce it to 1366×768 pixels, putting a medium setting, then go Total War: Rome II with a frequency of 28-30 frames per second. Playable and will be Counter-Strike: GO at high-settings with 33-40 fps and the same resolution.
By the way, too much space to store content not here, but the speed of reading and writing data is quite high. This is explained by the fact that instead of a hard drive in the laptop has two SSD-drive capacity of 128 GB in a RAID 0. As for RAM, it is standard 8 GB DDR3L-1600 MHz (soldered to the motherboard). With a capacity of RAM the system will not slow down even if you have to run a number of demanding applications.
Ports and Communications – Acer Aspire S7-392
On the left side is ultrabuka port USB 3.0, card reader SD, button on the device and the socket for recharging.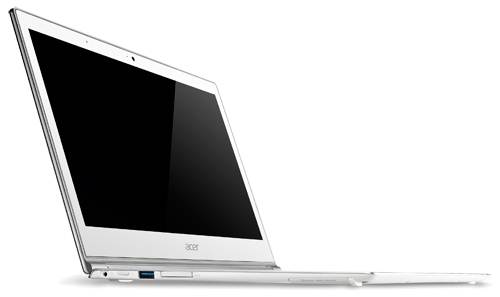 The opposite face contains Acer Converter Port, allowing via adapters connected via VGA or RJ-45, digital video output HDMI, one USB 3.0 and audio jack for a combined microphone and headphones. None of the sides no ventilation grilles, all located on the rear panel, where no one is prevented.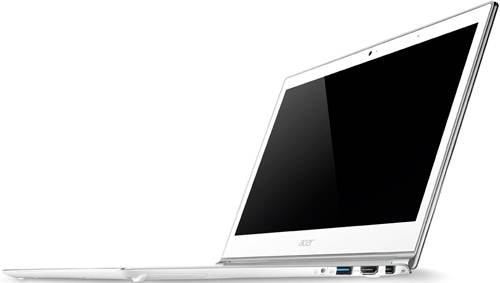 The notebook will let work on the Internet via Wi-Fi 802.11a/b/g/n. Besides, there are Bluetooth 4.0, due to which there is an exchange of data between devices, in particular, can be connected to Acer Aspire S7-392 and the corresponding mouse.
Battery – Acer Aspire S7-392
Established in ultrabook removable lithium-polymer battery has four sections and capacity 6280 mAh (47 Wh). Under high load, the device runs out in two hours, and in a mode «Read's» will be run for about eight. So that the autonomy of this laptop can be considered more than suitable for travel.
Conclusion – Acer Aspire S7-392
Acer Aspire S7-392 – a modern, attractive laptop, which, however, not everything was perfect. For example, IPS-display you get a wide viewing angle, high resolution but is unlikely to be equally comfortable for all tasks. The keyboard also has its pros and cons. In particular, the island where the keys are definitely a very good decision, but the lack of more than one row of buttons, whereby the function keys had to connect with the numbers is not the most suitable option. Also spoiled a pleasant experience build quality, which will not hide flaws stylish body. What is not in doubt, it is a powerful hardware sensitive surface of the display, light weight laptop is pretty decent and autonomy. Only one thing, the average cost is $ 1760. This is an occasion to reflect on such a purchase, because we certainly have competitors models capable of competing on equal terms, and even get ahead.
Read another very interesting article about alternative energy of the Sun, water and air.