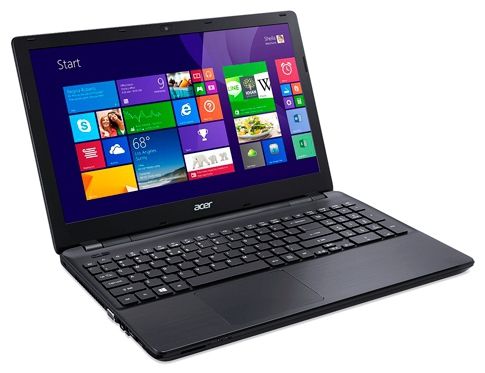 Laptops Aspire E – is often the device primary or secondary level, which by virtue of office applications and other daily tasks. As a rule, they are low cost because manufacturer equips them not the most powerful components of conventional displays, which is enough to work with documents or watching videos. Often, the E-series laptops very limited possibilities when it comes to complex calculations. Yes, in general, they do not claim to be more staying typical workhorse. If we talk about the design of these devices, it is often a classic and unremarkable. However, there are exceptions, such as Acer Aspire E3-111 produced in quite bright colors (pink, blue).
We have repeatedly talked about the laptops Aspire E. familiar with Acer E5-571G-56B5, Aspire E1-771G, Aspire E1-510, Aspire E1-572G and others. They are mostly unassuming appearance, practical, often with modest resources. In other words, amazingly hardworking laptops, but without the veneer and the "high self-esteem." Not surprisingly, the Acer Aspire E5-551G seem as common. However, things may be quite different, perhaps by this shell will performance notebook that will change the general opinion on the budget line of Aspire E.
Design
If you think that the laptop is made in the original design, you are deeply mistaken. His most usual unassuming exterior. The cover is a smooth panel, curving at the corners of the ornaments – only logo Acer. Plastic outer surface strongly spoiled, despite a matte finish and a little bent and slightly squeaks. Coloring Acer Aspire E5-551G too monotonous and boring. And the work area, and exterior completely finished in black. However, if the laptop is used for office work, then more is needed to once again not to be distracted.
The display is connected to the base by means of tight hinge, which allows it to uncover 170 degrees. The bottom panel contains only the laptop battery compartment, but to get to the hard drive or wireless module have to unscrew a few screws. By the way, at the bottom you can see several vents, as well as two speaker grilles placed closer to the right and left end face.
Dimensions Acer Aspire E5-551G up 382x256x30.3 mm, and weight – 2.5 kg. For a 15.6-inch device is the usual indicators, except that the thickness too big. In general, you can leave the laptop in the office or at home, and carry with them on business trips and other travel.
Display, sound, webcam – Acer Aspire E5-551G
Aspire E5-551G screen has a standard 15.6-inch diagonal and a resolution of 1366×768 pixels. Matte display, easy to operate, because it reflects almost nothing and no glare. However, the brightness level that does not exceed 255 cd / m2, a sunny day is not enough.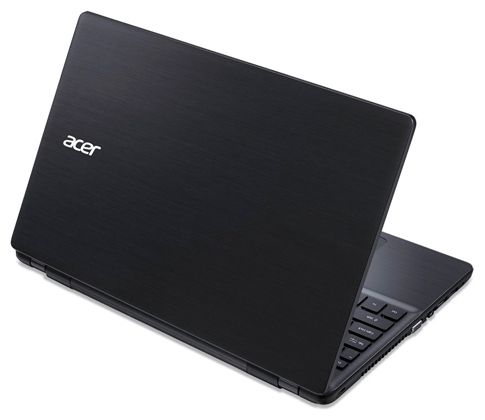 Unfortunately, the colors on the screen are inaccurate, so the image can not boast of realism. And visibility TN-matrix does not provide stable viewing angles, because a small deviation will be significantly distorted picture and go into the negative. Given the budgetary display, do not expect him to something supernatural.
Above the screen is built-in webcam Acer Crystal Eye 1.3 megapixel resolution. It is useful if you frequently chat on Skype, but for the photo is not the best option.
As for the acoustics, the sound is not very good laptop. High frequencies are heard perfectly, but there is practically no bass. Because of this audio playback turns one-sided, there is no special emphasis. Of course, in the perfect sound and do not need, but when watching a movie it really is not enough, so you have to plug in the headphones.
Keyboard and Touchpad
Laptop Keyboard perfectly designed for everyday typing. It is an island, a relatively large, complemented nampadom. Strongly reduced no buttons, except that you have to get used to to the deflection unit and compressed rarely used tilde.
The rest of the keys are very well marked, clear symbols, the layout is standard, in general, do not have to look closely and rebuild. With regard to the substrate, it is quite tough and intensive printing will not sag. Of additional buttons that are out of the keyboard, you can see only the power key. No backlight, so as to be expected from a budget notebook.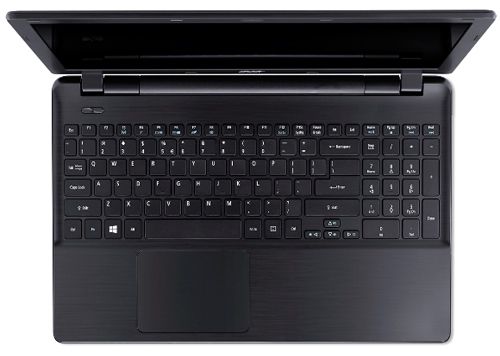 Touchpad Aspire E5-551G has a relatively large size and smooth surface besknopochnuyu and supports scrolling, zooming, gestures in Windows 8.1. The problem only with sensitivity. Occasionally touch pad responds to commands from the delay, and it brings discomfort and desire to go on a mouse.
Performance
In Acer Aspire E5-551G-F63G NX.MLEER.010 pre-installed 64-bit operating system Windows 8.1. The device operates on quad-core AMD FX-7500, submitted in 2014. This chip is built on the architecture of the Kaveri to 28-nanometer technology, it is a low voltage, has an average level of performance similar to Core i3-4100U from Intel. CPU clock speed of 2.1 GHz, but can be increased up to 3.3 GHz. Cache Memory AMD FX-7500 – is 4 MB second level. Of course, this potential will not allow the processor to master complex computational operations.
In addition, there is an integrated graphics card Radeon R7 (Kaveri), which is a good idea to cope with daily tasks. Graphics has 6 cores, supports DirectX 11.2. In addition, it is well-encodes and decodes video, and will play in the game of the year 2013-2014, however, at low or medium settings. Its potential can be compared with a discrete graphics card entry-level NVIDIA GeForce GT 720M. So, with video accelerator Radeon R7 (Kaveri) will go to medium-settings and a resolution of 1366×768 pixels game Total War: Rome II 2013 or F1 2014. In each case, the frame rate per second will be at the level of 29-30 fps.
Manufacturers generously contributed enough to the needs of notebook 8 GB of RAM. It has a standard DDR3 Low Voltage and bus speed up to 1600 MHz. This amount of RAM along with other components of filling should improve the performance of Aspire E5-551G. As for the hard drive, there is a storage allocated 1 TB. Hard drive works with a standard spindle speed of 5400 rpm. Additionally used SSD-cache, which has a capacity of 8 GB. In other words, we are dealing with a hybrid drive.
Ports and Communications
Mainly ports and connectors Acer Aspire E5-551G are on the left side. In particular, there is placed a network RJ-45 connector, VGA, HDMI, one USB 3.0 standard and combined audio jack for headphones and microphone. At the end of the verge is a slot for a Kensington lock.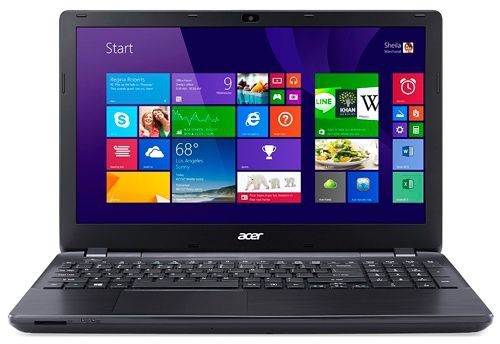 But the right you can see the built-in optical drive DVD ± RW, as well as two USB 2.0 ports and a socket for recharging.
On the front end of the notebook has a card reader. He reads the memory card format SD / MMC / MS / SDHC / Pro. There is also the indicators of the state of charge of the battery and the laptop works. The rear panel of the laptop completely empty.
As for wireless communications, they are presented with Wi-Fi 802.11b / g / n and Bluetooth 4.0.
Battery
The laptop is a 6-segment lithium-ion battery capacity of 4700 mAh (52 Wh). When you surf the web and reduced brightness by 40%, it is discharged after five hours. Documents can last about eight hours. But in games, when the device is exposed to excessive load, autonomy drops to 3 hours.
Conclusion – Acer Aspire E5-551G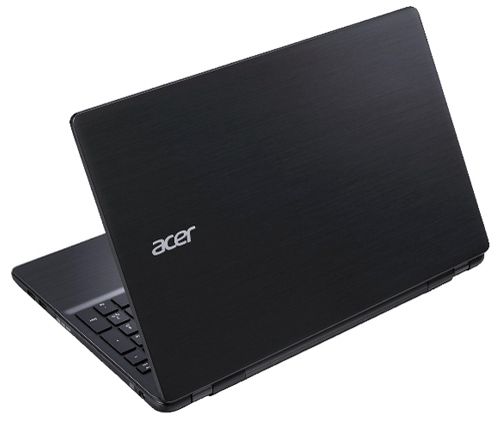 If you are a lover of glamorous things, laptop Acer Aspire E5-551G not the option that you want. He is discreet, made in primitive design that perfectly fit into the interior of the office or the office, but no more. Like other low cost device, this laptop does not provide very high performance, so it is easy to cope with web surfing, work tasks, as well as play back video without problems, will provide an opportunity to play a little and so on. To do this, it provides a low-voltage processor with integrated graphics, hybrid drive, 8 GB of system memory. In addition, the display has a matte finish that reduces glare and reflections during use. As for the cost of the laptop Aspire E5-551G-F63G about $ 480, it fully justifies its capabilities.
Read another very interesting article about alternative energy of the Sun, water and air.