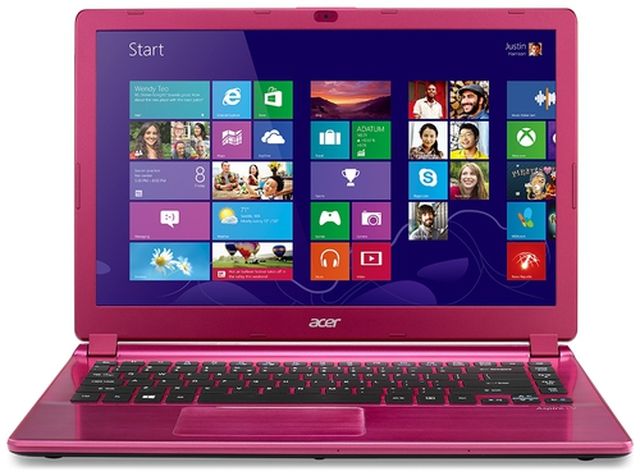 We have already written about some representatives Aspire V5 line of Acer. But if we pay attention to the productive 15.6-inch laptops. Today it will be yet another member of this genus, but a completely different direction. Hero of this review – Acer Aspire V5-472G – is compact and practical laptop with a diagonal of 14 inches. He's not as productive as his older brothers, but it is lighter and more mobile. However, the combination of Intel Core i5-3337U and NVIDIA GeForce GT 740M is also not "graze back" and provides Acer Aspire V5-472G decent power. But not everything depends on the performance are also important materials and build quality, display, audio and autonomous operation. Let's see how things are with all of these components and how Acer Aspire V5-472G in keeping with its price.
Technical characteristics Acer Aspire V5-472G
Processor: Intel Core i5-3337U 1800 MHz
Memory: 4 GB DDR3 1600 MHz
Storage: 500 GB HDD 5400 rpm SATA II
Display: 14 "1366×768 WXGA LED TN, glossy
Video: Intel HD Graphics 4000, NVIDIA GeForce GT 740M 2GB DDR3
Wireless: Wi-Fi 802.11 a / b / g / n, Bluetooth 4.0 + HS
Audio: 2 speakers
Interfaces: 2hUSB 2.0, USB 3.0, RJ-45 (LAN), Converter Port. HDMI, combo audio jack, card reader
Extras: 1.3 MP
Battery: 4-cell Li-Polymer 3560 mAh
Dimensions, weight: 340x240x23 mm, 1.98 kg
Operating system: Windows 8 (64 bit)
Options: Acer Aspire V5-472G-53334G50app
Design Acer Aspire V5-472G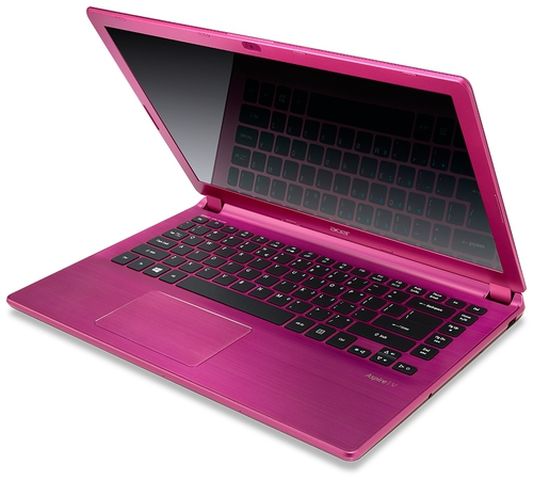 Externally Acer Aspire V5-472G fits the style of the entire line of Acer Aspire V5: smooth, slightly rounded surfaces and lines, no chopped and massive parts. The design of this laptop can be called a concise and elegant. Only the bright pink color of our bundling dilutes this restraint and gives Acer Aspire V5-472G fashion and youthful appearance.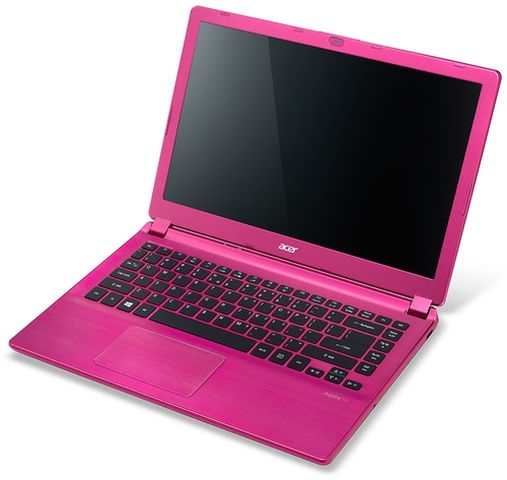 In addition to this there are also colors dark gray, gold and light gray color. As for the interior materials, almost all laptop except podladonnoy surface made of conventional plastic, which looks very similar to brushed aluminum. But she podladonnaya surface is made from the most that neither is this aluminum.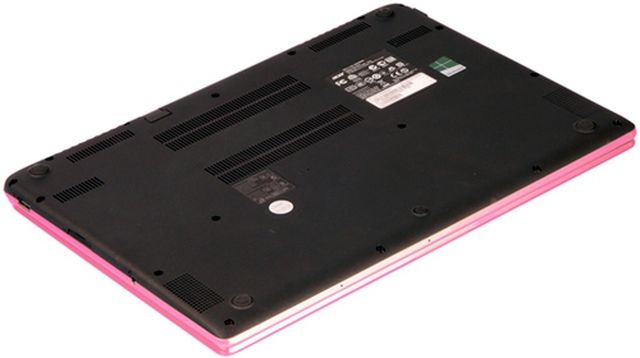 Its quality of questions asked, but to the stiffness of the body, there are several claims. First, the top cover is suffering – at the slightest pressure on it immediately appear on the display distortion that is common to many models of laptop. Secondly, the keyboard, or rather its central area – padded in this place much flex when pressed, which can interfere with intensive typing.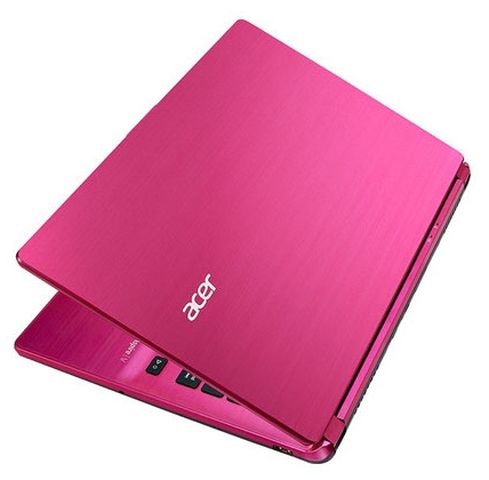 Dimensions Acer Aspire V5-472G is quite compact: 340x240x23 mm, weight is also consistent with the overall dimensions – 1.98 kg. For comparison, similar in characteristics ASUS X450LB has dimensions of 348x241x32 mm and weighs 2.1 kg, but unlike our test model has an optical drive.
Display, audio and webcam Acer Aspire V5-472G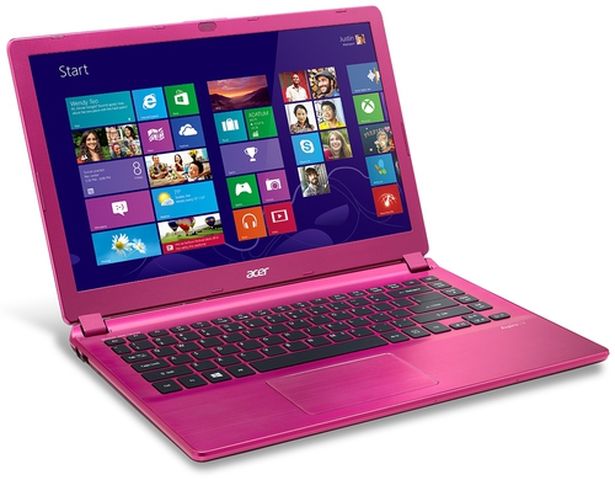 In the line of Acer Aspire V5 includes models with diagonals of 11.6, 14 and 15.6 inches. Our laptop is equipped with an average size 14-inch display with a resolution of 1366×768 pixels. Such a ratio diagonal and resolution provides quite acceptable pixel density, at least you will not see grain.
But the fly in the ointment in the overall picture quality of this makes the display itself. All the matter is that it is the technology TN, not IPS, however, even the most TN-matrices outscored our matrix. Very big gripe primarily cause viewing angles, they are pretty mediocre and require constant adjustment. Color and contrast are also not up to par.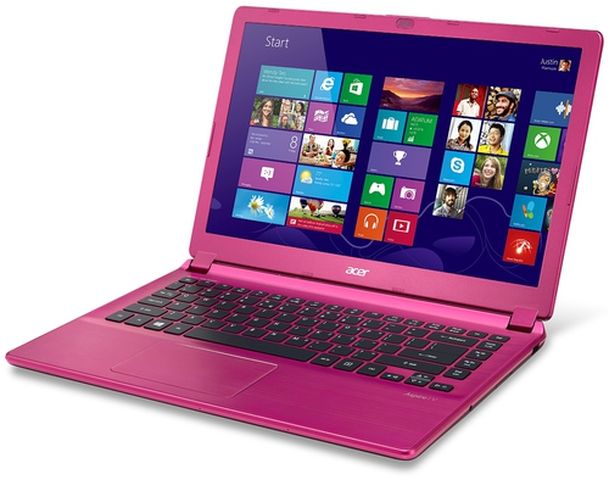 Another worth noting gloss finish display. It also improves the overall perception of the image and display it, and at the bright sunny weather even worsen it because of the many highlights.
If the display quality, this model is inferior to most competitors, in terms of sound – on the contrary. Seemingly small, thin laptop can not give good and loud sound, but the Acer Aspire V5-472G refutes this assertion. Of course, the bass is not as much as we would like, but the mids and treble sound is clean, and the total volume is the same as that of a good multimedia notebook.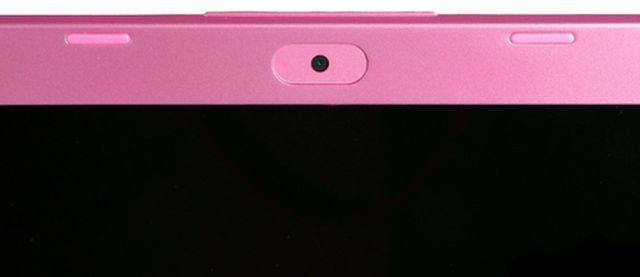 Engineers pay built-in webcam not much attention as we would like, in the end we have produced almost all laptops are identical in quality webcam. Our a resolution of 1.3 megapixels and is suitable mainly for video conferencing, for more of its quality is not enough.
Keyboard and Touchpad Acer Aspire V5-472G
Almost all laptops come with Acer Aspire line island keyboard, Acer Aspire V5-472G was no exception. It is worth noting that, unlike their older 15.6-inch counterparts, this model lacks a separate numeric keypad, which may not be enough for some users to work. The entire area has a keyboard rather large and well thought out, even dial unit only slightly reduced.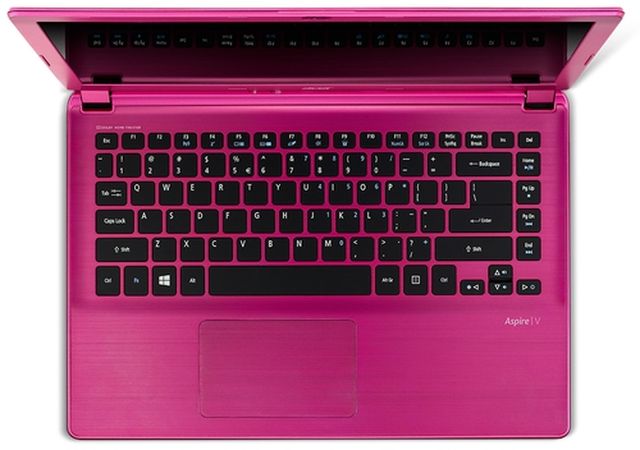 As for the keys, they are painted in a dark color and well marked. They have a short stroke and the return is relatively weak, which is not very well displayed on typing. Also in this model there is no backlit keyboard.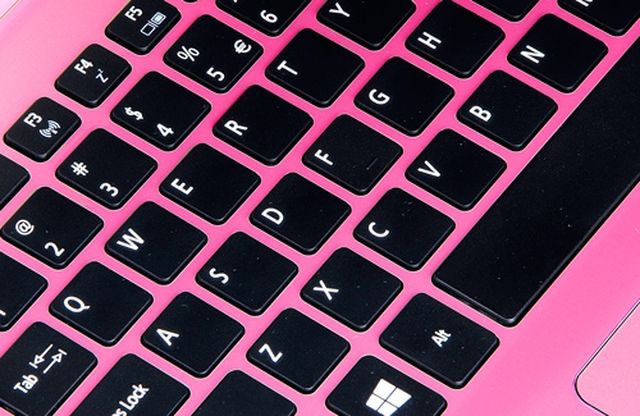 Detached keys not at all, even a button on your notebook put to the left side edge of the laptop. This is very controversial, but eventually to this arrangement can be used. As for multimedia features, they perform the main keyboard keys in combination with the [Fn]. So, for example, for a stop and rewind music playback buttons correspond to [Home], [Pg Up], [Pg Dn] and [End], and for the increase / decrease the volume and backlight – dial unit.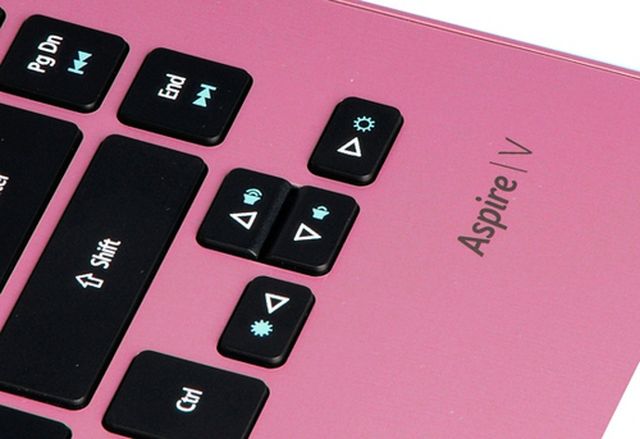 The touchpad is quite large in size and has defined boundaries. Its surface is smooth and allows you to control the cursor easily and fairly accurately positioning is performed. But multitouch gestures performed several problem, but eventually can be accustomed. No separate mouse buttons, their role is in the area bottom of the touch surface.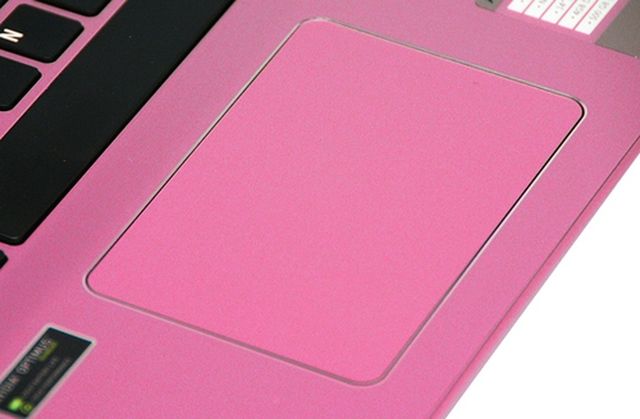 Performance Acer Aspire V5-472G
Laptop Acer Aspire V5-472G-53334G50 app comes preloaded with the operating system Microsoft Windows 8 (64 bit) for one language.
The "heart" is a low-voltage processor Intel Core i5-3337U , designed specifically for installation in compact notebooks. This CPU has technologies such as Hyper-Threading, which allows simultaneous processing of up to four streams of two cores and Turbo Boost. The latest technology allows you to raise the base rate of 1.8 GHz to 2.5 GHz for the two active cores and up to 2.7 GHz for one active core. 3 cache level is 3 MB, and TDP of the dual core processor is 17 watts.
The notebook uses integrated graphics Intel HD Graphics 4000 , which is clocked at 1000 MHz. As for her performance, she will cope with mild and moderate problems. Decision heavier jobs "falls on the shoulders" discrete graphics card NVIDIA GeForce GT 740m . If Intel HD Graphics 4000 has only the 16th shaders, the discrete graphics has at its disposal to 384 shader cores, which operate at frequencies up to 980 MHz. You can also select 128-bit memory bus and 2GB of memory standard, DDR3.
Recently, ultraportable devices become popular use is soldered on the motherboard RAM. In Acer Aspire V5-472G, so has 4 GB of RAM, but apart from him there and classic slot for memory, which you can put the bar at 8 GB. The maximum amount of RAM in this case would be 12 GB, however, and 4 GB provided in our assembly, to be missed with his head. By the way, the DDR3 memory running at 1600 MHz.
To store data in the laptop has a simple but at the same time quite reliable hard disk of 500 GB. Of course, the rotation speed of 5400 rev / min and connect via SATA II interface is not the best impact on his performance, but for everyday tasks it is enough. In addition, for very fastidious user has the ability to upgrade this laptop by installing the SSD connector mSATA.
Ports and Communications Acer Aspire V5-472G
Developers opted for a minimalist and reduced to the desired level set of existing communications. As a result, Acer Aspire V5-472G was deprived legacy VGA and losing popularity optical drive, however, as the entire line of notebooks Acer Aspire V5. The only gripe in terms of placement of the ports is USB 3.0, which is not enough that only one, so he is also placed on the back of hard-to-face.
The side faces are not so richly endowed with both ports on most laptops, but still on the right side put themselves one port USB 2.0, audio jack and card reader combo.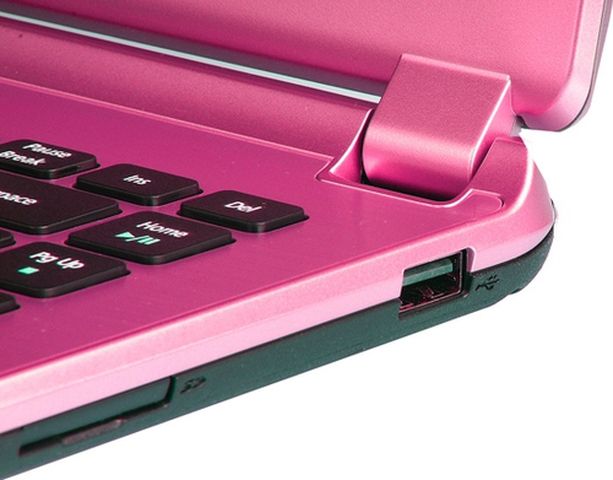 Left side Acer Aspire V5-472G can only boast of the power button, which we discussed above, the socket for charging and another port USB 2.0.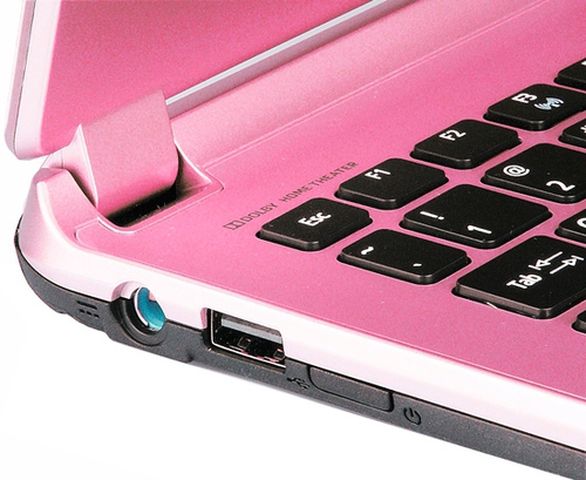 But the main carrier of the connectors back face of laptop, there are HDMI, USB 3.0, Kensington lock slot, RJ-45 network and Converter Port. The latter serves as a replacement for the outdated VGA, through this port with a special adapter, you can connect the projector, external display or other device with a connector VGA.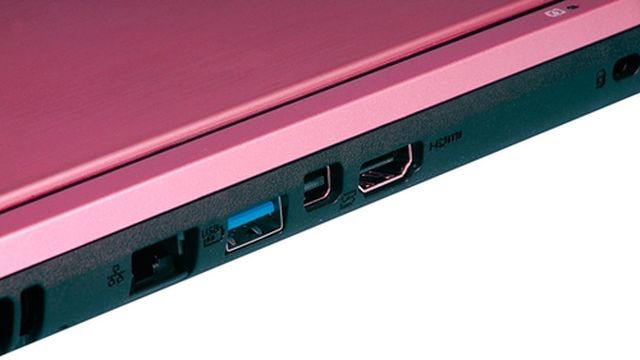 Acer Aspire V5-472G is equipped with a standard wireless communications: Wi-Fi 802.11 a / b / g / n and Bluetooth 4.0 + HS.
Battery Acer Aspire V5-472G
Lithium Polymer 4-cell battery with 3560 mAh battery provides no record, but quite acceptable runtimes. All business in a relatively small battery capacity, but this is offset by a small display and energy efficient components. Charging laptop 90-watt power supply.
As for specific numbers, then to the manufacturer maximum battery life is 6 hours, but this mode to surf the Web, at a mere Acer Aspire V5-472G will be able to "live" a little longer. But in the high-load mode, this unit will not work more than 2 hours as it includes a discrete graphics card.
Conclusion Acer Aspire V5-472G
Acer Aspire V5-472G is an example of a good, universal laptop that can be compact and stylish assistant on long trips, a good working tool in the office or at home full-fledged multimedia center. Of course, there are models that are better able to cope with the above responsibilities individually, but why do you need two separate laptop, if you can take one for most tasks. Needless to say, that the Acer Aspire V5-472G is not without flaws, and perhaps the most important of them – the display. It spoils the overall impression of the device, and the problem is present in the majority of these laptops, but manufacturers stubbornly refuse to notice this. There are some claims to the stiffness of the body, but it is a trifle.
But Acer Aspire V5-472G has a number of advantages, so, for example, his performance will be enough to solve many tasks, particularly for the less demanding games. A hearing speakers will delight even the most demanding listener. Design and dimensions can also be recorded in the advantages of this model, because the compactness and elegance are always welcome in devaysakh kind. As for the price Acer Aspire V5-472G, $ 700 for this model is a bit high.
Read another very interesting article about alternative energy of the Sun, water and air.