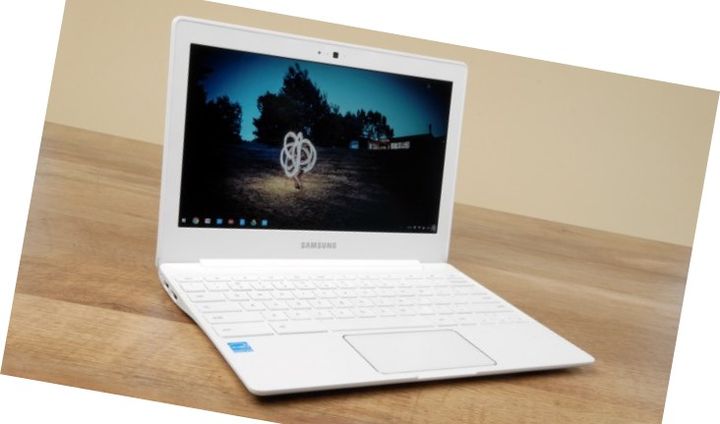 In the US and several other countries, laptops with Chrome OS is gradually gaining popularity thanks to an affordable price. At the moment they appeared in the model series the majority of manufacturers, and, apparently, their number will only increase. This is facilitated by the promotion of Google, as well as free and active development of Chrome OS. Let's take the example of Samsung Chromebook 2 see how Chromebooks may be useful in the Ukrainian realities.
Chromebook 2 is designed in the style of the latest generation of Samsung notebooks, which, unfortunately, in Ukraine is not yet available. He received a relatively thin shell, which can be black or white. We were on the review just got the latest version, and it looks quite nice.
The basis of the case, where is located the keyboard unit, made of matte plastic, it also covers edging matrix display. But the cover of the last made in the style of smartphones Samsung, with a textured pattern imitating the skin.
Given the budgetary positioning device, such method allows a variety of design models.
Not to say that it is from this began to look much more expensive than it actually is. However, such a textured pattern both in appearance and tactile, the usual pleasant matte plastic.
Overall looks Chromebook 2 modern, and although his body is completely made of plastic, it is perfectly assembled.
Ease of use
Case Dimensions Samsung Chromebook 2 up 28,95h20,5h1,67 cm and weighs 1.2 kg. This is not the most compact dimensions for the 11.6-inch model, but it is quite convenient to use on the go.
Yes, and the Chromebook 2 does not look great. Cover the enclosure is opened with little effort, and well hinge locks the display.
Keyboard Samsung Chromebook has two large keys island type with almost standard layout. Important differences can be identified Search button instead of Caps Lock, and the lack of Windows keys and Del. In spite of this, you get used to the keyboard very quickly, users are Windows-notebook will not be difficult not to move it. The only keys which are missing so it backlight.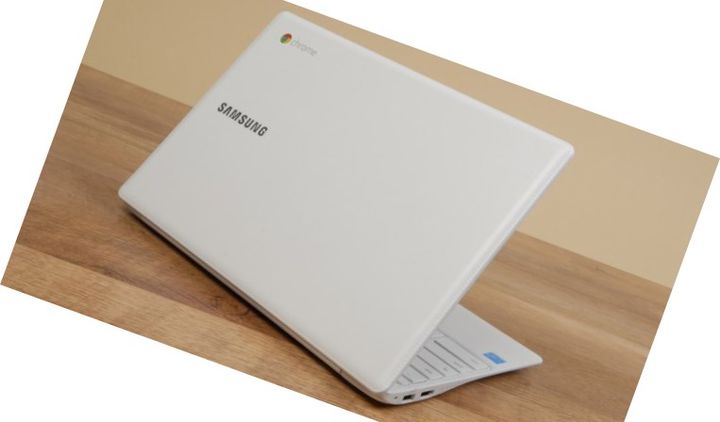 Connectors on the housing 2 Chromebook not much, except for the battery, on the left side there are ports USB 3.0, HDMI and a slot for microSD.
And on the right – 3.5 mm headphone jack and USB 2.0.
Display
In 2 Samsung Chromebook uses a 11.6-inch display with a matrix TN and 1366 × 768 pixels.
This is a typical budget for screen devices, which has poor viewing angles, where the slightest deviation image fades.
At the same time, if correctly set the display to use it quite comfortably. 1366 × 768 pixels although not the highest, but it is well suited for 11.6 inch diagonal.
Platform
An interesting feature of the Samsung Chromebook is to use 2 mobile processor Exynos 5 Octa 5420, which uses a quad-core A15 with 1.9 GHz and four A7 with a frequency of 1.3 GHz. The same chip used in the smartphone Galaxy Note 3.
Measure its performance on Chromebooks did not work, but purely visual processor copes well with Chrome OS. Browser as the main application of the operating system, works fast and does not hang heavy even when scrolling through pages. This also contributes to 4 GB of memory Chromebook 2. But with built-in storage device is not so good. It is only 16 GB eMMC, of which you will get around 11 GB. As a result, we have to rely on the cloud or Google Drive, or on a memory card microSD.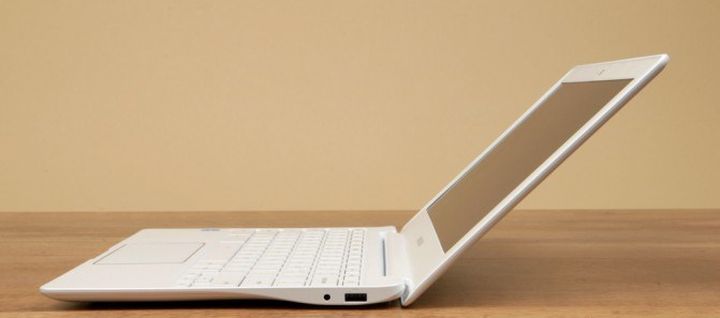 Despite a certain dependence on the internet connection, in Chromebook 2 for this module is only Wi-Fi 802.11a / b / g / n / ac with two antennas. 3G-modem in the device is not. From other wireless options only have Bluetooth 4.0.
The most interesting configuration Samsung Chromebook with 2 mobile processor, it's quiet operation. Apparently, in the body of the device has no active cooling system. Thus, under the lower part load Chromebooks heated, but it remains silent.
Autonomy
Built-in Samsung Chromebook 2 battery has a capacity of 4080 mAh, and the manufacturer promises that the full charge of the unit will operate up to 8 hours. In practice, Chromebooks stand 5-6 hours in mixed mode, which includes the download sites, work with e-mail, documents, listening to music and watching videos from YouTube.
In the system settings, you can see what applications are most influenced the work of the battery.
Chrome OS
The operating system of Google, which is set in the Chromebook 2, based on its interface uses the browser Chrome.
It is responsible for launching applications, most of which are just web services. However, around the Chrome OS got a lot of myths that have little to do with reality. One of them can be called a belief that Google's operating system is the "cloud" and can not work without the Internet. In practice this is not so, Chromebooks are dependent on a network connection, but not much more than conventional laptops. In Google have provided work in offline mode, so the system can store your files and documents from the cloud to the internal memory. So you can listen to music from Google Music or edit documents in Google Drive.
Another misconception about Chrome OS, is that the system is completely tied to the services Google. To some extent, this is certainly true, as to enter the OS need an account Google. As for the rest, to give preference to the services of the company, users will because they are best sharpened to work with Chrome OS. No it does not interfere edit documents in a Web version of Microsoft Word or use for mail Outlook.

In this regard, Chrome OS is very similar to Android, users have no limits in the choice, but a certain dependence on Google products is.
It is also worth noting that although the interface and Chrome OS is based on the browser Chrome, for all the time of the operating system began to look almost like Windows. There is a desktop, menus for applications, as well as the taskbar.
System settings look exactly the same as in the browser Chrome, but only slightly expanded to control hardware, such as a touchpad.
OS is updated automatically.
At the moment, for the Chrome OS can install applications that will be just a shortcut to run Web services in the Chrome browser or a separate window.
But among them there are versions that can store data in memory Chromebooks and more like full-fledged program.
Besides, not so long ago in the Chrome OS can now set the application Android. For example, you can put the client Evernote.
Unfortunately, adapted for smartphones interface is not very good looks on the screen Chromebooks, fonts are small. And with the speed of such programs until all is well. In general, for the Chrome OS, you can choose a web services and applications that will work as well as have fun watching the video (there is a built-in player with support for .mkv) and listening to music (or built-in Google Music). With games in the OS is not so good, they work browser and not very fast. Besides, edit images on Chrome OS will be problematic. In Adobe Photoshop only announced for this platform, and existing solutions do not stand up to scrutiny. It is also important to note that Chrome OS is no client Skype, you can use the service through the mail Outlook, in which it is integrated, but it is not so convenient.
Chrome OS interface has full Ukrainian and Russian localization, including a certificate of opportunities OS. No problems with the addition of keyboard languages are also absent. That's just the proofing language can be only one, and it does not change depending on the language switching.
In summary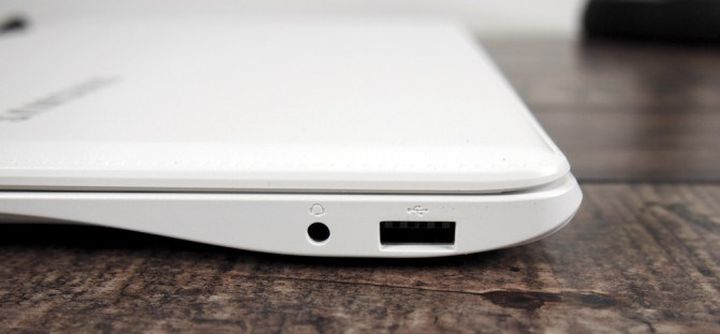 Samsung Chromebook and Chrome OS as a whole – this is a good solution for less demanding users who are on the laptop in the first place, we need the ability to work with the Internet and Web services. This configuration will initially yield models on Windows or Linux at the expansion, due to the installation, as well as due to the small built-in storage.
We liked:
+ Design
+ Dimensions and weight
+ Keyboard and Touchpad
+ 4 GB of memory
+ Quiet operation
+ Chrome OS
We do not like:
– Display
– Performance
– Total 16 GB of internal memory
– For Chrome OS few programs
Read another very interesting article about alternative energy of the Sun, water and air.