When we choose a smartphone, usually we are interested in how fast a particular smartphone, and which one is the fastest.
Popular utility for testing the performance of mobile devices AnTuTu can help to determine how fast smartphone. Recently AnTuTu released the TOP 10 fastest smartphones. Although the list contains the devices of 2015, though many buyers are still interested in many of them.
First of all, we should note that results presented in the chart are based on the synthetic tests, which do not always accurately reflect the actual state of affairs. For example, smartphone with much more powerful chip could get a lower rank, due to the fact that it has a higher resolution screen. As you know, high-resolution screen requires additional effort from the graphics accelerator.
One way or another, AnTuTu published the list of TOP 10 fastest smartphones and we cannot argue with it. According to AnTuTu, the fastest smartphone in 2015 is iPhone 6S Plus, which beat its competitors in the large distance. The second smartphone has as much as 40000 points less than iPhone 6S Plus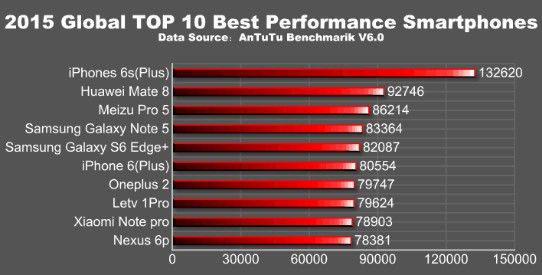 The second place in the list of TOP 10 fastest smartphones is the representative of China – Huawei Mate 8. Let us note that there were a lot of powerful Chinese smartphones in 2015.
The third smartphone is Meizu Pro 5, which is scored 86214 points. It did not have nearly 6000 points to take the second place.
Samsung flagship smartphones take the fourth and fifth places with 83 000 points, which surpassed another smartphone from Apple – iPhone 6.
Last place in the ranking took Nexus 6P from Huawei. All other positions went to the Chinese smartphone OnePlus Two, LeTv 1Pro and Xiaomi Note Pro.
The list of TOP 10 fastest smartphones summarize the final results of 2015. Now we pay attention to new devices, which in 2016 will be very much.
Read another very interesting article about alternative energy of the Sun, water and air.