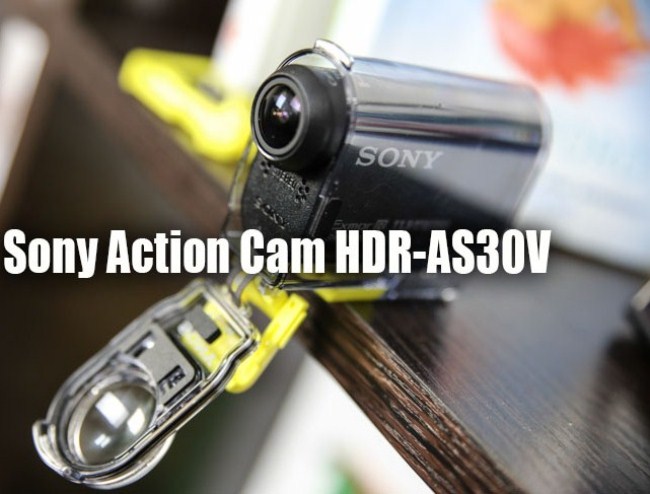 The availability of Action cameras for 2D-team never stood. We just always knew that we need them, but after the launch Veddro.com, without hesitation, bought a GoPro Hero 3 Black Edition with a box of bells and whistles. After that, we realized that for the filming wheelbarrows: a). Action camera is truly very necessary and b). little one. But now we are thinking about whether to re-buy another GoPro, or pay attention to any other suggestions? Yet we decided to see what else is on the market because GoPro were some nuances that do not suit us: lack of stabilization, lack of a standard tripod mount and short battery life. Stopped at the Sony Action Cam HDR-AS30V, which we now three of them.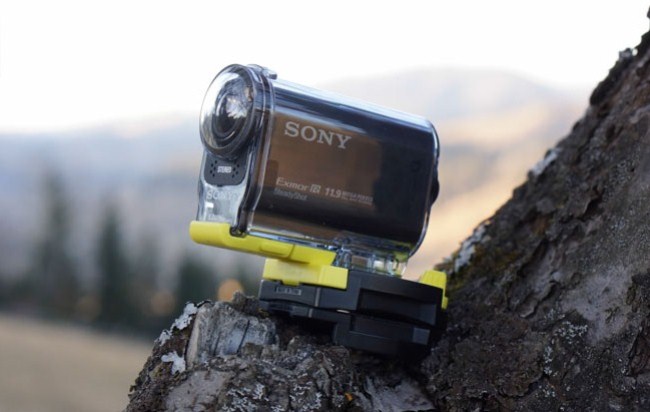 All these things that we lacked in GoPro, there Sony, but at the same time we got another little bonus, which, in truth, is not so important for us, but very significant for the camera as a whole – the sound. Using a standard microphone it's written in stereo, in addition, in the waterproof case has holes for him, they do not exist in the GoPro. But that is quite surprising in the camera connector is petlichka (external microphone). In fact, it is possible to remove full-motion video with normal sound!
Sony Action Cam HDR-AS30V – successor to the HDR-AS15, it is equipped with 1/2 ,3-inch sensor Exmor R back-illuminated, with a resolution of 11.9 MP. Optics – Carl Zeiss Tessar aperture of 2.8, coverage angle – 170 degrees. In the chamber there is image stabilization SteadyShot, though it has a software for its operation and the viewing angle is reduced to 120 degrees. What is also very good. Video can be recorded in the following resolutions with these settings: 1920 × 1080 60p/50p, 1920 × 1080 30p/25p, 1280 × 720 120p/30p/25p. That is, even Full HD can record in 60 k / s, but also the mode SloMo is – 120 k / s at a resolution of 720p.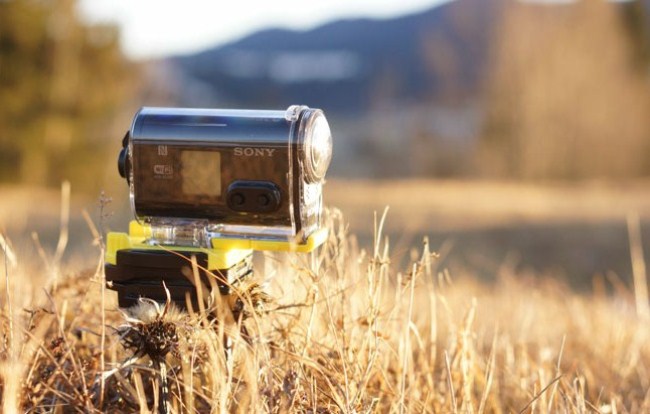 Included with the camera has a waterproof case, which can dive to a depth of 5 meters, a few sticky helmet and lock for the same pad. It except the battery and instructions.
But for this type of cameras importantly – it accessories for Sony Action Cam HDR-AS30V them available abound: from the banal cases and fasteners, ending case studies with external displays and wrist controller with display. We, first of all, suckers need to be easily mounted on the camera body of the car.
By the way, about the displays. As with the other action cameras, color screen showing an image from the lens, then there is only a small B & W display for easy setting. If you want podsnyat home video, small screen have to be purchased separately, but there is a more elegant solution – to display the image on the screen of your smartphone. Such an opportunity is and GoPro, but everyone knows that you get the latest and huge delay in the transfer of images. The Sony Broadcast almost instantaneous. Moreover, in words does not sound so convincing as in fact – you just see what the lens sees right now. To do this, you must install the free app PlayMemories Mobile. After that, you need to enable Wi-Fi on the camera itself, find the camera in the application on your phone and enter the password, which note is in a text file on the camera itself. Moreover, the instructions do not specify the location of the password, I had to google, where do I get it. After that, everything is ready, you can watch what is in the frame on the screen of your device, you can change the shooting rehearse and do all that is necessary.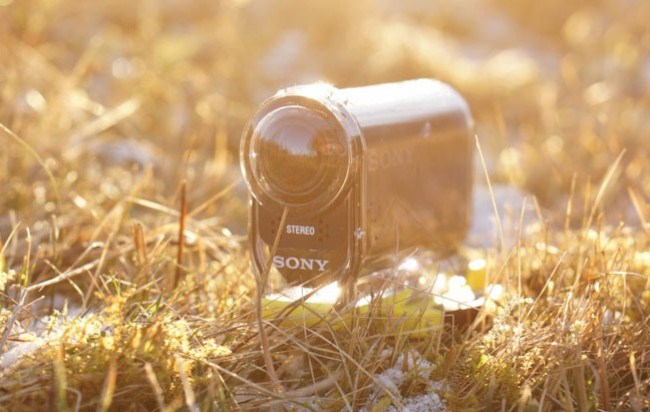 Us, this situation is very convenient – it is important to see what is in the frame when the camera is mounted on the outside of the vehicle body. Someone will also be convenient to observe, in the right direction looks Sony Action Cam, attached to the helmet.
To start shooting did not even need to include separate buttons, simply press record, and after a few seconds everything starts recorded. This, by the way, is very useful for ordinary everyday situations, for example, in communication with the inspector, not to miss anything.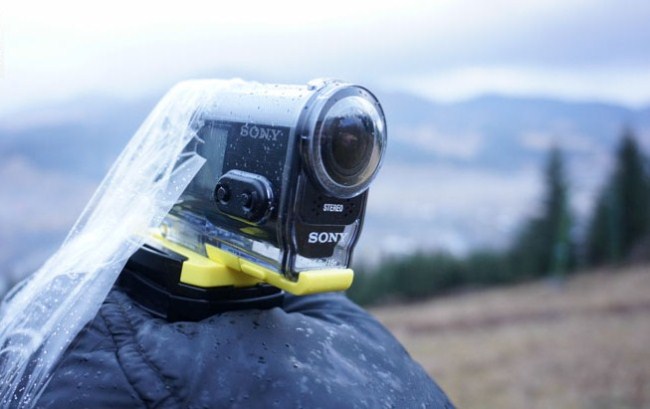 Next to the key lock has a record that can be included when transporting the camera in a bag to not accidentally press record. Of other controls on the camera has only two menu navigation buttons, which, by the way, fast.
Another big plus, compared with GoPro – autonomy, it at least twice more. We almost never have time to finish the review of cars to battery goproshki sat down immediately this will not happen, the camera is about 4 hours of video recording in Full HD.
And finally a brief digression on the benefits of Sony Action Cam HDR-AS30V, suggest to see a few clips shot with this camera:
Read another very interesting article about alternative energy of the Sun, water and air.