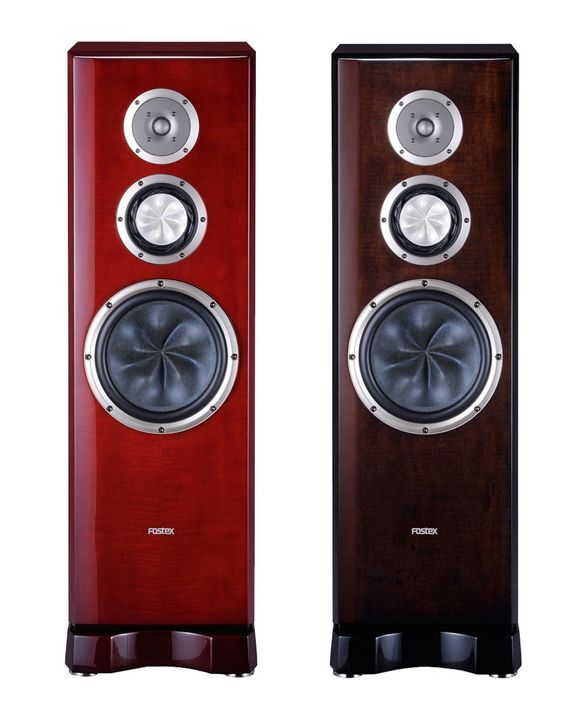 Speakers Fostex GX250MG – the flagship brand sufficiently broad range of speakers for home use, and they look impressive, although its dimensions do not exceed reasonable limits, while remaining perfectly suited for installation in ordinary living. But there is something in their appearance monumental: a little heavy body proportions, a massive pedestal with adjustable feet of copper, an excellent piano finish. If all the other cars you prefer luxury SUVs – you these Fostex, most likely, will also appreciate.
Of course, attention is drawn to the dynamics, especially midrange and 25-inch woofer with unusual diffusers. But also for the tweeter wire mesh is not as simple as it seems.
Housing columns are made of a specially designed two-layer plywood, which is used for the manufacture of wood eucalyptus and camphor laurel
Translucent protective grilles are mounted on magnets and virtually no secret of this beauty, and the sound is almost not affected. Behind – block gilded copper connectors, two unusual shape reflex port and the regulator, AFC correction in the range from 1.6 kHz to 6 kHz.
In passive speakers quite rare means for adjusting the frequency response, and almost always they are intended to change the response to the low and / or high frequency, allowing you to control the sound with the acoustics of the room and the nature of the other components of the system. In Fostex GX250MG regulated the middle, which is quite unusual effect on the nature of sound – though the company's website also deals with the properties of the room.
This dynamics, as well as at the woofer, corporate HR-diffuser (Hyperbolic Paraboloidal Rotation – hyperbolic paraboloid of rotation). Here he made of pure magnesium. Very interesting and suspension.
So, if you choose to install the "0 dB», it turns out great sound: clear, highly detailed and rich – a variety of instrument voices, saturated. Microdrivers simply amazing – works by Maurice Ravel with SACD Paavo Jarvi Cincinnati Symphony Orchestra Ravel performed by entertaining thanks to the accurate transmission of subtle nuances and excellent plotting scale and leaving the scene into perspective. The famous "Bolero" obeys the same breath: the rhythmic beat of the drum accompanied endowed with typical overtones voices of the spirits, repeating the same tune. Here a major role to play variability dynamics, and in this respect with her at GX250MG all right. But in the final, even though we are not there claims to its scale, we see that as something wrong to put "stress" in a powerful attack, and with feelings of delight majeure we get a slight tinge of sadness. He is very good, for example, in "Requiem" by Mozart, but out of place in "Mars" from "The Planets" Holst, where necessary outright aggression.
If you look closely, you see the "ridge" on the convex dome of pure magnesium. It increases stiffness and improves the angular distribution of the radiation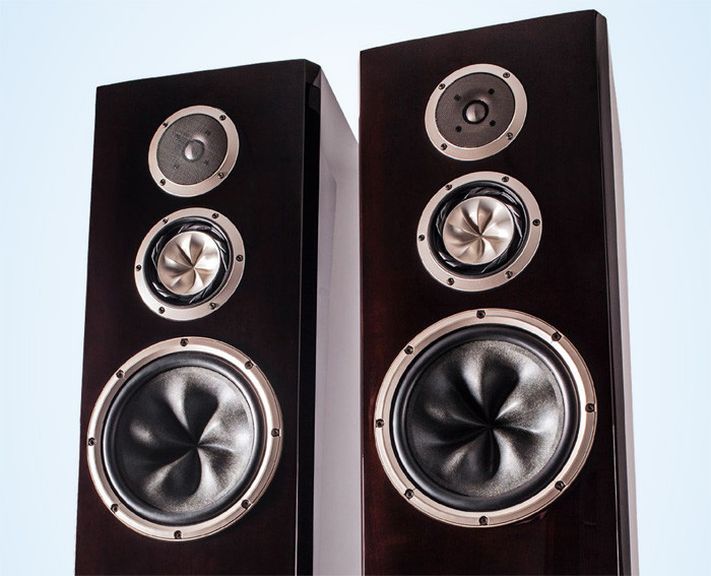 All magically change if the knob turned to position «+1 dB». The sound is more focused and determined – not at the expense of smoothness and richness; it just disappears "southeast accent", it is not suitable for European music, although many genres and songs he is very good – for a change. Reduction of the MF on the freezing mark is impressive – a bit blurred images and the sound loses pressure.
So Fostex GX250MG can rightfully be called universal speakers that will delight and articulated, live vocals, rhythms and hard rock, and multifaceted coherence in complex symphonic works. Their meticulous and expressive dynamics are also excellent tools for the disclosure of all the benefits of HD-audio systems with the most modern components. We recommend a closer look.
Price: $ 10,300
Pros: A detailed, clear, smooth and rich sound; excellent focus and scene; powerful, variability dynamics; impressive appearance and quality finish
Cons: Nothing significant
Verdict: Excellent, unlike the other speakers with unique, but customizable character traits
Read another very interesting article about alternative energy of the Sun, water and air.