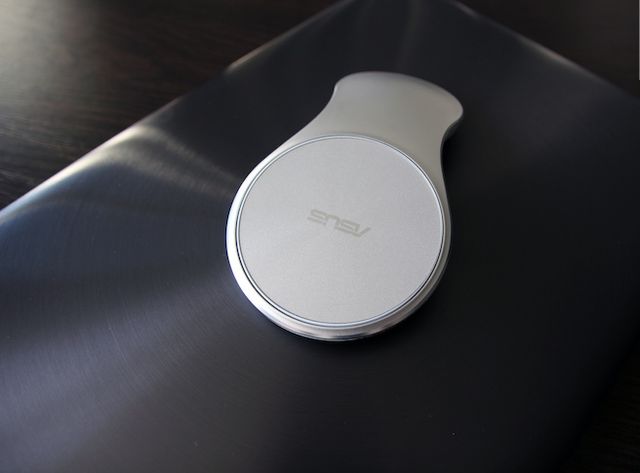 In early June, there was an exhibition in Taiwan Computex 2013. Ball there, as usual, the company rules ASUS. They introduced a lot of new products, including mouse and wormed nontrivial ASUS VivoMouse. Eight months later VivoMouse got to our site. Let us examine it in detail.
What is unusual ASUS VivoMouse? People who saw the mouse for the first time, say something like, "Wow, what is it?". After explaining to the following question: "How does it work? Where the buttons? "And this button rodent and do not need – half of the upper face of the body takes the touch panel, which is understood as one-finger and mnogopaltsevye gestures. However, there are still a couple of buttons, they are hidden under the same panel.
Appearance
At first glance VivoMouse looks chic. Metal pleasantly cools the palm and is perfectly combined with a touch panel, made in the style Zenbook. At the same time it is much heavier mouse – Beauty requires sacrifice. But it is necessary to twist the rodent in his hands, and you will see the plastic that makes up the side and bottom edges. We got a used sample, and just state that produces plastic and "experienced" manipulator.
On the bottom we see the power switch, blue eye optical sensor and the lever that opens the lid. Hidden inside the two AA batteries and a USB-transmitter with which communicates with the computer mouse.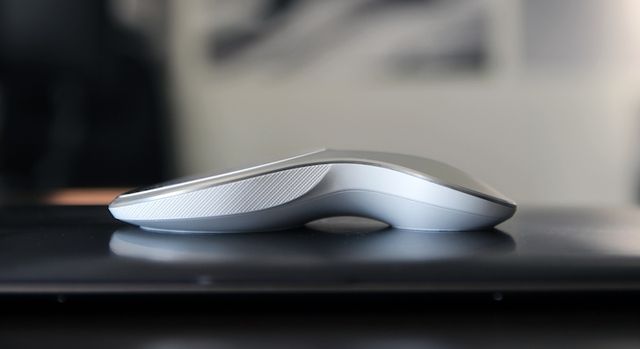 Functionality
As described above, ASUS VivoMouse and has a touchpad and two mechanical buttons. Buttons correspond to the left and right click, touch panel also allows you to not only click, but also to carry a bunch of other gestures.
In order for everything to work correctly, you need to download the device drivers from the official site ASUS. After installing the drivers on your desktop program icon appears VivoMouse, which will tell you about all the available gestures and report low battery mouse.
Total available 13 gestures. They are divided into one-, two-and trehpaltsevy. One-finger allow you to select, drag, and activate shortcuts to switch between applications swipe to the right, you open the Windows 8 Charms swipe left and scroll all you want, swipe along the bottom of the touch panel. Responsible for two-finger right click, all the same familiar scrolling and zooming all the "pinch". Trehpaltsevy gestures cause the touch screen keyboard of Windows 8, turning the page (eg the browser), hide all open windows and ASUS Mission Manager (this is the screen to switch between applications development ASUS).
Impressions
You can not imagine how cool, leaning back in his chair and raised his hand impressively, flipping another article movement of one finger, and then slowly move to the next, because the main function of the trackpad has not been canceled. In fact, ASUS VivoMouse can act edakogo remote for your computer. Wish to move into this space manipulator does not respond.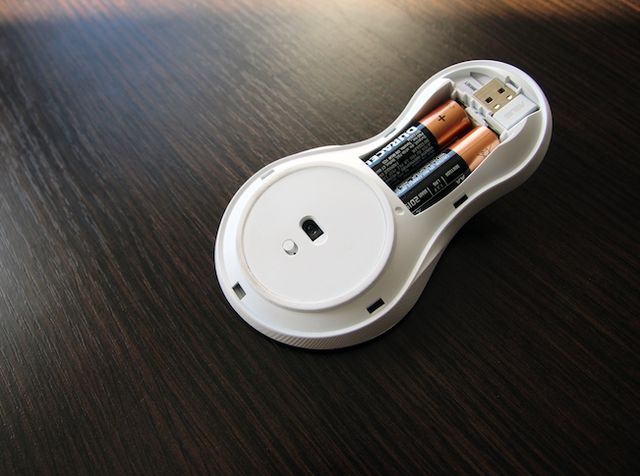 However, this mouse should get used to. Taking it for the first time, you will get not the most enjoyable user experience. VivoMouse will obey you in a quarter of cases. After a couple of days when you will stuff his hand to rise to 80-90 per cent. For example, during the test I never got to "tame" the zoom gesture.
Another unpleasant feature of ASUS VivoMouse is falling asleep. Explain. After lying motionless for about 10 seconds, the mouse touchpad blocks. In order to "wake" it, you will need to move the VivoMouse.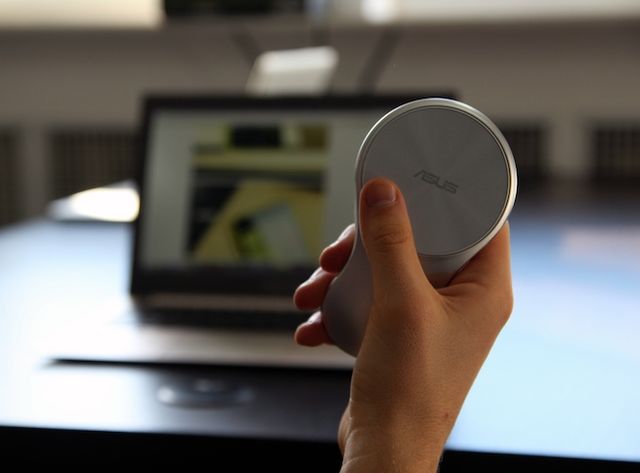 Conclusion
ASUS have definitely got to make an interesting product. It primarily causes emotions in people, and it is nowadays most devices is not given. And wow-effect is reinforced by the work of a mouse. Not always a smooth operation, but do not forget that this is the first version of ASUS VivoMouse, yes and almost certainly will be updated mouse drivers. The question remains unanswered prices. Today you will not find a manipulator in one shop. So that those who liked VivoMouse have to wait.
Read another very interesting article about alternative energy of the Sun, water and air.